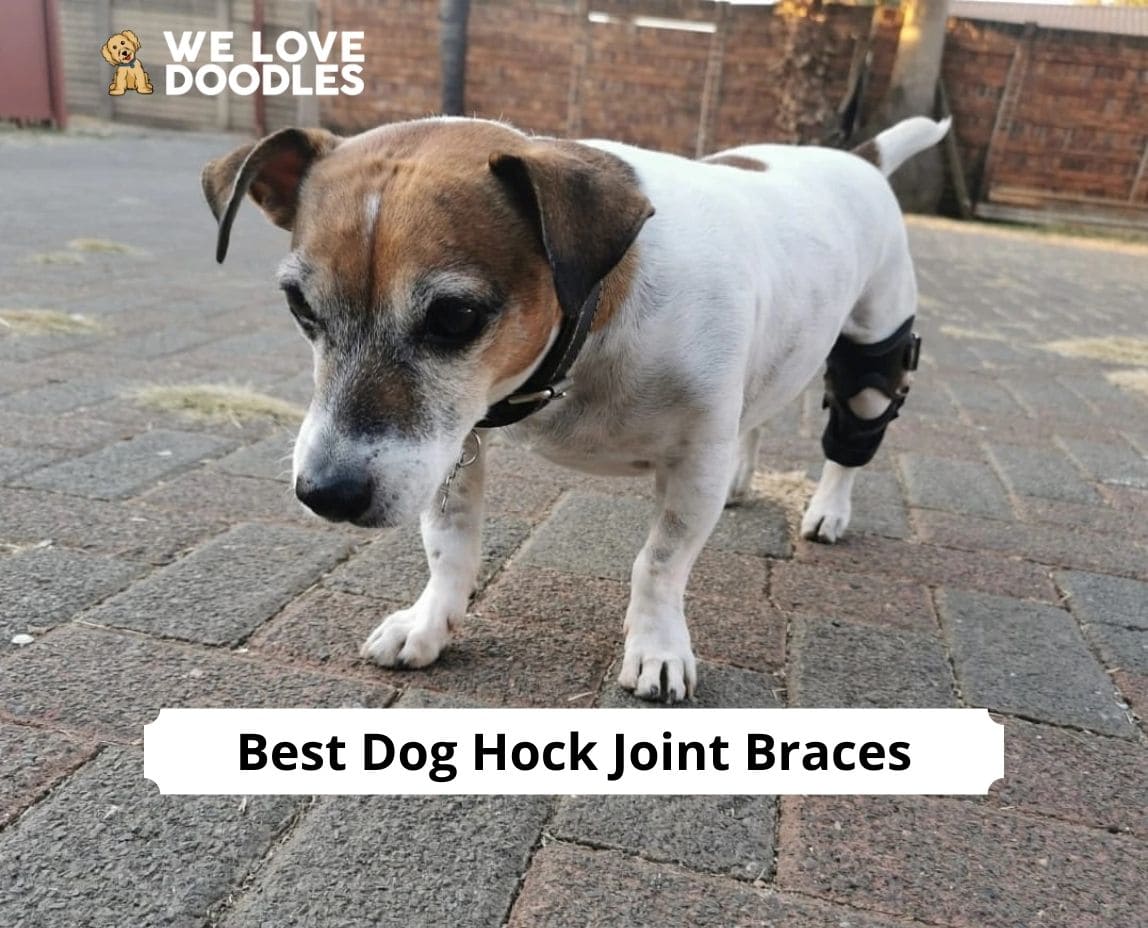 Dogs get hurt when playing or taking part in dog sports too. It's common enough that dog owners need to use dog hock joints if their dog has been hurt or is recovering from surgery. In this review, we'll look at the six best dog hock joint braces on the market today.
Dog ankle hock braces help bring mobility back to dogs in need. They are essential for dog breeds with high activity levels, dogs in dog sports, and dogs that are likely to injure their leg joints while running, jumping, or landing awkwardly. 
Dog hock braces usually help dogs walk with sprains, injuries, arthritis, or rheumatism. They are also beneficial for dogs recovering from injuries. Keep in mind that dogs should not be wearing the hock brace 24/7 to allow for normal blood flow when dogs are resting. 
Vets recommend removing the braces every 2-3 hours to allow the leg to "breathe. "If the braces get wet, remove them immediately to prevent any damage to the skin.
As usual, always reach out to your veterinarian if your dog has an injury or is limping. X-rays are always helpful for a complete diagnosis, and sometimes surgical treatment may be needed.
In a rush? Here are the top picks!
Product
Best Overall
Labra Store Brace
Best for Short Dog Legs
NeoAlly Brace
Best Value
Pet Lovers Store
Image
The Hock Protector Dog Joint Brace by Labra is our top pick for the best overall dog hock joint brace. This brace is made of durable Neoprene and features a secure velcro closure to ensure a comfortable, snug fit. It is also machine-washable, making it easy to keep clean. The Neoprene is thick (5mm) and soft and is the same material used for wetsuits.
The dog hock protector dog joint brace is designed to help keep your dog's hock joint warm and protected and is an excellent choice for dogs recovering from an injury or undergoing physical therapy. This product has over 2,400 positive reviews and is a rear-leg hock joint wrap for dogs.
Features
Over 2,400 positive reviews

Vet approved & recommended

Affordable

Provides additional support throughout your dog's leg, including the knee

Good measuring chart

Constructed with four hook/loop support straps

Easy to wash
The Dog Hock Joint Brace by Agon is a dog hock brace designed to help dog owners protect and support their dog's legs without limiting the range of motion or comfort levels. This dog hock brace provides compression for the dog's leg joints and warmth to help support the muscles and tendons around the joint. 
It's made from a neoprene sponge rubber fabric, making it easy to keep clean and ensuring a snug fit. The nylon fabric used in this dog hock brace is robust and flexible at the same time. The Agon dog hock brace is clinically proven to reduce pain and chronic inflammation. This product features over 1,800 positive reviews.
Features
Affordable

Over 1,800 positive reviews

Five sizes

Provides support & stabilization during an injury

Features smooth mesh that is easy to wear

Easy to wash
The dog hock brace by Neo Ally is designed for dog breeds with high activity levels or dogs recovering from leg injuries. This dog hock joint brace features durable Neoprene and soft velcro closure for comfort, while the adjustable straps ensure a snug fit. 
A dog hock brace helps a dog's leg muscles, tendons, and ligaments stay warm and supported while they are healing, making this dog hock joint brace an ideal choice for dog owners who have active dogs or dogs with high activity levels. This product has over 1,500 positive reviews. 
You can combine with NeoAlly organic hip and joint supplements to achieve the best effect. These dog hock braces are best when used as a pair. Studies have demonstrated that when a dog gets injured one leg, he will most likely injure the other leg due to the imbalance caused by the injured leg. This is a Shark Tank-backed product!
Features
Over 1,500 positive reviews

Hock brace for small breeds & dogs with short legs

Provides support to the entire leg

Features 2 reflective velcro straps that secure the brace around the. ankle

Crafted with 4mm premium quality neoprene and nylon lining 

One pair dog hock braces for left and right side

Lightweight, breathable and flexible 

Easy to wash
The In-Hand dog rear leg brace is designed to provide dog owners with dog hock support and protection for the dog's leg joints. The dog hock brace is made of neoprene and nylon to ensure a comfortable, snug fit around the dog's leg. 
There are two metal spring strips in our hock brace that provide more substantial support for your dog. In addition, the four attached velcro strips are more solid, stable, and will not slide down or drop. It helps with the loss of stability caused by arthritis, provides support and stabilization during the injury.
Features
Additional metal spring strips provide more significant support

Provides support and stabilization during the injury

Suitable for both injury prevention and recovery

Crafted with neoprene sponge rubber fabric, same as for wetsuits

Shockproof, flexible, soft 

Affordable

Easy to wash
The Dog Hock Joint Brace by Coodeo is a dog hock brace designed for all dog breeds that need additional support. This dog hock brace is made of soft materials to ensure a comfortable, snug fit around the dog's leg. 
It has adjustable straps and flexible hinges that provide your dog support without limiting the range of motion or comfort levels. There are two metal spring strips in the brace, which can give your dog the necessary support you want. 
This is another vet recommended pet product that effectively protects and heals wounds and relieves dogs' pain. We like this dog hock brace because it's priced well and offers consistent support via the two metal spring strips in the brace.
A dog hock brace helps a dog's leg muscles, tendons, and ligaments stay warm and supported while healing, making this dog hock joint brace an ideal choice for old & disabled dogs and dogs with rheumatism.
Features
Affordable

Vet recommended

It helps dogs with sprains, injuries, arthritis, or rheumatism walk normally

Features 3 sizes: small, medium, large

Features metal springs inside
Pet Lovers Stuff Hock Brace for dogs features three sizes and has different measurements for their large size. This is an extra supportive leg brace that increases the blood pressure in the hind legs, thus raising the temperature and reducing the pain caused by arthritis. 
Pet Lover's dog hock brace is an adjustable dog brace that offers stability and support, which helps decrease pain and inflammation and that, of course, can reduce the need to take more medication.
 Pet Lover's dog hock brace is also another veterinarian-approved dog product for hocks that are designed to comfortably fit a dog's hock area to help relieve soreness in muscles, joints, and tendons. 
We like this product for dog hocks because it's easy to use by adjusting the tabs for a snug fit. This is another effective product for dogs who suffer arthritis, strains or sprains of the canine hock, back leg limping or fatigue, post-operative support, or wound healing. 
As usual, it's recommended that dogs wear braces on both back legs because of the imbalance of muscle forces around the joint if only one is used. Here's the takeaway:
Features
Vet approved dog hock support

Non-medical approach to minimize arthritis pain

Affordable

It helps to support the leg as a whole by taking pressure off the knee and the ankle in cases of CCL (ACL) injury.

Crafted with medical-grade neoprene material
Musculoskeletal disorders in dogs
Problems in the musculoskeletal system often affect a dog's ability to move freely. However, how seriously movement is impaired will depend on the severity and type of problem. 
Skeletal and joint disorders are the most common. Still, musculoskeletal issues can also indicate diseases of the muscles, neurological issues, toxins in the body, metabolic disorders, infectious diseases, and hormonal abnormalities that can affect dogs. 
Blood and vascular conditions, congenital disabilities, and poor nutrition also come into play since many different systems in the body rely on the muscles. A puppy's ability to see, chew, urinate, and breathe all depend on the musculoskeletal system.
Bone diseases
These are usually present at birth or come about due to nutritional deficiencies or injuries. Inherited disorders will also feature hip dysplasia or having extra toes. 
For example, if your puppy has an imbalanced level of minerals in his diet, especially trace minerals like copper, zinc, and magnesium, he may be prone to bone defects. However, if your puppy is fed a diet too high in protein, he may also develop nutritional disorders affecting bones. It's also important to note that getting too much or too little vitamins, most especially vitamin A and D, may affect bone growth in pets, as well as development.
Bone disorders can also come about from trauma like fractures or cracks. Infections may also result in bone tissue breaking down and dying. Sometimes diseases of the ligaments or tendons may result in secondary bone issues in dogs. 
Moveable joints may also be prone to joint diseases or disorders in dogs that affect the membrane and related ligaments, bone, and cartilage. Common conditions in dogs can come from trauma to the joint or long-term inflammation, infections, and even developmental issues.
Traumatic injuries in dogs
Traumatic injuries can produce short-term dislocations, joint distortions, and even fractures. In addition, long-term effects of traumatic injuries may include arthritis and even rupture of the nearby ligaments.
Effects of long-term inflammation in dogs
Chronic or long-term inflammation in dogs is mainly associated with a dog's movement. The effects of long-term inflammation are complicated in dogs. If there is a joint injury, there will be changes in the composition and amount of fluid inside the joint. This affects the amount of pressure on the connecting bones. 
If there is an injury, you'll also see a rise in the white blood cell count in a joint. This over time can break down cartilage. With so many advances made in diagnosing and healing musculoskeletal disorders in dogs, it's key to visit your veterinarian as soon as your dog has an issue. 
The most important thing is to do so early on and not wait. This is because these disorders, when detected early, can be corrected, allowing your puppy to return to a healthy and active life.
Lameness in dogs
This is a sign of illness and should not be taken lightly and may also be a sign of a disorder in the musculoskeletal system. Symptoms may include the following:
Lameness

Weakness

Limb swelling

Joint dysfunction

Nerve & muscle function may be impaired due to neuromuscular tissue changes

Problems with muscles and skeleton can affect other organ systems.
The Importance of early veterinary care and treatment
So that your vet can diagnose and treat a problem, he or she will need to examine your dog and review any previous injuries, as well as look at your puppy's current health. If your dog is lame, your vet will do the following:
Perform a lameness examination to identify changes in the musculoskeletal tissue.

Observe your puppy when he rests, gets up, and walks.

Check out to see if the injury affects one limb or several?

See how the degree of reaction varies with each type of activity?

Feel your dog's bones, joints, and soft tissue to check for swelling, pain, grating sounds, reduced motion range, and muscle wasting.
Your vet may use imaging to make a diagnosis. With sedation, X-rays and ultrasound, CT scan, or MRI may be recommended. Your dog may also be in plenty of pain, so the need for pain management is critical. 
That's why it is so important to visit your vet early on so that your puppy can be pain-free with early treatment allowing for a faster recovery time.
Pain management in dogs
Pain management for lame dogs is not only humane but an essential part of veterinary treatment. Dogs that suffer from chronic conditions like osteoarthritis do well with non-steroidal anti-inflammatory drugs prescribed by a vet. Your vet may also prescribe pain meds to control the pain in lame dogs. Other methods help with pain relief which includes the following:
Acupuncture

Canine massage therapy

Dietary changes
Your veterinarian will be the best person to prescribe the appropriate treatment for your dog, and it's key to follow all the recommendations to ensure a fast and pain-free recovery period.
Conclusion for Best Dog Hock Joint Braces
Dog hock braces help the dog's leg muscles, tendons, and ligaments stay warm and supported while healing. In addition, there are dog support braces to fit large dog breeds with high activity levels and dog braces for dog breeds with smaller legs or shorter legs, such as dachshunds. 
The dog support hock braces are some of the best dog hock braces on the market, as they are made of durable materials, have adjustable straps for a snug fit, and are designed to provide dog hock support without limiting the range of motion or comfort levels.
In a rush? Here are the top picks!
Frequently Asked Questions
1. What is a dog hock joint brace?
A dog hock joint brace is a device used to support and stabilize the dog hock joint. This type of brace helps protect the joints from injury and can help to reduce pain and inflammation.
2. Why would my dog need a hock?
A dog may need a hock joint brace if they have suffered an injury to the joint, are recovering from surgery, or have arthritis or other orthopedic issues.
3. Which dog breeds are more likely to require a dog hock brace?
Dog breeds with shorter legs and heavier bodies, such as Bulldogs and Dachshunds, are more prone to developing hock joint problems.
4. How do I fit my dog for a hock joint brace?
The size and type of brace will vary depending on the dog's breed and size, so it is essential to consult with a veterinarian or dog hock brace specialist to determine the right fit for your dog. 
For example, the dog's hock size can be measured with a tape measure or by placing their paw in the palm of your hand, with their leg outstretched.
5. Where can I purchase a dog hock joint brace?
If your dog has recently been diagnosed with a dog hock joint issue, you should consult with your veterinarian about the type of dog hock brace best suited for them.
6. How do I put on a dog hock joint brace?
Most dog hock braces will fasten securely with hook and loop closures or buckles and straps, making them easier to use.
7. Can dog hock joint braces be used for dog exercise?
Some dog hock braces are designed to allow dogs to exercise, but this should be done under supervision and with care to avoid overuse or injury.

Claudia Bensimoun is a writer who specializes in dog content and veterinary topics! Aside from writing for We Love Doodles, Claudia also writes for other major dog blogs like Fido Friendly, Animal Wellness Magazine, and the United States Dog Agility Association (USDAA). She has a ghostwritten over 50 different dog e-books. Her passions include animal welfare, veterinary research, and wildlife conservation.
Why Trust We Love Doodles?
At We Love Doodles, we're a team of writers, veterinarians, and puppy trainers that love dogs. Our team of qualified experts researches and provides reliable information on a wide range of dog topics. Our reviews are based on customer feedback, hands-on testing, and in-depth analysis. We are fully transparent and honest to our community of dog owners and future owners.