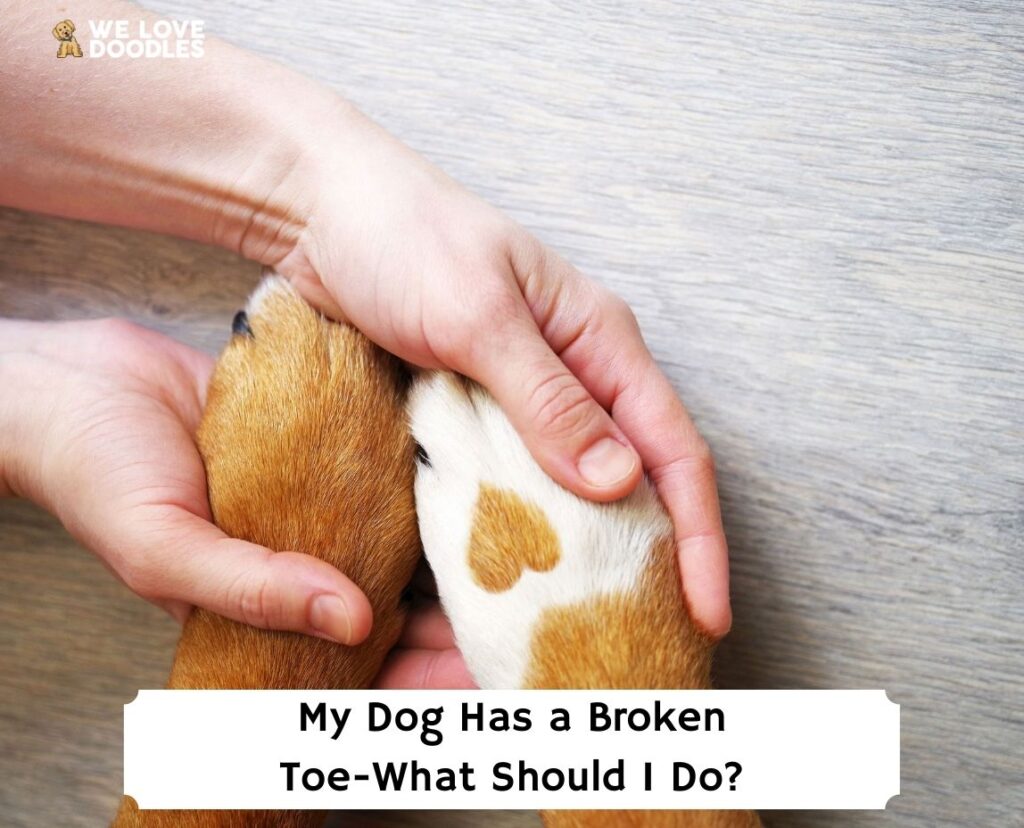 The dog foot is made up of many tiny bones. In fact, each toe on your dog's foot contains three separate bones. Multiply that times five toes for the front feet and four toes for the back feet, and you've got quite a few little bones that can get damaged.
Even though the bones of the toe in dogs are tiny, they are still very important, and knowing what to do if one gets broken can help make your pup more comfortable and prevent further issues.
In general, if your dog has a broken toe then you should immediately take them to the veterinarian for further evaluation.
Before scrolling down, you should also check out: My Dog Ate A Pork Bone. What Should I Do?
How Do Dog Toes Get Broken?
Dogs use their feet for nearly everything. They walk, run, and jump with those toes. Some dig and swim, and others shake hands. That gives plenty of opportunities for a toe to get broken.
Getting stepped on: Your best friend is constantly at your side and under your feet. It's not uncommon for a dog's toe, especially smaller breeds, to get stepped on. If you have small children, the chance of this happening may be increased.
Getting run over: If your dog ever gets hit by a car, with any luck, a broken toe is all that they will get. Any time a pup gets their toes under a tire, whether it's a car, bike, or scooter, they risk breaking a digit.
Getting caught in something: Dog toes are tiny and can get wedged into very small spaces. Think the slats in your deck, fence, or even the blanket on your couch. Breaking a toe can happen when a toe gets stuck and a dog, or you, tries to free it.
Stubbing a toe: We've all had the experience of stubbing a toe on a piece of furniture or the corner wall. Your dog can do the same, especially if they're a 90 miles an hour type and a little clumsy to boot. If your pup stubs a toe hard enough, it can break.
Bites: Animal bites are almost always a vicious affair, especially if that bite happens to be on a toe. Some bites can even be forceful enough to break bones.
Malnutrition or other health conditions: Any health issue that causes weakening or brittleness of bone can lead to broken toes. Malnutrition from eating a poorly balanced homemade diet is a common culprit. Less commonly,

hyperparathyroidism

,

bone tumors

,

and other bone disorders can cause weak or brittle bones that break easily, even when a dog jumps down from something as low as a couch.
How Do You Know That Your Dog Has a Broken Toe?
Broken toes in dogs will look a lot like you would imagine or a lot as they look in people. The most common sign is pain. Your pup may not want to use its foot. They may cry when they try to walk on it or when you touch it. They may also hold their paw up or lick at them to try to make it more comfortable.
A paw with a broken toe may be swollen and red. Depending on what caused the break, there may also be an open wound somewhere on the toe or foot. The broken toe may be floppy or unstable, move in ways that it shouldn't, or be positioned differently than a normal toe would.
If you notice any of the above signs in your pup, get them to your veterinarian. Your vet will be able to take an X-ray to evaluate the break in the toe as well as the damage to the surrounding tissues. From here, they will be able to decide on the proper treatment.
How Are Broken Toes in Dogs Treated?
Depending on the severity of the break and, to some degree, the cause, there are two main options for fixing a dog's broken toe.
Splinting: Casting or splinting broken toes works well for simple fractures that are easily realigned without any further damage to skin or surrounding tissues. Most casts and splints are left on for 4-10 weeks and a pup will receive pain medications and anti-inflammatories. Pups usually have a hard time appreciating a cast or splint, so an E-collar is usually a necessary accessory.
Surgery: For more severe breaks or when there's other trauma,

surgery

is an option to fix broken toes in dogs. The surgery will either repair the broken toe with pins, plates, or wire, or be required for amputation if a toe doesn't heal properly or is shattered beyond repair.
Most pups will do well following surgery for a broken toe, but complications such as infection or failure to heal can always occur.
Broken toes that don't heal properly can lead to lifelong pain and discomfort. Since toes play a large part in getting your dog around, an improperly healed one can create problems with mobility that can lead to bigger problems like obesity and arthritis.
How Long Does it Take a Broken Toe to Heal?
For the most part, broken toes in dogs will heal in about four weeks. However, that doesn't always mean that the repair is strong enough to take on the everyday activity of your dog. Most vets will err on the side of caution and allow 4-6 weeks of immobilization for broken toes to heal.
Of course, there are always variations depending on the age and health of a puppy as well as complications with infection, other injuries at the time of the break, and how well a dog behaves after surgery or with a cast or splint.
Conclusion For My Dog Has a Broken Toe
Broken toes in dogs require a veterinary visit to ensure a proper repair. Even though the bones in the toe are small, they play a huge role in how well your pup gets around and in their day-to-day comfort. If you notice your dog limping, not wanting to use their foot, or having a swollen or broken toe, see your veterinarian.
You will also like:

Dr. Chyrle Bonk received her veterinary degree from Oregon State University in 2010. She has been practicing in a mixed animal clinic in rural Idaho ever since at Clearwater Valley Veterinarian Clinic. When she's not busy writing, treating animals, or working on her cattle ranch, she may be found somewhere in the Idaho wilderness with her husband and kids. Dr. Chyrle Bonk is a writer for We Love Doodles and verifies that the information we post is accurate the up to date! She is also an advisor and editor.
Why Trust We Love Doodles?
At We Love Doodles, we're a team of writers, veterinarians, and puppy trainers that love dogs. Our team of qualified experts researches and provides reliable information on a wide range of dog topics. Our reviews are based on customer feedback, hands-on testing, and in-depth analysis. We are fully transparent and honest to our community of dog owners and future owners.