Pomeranians are curious, lively, and bold. These small dogs usually only grow up to seven inches tall and weigh no more than seven pounds. Pomeranians adore spending time with their owners. However, a Pomeranian needs plenty of grooming, care, and maintenance, especially with teddy bear haircuts.
Pomeranians have a stunning coat of puffy hair that will need a haircut every several weeks to ensure they don't suffer from obstructed vision or other problems. For example, it can be easy for a Pomeranian to suffer from tangled, knotted, or matted hair when they haven't been brushed for a few days.
Plenty of haircuts can address these concerns, including a teddy bear cut. Read on to learn about teddy bear Pomeranian haircuts and other trims that can make your Pomeranian look stunning and remain comfortable.
Before reading this guide, "Teddy Bear Pomeranian Haircuts, Pictures, & Styles," check out: Fox Pomeranian Haircut – Step by Step Guide! (2023) and Pomeranian Lion Haircut Pictures & Styles! (2023).
How Does a Teddy Bear Cut Look On a Pomeranian?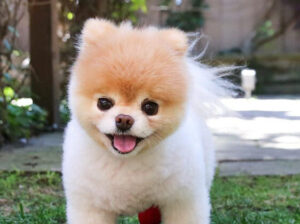 A Pomeranian with a teddy bear haircut looks different than a teddy bear cut on nearly any other dog breed. While other breeds will look curly and elegant, a Pomeranian may look more fluffy. A teddy bear cut on a Pomeranian may make your precious pup look more like a bear cub than a stuffed teddy bear.
A teddy bear cut on a Pomeranian will give your dog's body an even trim that will make the hair stand out while allowing the hair on the face, neck, and head to be a little more round and puffy.
Teddy bear Pomeranian haircuts will make your dog's facial features pop. Pomeranians have short, pointed ears that stand above your dog's head and make for a youthful and vibrant appearance when trimmed with a teddy bear cut.
11 Other Pomeranian Haircuts Similar to the Teddy Bear Cut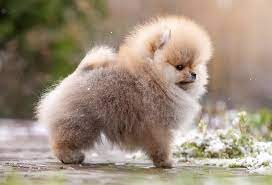 Pomeranians are ideal candidates for many hair trims and cuts, but some may work better than others. These haircuts are similar to the teddy bear cut and will make your dog feel comfortable, remain hygienic, and look as innocent as ever.
Puppy Cut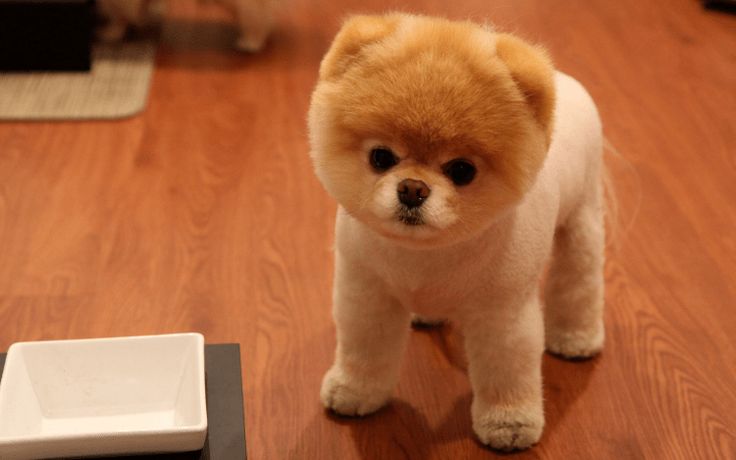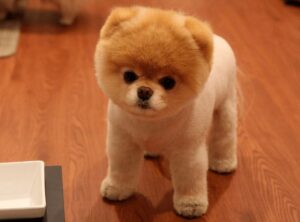 A puppy cut on a Pomeranian is similar to a teddy bear cut in many ways. However, a puppy cut will be more uniform and offer your dog easier cleaning and improved hygiene. A puppy cut is one of the best teddy bear-like Pomeranian haircuts and will work well for maintaining a manicured look for your dog.
With a puppy cut, your dog will have a shaved underbelly that can help with any messes from potty training or playing outside. Additionally, this haircut is more even and has less hair around the neck, face, and head than a teddy bear cut.
A puppy cut is perfect for a puppy Pomeranian, but this haircut works well for older dogs. Consider using this haircut at any age to create a youthful look.
Pixie Cut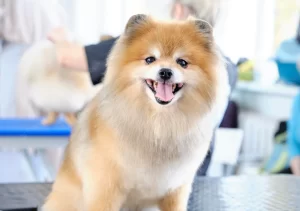 A pixie cut will give your dog a fairy-like feel, complete with big, pointy ears and a set of spiky hair. This modern haircut will keep the body short while allowing the hair on the sides of your Pomeranian's face to be narrowed down.
Narrowing your dog's facial hair will make your Pomeranian's face pop while allowing you to see all the facial features that make your dog look appealing.
Additionally, a pixie cut will ensure your dog doesn't suffer from obstructed vision, meaning your dog won't run into furniture or other items around the home.
Kennel Cut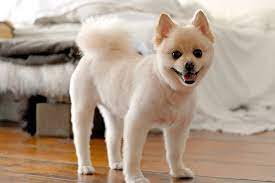 Kennel cuts are among the most popular choices for Pomeranians. This haircut is often used when dogs are kept in shelters, boarded in kennels, or held by someone who isn't their owner.
This haircut will give your dog a basic hairstyle that won't be too much and won't put your dog at risk for heat stroke or heat exhaustion since the hair will be as short as possible.
The kennel cut can be modified to keep the ears shorter or longer, depending on your and your dog's preferences.
Bichon Cut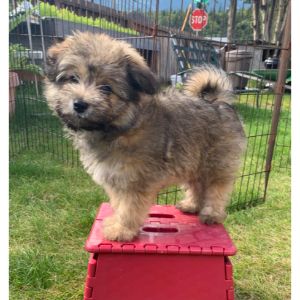 The Bichon cut will make your dog look like the classic French dog, the Bichon Frise. The Bichon Frise is famous for its puffy white hair that makes it look naturally sheep or lamb-like. Your Pomeranian can embody their inner Bichon Frise by rounding their facial hair and allowing their ear hair to grow out.
A Bichon cut on your Pomeranian can be modified to make your dog's jawline look more square-like instead of circular. Additionally, you can leave the hair a little longer than suggested, allowing your dog a slight curl all over their body.
Foxtail Cut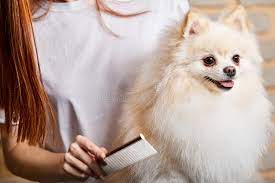 A foxtail cut is focused almost entirely on the tail of your Pomeranian. With a foxtail cut, your dog will have a puffy tail with a narrow face. However, the hair on the sides of the face will be puffy to match the tail. With the foxtail cut, your Pomeranian's eyes truly pop and make them look big and innocent.
Your Pomeranian will receive as close a shave as possible without disrupting its undercoat while allowing its tail to remain puffy. This haircut won't require much management or brushing since there isn't much hair to get tangled, knotted, or matted.
Lamb Cut
Lamb cuts will make your Pomeranian look stunning, especially since the hair on your dog's entire body will be trimmed down to an even amount. You may notice your Pomeranian's eyes seem smaller with a lamb cut, but that's because the hair on the top of the head and body all match.
Additionally, your Pomeranian's ears will be small, pointy, and manicured to match the rest of its body. The only portion of your Pomeranian's body with more hair than the rest will be the tail.
Princess Cut
A princess haircut will make your Pomeranian look regal and elegant. This haircut is among the most common haircuts for Pomeranians and will make your dog's eyes look big since the facial hair is manicured to make her face narrow.
A princess haircut will keep a large amount of chest and body hair, brushed often to make your Pomeranian look posh. However, the hair on your dog's legs and underbelly will likely be trimmed to prevent any knots or tangles.
Mohawk Cut
A mohawk cut is one of the most spunky haircuts, and it works perfectly for a Pomeranian. You can achieve this look by trimming all the hair on your Pomeranian's head and body except for a single strip going down your dog's back.
This haircut style is modifiable and can go on to your Pomeranian's tail. Some Pomeranian owners choose not to let this mohawk go down so long and instead stop it halfway down the back.
Show Cut
A show cut on a Pomeranian has a nearly folded look because of the amount of hair left on the body. Pomeranians with a show cut will need frequent grooming because their hair is so large. Your dog's tail will also be kept puffy and can sometimes blend in with the rest of your Pomeranian's hair and body.
However, a simple brush every day can make this hair manageable and easy to maintain. Your dog will look similar to a puffy toy with this haircut, making it one of the best teddy bear-like Pomeranian haircuts.
Lion Cut
A lion cut is stunning on a Pomeranian and can make your dog look elegant. This haircut may help your dog feel comfortable since they won't have much hair on their body to interfere with play or relaxation.
A lion cut is done by shaving as much of your Pomeranian's body hair as possible without touching the undercoat. Leave plenty of hair on the chest, neck, and head to create a lion's mane. Then, you can manicure the remaining hair and round out the look to make your dog look like a fierce beast.
Clean Shave
A clean shave is not recommended for any Pomeranian or any dog with a double coat. A dog with a double coat, like Pomeranians, can suffer from temperature regulation issues when they are shaved.
For example, a Pomeranian in arid, dry, or tropical locations may suffer during dips in temperature if its owners shave their hair off completely.
However, there are cases where a clean shave may be necessary for your Pomeranian's overall health and well-being. Surgical procedures or pest infestations may require you to shave your dog to protect them. Before choosing to trim, consider using all other options possible.
Your Pomeranian's undercoat will grow back, but this area shouldn't be shaved unless necessary.
Frequently Asked Questions
These answers can help you decide if the teddy bear cut is right for your dog or if you should opt for a similar style that fits your needs better.
What Is a Pomeranian teddy bear haircut?
A teddy bear haircut on a Pomeranian is when you trim or shave a lot of the body hair short to create a look similar to a stuffed animal. This haircut will leave your dog looking puffy and bear-like.
How do you do a teddy bear haircut on a Pomeranian?
You can do this trim on your Pomeranian at home by starting with the body. Shave or trim the body hair down so that only an inch or two remains.

From there, decide how much head and facial hair you want to remain — usually only an inch or two more than the body hair. Round the edges of the face to make a youthful look.
Can a Pomeranian get a teddy bear cut?
Pomeranians are perfect candidates for a teddy bear cut. This haircut works perfectly on a Pomeranian and will make them comfortable.
What is the best haircut for a Pomeranian?
The best haircuts for Pomeranians are those that allow them the most comfort. For example, lamb cuts, puppy cuts, and teddy bear cuts are among the easiest Pomeranian cuts to maintain and don't require much care.
Conclusion for "Teddy Bear Pomeranian Haircuts, Pictures, & Styles"
Pomeranians are small, lively dogs who are never afraid to meet new people. These dogs will likely shed a little around the house and need a haircut every four to six weeks. However, there are plenty of haircuts you can choose to keep your pup looking as innocent and loving as possible.
Pomeranians are perfect for teddy bear cuts, puppy cuts, and lamb cuts. Choosing one of these options can cut down on the need for brushing and grooming while maintaining hygiene. Teddy bears Pomeranian haircuts can help your dog remain comfortable, as many other haircuts can.
Be mindful of how comfortable your dog looks and reacts to a new haircut to see if they are comfortable.
If you find this guide, "Teddy Bear Pomeranian Haircuts, Pictures, & Styles," helpful, check out:
Learn more by watching "How to Groom a Pomeranian, Cutest Dog Ever" down below:
Garrett loves animals and is a huge advocate for all Doodle dog breeds. He owns his own Goldendoodle named Kona. In addition, he volunteers at the Humane Society of Silicon Valley, where he fosters dogs and helps animals. Garrett enjoys writing about Doodles and believes that dogs can teach humans more about how to live than humans can teach a dog.
Why Trust We Love Doodles?
At We Love Doodles, we're a team of writers, veterinarians, and puppy trainers that love dogs. Our team of qualified experts researches and provides reliable information on a wide range of dog topics. Our reviews are based on customer feedback, hands-on testing, and in-depth analysis. We are fully transparent and honest to our community of dog owners and future owners.