When you're sick, you require medication to help your healing process. It is the same case with dogs. When your precious pet feels unwell, there is a chance the vet will prescribe them antibiotics. So, do antibiotics make dogs tired?
Healing requires significant energy, as the body directs its resources toward overcoming any illness or ailment. Therefore, if you notice your dog is sleeping more than usual while taking antibiotics, it's unlikely the medication is causing drowsiness.
Let us cover some of the usage and side effects of antibiotics in dogs.
Before you read this guide, "Do Antibiotics Make Dogs Tired," check out: How to Treat Razor Burn on a Dog! (2023) and Pyoderma in Dogs: Home Treatment Options! (2023).
What Is the Use of Antibiotics?
Antibiotics primarily combat bacterial infections, typically due to single-celled organisms infiltrating an organism's body through various means. These bacteria reproduce quickly and often produce harmful toxins that can result in further complications.
However, antibiotics are ineffective against viral, fungal, or protozoal infections.
Antibiotics are ineffective against viruses because these organisms reproduce by attacking the host's cells and replicating within them. Destroying these pathogens would also mean damaging the cells. Alternative drugs treat viral, fungal, and protozoal conditions more appropriately.
Does an Antibiotic Make My Dog Tired?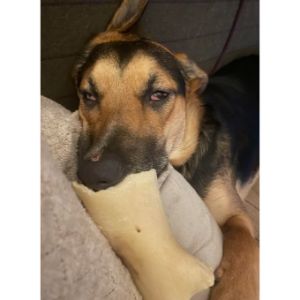 Antibiotics function by targeting the bacteria or other harmful cells in your dog's body, but they don't distinguish between good and bad cells. Consequently, while eliminating bacterial cells, they may also impact healthy cells.
While antibiotics do not sedate dogs, some side effects can make your dog feel exhausted. These side effects can include diarrhea, vomiting, loss of appetite, or allergic reactions.
Furthermore, your dog may feel more tired than usual as it battles an illness, with its immune system working hard to combat the infection. Like humans, it's natural to feel tired and require extra naps or sleep when fighting off a bug.
Side Effects of Antibiotics on Dogs
Dogs frequently experience side effects from antibiotics. Being aware of these side effects ahead of time can help you support your dog better during the healing process.
Yeast Infections
Antibiotics have the potential to trigger yeast infections in dogs. Yeast is a fungus in a dog's mouth, ears, and digestive system. However, if their immune system is weak, they may experience an overgrowth of yeast, leading to itching in the belly or eye area and an unpleasant odor on their skin.
If you detect these symptoms, you should seek veterinary attention for a skin culture. Also, contact your vet if you have any questions or concerns regarding yeast infections after administering antibiotics.
Some yeast-based probiotics are available on the market that can help manage yeast infections. However, before introducing any new supplements or medications, it is critical to consult with your veterinarian to avoid potential interactions with the antibiotics already in your dog's system.
Appetite Loss
One of the typical side effects of antibiotics is a decrease in appetite. However, this can be beneficial as the body can redirect its digestive energy toward combating pathogens and fighting infections.
Additionally, monitoring your dog's water intake and ensuring they drink enough water to remain hydrated is essential. Although they can survive for a day or two without consuming much food, they still require water to maintain good health.
Upset Stomach
In addition to vomiting, diarrhea is another frequent side effect of antibiotics. It can persist for 12 to 24 hours and typically occurs when the antibiotic eradicates too many bacteria in your dog's system.
Diarrhea is a sign that your dog's body attempts to eliminate harmful bacteria as quickly as possible, which can ultimately be beneficial.
If your dog experiences diarrhea for more than 24 hours, contacting your veterinarian is recommended for guidance on what to do next. Your vet may recommend specific supplements or medications to alleviate excessive diarrhea.
Vomiting
Antibiotics can cause vomiting, a common side effect lasting 12 to 24 hours. As antibiotics can kill off a significant amount of bacteria, they may affect your dog's stomach, leading to vomiting. Contact your veterinarian for guidance if the vomiting persists beyond 24 hours or is excessive.
Your veterinarian may prescribe medications or supplements to reduce the vomiting. Additionally, encourage your dog to drink water to prevent dehydration, a common side effect of vomiting.
Lethargy
As noted, antibiotics can cause fatigue in dogs as they work to combat infections. Therefore, scheduling a check-up with your veterinarian is crucial if your dog is overly lethargic following antibiotic treatment.
Allergy
Allergic reactions are a typical side effect of antibiotics, and they can manifest as a rash, hives, swelling of the lips or tongue, wheezing, or difficulty breathing. If you observe any of these symptoms in your dog after administering antibiotics, seek veterinary assistance immediately.
What Can You Do to Help?
Provide Optimal Nutrition
A balanced and nutritious diet ensures your dog receives optimal antibiotic benefits. It means providing your dog with high-quality food that contains all the necessary nutrients.
In addition to a balanced diet, you can consider giving your dog nutritional supplements like probiotics or fish oil. These supplements can help support your dog's immune system and promote healthy skin and coat.
However, it's always best to check with your veterinarian to ensure that any supplements you plan to give your dog will work well with the antibiotics.
Keep Your Pup Hydrated
During recovery, it's important for your dog to remain hydrated. You can offer your dog a generous amount of water and broth, especially if they struggle to keep anything down. Please keep a close watch on their water bowl and refill it frequently.
Fresh water should be provided throughout the day. This may encourage them to drink more than usual, which will help them stay hydrated and combat infections more effectively.
Monitor Symptoms
Observing your dog's symptoms and overall condition is crucial if it's taking antibiotics and appears lethargic or unwell. In addition, monitoring progress can help determine if a vet visit is necessary.
Keep a record of your dog's condition at the beginning and end of each day to follow along. In addition, it will be easier to recognize whether your dog is getting better or worse due to the antibiotic treatment.
Maintain Clean Environment
Your sick dog will need their surroundings to be fully hygienic. This entails regularly tidying up your dog's sleeping area and bedding and practicing frequent hand-washing. These measures not only enhance your dog's comfort but also prevent the spread of further infections.
Give Your Pet a Probiotic
Including a probiotic supplement in your dog's diet can effectively restore the balance of good and bad bacteria in their system, which is especially beneficial during antibiotic treatment. Antibiotics tend to destroy beneficial bacteria along with harmful ones.
Adding a probiotic supplement to your dog's diet can reintroduce the beneficial bacteria to their system, re-establishing balance and possibly minimizing side effects such as fatigue.
Additionally, this can help reduce the risk of secondary infections resulting from bacterial imbalance. Probiotic supplements, such as powders and treats, are available in various forms and are even included in specific dog food recipes.
Frequently Asked Questions
Is fatigue a side effect of antibiotics?
Yes, fatigue is a common side effect of antibiotics in dogs. When a dog takes antibiotics, their body works hard to fight off infection, making them feel tired and lethargic.

Additionally, some antibiotics can cause gastrointestinal upset, which can also contribute to feelings of fatigue. If you notice excessive fatigue in your dog after taking antibiotics, it's essential to monitor their symptoms and consult a veterinarian.
How long does it take for a dog to feel better after antibiotics?
The time it takes for a dog to feel better after taking antibiotics varies depending on the condition and the specific antibiotics it's eating. In some cases, dogs may show improvement within a few days of starting antibiotics, while in other cases, it may take several weeks for them to recover fully.

Therefore, following your veterinarian's instructions regarding the antibiotics' duration and dosage and monitoring your dog's symptoms and overall health during and after treatment is essential.

If you have concerns about your dog's progress, contact your veterinarian for further guidance.
What effect do antibiotics have on dogs?
Antibiotics can have various effects on dogs, both positive and negative.

The positive impact is that antibiotics can help treat bacterial infections in dogs and prevent them from spreading. However, antibiotics can also have adverse effects on dogs, causing side effects like loss of appetite, vomiting, diarrhea, tiredness, and allergic reactions.

Additionally, overuse or misuse of antibiotics can lead to the development of antibiotic-resistant bacteria, which can make future infections much more difficult to treat. Therefore, it's important to use antibiotics only when necessary and under the supervision of a veterinarian.
Can amoxicillin make a dog tired?
Like many other antibiotics, amoxicillin can make dogs feel tired or lethargic. It is because the medication is working to fight off infections in the dog's body, which can take a lot of energy.

However, suppose your dog's fatigue seems excessive or lasts longer than a few days. In that case, it's always a good idea to consult your veterinarian to rule out other potential health issues.
Conclusion for "Do Antibiotics Make Dogs Tired"
Healing requires a considerable amount of energy as the body focuses its resources on overcoming illness or ailments. Antibiotics combat bacterial infections, and it is crucial to understand their usage and potential side effects.
While antibiotics do not sedate dogs, side effects, such as diarrhea, vomiting, and loss of appetite, can make dogs feel tired or even exhausted. It is also essential to be aware of potential side effects such as yeast infections, lethargy, and allergies and to contact your veterinarian if they occur.
Providing optimal nutrition through a balanced and nutritious diet and supplements such as probiotics or fish oil can help your dog's recovery during healing.
If you find this guide, "Do Antibiotics Make Dogs Tired," helpful, check out:
Learn more by watching, "15 Side Effects of Antibiotics in Dogs (And What To Do ASAP!)" down below:
Garrett loves animals and is a huge advocate for all Doodle dog breeds. He owns his own Goldendoodle named Kona. In addition, he volunteers at the Humane Society of Silicon Valley, where he fosters dogs and helps animals. Garrett enjoys writing about Doodles and believes that dogs can teach humans more about how to live than humans can teach a dog.
Why Trust We Love Doodles?
At We Love Doodles, we're a team of writers, veterinarians, and puppy trainers that love dogs. Our team of qualified experts researches and provides reliable information on a wide range of dog topics. Our reviews are based on customer feedback, hands-on testing, and in-depth analysis. We are fully transparent and honest to our community of dog owners and future owners.