Over the past 50 years, designer dogs have become very popular! Breeders have been "creating" unexpected new breeds for specific purposes. The Wiener Dog Pit mix is one such breed.
The Wiener Dog Pit mix combines the lovable Dachshund with the intimidating Pitbull. The result is a surprising little pup, sometimes called a Doxie-Pit, who's adorable, friendly, and oh-so-loving.
If you're considering adding one of these sweet babies to your household, read on for more information!
Before reading this guide, "Wiener Dog Pit Mix," check out: Dapple Wiener Dog Information, Facts, and Images! (2023) and The Best 100 Wiener Dog Names For Your Puppy! (2023).
Wiener Dog Pit: Parent Breeds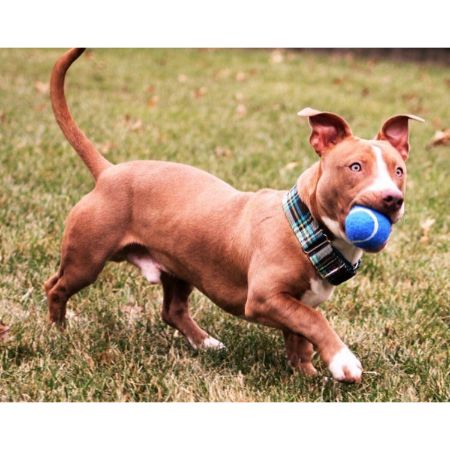 The Wiener Dog Pit mix goes by a few names. You may hear the breed referred to as a Doxie-Pit, a Doxie-Bull, or just a Dachshund Pitbull mix. Regardless of what a breeder calls her puppies, a reputable kennel will breed for the best traits of each parent.
The Dachshund is a lovable dog full of energy and highly stubborn! They're smart animals, but Doxie owners sometimes refer to the dogs as "dumb" because of their unwillingness to bend their will to yours.
Dachshunds do well in small spaces, so if you live in an apartment, this breed may be a good fit. Keep in mind, though, they're noisy little companions; barking and whining seem to be the norm for the Doxie.
The Pitbull, on the other hand, is a larger dog that can grow to weigh around 60 pounds, depending on the lineage. The breed has gained a reputation for aggression, though with proper training the pups can be as docile as can be.
When a Pitbull is socialized from an early age, he can learn to be affectionate and protective, earning them the nickname "nanny dogs." (We'd like to stress, however, that your dog is a pet, not a nanny!)
When you combine the two breeds, the result is an affectionate, playful, and exceptionally fun dog. Let's look a little more closely at the characteristics of the designer dogs!
Wiener Dog Pit Mix Characteristics
Every puppy is different, no matter the breed. Dogs certainly have their own personalities, just like people, and much of that personality is formed by nurture, not nature. For instance, a well-socialized dog is more likely to make a good family pet than one neglected in its earliest weeks.
Generally speaking, however, you can expect your puppy to inherit a few personality traits.
The Pitbull Wiener Dog Mix is usually a playful dog and relies heavily on its owners for companionship. The dogs don't love to be left alone for long periods of time — neither parent does, either — and you may find your dog clingy.
As a part of this clinginess, you'll likely notice that your dog imprints on a family member, following them around more than others. By dividing the dog-related responsibilities, you can help mitigate this "shadowing" behavior.
Dachshunds are noisy — they bark a lot and they'll alert you to "stranger danger." Pitbulls, on the other hand, are giant couch potatoes. Everyone is a best friend. Your Doxie-Bull will likely fall somewhere in the middle of these extremes.
Overall, a Wiener Dog Pit Mix is a good family dog but it must be introduced to children and other animals from an early age to prevent aggression and fear of humans.
How Big Will My Pitbull Wiener Dog Get?
The Dachshund will grow to weigh up to 30 pounds as an adult. The Pitbull can grow to weigh around 60 pounds. Both breeds see larger males than females.
The resulting dogs, Doxie Pits, can be expected to reach a weight of between 20 and 50 pounds, though this will vary based on genetics.
It's important to note that the Pitbull parent of a Wiener Dog Pit mix must be a Pitbull! The Dachshund is simply too small to carry and whelp the puppies safely. As you search for a breeder, ensure that they follow this practice; failure to do so can threaten the mother's life.
Your Doxie-Pit will most likely be longer than she is tall, giving her the appearance of a stocky, athletic little sausage. They're cute, no doubt about it, but you'll want to teach your children how to handle your dog. Injuries can happen as a result of improper lifting or even jumping on and off furniture.
Wiener Dog Pitbull Mix Personality
We touched on the personalities of these dogs a little bit, but let's take a deeper dive into what type of pup you'll be adopting.
Both the Pitbull and the Dachshund are wary when meeting other dogs. If you have older dogs in your home, it's best to take the introduction slowly and in a neutral space. If you have other animals like rabbits or guinea pigs, a Doxie-Pit may not be a good option since they have a high prey drive.
Your pup will be loving and playful but may underestimate his own size. Unfortunately, this means your dog may be clumsy, particularly during adolescence. Keep any fragile items out of the way!
Your pup may or may not be easy to train. Both the Pit and the Dachshund are intelligent dogs, but both can be stubborn. Establish yourself as the pack leader early, and enroll your dog in puppy training classes. Many breeders offer this, so check with them to discover your options.
Finally, with intelligence comes boredom, and boredom can lead to destructive behavior. Keep your dog entertained throughout the day using a rotation of stimulating toys or even a doggy daycare.
Training is important no matter which breed you adopt, but the Doxie-Pit will need special attention paid to teaching him manners and social skills. Your vet or a professional trainer can help should you find this to be challenging.
Doxie-Pit Grooming and Care
Your Wiener Dog Pit mix is a pretty low-maintenance dog, and your pup will be relatively low-shedding, too. The breeds aren't hypoallergenic, however, so if you're allergic to pet dander you may want to reconsider the breed.
Plan to brush your dog once a week, and bathe him only when necessary. Your dog is more of a low-rider than some other breeds, so make sure his belly and underside are free from mud and debris.
Of course, as with any dog, you'll want to make sure you keep up with the teeth brushing and nail trimming. A groomer can help if you'd rather not do this on your own, though we strongly encourage you to try to participate in this bonding experience at least once.
Feed your Wiener Dog Pit mix quality food, and ask your vet for recommendations. Both parent breeds are prone to obesity, so make sure your dog gets plenty of exercise. Plan for about an hour a day. Walks, jogs, or a spirited game of fetch can count!
Finally, you'll want to be aware of the health conditions that commonly affect each dog breed. The Pitbull is known for its allergies, but also hip dysplasia, obesity, knee problems, and bladder issues. Dachshunds suffer from degenerative disc disease, eye issues, luxating patella, and back problems.
Regular visits to the vet can help with early detection, keeping your pup healthy for years to come.
Dachshund Pitbull Lifespan
The Wiener Dog Pit mix is a relatively new breed, having only been deliberately bred in recent years. Now, that's not to say this mix hasn't appeared "accidentally" before, it's only to note that we don't have very much data regarding the Doxie-Pit's lifespan.
With that said, the average lifespan of a Dachshund Pitbull mix seems to be between eight to 12 years. With proper vet care, nutrition, exercise, and socialization, your pup will be a member of your household for over a decade.
Talk with your puppy's breeder about their pedigree. There are several types of Pitbulls, each with their own unique characteristics and average lifespans.
Pitbull Wiener Dog Mix: Is the Breed Right for You?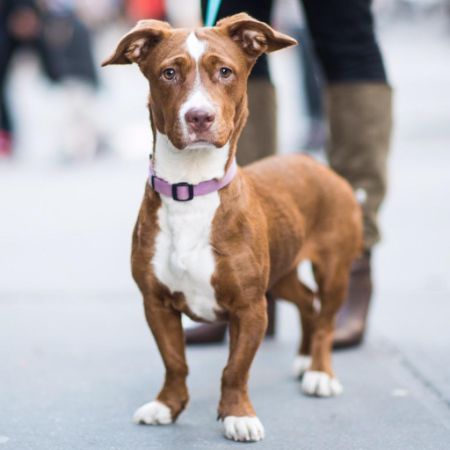 If you'd love a canine companion who's loving, playful, and ridiculously adorable, the Pitbull Wiener Dog mix may be a good option. However, there's more to caring for your Doxie-Pit than brushing and walking.
First, consider your living space. The Wiener Dog Pit doesn't need a lot of room indoors, as they're relatively small dogs and more inclined to lie in your lap than do laps.
However, if you live in a small condo or apartment, you'll want to ensure that you're committed to exercising your dog regularly! Obesity kills dogs, so keeping your pup healthy is imperative.
Secondly, you'll want to ensure that you're committed to training your dog. These pups are Stubborn with a capital S, so this will absolutely take patience and experience. The Doxie-Pit isn't always a good choice for first-time pet owners.
Do you have other dogs at home? Commit to socializing your dog appropriately. Let the dogs greet each other in a neutral space, and understand that the adjustment may take time for each dog. Let them lead; separate the dogs at the first sign of trouble.
Finally, remember that your dog is intelligent but stubborn. Only adopt a dog if you're willing to commit to training and mental stimulation. Many pet owners adopt or shop, only to realize later that they want to rehome their pups because they don't have the patience or experience to deal with them.
Give your dog a chance at a happy life with you, and prepare to enlist the help of professionals before you consider giving away your dog.
Frequently Asked Questions
The Dachshund Pitbull mix is a new breed, only having been deliberately bred for 20 years or so. For that reason, we get a lot of questions. Here are the most common topics.
Where can I find a Dachshund Pitbull Mix?
Doxie-Pits are a new breed, so there aren't many breeders producing them. Of course, you'll want to be cautious. Be wary of backyard breeders and puppy mills that offer high-volume, low-quality dogs. Puppy mills are inhumane, and adopting from them almost guarantees an unhealthy puppy.

Instead, check local rescues first. While you may adopt a slightly older dog than you'd anticipated, rescues care for the medical and social needs of animals before sending them to new homes.

If you can't find a shelter currently hosting a Doxie-Pit, word-of-mouth advertising is best. Ask around on social media and with your neighbors to find someone reputable in your area.

Google searches can help you find Pitbull Dachshund breeders, too. Just make sure you check reviews and visit the kennel in person to ensure the cleanliness of the facility and the proper treatment of the dogs.
Is the Doxie-Pit a good family dog?
If you have small children, it may be best to steer clear of this dog. Kids, particularly young children, are notoriously clumsy when handling puppies. The Doxie-Pit is prone to back injury due to its elongated shape, so your child is likely to inadvertently injure your dog.

With that said, the Doxie-Pit is great for families with older children, and even for seniors! They're affectionate and loyal, low-maintenance, and smart despite their stubbornness in training.
How much does a Wiener Dog Pit mix cost?
There are so few Doxie-Pit breeders that these kennels can set prices at their own discretion. One may charge just a few hundred dollars for a dog while another kennel may charge in the thousands.

Do your research and shop around. Remember that cheaper doesn't always mean the best choice. Ask the breeder about genetic testing, the pedigree of the dogs, vet records, and training. This will help you narrow down your options and find the Doxie-Pit breeder that's perfect for you.
Conclusion for "Wiener Dog Pit Mix"
Crossing a Dachshund with a Pitbull creates an unusually adorable puppy with a big head, stocky body, and sausage shape. They're cute dogs, but they're also great additions to families with older children, singles, and even seniors.
Do your research and learn all you can about the mixed dog breed before you shop. Once you're sure you're ready for this willful little breed, look for a responsible breeder or shelter to find the puppy that's perfect for your lifestyle.
If you find this guide, "Wiener Dog Pit Mix," helpful, check out:
Learn more by watching "All About The Pitbull Dachshund Mix (The Dox Bull)" down below:
Garrett loves animals and is a huge advocate for all Doodle dog breeds. He owns his own Goldendoodle named Kona. In addition, he volunteers at the Humane Society of Silicon Valley, where he fosters dogs and helps animals. Garrett enjoys writing about Doodles and believes that dogs can teach humans more about how to live than humans can teach a dog.
Why Trust We Love Doodles?
At We Love Doodles, we're a team of writers, veterinarians, and puppy trainers that love dogs. Our team of qualified experts researches and provides reliable information on a wide range of dog topics. Our reviews are based on customer feedback, hands-on testing, and in-depth analysis. We are fully transparent and honest to our community of dog owners and future owners.