When you notice your dog ingesting anything it shouldn't, alarm bells usually start to go off in your head. This is especially true when it's something you wouldn't expect them to consume, like hair. In this article, we'll provide you with some useful facts about why a dog would eat hair, whether it's harmful to them, and how to encourage them to quit.
While it may be expected for your dog to nibble on your shoes or grass, it is more alarming when you see your dog eating hair. It might come from a hairbrush, your head hair, from the floor, or their own fur!
A dog may ingest their own hair or hair from the floor due to boredom, curiosity, stress, anxiety, or even if they are ill or infected with worms. It may also be the result of an accidentally learned behavior. The great news is that there are ways to stop it, even though it is undoubtedly a perplexing behavior.
Before scrolling down this article "Why Does My Dog Eat Hair," check out: Why Does My Dog Jump on Me? (2023) and Why Does My Dog Sleep On Me? (2023)
Development
Dogs use their tongues to investigate their surroundings, just like infants do. They familiarize themselves with items by chewing and biting those they have never encountered before, and hair is no exception.
Hair can really pique your dog's interest from a sensory standpoint because of how it moves and effectively provides feedback when your dog chews on it.
Therefore, you shouldn't be concerned if you're wondering why your young puppy is nibbling on hair. At an early age, it is perfectly normal and expected that they do so.
Nevertheless, it is a wise idea to provide your dog with a larger variety of chewing toys, prompting them to gradually divert their attention away from one's hair in favor of those toys, if you wish to stop them from chewing hair.
This allows them to continue their exploratory chewing without accidentally swallowing hair.
Pica
Dogs with pica have cravings for and devour non-food objects. Some dogs might only consume one kind of object, but others might consume several different kinds. Because what a dog swallows may be poisonous, interfere with normal digestion, or become trapped in their intestinal tract, pica puts their health at risk.
A very typical manifestation of pica is dogs chewing hair, and as is the case with most occurrences of pica, the motivation may be a compulsion.
Dogs will compulsively ingest non-food objects like hair for a variety of reasons. It might be an unintentional attempt to evade punishment, an acquired behavior, or an indication of stress or anxiety.
If your dog was adopted or rescued, it is more possible that it picked up negative behaviors or is reacting to trauma from its prior home, which makes pica the likely reason for its hair-eating.
Finding a qualified dog trainer or behaviorist is the best approach to stop this tendency because pica is primarily a psychological problem.
Attention Seeking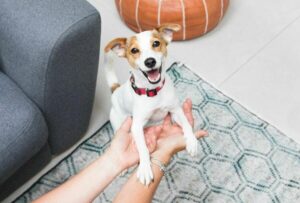 It is safe to conclude that your dog is simply waiting for you to give them attention if they are trying to eat the hair that is currently attached to your head.
Additionally, if you have ever reacted to their ingesting hair in the past, even if it was an unfavorable or corrective reaction, that tells your dog that doing so will garner their attention.
Your dog doesn't care if the treatment is positive or negative since attention is attention.
The easiest method to stop these attention-seeking behaviors in your dog is to ignore them when they begin biting your hair, no matter how annoying it may be.
Boredom
One reason for their fondness for human hair is plain old boredom. If you don't usually react much when they eat human hair and you can rule out other causes like pica and teenage growth, this is the only explanation left.
Eating human hair is one of the most frequent bad habits that dogs develop as a way to pass the time when they are bored.
It is safe to presume that either an absence of stimulation or activity is to blame for your dog's boredom. If it's the former, it means that your dog doesn't get enough strolls, and as a result, has a lot of stored physical energy that they aren't able to release.
The latter scenario, though, indicates that your dog could not be getting enough mental stimulation. This occurs when your dog doesn't have enough toys or activities to keep their minds active.
Your dog's bad behavior of consuming hair should be reduced as a result of addressing the root issue of their boredom, whether that be through increased interpretation or more playing.
Besides nibbling on hair and other non-food items, a bored dog may exhibit the following behaviors:
Make a large mess by peeing and pooping indoors and digging up the yard when you are around.
Jump on you and others.
Excessive barking, whining, or howling.
Anxiety
The most frequent reason for hair pulling and eating in dogs is anxiety. A worried or anxious behavioral issue is most often the cause of this kind of behavior. Your dog may start pulling and eating their own hair when they are under stress. They will lose more hair as their anxiety increases.
Sometimes something as basic as insufficient activity might lead to anxiety. You've probably observed that the healthiest canines typically have much more energy than we do. They'll race back and forth, swim about, run large distances, and overall have a blast.
In addition to consuming things like hair or feces (coprophagia), your dog may exhibit the following symptoms if it is anxious or stressed out:
Pacing or Restlessness
Wailing, and whining
A lot of barking
Furniture chewing
Indoor urination
Itching
You might see your dog biting, licking, and ingesting his hair out of itchiness if he has allergies to anything in his surroundings or food. It's the same for your dog as it is for us when we scratch where we have a skin allergy.
If your dog is compulsively scratching along with his obsessive chewing, to the point where he is accidentally ingesting fur while doing so, parasites may be to blame. The spot where he chews will probably show signs of loss of hair, skin irritation, and even scabs or sores.
Positive Reinforcement
Since dogs were tamed by humans, they have begun to view people as their group. They depend on their masters for food and safety, as is only natural.
The fact that we regularly pet, reach out to, love, and embrace our dogs has only served to encourage this urge. As a result, we risk rewarding the precise behavior that we are attempting to change — in this case, eating pet hair off the floor.
For instance, the owner may have given the dog a treat when a pup or adult dog eats hair from the floor in an effort to divert it. The puppy interprets this as a sign that "I did something right, so I am getting a reward," though.
This type of positive reward encourages the very behavior we don't want from our dog.
As was previously mentioned, never give your dog treats or rewards after it has misbehaved. The best thing to do is to ignore it.
Nutritional Deficiency
The keratin protein found in hair may be the cause of your dog's hair-eating behavior.
If a dog's diet is inadequate in protein, it may turn to suddenly eating various objects, such as human hair or its own fur.
Your dog may develop an intestinal blockage if the hair chewing becomes excessive. It is crucial to have your veterinarian determine the precise reason for hair eating because of this.
Blood tests might reveal any nutritional deficiencies your pet may have. As a result, your veterinarian may suggest vitamins or alter your dog's diet.
The behavior of eating hair will cease once it begins receiving the proper nutrition.
Intestinal Worms
Intestinal worms like tapeworms, hookworms, and roundworms are some of the typical causes of dogs consuming things other than food, such as hair.
It is common for puppies to develop worms from their mother's milk. Puppies will consume anything they can get their hands on. Since the worms consume all the food and nutrients, it is only inevitable that the pup won't get any nutrition. Dogs with intestinal worms do not put on weight because of this.
Other indications of worms in dogs include:
Tapeworm fragments in the dog's feces and on its anus
Pot-bellied, enlarged appearance
Lethargy
Persistent diarrhea
Vomiting
Extreme hunger
It's crucial to adhere to your veterinarian's recommended deworming plan religiously. It's also safe to regularly deworm adult dogs using many over-the-counter dewormers. But before choosing the medication, it is important to speak with a veterinarian.
Underlying Medical Issues
When dogs suffer from ailments like tumors, diabetes, thyroid issues, or other illnesses, they frequently consume rocks, grass, paper, clothes, and hair.
Because of the discomfort, these medical conditions create, the dog may start consuming non-food items.
Your dog may also exhibit additional symptoms, such as vomiting, altered appetite, poor breath, etc., depending on the specific medical condition.
Visit your veterinarian as soon as possible if you suspect a medical issue. Once you begin receiving medical care, the behavior of eating hair should also stop.
Stop Your Dog from Eating Hair
To stop your dog from eating his own hair, you must first rule out allergies, fleas, ticks, or other parasite infestations. Additionally, you ought to speak with your veterinarian, just in case there is a hidden health problem.
Naturally, you must be careful about having hair cleaned up inside your home if your dog is eating human hair. To stop your dog from chewing his own fur, you must also keep him tidy and well-groomed.
Lastly, you must take action to resolve any underlying behavioral problems, such as fear, boredom, attention seeking, or merely curiosity, if they are the root cause of your dog's hair-eating habit. Mentally stimulating toys, such as puzzle treats, can be very beneficial.
In addition, you should ensure that your dog has regular human contact and exercise. If your dog experiences separation anxiety, take action to resolve the situation.
The correction of undesired canine behaviors can be greatly aided by diversion and positive reinforcement. When you notice your dog eating hair, whether it's yours, another animal's, or his own, ignore the activity and divert his attention with a suitable chew toy.
Give him lots of positive reinforcement for the behavior you want him to learn whenever he turns his focus to the toy. He will eventually understand that while bad behavior has no effect at all, good behavior gets him what he needs.
Seek help from your veterinarian or an animal behaviorist if, even with your best efforts, your dog still compulsively eats hair.
What if My Dog Eats Hair?
Both canine hair and human hair often pass via your dog's digestive tract without any problems. You likely won't need to do anything whatsoever as long as your dog doesn't consume a large amount of hair at one time or make a practice of it.
Some dogs who tend to eat their own hair may get constipation or form a little hairball. Psyllium, often known as Metamucil, is a popular home remedy for dogs with mild constipation.
Often when your dog tries to poop, you might see human hair come out of his behind. It is preferable to let the hair fall out naturally. If you attempt to remove it, you run the risk of damaging your dog's internal organs if the hair gets tangled in the gut.
Frequently Asked Questions
What happens if my dog eats hair?
If your dog eats the occasional hair, it should be able to pass through feces without issue. It is possible for hair to clump and at that point, it may be harder to get out naturally.
Why is my dog obsessed with my hair?
When playing with your hair, your dog may be trying to get your attention or bond with you.
Can dogs have pica?
Dogs can exhibit this and other eating disorders, including consuming feces.
Conclusion for "Why Does My Dog Eat Hair"
If your dog likes to eat hair, it could be a sign of an underlying behavioral or even medical issue.
It's important to address this quickly because even though ingesting small amounts of hair every now and then is not troublesome, it can cause intestinal blockage if ingested in large amounts or regularly.
For more questions similar to this guide, "Why Does My Dog Eat Hair," check out:
Learn more about what foods dogs can eat by watching "Human Foods that Are Actually Good for Dogs" down below:
Garrett loves animals and is a huge advocate for all Doodle dog breeds. He owns his own Goldendoodle named Kona. In addition, he volunteers at the Humane Society of Silicon Valley, where he fosters dogs and helps animals. Garrett enjoys writing about Doodles and believes that dogs can teach humans more about how to live than humans can teach a dog.
Why Trust We Love Doodles?
At We Love Doodles, we're a team of writers, veterinarians, and puppy trainers that love dogs. Our team of qualified experts researches and provides reliable information on a wide range of dog topics. Our reviews are based on customer feedback, hands-on testing, and in-depth analysis. We are fully transparent and honest to our community of dog owners and future owners.