When your dog loses his appetite, it can be unnerving! Your pup, who is usually a voracious little eater, is feeling lethargic and has hardly touched his food all day! If your Maltipoo won't eat, you're probably wondering whether you should call the vet.
We're here to help. There are quite a few reasons your dog may not be eating as much as he normally would. In this guide, we're going to talk about what those reasons are, how you can address them, and when it's time to call a vet.
Before reading this guide, "Maltipoo Won't Eat? Most Common Reasons," check out: Can Maltipoos Swim? (2023) and Are Maltipoos Hypoallergenic? (2023).
My Maltipoo Won't Eat — What's Wrong With Him?
If your Maltipoo isn't hungry and is refusing food, there could be more than one cause. Let's take a look at some of the most common reasons your Maltipoo won't eat his food.
He's Not Hungry
In many cases, the best answer is the simplest one. It could be that your Maltipoo simply isn't hungry. Maybe the temperature is too hot for him to feel hunger as he normally would, or maybe he's already gotten into something he shouldn't have.
If you ordinarily leave dog food out for your Maltipoo all day, there's the very real possibility you've simply lost track and that your dog already ate. Similarly, perhaps a family member gave your dog food and you weren't aware.
In some cases, of course, your dog may have gotten into something else. Did you leave food out on the counter? Did your dog sneak over to the neighbors' house and eat their cat food? Think of all the possibilities before you assume that your dog is simply refusing food.
Your Dog Ingested a Toxin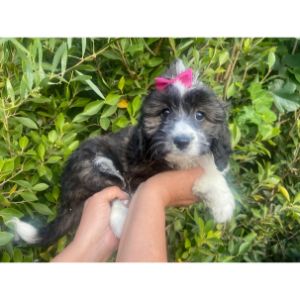 If your dog got into something he shouldn't have and isn't hungry, you've got to prepare for the possibility the "something" was toxic to him. Dogs are intelligent, but they can't tell the difference between a pup cup and a chocolate cupcake. Put simply, if they think it looks good they'll probably eat it.
Look around your house and your yard, and check your dog for signs that he's been getting into mischief. Look for symptoms of poisoning, such as vomiting, diarrhea, seizures, and excessive drooling.
Remember, it's not just foods that are toxic to dogs! Your garden plants, some insects, and other naturally occurring "snacks" can cause sickness in your dog. Ingesting these toxins can be a reason your Maltipoo won't eat.
He Doesn't Like His Food
Put more accurately, it's possible your Maltipoo won't eat because he doesn't like his food anymore. There's a good chance you're giving your dog the same food day in and day out — is your dog simply bored with the single option he's been given?
Switch up your pup's kibble or feed him some eggs, rice, plain chicken, turkey, or lamb from your kitchen. Carrots and apples also make good treats for dogs — try a little peanut butter on the apples!
If your Maltipoo still won't eat, there may be an underlying issue. But chances are your dog is simply tired of the food you've been giving him and it's time to switch things up a little bit.
Your Dog's Mouth Hurts
Does your dog have dental issues? This is particularly common in senior dogs, but gingivitis and other dental disorders can occur at any age. When your pup's gums and teeth hurt, it also hurts to eat!
Do you notice any discoloration or bleeding around your dog's lips or gums? Have you spotted any tooth decay in your dog? If you're not regularly brushing your dog's teeth, he can become susceptible to the same dental aches, pains, and disorders that we humans can.
Take your dog to the vet if you suspect he's experiencing discomfort due to dental issues. Your vet can treat the dog appropriately, with options ranging from deep cleaning to tooth extraction.
Your Maltipoo is Sick or Was Recently Vaccinated
Vaccines in dogs can cause side effects just as vaccines in humans can. The day or two following a rabies, distemper, or other vaccination you may notice that your dog is lethargic and may even run a slight fever.
This is normal and shouldn't be cause for alarm. We recommend that you talk to your vet during the appointment, but that upon arrival at your home, you supply your dog with plenty of fresh water and fresh food to graze on as he feels ready.
If symptoms and side effects persist for more than a few days, it will be a good idea to call the vet. In very rare cases, your dog may have a negative reaction to an inoculation and medical attention or guidance may be required.
Similarly, it's possible that your Maltipoo won't eat due to feeling poorly in the absence of vaccinations. In the same way that humans sometimes lose their appetite during a period of ill health, your dog may just "not be feeling it" when he's sick.
Your Dog is in Emotional Distress
Anxiety, including separation anxiety, fear, excitement, and even sadness, are all common in dogs and could explain why your Maltipoo won't eat.
Has your dog experienced changes in his life recently? For instance, your dog may be disinterested in eating due to events such as:
A move to a new household
A death in the family
A new pet or child in the home
Divorce or other changes in the family dynamic
An injury
Changes in your shifts at work
These are just a few examples of life changes that can impact your dog and his appetite. If necessary, talk to a vet or even a trainer about how to make your Maltipoo get back to his usual chipper self.
If you suspect your dog has separation anxiety, consider signing him up for doggy daycare to socialize during the hours you're gone. You could also hire a local dog lover to stop by several times each day to play with or walk with your dog.
When Should I Begin to Worry When My Maltipoo Won't Eat?
An otherwise healthy dog that is provided with fresh water can "survive" for about five days without food. Of course, that's not ideal!
It's normal for your dog to "miss" a day of eating if he's sick, recently vaccinated, or if he's ingested a toxin. However, if the problem persists you should begin the process of contacting your vet.
In most cases, your dog will recover from his loss of appetite within a few days. If not, it may be a sign of an underlying issue. Whether that issue be related to dental problems, an illness, or anything else, you'll need to enlist the assistance of a vet.
How Much Should My Maltipoo Be Eating?
Sometimes what you notice as a loss of appetite is just normal eating behavior for a Maltipoo. That said, if your Maltipoo won't eat you should take a peek at his dog food packaging to determine what, exactly, is the correct serving size for your dog.
In most cases, if you're giving your dog high-quality food made with real meat, grain, and fats, you'll only need to feed him between one cup and a cup and a half of food each day. If your Maltipoo is very active that might increase.
Senior dogs and puppies will need slightly less food than an adult Maltipoo, and they need a different formula, too. If you have questions about the right brand or formula of food to give your dog, please ask your vet.
Are Maltipoos Fussy Eaters?
Usually, you won't have any trouble feeding your Maltipoo a dog food brand that's made with real meat, real grain, and healthy fats. They're not particularly finicky eaters. But remember, your dog has taste buds, too.
Some dogs just don't have a taste for fish, for instance, or your dog may not be a fan of carrots. Play around with different flavors within a respected and quality brand to find a flavor combo that your pup will adore.
You don't have to spend a lot of money to test out different dog foods. Post a request on your local Buy Nothing group or Freecycle page, or just ask your dog-loving friends if you could grab a cup of the food their pup likes. Additionally, some pet stores like Mud Bay will give out samples for your Maltipoo to try.
Eventually, you'll find one or two tasty flavor combinations your Maltipoo will enjoy; rotate the selections throughout the month to keep your dog from getting bored.
Frequently Asked Questions
How long can a Maltipoo go without eating?
Most dogs, including Maltipoos, should eat within 24 hours. If your dog refuses to eat after a day, it's worth consulting with your veterinarian to get to the root of the problem.
How much should a Maltipoo eat per day?
The size, age, breed, and activity level of your dog will determine how much your Maltipoo should eat per day. You can look at the feeding instructions on the food you buy and consult your vet.
Can Maltipoos eat scrambled eggs?
Cooked eggs, including scrambled eggs, are suitable for dogs. You can feed your Maltipoo a small portion of scrambled eggs but make sure to avoid any and all seasonings.
Conclusion for "Maltipoo Won't Eat? Most Common Reasons"
Maltipoos aren't typically picky eaters, but you may notice your dog loses her appetite from time to time. In most cases, this is just due to the fact that the dog is not hungry, too hot, or bored with his food.
If you suspect your companion has an underlying issue like we've mentioned on this list, it may be time to call a vet. Together, you and your pup's veterinarian can determine the best course of action to get your dog eating normally once again.
If you find this guide, "Maltipoo Won't Eat? Most Common Reasons," helpful, check out:
Learn more by watching "Maltipoo Pros And Cons" down below:
Garrett loves animals and is a huge advocate for all Doodle dog breeds. He owns his own Goldendoodle named Kona. In addition, he volunteers at the Humane Society of Silicon Valley, where he fosters dogs and helps animals. Garrett enjoys writing about Doodles and believes that dogs can teach humans more about how to live than humans can teach a dog.
Why Trust We Love Doodles?
At We Love Doodles, we're a team of writers, veterinarians, and puppy trainers that love dogs. Our team of qualified experts researches and provides reliable information on a wide range of dog topics. Our reviews are based on customer feedback, hands-on testing, and in-depth analysis. We are fully transparent and honest to our community of dog owners and future owners.