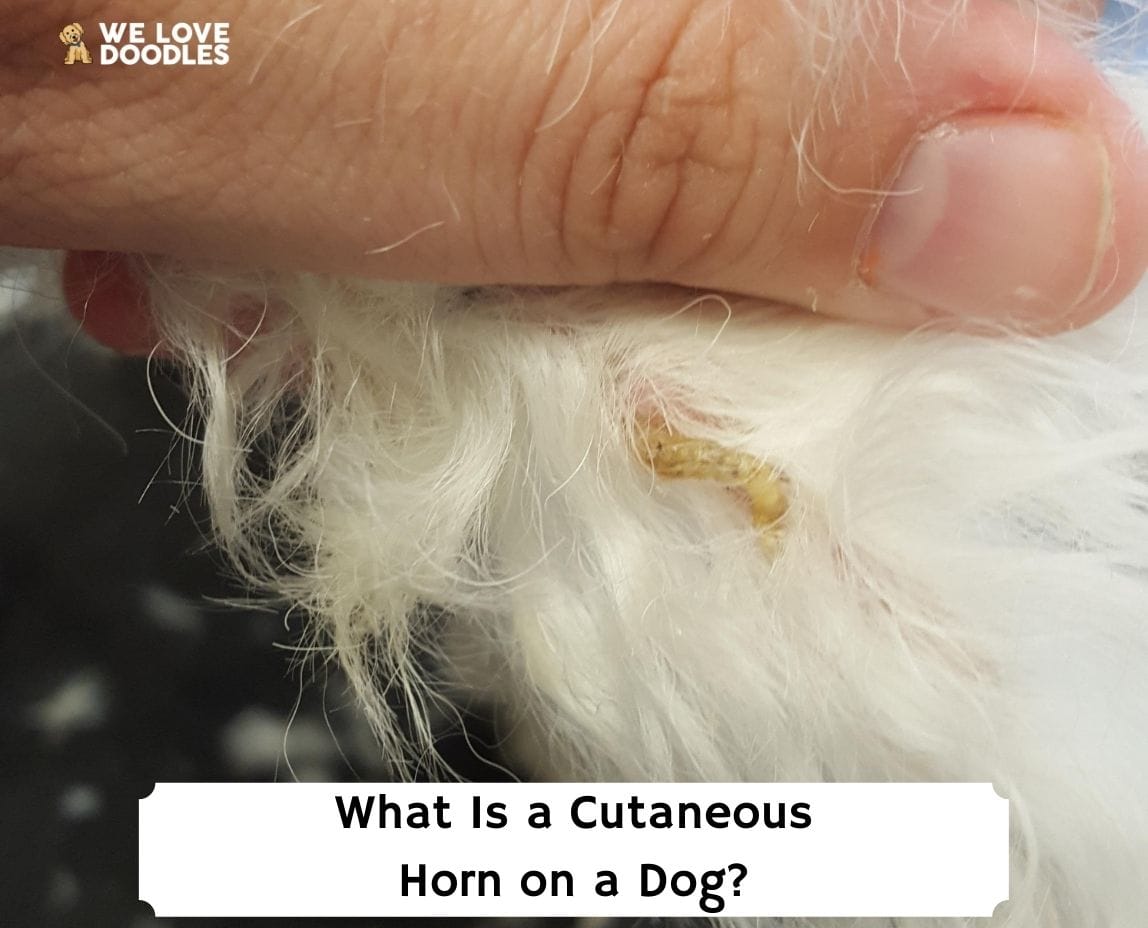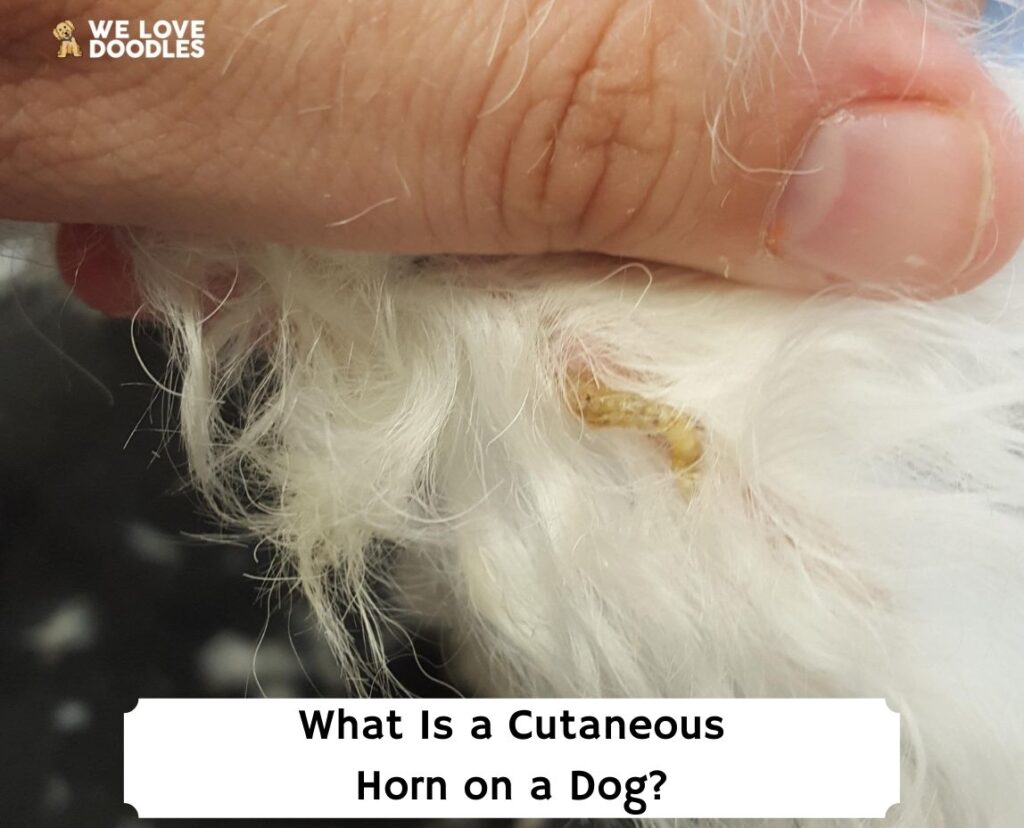 If you notice a nail-like growth emerging from your dog's body where it shouldn't be growing, you're understandably concerned. More likely, you're looking at a cutaneous horn.
Here's the good news: Cutaneous horns aren't typically harmful to your dog and cutaneous horn dog treatment often isn't necessary. If you're concerned that the curtaneous horn on your dog may be harmful or hurt other parts of their body, please see a veterinarian as they can remove it for you.
We'll help you understand what a cutaneous horn looks like, why it forms, and how to treat it.
Related: What Is a Dog Whisperer?
Identifying a Cutaneous Horn On a Dog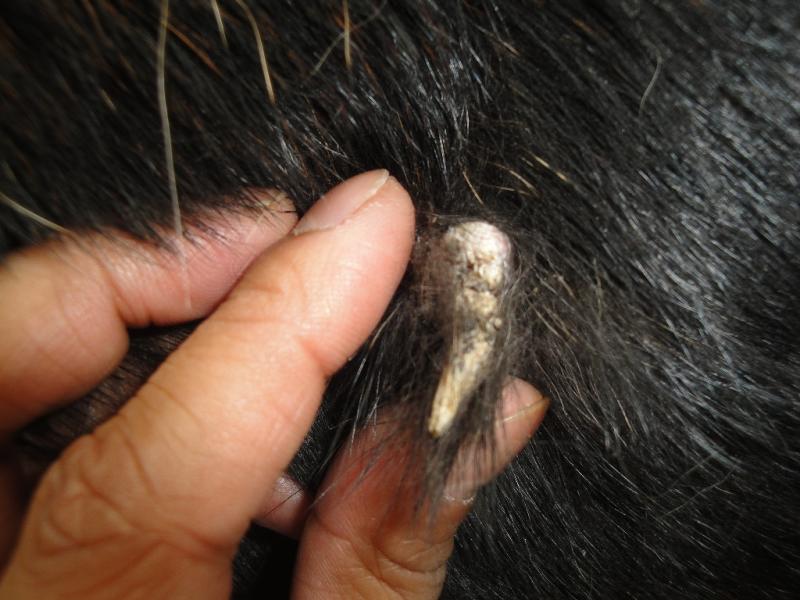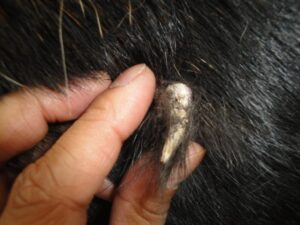 Cornifying epitheliomas on dogs, which is the formal name for a cutaneous horn, is a hard growth that looks like a nail, horn or stick that pokes up from an inflamed, red part of the skin.
It's alarming to encounter a cutaneous horn on your dog, given that they resemble hardened cysts or even tumors.
Cutaneous horns mostly commonly grow in the following places on dogs:
That said, cutaneous horns can grow anywhere on a dog's body.
Sometimes, cutaneous horns might not have any openings. In other cases, small cracks in them may produce a slow flow of pus or blood.
You may also notice some hair loss around the area where the cutaneous horn grows. The horn often emerges from a red, slightly elevated lump in the skin.
There's no one size fits all type of situation for cutaneous horns. So, some cutaneous horns may remain small, while others can grow quite large. These are typically the ones that bother dogs the most.
Furthermore, a cutaneous horn on a dog's tail may have a yellow-like appearance, while this same condition on another part of the body or paw may appear white or another color.
Other Names for Cutaneous Horns
Aside from cornifying epitheliomas, you may also come across the following terms during your research to describe cutaneous horns:
Infundibular keratinizing acanthoma
For understandable reasons, the layperson prefers calling this condition "cutaneous horn." And the term makes medical sense, given that "cutaneous" is a medical word for something affecting the skin.
Are Cutaneous Horns Made Out of Animal Horn Tissue?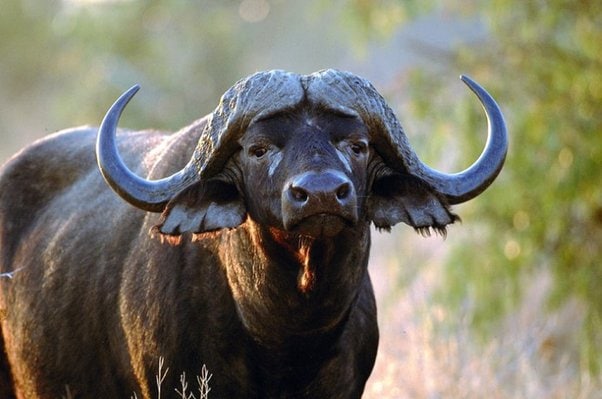 No, despite its name, cutaneous horns aren't made from horns.
Whereas animal horns have an osseous cast, cutaneous horns have pure cornified proliferative keratinocytes. In other words, they don't have a bony component.
If you're having trouble picturing this, think of your nails. Cutting your nails themselves doesn't cause you pain. However, if they get caught on something and you pull, the skin that they're attached to can cause pain.
A similar situation occurs with cutaneous horn dog paws and other parts of your dog's body.
Why Do Cutaneous Horns Grow?
An overgrowth of one of your dog's hair follicles is one of the most likely reasons that causes a cutaneous horn to form. The good news is that while they can resemble a cancer-like growth, most of the time, they're benign.
That said, there isn't yet scientific proof of why cutaneous horns form on dogs. Nevertheless, researchers believe it has to do with B-catenin, a chemical that transforms skin cells into hair follicles.
They then propose that if a dog produces too much B-catenin, these follicle "tumors" develop, creating cutaneous horns.
That said, other ideas exist around what can cause cutaneous horns. They include:
Exposure to radiation
Viral papillomas
Dilated pores
Actinic keratoses
Invasive squamous cell carcinomas
Dogs Susceptible to Cutaneous Horns
Some dogs have a higher chance of developing cutaneous horns than others. They include:
Male dogs
Middle age dogs
Certain dog breeds
Yes, genetics plays a role in a dog's likelihood of developing a cutaneous horn, as it can run in their genes.
Examples of dog breeds with a predisposition to developing this condition include:
Belgian Sheepdogs
Bearded Collies
Lhasa Apsos
Norwegian Elkhounds
Needless to say, if you own one of these types of dogs, be on the lookout for cutaneous horns as they age, especially since they can be difficult to spot beneath all their fur.
That said, the older a cutaneous horn is, the larger and more curved the horn tends to grow.
Are Cutaneous Horns Contagious?
Although cutaneous horns are typically harmless, they're not the type of condition that you want you or your other pets getting.
Luckily, cutaneous horns aren't contagious.
Therefore, if you happen to notice a cutaneous horn developing on your skin—which can occur in humans—you can rest assured that your dog didn't give it to you.
Similarly, cats commonly grow cutaneous horns on their paw pads, but you don't have to worry about them giving this condition to your dog and vice versa.
Check out for more: What Is A Slicker Brush For Dogs? and What is a Good Weight for a Fat Goldendoodle?
Do Cutaneous Horns Spread?
If you find a cutaneous horn on one part of your dog, it's natural to wonder if your dog's soft fur will eventually turn into a mass of nail-like hardness.
The good news? That's unlikely.
That said, although a current cutaneous horn on your dog won't spread around your dog's body, creating more cutaneous horns, whatever sparked the initial horn could cause the same effect on other parts of your dog's body.
Let's take examples from earlier about scientists' hypothesis about why cutaneous horns form. If your dog underwent radiation or has viral papillomas and these were the reasons for their first cutaneous horn, it isn't unreasonable to speculate that other cutaneous horns could appear.
Similarly, if dilated pores sparked your dog's cutaneous horn formation, they may have enlarged pores on other parts of their body that could cause new cutaneous horns.
Cutaneous Horn Dog Treatment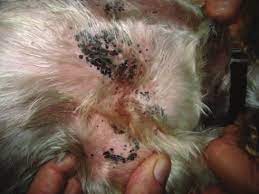 Most cutaneous horns don't require treatment. Nevertheless, if you encounter what you believe is a cutaneous horn on your dog, it's best to take them to the vet.
That way, your vet can do their own assessment to ensure it isn't tumor growth. They'll also be able to evaluate the texture, shape, and size of the cutaneous horn, which can indicate the chances of it being benign or cancerous.
If everything looks okay, they'll likely send your dog home without any treatment.
However, if your dog seems uncomfortable with its cutaneous horn by biting or scratching at it, your veterinarian will likely take action and remove the cutaneous horn from your dog.
In some cases, they might give your dog an antibiotic to prevent or cure an infection that may form from your dog irritating the cutaneous horn in conjunction with a retinoid to try to remove it non-surgically.
Alternatively, they may suggest surgically removing it. Surgery is the most effective way for eliminating a cutaneous horn compared to retinoid treatment.
Cancer Treatment
Should your veterinarian test your dog's cutaneous horn and it turns out that it has cancer cells, your dog may need to undergo further treatment.
Like humans, your vet can perform radiation therapy or chemotherapy to try to eliminate cancer.
However, we don't want to scare you—cancerous cutaneous horns are thankfully rare.
Although there aren't good statistics out there on dogs, there's an approximately 60% benign rate of cutaneous horns in humans. That said, the benign rate is likely much higher for dogs than humans, given that humans often get cutaneous horns as a result of overexposure to the sun.
Can You Pull Off a Cutaneous Horn on a Dog?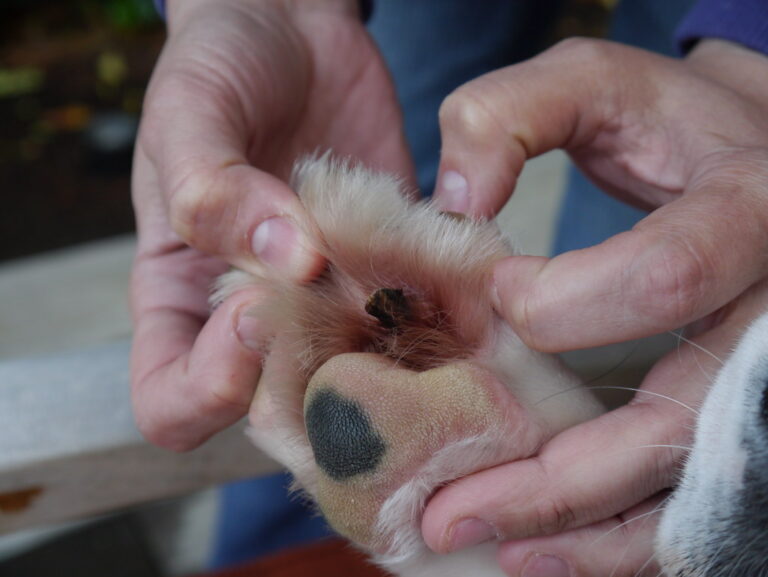 No, you should never pull off a cutaneous horn on a dog unless you have experience trimming dog nails.
Although cutaneous horn removal is a common treatment option for dogs, a veterinarian or experienced dog groomer should be the one to do so.
Otherwise, you open the opportunity for an infection to arise, not to mention a painful experience for your dog.
Understandably, this can be confusing for people who are familiar with keratin, the material that composes nails. However, like in humans, keratin horn dog treatments by cutting through the keratin can result in you cutting too close to non-keratin skin and nerves.
So, while it's okay to keep your dog's cutaneous horn in check by regular trimming (as it'll grow back), you shouldn't let people without experience give it a go.
Do Cutaneous Horns Go Away on Their Own?
It's unlikely that your dog's cutaneous horn will disappear on its own. Instead, as the horn grows and depending on its location, it can catch on fabric, or your dog may bang it into an object.
The result is irritation at best and the horn ripping partially or fully off at worst. These are situations you should understandably avoid.
Therefore, be sure to monitor your pet. If it appears that the cutaneous horn is bothering your dog, it's best to take them to the veterinarian for removal.
Conclusion For What is a Cutaneous Horn On A Dog
Finding a cutaneous horn on your dog isn't a reason to panic, but you shouldn't ignore it either.
Often, cutaneous horn dog treatments aren't necessary. Nevertheless, your veterinarian will be the best judge of whether your dog needs removal surgery or another treatment, such as a retinoid application.
So, once you get your vet's stamp of approval and as long as your dog is acting like its happy self, your dog will be able to go about its normal routine without you needing to treat its cutaneous horn.
You will also like:
Garrett loves animals and is a huge advocate for all Doodle dog breeds. He owns his own Goldendoodle named Kona. In addition, he volunteers at the Humane Society of Silicon Valley, where he fosters dogs and helps animals. Garrett enjoys writing about Doodles and believes that dogs can teach humans more about how to live than humans can teach a dog.
Why Trust We Love Doodles?
At We Love Doodles, we're a team of writers, veterinarians, and puppy trainers that love dogs. Our team of qualified experts researches and provides reliable information on a wide range of dog topics. Our reviews are based on customer feedback, hands-on testing, and in-depth analysis. We are fully transparent and honest to our community of dog owners and future owners.