You're probably wondering why you have a fat Goldendoodle. However, this is what you need to know. Just as it is true with humans, the same goes for dogs; the issues with a healthy weight cannot be over-emphasized. This is because a healthy weight can be equivalent to healthy living and good health conditions. However, most humans and dog owners do not take heed to their weight and that of the pets. Applying the bodyweight guide, a dog is overweight when it weighs between 10 to 20% above the regular body weight.
It is considered obese when it weighs about 20% and above the standard body weight. Yes, chubby puppies may be adorable, but according to canine health, a lean one is better. According to the Association For Pet Obesity Prevention (APOP), in their research of American pets, they found about 53% of American dogs overweight. In addition, they found 40% and above of pets to be overweight globally, making it a general challenge. Highlights from this article will help you find out if your Goldendoodle is fat and what a healthy weight is.
Before scrolling down this article "What is a Healthy Weight For a Fat Goldendoodle," check out other similar content: When is a Goldendodole Full Grown and Goldendoodle Size Guide – Mini, Medium, Standard.
What is an Ideal Weight For a Goldendoodle?
The Goldendoodle is a hybrid mix from a Golden Retriever and a Poodle. They are not recognized as a breed by any major kennel club. Hence, breeders don't have any stated standard they follow in breeding the Goldendoodle. As true with most hybrids, the size, weight, personality, and genetic makeup of the Goldendoodle cannot be predicted. These characteristics depend mainly on the parent breed that was crossed. However, trustworthy and reliable breeders blend the best of their parent breeds to get a standard and healthy Goldendoodle.
Though the Goldendoodles vary in size, they can be categorized into three different sizes: Miniature, Large Standard, and Small Standard. The height of a Large Standard Goldendoodle is about 20 to 24 inches, and the weight is between 50 to 90 pounds. On the other hand, a small standard Goldendoodle is between 17 to 20 inches tall and weighs between 40 to 50 pounds. The Miniature Goldendoodle is between 13 to 20 inches tall, and they weigh between 15 to 35 pounds. They are gotten from a blend of a Golden Retriever with a miniature or Toy Poodle.
Related: Mini Goldendoodle Size Guide and What is the Micro Goldendoodle?
How Do I Know If My Goldendoodle is Overweight?
There are different signs to know your Goldendoodle is overweight; these signs include
A bigger and rounder face
Abdominal sagging
Tiredness
Excessive panting
Refusing to move and prefers to be carried to get in and out of the car.
Not able to play games or lagging during a walk
When the owner can hardly feel or see the dog's spine, ribs, and waistline.
Using the Body Condition System measurement according to Nestlé PURINA, your dog is:
Too Thin: when the ribs, pelvic bones, and the lumbar vertebrae can be seen even from a distance. When there is no evidence of body fat and there is an apparent loss of muscle mass, then the dog is said to be too thin.
Ideal: When your pet's rib is easily palpable and has a minimal fat overlay, and the waist is easily noted, you have a perfect dog.
Too Heavy: Your pet is too heavy when there is so much fat over the thorax, spine, waist base of the tail, and the absence of abdominal tuck. When there is lots of fat on the neck and the limbs with obvious abdominal distinction, when the rib is not palpable due to massive fat cover or noticeable with the application of a lot of pressure, your dog are too heavy.
Related Guides: Reasons For My Unwanted Husky Fat and How Do I Help a Fat Poodle Lose Weight?
What Are The Health Challenges of an Overweight Dog?
Many health conditions are results of overweight or obesity like you have in humans. For example, the extra pounds on your dog can result in the following.
High blood pressure
Type 2 diabetes
Skin disease
Osteoarthritis in the hip
Orthopedic challenges
Respiratory and heart disease
Short life span
The danger of canine fat cannot be overemphasized as they reduce the life expectancy of your dog. While they are alive, the dogs won't enjoy themselves too as this fat problem affects them significantly. For instance: arthritis affects the mobility of the dog, especially the Osteoarthritis in the hip. High cholesterol level tends to lead to heart disease that can also cause high blood pressure in the dog. Insufficient insulin secretion by the pancreas results from diabetes; in this case, the dog's blood glucose level cannot be regulated. Excess fatty tissues can also lead to kidney disease in dogs.
Goldendoodle Health Guides: Mini Goldendoodle Lifespan and How Long Do Goldendoodles Live?
What Are The Factors Contributing To Overweight In Goldendoodle
Unused energy is stored up as fat in the body; however, other factors can contribute to overweight in Goldendoodle. These factors include
Aging: As your dog grows older, they become less active, which means less energy is disposed of in a day. When food intake is not regulated, they can quickly gain additional pounds leading to being overweight.
Treats: Fatty treats and table scraps from human foods can make your pet gain extra weight. This is because calories from treats add up with those from their food, leading to extra pounds of fat.
Inaccurate Food Measurement: Dog owners who don't know how to measure out their dog feed or not measuring at all are at the risk of owning an overweight dog. A large portion of food is not proportional to good care or healthy living. Instead, it is only reducing the life expectancy of your beloved pet slowing as it gains weight.
Other factors include neutering, reproductive state, lifestyle, diet, environment, any underlying disease, etc.
Goldendoodle Guide: Goldendoodle Energy Level Information and Facts.
How Do I Make My Goldendoodle Lose Few Pounds?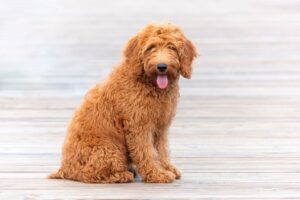 You can employ different means to help reduce the weight of your dog. However, we recommend you verify with your vet that the weight gain is not a result of underlying health. Also, a bit of advice from the vet for possible ways to make your pet slim down is a great move. Below are some helpful ways to get your Goldendoodle to lose a few pounds.
1. Adequate Food Measurement
Make use of a measuring cup to dish out a regulated amount of food for your pet. Keeping a diary is a great way to keep track of the weight-loss program.
Recommendations: Best Dog Food for Goldendoodles.
2. Establish And Keep To Schedule
To make your pet trim down successfully, you need to establish a schedule and maintain it. For example, it would help if you offered meals at a scheduled time and evident remnants after a specific time, say 20 minutes.
3. Limit Treats And Table Scraps
Dogs get additional calories from treats and scraps outside their regular meal, which add up gradually to cause overweight. These can include training or reward treats or treats from visitors and friendly neighbors. Try as much as possible to manage how many extra goodies they get if it cannot be avoided. The choice of low-calorie treats is also a good move and vegetables and fruits instead of a fatty treat. Fruits and vegetables like carrots, apple slices, bananas, etc., will help your dog reduce weight and keep them healthy.
Recommendations: Best Dog Treat Dispenser and Chippin Review – Dog Treat and Food Benefits.
4. Exercise
One of the best ways to help your fat Goldendoodle lose weight is to have them exercise their body. It helps a great deal in burning excess body fat and keeping fit. First, however, we recommend you consult with your vet for exercise ideal for Goldendoodles. Below are some ideal weight-reducing exercises:
Swimming: As a matter of fact, the Goldendoodles love swimming and adapt to this exercise easily and quickly. Swimming helps build muscles and burn excess calories without hurting the dog's joints.
Hiking: it is a low-impact exercise with great benefits. A long walk takes you and your pet out of the house and close to nature and lots of fresh air.
Games: A fun game like fetch also helps a lot with the weight-reducing plan.
Recommendations: Best Dog Playpen for Hardwood Floors.
Conclusion For "Fat Goldendoodle – What is a Healthy Weight"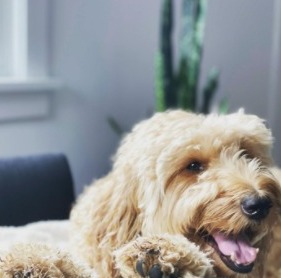 Do you have a fat Goldendoodle? Canine obesity is a preventable nutritional disorder; a healthy dog saves you the visit to the vet. Make the healthy lifestyle of your Goldendoodle your priority by giving quality food in adequate proportions. Good luck.
For more information on the Goldendoodle dog breed, check out our other guides:
To learn more about a dog's weight, watch "Healthy Weight for Dogs – Is Your Dog Under Fed" from Top Bullies down below: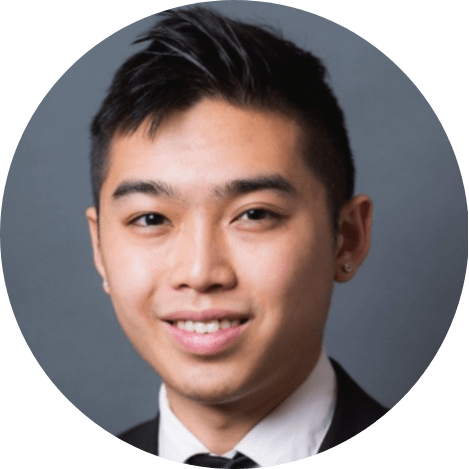 Andy is a full-time animal rescuer and owner of a toy doodle. When he's not saving dogs, Andy is one of our core writers and editors. He has been writing about dogs for over a decade. Andy joined our team because he believes that words are powerful tools that can change a dog's life for the better.
Why Trust We Love Doodles?
At We Love Doodles, we're a team of writers, veterinarians, and puppy trainers that love dogs. Our team of qualified experts researches and provides reliable information on a wide range of dog topics. Our reviews are based on customer feedback, hands-on testing, and in-depth analysis. We are fully transparent and honest to our community of dog owners and future owners.