When starring into your dog's eyes, you may notice that both of them don't always work in tandem. They may track objects differently or be pointed in opposite directions all together. While this might make for a cute face that matches your puppy's goofy personality, it may actually be a medical condition known as lazy eye. Today, Dr. Chyrle Bonk, who is a veterinarian, will talk about what a lazy eye in dogs is and how you can fix it.
Other articles you will like: Why Does My Dog Sleep On Me? and How to Get Rid of Fleas on Dogs Naturally.
What is a Lazy Eye in Dogs?
A lazy eye, or strabismus, is the abnormal positioning of the eyes. Normally, the eyes move in unison when looking at or following objects. With strabismus, the eyes may be pointed in different directions and appear not to focus on the same thing at the same time. It can occur in one or both eyes. Eyes may roll towards the nose, known as convergent or crossed eyes; away from the nose, known as divergent; upward, known as hypertrophia; or downward, known as hypotropia.
What Causes Lazy Eye in Dogs?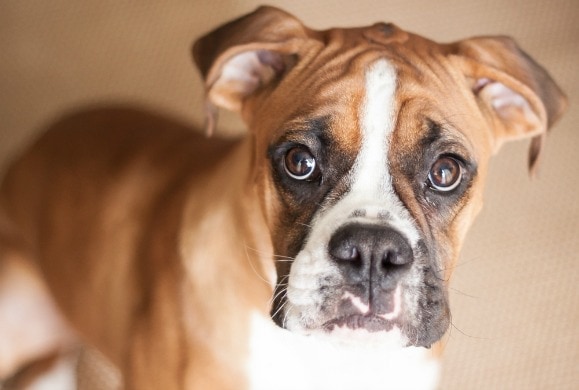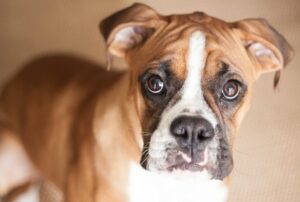 A dog's eye is controlled by seven muscles. There are four rectus muscles that move the eye left, right, up, and down. There are two oblique muscles that move the eye clockwise or counterclockwise, and one retractor muscle that pulls the eye in towards the head. A lazy eye in dogs is a result of a weakening of the muscles that control the eye, allowing it to deviate from the normal position. This weakening of the eye muscles can be a result of any of the following:
Genetics: Certain breeds are more prone to lazy eyes than others. This cause is usually related to inheriting weak eye muscles or even a fibrous change in the eye muscles that decreases the normal movement of one or both eyes. Breeds that are higher at risk for inheriting lazy eye include Pugs, Boston terriers, Shar Peis, Irish Wolfhounds, Golden Retrievers, and Akitas.
Injury: Injuries to the head or eyes of a dog can lead to abnormal function of the nerves or muscles associated with eye movement, leading to lazy eye. These injuries are often the result of car accidents, falls, or being hit with a blunt object.
Tumors: Rarely, tumors near the eye can cause lazy eye. This is due to the tumor putting pressure on the nerve or muscles.
Nervous system disfunction: Anything affecting the function of the nervous system can cause lazy eye. We already touched on injuries and tumors, but fluid build up in the brain, inflammation due to an illness, or

immune-mediated inflammation

can all lead to lazy eye in dogs.

Vestibular disease: Vestibular disease is another cause for lazy eye in dogs. The vestibular system located within the ear is responsible for a dog's balance. When that system is thrown off, a dog's eyes may move abnormally to compensate for the imbalance or spinning affect that they feel.
Others:

Immune-mediated myositis

of the eye muscles or thyroid issues can also rarely cause strabismus in dogs. 
How is Lazy Eye in Dogs Treated?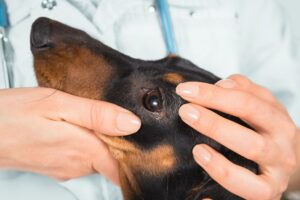 The treatment for lazy eye in dogs will depend on the cause. Some causes of a lazy eye have no treatment, while other causes may require treatments varying from therapy to surgery.
Inherited Causes of a Lazy Eye
Dogs with lazy eye based on genetics will have the issue since birth. Depending on the severity, your puppy may require no treatment with little to no impact on their daily lives. 
If a dog's lazy eye is more severe, your veterinarian may prescribe exercises that will help strengthen the eye muscles to better control eye movement. These exercises usually consist of having your dog follow your finger or a treat as you slowly move it side to side, up and down, and towards and away from their face. These exercises take time and persistence but can help straighten out the weaker eye.
Acquired Causes of Lazy Eye
If a dog's lazy eye is due to an acquired cause, such as a disease or injury, it is best treated by treating the underlying issue. Depending on what the underlying cause may be, treating it may cause the lazy eye to clear up on its own.
These treatments may consist of medications to clear up illnesses, vestibular issues, or immune-mediated causes. In some cases, surgery may help repair or relieve injuries that cause damage to muscles or nerves, or to remove tumors that may be impeding eye movement.
Some causes of acquired lazy eye may have no cure. If an eye muscle or nerve is damaged beyond repair, the lazy eye can't be fixed. However, most dogs learn to live with it and compensate with the other eye so that they can see to get around and live a normal life.
What To Do If You Suspect Your Dog Has Lay Eye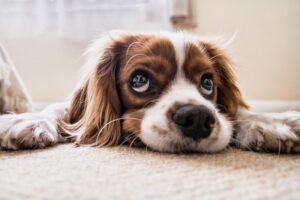 If you've noticed any abnormal movement or positioning of your dog's eyes, your first step is to see your veterinarian. They will be able to definitively diagnose strabismus and will be able to determine the cause behind it. 
From there your veterinarian will prescribe a treatment plan, if any is needed, to get your puppy on the road to recovery. It's important to keep in mind that lazy eye is often just a cosmetic problem in dogs, meaning it usually doesn't interfere with their daily lives. So, if your puppy has a form of lazy eye that can't be treated, don't sweat it. They will still be able to do the things that they love with minimal interference.
Conclusion for Lazy Eye in Dogs
Lazy eye in dogs is a condition that affects the normal movement and position of one or both eyes. It is seen more commonly in some breeds and can be brought on by a number of reasons. If you suspect that your dog has lazy eye, see your veterinarian to determine what, if anything, needs to be done.
Other articles you would like:
Frequently Asked Questions
What should I do if my dog has a sudden lazy eye?
You should take your dog to a veterinarian for further consultation. An acquired lazy eye can be a sign of illness, vestibular, or immune-mediated issues. It's possible that your dog has nerve damage, muscle damage, or has a rumor. Your veterinarian should be able to diagnose why your dog has a sudden lazy eye.
Can dogs have lazy eyes?
Yes, dogs can have lazy eyes. In fact, some of them are born with it via their genetics. Dog's can also have lazy eyes if they have issues with their nervous or vestibular system. If your dog has a lazy eye, you should take them to a veterinarian for further examination.
My puppy has a lazy eye. What should I do?
If your puppy has a lazy eye, you should take them to a veterinarian. Sometimes puppies are born with lazy eyes due to genetic defects in their eye muscles. Other times, a puppy may have a lazy eye because there is something wrong with their immune system or they may have an injury.

Dr. Chyrle Bonk received her veterinary degree from Oregon State University in 2010. She has been practicing in a mixed animal clinic in rural Idaho ever since at Clearwater Valley Veterinarian Clinic. When she's not busy writing, treating animals, or working on her cattle ranch, she may be found somewhere in the Idaho wilderness with her husband and kids. Dr. Chyrle Bonk is a writer for We Love Doodles and verifies that the information we post is accurate the up to date! She is also an advisor and editor.
Why Trust We Love Doodles?
At We Love Doodles, we're a team of writers, veterinarians, and puppy trainers that love dogs. Our team of qualified experts researches and provides reliable information on a wide range of dog topics. Our reviews are based on customer feedback, hands-on testing, and in-depth analysis. We are fully transparent and honest to our community of dog owners and future owners.