Toy Doodle breeds are adorable. With their adorable appearance and friendly personalities, there is certainly a lot to love about the Doodle hybrid dog. With a Poodle as a parent, Doodle breeds take on the best characteristics and qualities of both their Poodle and other breed parents. What results is a highly social and engaging dog that can be perfect for all sorts of families and lifestyles. In terms of their appearance, most Doodles take on curly, fluffy, and cozy coats. While there can certainly be a great deal of variability, even among a single breed, the Poodle influence Doodle breeds make them very cuddly.
Their coats are often considered relatively hypoallergenic, which means they may be easier for people with pet allergies. While depending on their size and exactly how much hair they have, Doodle breeds will most likely require quite a bit of grooming and combing to keep their coats soft and silky smooth. For personality, there's also a reason Doodles have quickly become a popular breed for many families. With their Poodle parent influence, most Poodles are very friendly, outgoing, and just all-around fun to be with.
They are known for being relatively intelligent and can be easy to train and work with. Another critical feature of Doodle hybrid breeds that make them irresistible for many is their ability to be bred in a variety of sizes as well. Poodles can be found in a few different sizes, including Toy, miniature, medium, and standard. As a result, many Doodle mixed breeds can also be of various sizes, from Toy to miniature to standard. This versatility in their size can help equip you with the right dog for your family.
For example, if you live in an environment where the space is somewhat limited for them to roam and play, you can choose a smaller version of that same breed that requires less running room. When it comes to toy Doodle breeds, these dogs have a lot of cuteness bundled up in a small package. toy Doodle breeds are the smallest size of a particular breed but are essentially adorable in many ways. Whether you're set on a specific dog and wonder if it comes in a smaller size or is just considering your options in finding the right small dog for you, we're here to help. Next, we share the top six toy Doodle breeds that you and your family may just easily fall in love with.
Before scrolling down this list of Doodle breeds, you can check out our other lists: What is the Best Doodle Breed and Best Mini Doodle Breeds.
Why Get a Toy Breed?
Before exploring the different types of toy Doodle breeds, it's helpful to recognize the benefits of choosing a small dog for you and your family. For one thing, toy Doodle breeds are pretty small in size, which means they may require less room to run and play around in. If you're in an apartment or other small living environment, a toy breed can be a great option that meets your space limitations. Because a toy Doodle breed is smaller, they also eat less. Compared to a larger dog, they'll go through a bag of dog food at a much slower rate than a standard or medium-sized dog.
That can help you cut down on overall expenses for your dog and their eating habits. Another added benefit of a toy Doodle breed includes a slightly more straightforward caretaking approach. Since their coats are smaller, you may need to spend less time grooming and brushing them. They may not need as long of walks as other dogs and are satisfied with just a quick jot around the block. If you're crunched for time to spend with your dog in taking them out for some exercise, a toy Doodle may be the right fit for you.
Smaller dogs may also do better around small children as they have a lower likelihood of knocking kids over. They can make more suitable pals for chilling on the couch or sitting on your lap, too. As the case with many other small breeds of dogs, Toy Doodles may have a longer life span than that of a standard or medium-sized dog. As a hybrid breed, Doodles may also have a lower likelihood of developing severe medical concerns and issues that may be hereditary due to their intentional breeding practices.
Related: What's a Doodle Dog?
Best Toy Doodle Breeds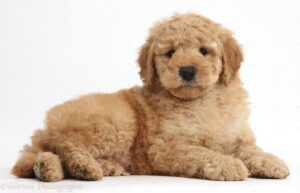 When it comes to Doodle dog breeds, there are a lot of options to choose from. They can come in all different colors, and they often have differences in appearance as well. While there may not be as many Doodle hybrid breeds available in a Toy size compared to standard or even miniature, you can still find these tiny dogs and welcome them into your home. Often, these dogs look just like their larger size options but are condensed into a smaller body.
1. Toy Goldendoodle
Perhaps the most well-known and loved Doodle hybrid breed may be the Goldendoodle. The Goldendoodle is a mix between a Golden Retriever and a Toy Poodle. These soft and loveable dogs have a classic gold coat that can vary from tight curls to wavier. They can grow between 13 to 15 in height and about 13 to 20 pounds in weight, depending on the puppy's parents. Often, these Toy Goldendoodles can also be considered to be miniature, depending on their size. Due to the differences in sizes between the two dogs, the mother should be the Golden Retriever in the breeding process to prevent the risk of pregnancy complications.
Goldendoodle Breeders: Best Mini Goldendoodle Breeders in the United States.
2. Toy Labradoodle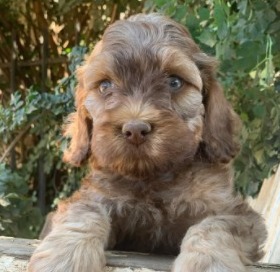 Another common and popular Doodle hybrid breed includes the Toy Labradoodle. This loveable breed is a cross between a Labrador Retriever and a Toy Poodle. Similar to the Golden Retriever, the mother should be the Labrador Retriever in the breeding process. Toy Labradoodles reach a height that stays under 14 inches tall and weighs between 15 to 20 pounds. They tend to have the same personality as their larger breed counterparts in being energetic, loyal, and friendly to those they encounter.
Labradoodle Breeders: Best Mini Labradoodle Breeders in the United States.
3. Toy Irish Doodle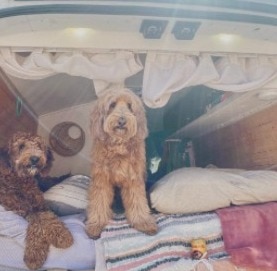 The Irish Doodle is a mix between the Irish Setter and a Toy Poodle. They are very active and social, even in a small size. They reach a length between 12 to 17 inches in height and can weigh up to 35 pounds. With their high level of need for socialization, they may develop separation anxiety quickly. Therefore, it's important to meet their needs of spending a lot of quality time with them throughout the day.
4. Toy Cavapoo
The Cavapoo is a mix between the Cavalier King Charles Spaniel breed and a Poodle. In the case of a Toy Cavapoo, their parent is a Toy Poodle. These small dogs reach a height between 12 to 13 inches tall and have a weight range between 13 and 18 pounds. As both parent dogs are pretty small, the resulting hybrid dog is also tiny. Along with many other Doodle hybrid varieties, these Cavapoos love snuggling up with you and receiving lots of love and affection. Cavapoos are also known for being calm and quiet and very friendly with kids and strangers.
Cavapoo Breeders: Best Cavapoo Breeders on the East Coast.
5. Toy Maltipoo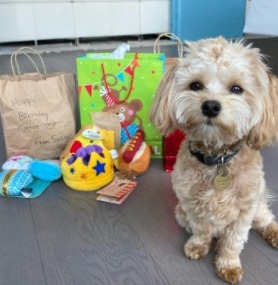 What happens when you cross a Maltese and a Toy Poodle? You get a tiny Maltipoo that is just as adorable as their name implies. They tend to reach a height between 6 and 11 pounds and weigh between just 5 to 10 pounds. This breed can get relatively small, even with teacup Maltipoos that won't even exceed 5 pounds in weight. Like their other Doodle cousins, Maltipoos are very friendly and gentle. They are great around kids and are pretty easy to take care of, comparatively.
Maltipoo Breeders: Teacup Maltipoos For Sale – Top Breeders.
6. Toy Cockapoo
Another lovable and friendly Doodle breed that can be found in a toy size is the Cockapoo. Toy Cockapoos are a mix between a Toy Poodle and an American or English Cocker Spaniel. Their size is small, as they reach a weight that is often less than 12 pounds and a height that can reach up to 10 inches tall. This breed is big into cuddling and constantly seeks out a lot of time and attention from you.
Cockapoo Breeders: Mini Cockapoos For Sale – Top Breeders.
Conclusion For The "Best Toy Doodle Breeds"
With their peppy and friendly personality with an adorable appearance that you can't wait to snuggle in, Doodles have found their way into the homes and hearts of many. There is certainly a lot to love about this breed, including their soft coats and overly friendly personalities. They also come in various sizes, which can be very beneficial if you're looking for a small dog but love the look and character of Doodles.
Keep in mind that there can also be quite a bit of diversity and differences between Doodle breeds and even among a single Doodle breed with all hybrid breeds. These dogs are certainly unique, which can make finding the perfect one for you even more fun. While not as common, toy Doodle breeds can be just as adorable and fun as their larger counterparts.
Once you find a breeder available for the type of toy Doodle breed that you're interested in, ask them questions about taking care of a toy Doodle compared to a standard size Doodle. They can provide resources and insight about your particular situation and help you make the right decision for you and your family. With the proper research and consideration of what you are looking for in a dog, you can find a tiny toy Doodle that's just right for you and your lifestyle.
For more similar guides to this list of toy Doodle breeds, check out:
You can find more awesome Poodle mixes by watching "15 Poodle Mix Breeds That Will Melt Your Heart" from Dog World down below: