Toy Doodle breeds are adorable! With their sweet appearance and friendly peronalities, there's a lot to love about these designer dogs. They have a Poodle as a parent, of course, which means that your Doodle is likely to be intelligent, low-shedding, and hypoallergenic. The dogs are social and get along with families of all types, whether you're a senior or you have small kids.
In terms of appearance, most Doodles inherit curly, fluffy, cozy coats.  Their coats are often considered relatively hypoallergenic, which means they may be easier for people with pet allergies. While depending on their size and exactly how much hair they have, Doodle breeds will most likely require quite a bit of grooming and combing to keep their coats soft and silky smooth.
Toy Doodles are known for being highly intelligent and are easy to train. As you may have noticed, the Poodle can be bred with a great number of other breeds, including Shih Tzus, Maltese, and more. Toy, Miniature, and Standard Doodle breeds are all gaining in popularity worldwide. 
Whether you have a smaller living space or a large yard for your dogs to play in, there's bound to be a Doodle breed that's perfect for your family! In this guide, we'll look at the top designer breeds.
Before scrolling down this list of Doodle breeds, you can check out our other lists: What is the Best Doodle Breed and Best Mini Doodle Breeds.
Why Get a Toy Breed?
Before exploring the different types of toy Doodle breeds, it's helpful to recognize the benefits of choosing a small dog for you and your family.
Most obviously, Toy Doodle breeds are small and don't require a ton of space to play in. Most will be content with a walk outdoors a few times each day; otherwise they'l be content on your lap. Furthermore, their small size means they don't require as much, nutritionally, as a large dog. This helps cut down on the annual and lifetime cost of dog ownership.
Doodles require minimal grooming, though you'll have to bathe and brush them to prevent matting. Find a shampoo that's specifically formulated for Poodles or Doodles for the best results.
Smaller dogs are generally good with children. A Doodle's size and overall gentle personality makes it less likely to "play rough" with your kids, or to accidentally knock a child over.
Finally, smaller dogs have longer lifespans. Your Doodle will live a decade or more if cared for properly, meaning you're adopting a lifetime companion. There are few medical concerns that affect Doodles, and with regular trips to the vet most can be detected and treated early.
Related: What's a Doodle Dog?
Best Toy Doodle Breeds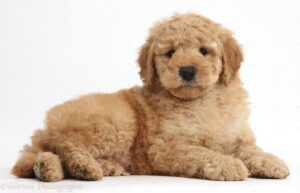 As you shop for your Doodle, you'll notice that there are many options to choose from! Whether you're looking for a color, size, temperament, or any other characteristic, there's a Doodle out there that's perfect for you. Let's take a look!
1. Toy Goldendoodle
Perhaps the most well-known and loved Doodle hybrid breed may be the Goldendoodle. The Goldendoodle is a mix between a Golden Retriever and a Toy Poodle. These soft and lovable dogs have a classic gold coat that can vary from tight curls to wavy. The Goldendoodle can grow to between 13 to 15 inches in height and about 13 to 20 pounds in weight, depending on the puppy's parents.
Often, Toy Goldendoodles can also be considered "miniature," depending on their size. Due to the differences in sizes between the two dogs, the mother should be the Golden Retriever in the breeding process to prevent the risk of pregnancy complications.
Goldendoodle Breeders: Best Mini Goldendoodle Breeders in the United States.
2. Toy Labradoodle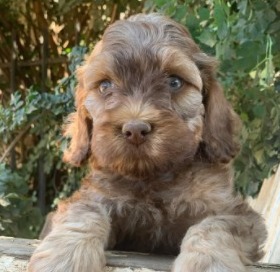 Another common and popular Doodle hybrid breed is the Toy Labradoodle. This lovable breed is a cross between a Labrador Retriever and a Toy Poodle. Similar to the Golden Retriever, the dam should be the Labrador Retriever in the breeding process. Toy Labradoodles reach a height that stays under 14 inches tall, and an adult Labradoodle weighs between 15 to 20 pounds. They tend to have the same personality as their larger breed counterparts in being energetic, loyal, and friendly to those they encounter.
Labradoodle Breeders: Best Mini Labradoodle Breeders in the United States.
3. Toy Irish Doodle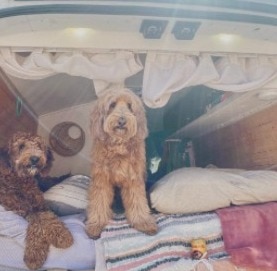 The Irish Doodle is a mix between an Irish Setter and a Toy Poodle. They are very active and social, even in a small size. They reach an adult size measuring between 12 to 17 inches in height and can weigh up to 35 pounds.
The Irish Doodle craves social interactions, so they're apt to develop separation anxiety. Therefore, it's a good idea to spend time with your pup. If you can't, consider hiring a dog walker or enrolling your baby in a doggy daycare.
4. Toy Cavapoo
The Cavapoo is a mix between the Cavalier King Charles Spaniel and a Poodle. A Toy Poodle is generally bred with a Cavalier to create a Toy version of the Cavapoo.
Cavapoos will grow to be around a foot tall, and your adult dog will weigh between 13 and 18 pounds. As both parent dogs are pretty small, the resulting hybrid dog is also tiny. As with many other Doodle hybrid varieties, these Cavapoos love snuggling up with you and receiving lots of love and affection. Cavapoos are known for being calm and quiet, and they're very friendly with kids and strangers.
Cavapoo Breeders: Best Cavapoo Breeders on the East Coast.
5. Toy Maltipoo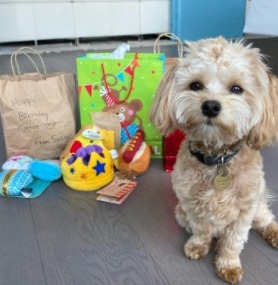 What happens when you cross a Maltese and a Toy Poodle? You get a tiny Maltipoo that is just as adorable as their name implies. This Doodle breed tends to reach a height between 6 and 11 inches and your pup will weigh between just 5 to 10 pounds. Teacup Maltipoos grow to be only around 5 pounds!  Like their other Toy Doodle breeds, Maltipoos are very friendly and gentle. They are great around kids and are pretty easy to take care of, comparatively.
Maltipoo Breeders: Teacup Maltipoos For Sale – Top Breeders.
6. Toy Cockapoo
Another lovable and friendly Doodle breed that can be found in a toy size is the Cockapoo. Toy Cockapoos are a mix between a Toy Poodle and an American or English Cocker Spaniel. Their size is small, as they reach a weight that is often less than 12 pounds and a height that can reach up to 10 inches tall. This breed is big into cuddling and constantly seeks out a lot of time and attention from you.
Cockapoo Breeders: Mini Cockapoos For Sale – Top Breeders.
Frequently Asked Questions
Choosing a Toy Doodle breed can be overwhelming. Here are some of the most frequently asked questions we've received from our readers.
What type of Doodle stays small?
No matter what breed of Mini or Toy Doodle you choose, you can be petty certain that he or she will remain small! A Toy Poodle bred with another small dog such as the Yorkshire Terrier will obviously be smaller than a cross between a Poodle and a Saint Bernard!
Ask your breeder to see "stats" of the parent dogs. You can usually get a good indication of how big your puppy will grow to be when you consider its parents.
What is the calmest Doodle?
Every dog is unique, and each will have its own personality. That said, when you cross a Poodle with a more "relaxed" breed like the Cocker Spaniel or the Maltese, you're going to get a more relaxed, calm dog.
Toy Doodle breeds aren't known for being vocal, but this will have something to do with training, too. Thankfully, Poodles and Doodle breeds are smart, and it will be relatively easy to teach them their manners.
Why are Toy Doodle breeds not AKC-recognized?
The American Kennel Club does not recognize mixed breed dogs. Should you find that a breeder is advertising their dogs as "AKC registered," run – do not walk – away. They are misleading you!
On the other hand, the Continental Kennel Club (CKC) does recognize certain Doodle breeds! When you adopt from a CKC breeder, you can rest assured that your pup was whelped and raised under humane conditions as set forth by this organization.
Conclusion For The "Best Toy Doodle Breeds"
Doodles, generally speaking, have peppy and friendly personalities and they're oh-so snuggly! They're gaining in popularity in homes around the world, and for good reason! Their soft coats, high levels of intelligence, and friendly dispositions make them a favorite.
There's a lot of diversity in Doodle breeds, and among the varying factors is the size of your dog. Toy Doodles are great for those with limited space, with children, or those who are seniors. Even if you have existing furry friends, Toy Doodle breeds will likely get along just fine.
Once you find a responsible breeder who specializes in the Toy you're looking for, ask plenty of questions! We've included out favorite Toy Doodle breeds on this list, but together you and your breeder can determine whether a particular breed is a good fit for your lifestyle.
For more similar guides to this list of toy Doodle breeds, check out:
You can find more awesome Poodle mixes by watching "15 Poodle Mix Breeds That Will Melt Your Heart" from Dog World down below: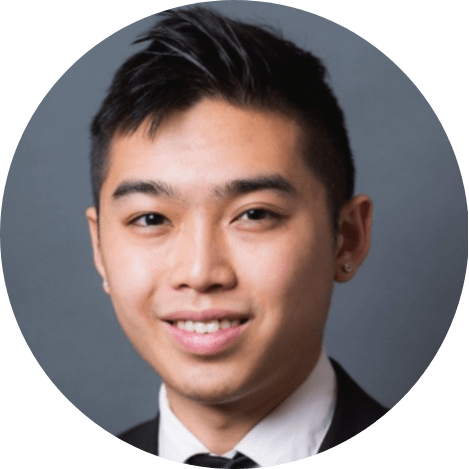 Andy is a full-time animal rescuer and owner of a toy doodle. When he's not saving dogs, Andy is one of our core writers and editors. He has been writing about dogs for over a decade. Andy joined our team because he believes that words are powerful tools that can change a dog's life for the better.
Why Trust We Love Doodles?
At We Love Doodles, we're a team of writers, veterinarians, and puppy trainers that love dogs. Our team of qualified experts researches and provides reliable information on a wide range of dog topics. Our reviews are based on customer feedback, hands-on testing, and in-depth analysis. We are fully transparent and honest to our community of dog owners and future owners.