What is a teacup Maltipoo? Adorable, friendly, and intelligent, the teacup Maltipoo is a cross between a Maltese and a toy Poodle. These designer pups are wonderful family companions. They love everything from playing fetch to cuddling together on the couch. Maltipoos are gentle dogs and better suited for a life indoors rather than outdoors. They also make great therapy and emotional support animals with their sweet temperament.
Teacup Maltipoos are known for their small size and cute faces. No two of them look alike, which means they are truly unique to the family. Though they tend to bark, they are great at alerting the family if anything is out of place. Finding the right Maltipoo for the family means doing a small bit of research. There's so much to learn when choosing a Maltipoo, but they are wonderful dogs.
Related Articles: All Maltipoo Sizes (Teacup, Toy, and Mini) and Teacup Maltipoo Breeders
Teacup Maltipoo Appearance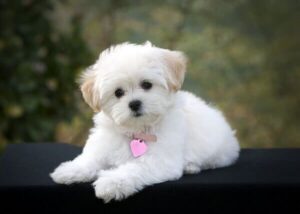 A mix of the Maltese and Poodle, the teacup Maltipoo is the epitome of cuteness. This is the smallest size of Maltipoo and inherits a multitude of different genes from its parents. Their coat, color, temperament, activity level, and health issues will vary from one pup to another, even within the same litter.
Standing around 7 to 8 inches tall, teacup Maltipoos weigh around 5 pounds when fully grown. It means that their tiny frames are better suited for older children. Smaller hands aren't used to holding a puppy and might be too rough with such little dogs. These small dogs need protection from roughness and inexperienced handling, especially when they are a puppy.
The coat of a Maltipoo fits into three different categories: soft and silky, thick and curly, or wiry and wavy. Wiry is the least favorable of all the coat types and is usually a sign of bad breeding. The coat colors vary as well and the most popular colors are white, cream, and apricot.
Teacup Maltipoo Genetics
Genetics play a large part in how a teacup Maltipoo will look when it's fully grown. Since the Maltipoo is a cross of a Maltese and a toy Poodle, they tend to have non-shedding coats and are considered hypoallergenic, which is one of the main reasons for breeding this puppy. However, this does mean that you will have to regularly brush, groom, and bathe your Maltipoo to prevent mats and tangles.
A teacup Maltipoo that comes from a bad breeder and is the offspring of bad genetics will turn out quite differently than a Maltipoo bred from a purebred Maltese and purebred Poodle. A well-bred teacup Maltipoo usually has a good temperament, is easy to train, and gets along well with other animals. An unsocialized teacup Maltipoo will tend to bite, bark, and show opposition towards other dogs.
When looking to bring a Maltipoo into the home, it's important to look at the parent dogs being bred. Though there's no guarantee which characteristics a puppy will take from its parents, it will give some indication of how the puppy will look and act as they grow.
Teacup Maltipoo Temperament
These small designer puppies are mild-mannered and lean more towards the calm end of the spectrum. They do, however, attach themselves to an individual or family members and love them unconditionally. The same thing goes for any family pets which are already in the home. Though it makes teacup Maltipoo great companion dogs, these puppies can show huge signs of separation anxiety.
Any potential owner has to understand how deeply rooted a teacup Maltipoos love is for his people. Their separation anxiety can become so strong that they are capable of getting depressed and harming themselves due to the loss they feel. The ideal owner is someone who wouldn't have to leave their Maltipoo alone most of the day.
Considered little balls of energy, teacup Maltipoos love to run around and play chase or any game their family likes to play. At the same time, once their energy is fully spent, these dogs have no problem laying down on the couch and taking a comfortable nap on someone's lap.
Grooming a Teacup Maltipoo
Owning a Maltipoo means providing them with the proper grooming. Their coats typically don't shed much hair, which means an owner has to keep up with the right grooming schedule. A Maltipoo's medium-length coat should get a good brushing at least a few times per week and a bath once a month. Regular trimming should get scheduled with a groomer every 6 to 12 weeks.
During any groomer visits, it's important that the groomer also looks at your teacup Maltipoo's nails and teeth. Smaller dogs tend to spend more time indoors. It means they don't naturally file their nails like larger dogs do. Though a groomer can also give their teeth a good brush, the best routine calls for the owner to brush their Maltipoo's teeth a couple of times a week.
Teacup Maltipoo Health Problems
Maltipoos are expected to live around 10 to 13 years, though some have been known to live a little longer. A Maltipoo may run into any number of health issues throughout its long life span, whether they have a good breeding background or not.
Since a Maltipoo is crossbred from two different breeds, it could likely get affected by any number of issues that affect those breeds. Some of the most common types of issues are digestive, ear infections, allergies, skin conditions, and even diarrhea. Any number of more rare diseases could also strike, such as Patellar Luxation and Progressive Retinal Atrophy, which is why regular vet visits are always prudent.
Is a Teacup Maltipoo the Right Dog for Your Family?
This adorable cross of a Maltese and toy Poodle is a great companion for many families, especially those with older children. Though kids as young as toddlers would love a teacup Maltipoo, it's not recommended that you purchase this small dog due to its fragile body frames.
Teacup Maltipoos are also hypoallergenic and non-shedding with their curly non-shedding coat. Easily trained and very loving, the teacup Maltipoo is the perfect indoor pet that doesn't require much more than love in return. With the proper affection and grooming, they could be a very loyal companion for everyone.
Other articles you will like:
Garrett loves animals and is a huge advocate for all Doodle dog breeds. He owns his own Goldendoodle named Kona. In addition, he volunteers at the Humane Society of Silicon Valley, where he fosters dogs and helps animals. Garrett enjoys writing about Doodles and believes that dogs can teach humans more about how to live than humans can teach a dog.
Why Trust We Love Doodles?
At We Love Doodles, we're a team of writers, veterinarians, and puppy trainers that love dogs. Our team of qualified experts researches and provides reliable information on a wide range of dog topics. Our reviews are based on customer feedback, hands-on testing, and in-depth analysis. We are fully transparent and honest to our community of dog owners and future owners.