When talking about dogs, the descriptor 'teacup' naturally suggests a small dog. But, exactly how small that dog is depends on the breed in question. If you're looking into getting a small dog, a Teacup Poodle may be the perfect option. But how big will your full-grown Teacup Poodle be, and when can you expect it to reach that size?
In this article, we'll discuss everything you need to know about a Teacup Poodle's growth, including when it is fully grown and what that looks like.
Before scrolling down this guide, "When Is a Teacup Poodle Fully Grown," check out these other dog-related articles from our team at We Love Doodles: When is a Goldendoodle Full Grown? and When is a Schnoodle Full Grown?.
What Is Considered a Teacup Poodle?
Did you know that there are four sizes of Poodle? The four sizes are based on size. They are:
Teacup Poodle
Toy Poodle
Miniature Poodle
Of these sizes, only Toy through Standard Poodles gets recognition from the American Kennel Club as being purebred breeds. Teacup Poodles are not purebred Poodles because to produce one, you must cross-breed a Toy Poodle with a smaller dog. This process is how breeders achieve the extra-small size of Teacup Poodles.
How Large Do Teacup Poodles Get?
If you're looking to get a Teacup Poodle, you're probably in the market for a cute, tiny dog that you could fit in the palm of your hand. But exactly how big should you expect your full-grown Teacup Poodle to be?
Height of a Teacup Poodle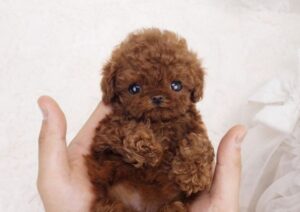 As the name suggests, Teacup Poodles don't grow very large. The average height for a Teacup Poodle is between six to eight inches long when measured from the nape of the neck to the base of the tail.
Though it seems counterintuitive, you never measure a dog from head to tail. It's too difficult to keep a dog's head forward-facing while measuring, which can cause errors.
Likewise, you calculate a dog's height from floor to shoulder. If you're measuring for a coat, you might take a further measurement from the breastbone to the tail. But you never count the head, and breeders don't either.
Teacup Poodle Weight
The other important metric when sizing a Teacup Poodle is the dog's weight. A healthy, full-grown Teacup Poodle that weighs an appropriate amount for its size averages between two and five pounds, or one to two kilograms. Admittedly, that's heavier than most literal teacups, but it's considerably smaller than other Poodles.
What Is The Difference Between a Toy Poodle and a Teacup Poodle?
You may be more familiar with Toy Poodles than Teacup Poodles. There are a few key distinctions that separate the Teacups from the Toys.
Size
Poodles of all shapes and sizes share several things, like their boundless energy, intelligence, and keen sense of absurdity. Where they differ is in how big they become. The most notable difference between the Teacup Poodle and the Toy Poodle is their size.
A mature Teacup Poodle is small enough that even in adulthood, you can hold it in the palm of your hand. That's harder to do with a Toy Poodle since they are slightly larger. Standing still, the Toy Poodle measures eight to ten inches from floor to shoulder.
A Toy Poodle that weighs an appropriate amount for its size is also naturally heavier than the Teacup Poodle. Toy Poodles should weigh between six to eight pounds, whereas a Teacup Poodle will only weigh half that much.
Official Breed Status
The other significant difference between the Toy and Teacup Poodle is that, unlike the Teacup Poodle, the American Kennel Club (AKC) recognizes the Toy Poodle as a breed classification. That means there are exacting standards breeders need to follow to produce and monetize their dogs as Toy Poodles.
That doesn't mean backyard breeders don't exist, but it makes it easier to find a reputable Toy Poodle breeder.
Conversely, Teacup Poodles lack that recognition. It's important to note, however, that that doesn't mean all Teacup Poodle breeders are disreputable. Rather, it means that because there aren't the same standards in place, breeders have a harder time producing Teacup Poodles that conform to an individualized quality standard.
This also makes it difficult for the discerning pet owner to know they have found a reputable breeder. Several things can help you assess prospective Teacup Poodle breeders. You want to look for a breeder that puts the dog first. That means:
Giving you a comprehensive history of puppies' parents
Producing papers (if applicable) for the parent Poodles
Willing to let you visit with dogs, but only once safe for puppies
Hybrid Vigor
The primary reason the AKC and other breeder organizations do not recognize Teacup Poodles is that they aren't purebred dogs. A Teacup Poodle is a cross-breed between a Toy Poodle and another, smaller dog.
One of the advantages of breeding dogs this way is that it widens the gene pool and produces something called hybrid vigor. In other words, a Teacup Poodle's mixed parentage means they are less susceptible to inherited Poodle problems than other Poodle breeds. This makes them less likely to develop conditions like:
Addison's Disease
Progressive Retinal Atrophy
Hybrid vigor doesn't mean your Teacup Poodle will never develop these conditions. But it does significantly reduce the chances, especially when compared to Toy Poodles.
It's also important to remember that hybrid vigor dilutes over generations. Initially, a breeder might breed a Toy Poodle with a smaller dog. Over time, however, it becomes possible to breed Teacup Poodles from two Teacup Poodle parents. This method dilutes hybrid vigor and reintroduces some of the health conditions inherent in purebred Poodles.
Do Teacup Poodles Make Good Pets?
Teacup Poodles are wonderful pets. Despite their size, they inherit many of the personality traits inherent in larger Poodles that make the breed so popular with dog lovers.
Intelligence
One of the reasons Poodles are such popular pets is their intelligence. The combination of the Poodle's people-pleasing nature with their keen minds makes for a highly trainable dog.
Whether you want them to learn to go to the bathroom outside or not to chew the carpet, Poodles make quick studies. That's equally true of the Teacup Poodle.
Loyalty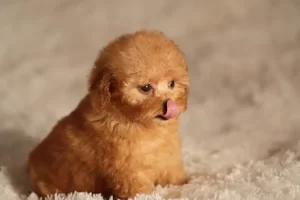 Poodles are also incredibly loyal dogs. It's part of what makes them so easy to train. They quickly bond with and become protective of the people they see as pack members.
Teacup Poodles, like many small dogs, don't seem to realize they are smaller than other Poodles and are just as anxious to look out for you. That can have drawbacks in an apartment setting, because it may mean barking at every little noise. It is possible to curb this behavior with training, however.
Size
Another reason the Teacup Poodle makes an excellent pet is its size when fully grown. Their smallness makes them wonderful lap dogs. And their willingness to please means that a well-exercised Teacup Poodle is only too happy to cuddle up with you at the end of the day.
Teacup Poodles are considerably easier to transport than their Standard-sized relatives. Not only that, but they require less floor space, making them excellent companions for people living in smaller spaces.
That said, Teacup Poodles do have the Poodle predisposition to anxiety, as well as high energy levels. That makes it imperative not only that you spend time with your Teacup Poodle, but that a significant portion of that time is spent exercising your dog to burn off excess energy.
Maturity and Poodle Health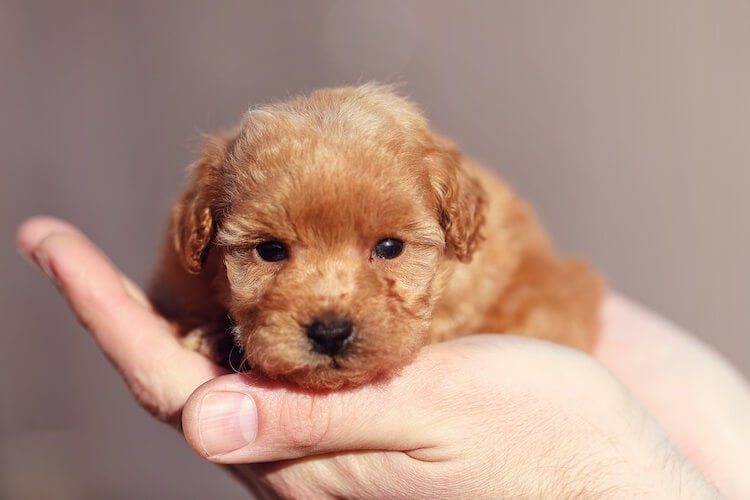 Health is also something you should keep in mind when determining if a Teacup Poodle is right for you. Because they aren't purebred dogs, it's reasonable to assume your Teacup Poodle will be healthy when you bring it home. That's especially true if you research and find a reputable breeder.
However, there are still some conditions that your puppy could develop that might affect their weight and long-term health. The most common of these health issues is Addison's Disease.
You are most likely to see Addison's Disease in Teacup Poodles between puppyhood and five years old, though it's not unheard of for more mature dogs to develop it. It's difficult to detect Addison's on a purely symptomatic basis, so that makes it imperative you have your vet perform routine bloodwork on your Teacup Poodle to check for these types of conditions.
How Big Will My Teacup Poodle Get?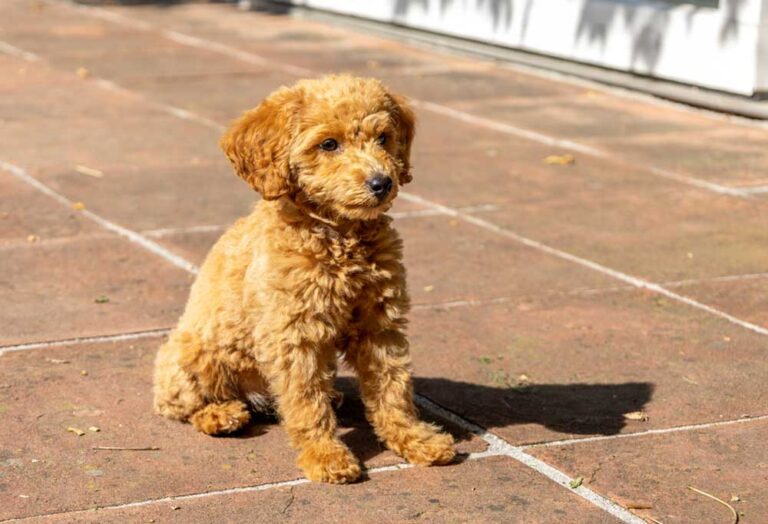 Teacup Poodles stop growing at roughly eight months old. Since they are the quintessential lap dog, they will not keep growing much beyond that age. Full-grown Teacup Poodles weigh between two and five pounds and shouldn't be taller than eight inches.
Eating Habits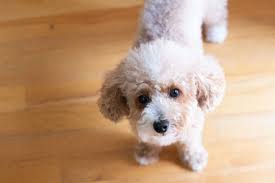 Because Teacup Poodles are tiny, it's incredibly easy to overfeed them. Obesity in dogs can cause various problems, like:
Diabetes
Heart disease
Cancers
With Poodles, you may also come across bloat, which can be fatal. Bloat happens when your Teacup Poodle eats too quickly. It's treatable, but you need to catch it quickly.
To avoid these problems, there are several things a responsible dog owner can do. First of all, ensure that you feed your Teacup Poodle in amounts proportionate to their size.
Difficult as it is, you should also hold off on treats. Poodles can be food-motivated, but they are also highly people-motivated, meaning that consistent praise is often enough to train them quickly.
You should also avoid feeding your Teacup Poodle human food to help manage their weight. For Teacup Poodles that gobble their food down quickly, a slow feeder can be helpful and reduce the chance of developing bloat.
Luckily, Poodles of all sizes are naturally energetic, and they love romping and playing. This is an excellent way for your Poodle to expend energy and stay a healthy weight for their size.
At What Age Is a Teacup Poodle Fully Grown?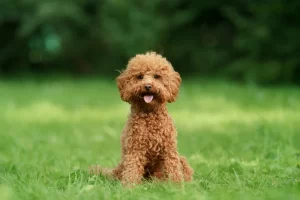 Teacup Poodles reach maturity at eight months. At that age, a Teacup Poodle will be between six and eight inches tall. They should weigh between two and five pounds, though they may not reach their full weight for several more months. The Teacup Poodle's size makes it an ideal lap dog, but they have the same high energy levels as other Poodles.
Frequently Asked Questions
How big do teacup Poodles get?
Full-grown Teacup Poodles weigh between two and five pounds and shouldn't be taller than eight inches.
What do full-grown teacup Poodles look like?
A full-grown Teacup Poodle will be small enough to comfortably carry in your hands. They have curly coats, long noses, and adorable eyes.
At what age is a teacup poodle full grown?
Teacup Poodles stop growing at roughly eight months old. They may still gain a bit more weight after this.
The Teacup Poodle: Tiny and Lovable
Teacup Poodles are adorable bundles of fluff that you can easily keep in a space that might not be ideal for a larger dog. They are smart, silly, and loving.
If you think that a Teacup Poodle is the best companion for you, make sure that you research reputable breeders to find a healthy, happy dog that can stay with you for a long time.
If you find this guide, "When Is a Teacup Poodle Fully Grown" helpful, check out our other dog guides:
If you want to learn more about the Teacup Poodle, you can by watching "Teacup Poodle: 10 Things You Didn't Know About This Breed" down below:
Garrett loves animals and is a huge advocate for all Doodle dog breeds. He owns his own Goldendoodle named Kona. In addition, he volunteers at the Humane Society of Silicon Valley, where he fosters dogs and helps animals. Garrett enjoys writing about Doodles and believes that dogs can teach humans more about how to live than humans can teach a dog.
Why Trust We Love Doodles?
At We Love Doodles, we're a team of writers, veterinarians, and puppy trainers that love dogs. Our team of qualified experts researches and provides reliable information on a wide range of dog topics. Our reviews are based on customer feedback, hands-on testing, and in-depth analysis. We are fully transparent and honest to our community of dog owners and future owners.