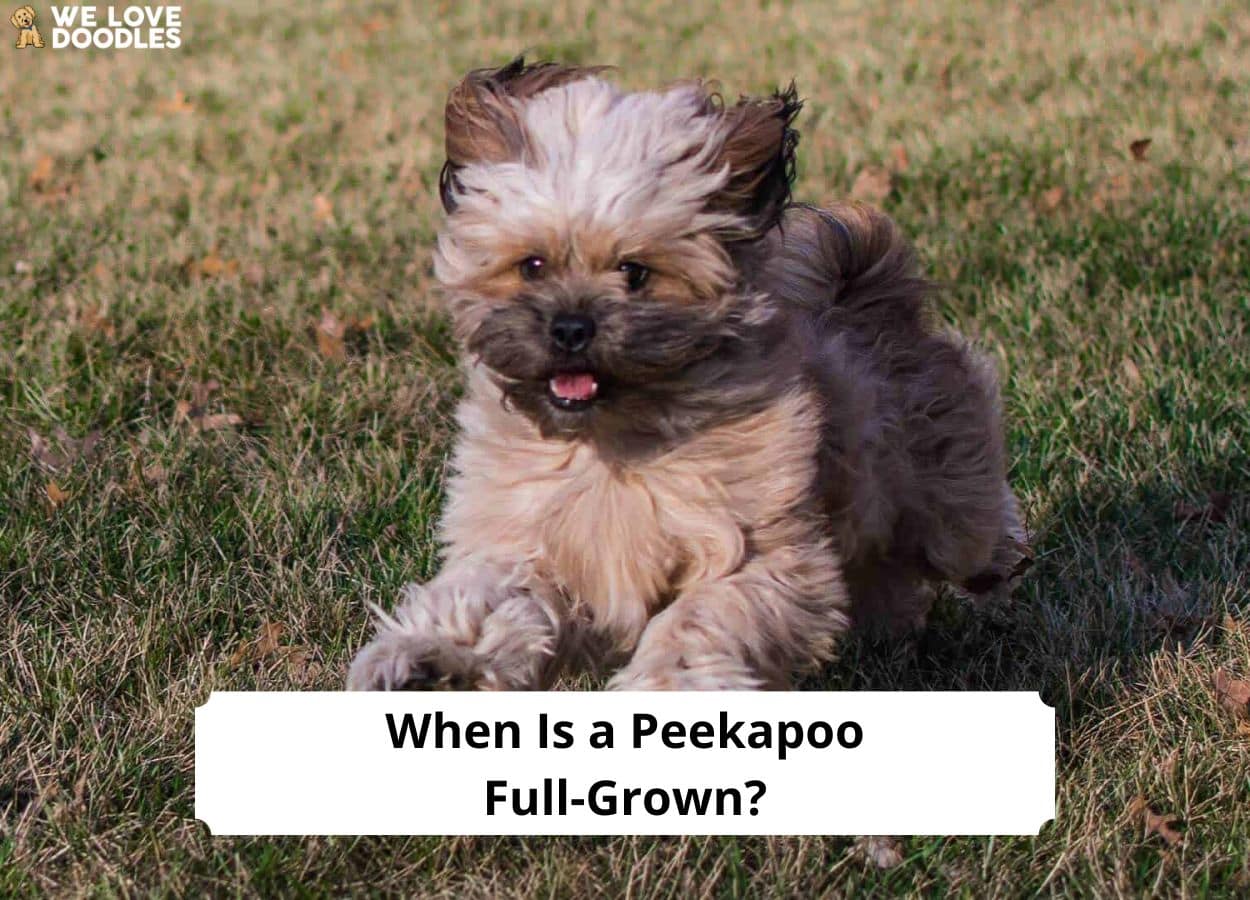 As a cross between Pekingese and Poodles, Peekapoos are known for their friendly personalities and playful demeanor, making them excellent companions for families with kids. Since a Peekapoo may take after either side of its lineage, they vary in size depending on which parent they take after the most. Keep reading to learn the size of a full-grown Peekapoo dog.
Before scrolling down this guide, "When Is a Peekapoo Full-Grown" check out: Peekapoo Sizes: Teacup, Toy, Miniature, and Standard! (2023) and 5 Best Teacup Dogs That Don't Shed! (2023).
At What Point Is a Peekapoo Considered Full-Grown?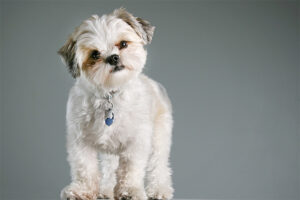 An adult Peekapoo is approximately 11 inches tall. If your dog is about 11 inches at the shoulder, it's fully grown and may not undergo further growth. The parent's genetic makeup and the puppy's gender significantly contribute to the overall size.
When a Peekapoo reaches a certain weight, usually between 4 to 20 pounds, it indicates that they've reached maturation. Peekapoos get to adult size between 7 and 12 months.
A Teacup Peekapoo will measure 8 to 10 inches tall and weigh 8 to 13 pounds. The average Miniature Peekapoo weighs around 20 pounds and stands between 10 to 11 inches tall.
Compared to purebred dogs, the lifespan of hybrid breeds is significantly longer. The Peekapoo can live between 10 and 15 years.
The Early Stages of Peekapoo Growth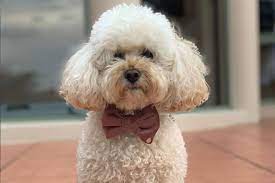 During the first week of their lives, Peekapoos need special care and food. They have a rapid growth rate within the first ten days and may double in size if you provide proper care.
In the second week of growing, the puppy's mother pays them more attention and licks to get their system functioning. At this point, the puppy's eyes are open, but they can't seem to focus on anything. The puppy begins sitting and standing on their own by the third week.
In the fourth week, Peekapoos puppies can walk and move around. They become more active than before. At this time, the puppy cut their back teeth and start feeding themselves.
Your puppy becomes a full-fledged dog in the fifth week when they're ready to join the pack and socialize. During this time, the puppy is a lively barker.
The training follows next in the sixth week. The puppy's mother trains them not to bite or bark at family members. The puppy can now consume healthy meals five or six times per week. At week seven, they begin interacting with their surroundings. The puppy is mature enough by the eighth week to start its new life.
Between weeks eight and twelve, the puppy becomes socially competent to its surroundings and the humans. They can quickly spot a stranger harboring malicious intent.
Peekapoos Feeding
Peekapoos require roughly 40 calories per pound of body mass daily. That's approximately a quarter to three-quarters cup of food for a mature Peekapoo. However, avoid feeding your dog calories for the sake of calories. If you want your dog to be healthy, you must provide it with quality food, preferably from reputable brands.
Ask your vet for recommendations on the kind of food that is ideal for your dog. They'll also offer guidance on the optimal serving size for your dog based on the following factors:
Age
Weight
Metabolic rate
Experts recommend giving your dog two meals daily. When feeding Peekapoos, you must factor in their presumed mature weight. Although it may be challenging to do so with a mixed-breed puppy, you may still use the parents' weight as a guide for how much to feed your pet.
Your puppy shouldn't consume the same food amount as your mature dog in a single sitting. For puppies younger than six months, divide their daily feedings into four equal portions. You may cut back to two meals when they're six months old.
Caring for a Peekapoo
Below are several ways you can care for your Peekapoo.
Regular Exercise
The Peekapoo, despite its small size, needs regular exercise to maintain a healthy and happy lifestyle. Negative behavior often stems from unwanted energy. The Peekapoo is an outdoor breed that will appreciate running around the yard and accompanying its owners on walks.
Nevertheless, be careful not to over-exercise a Peekapoo because they're prone to overheating quickly, which could result in respiratory issues. Furthermore, a small hyperactive dog won't need as much exercise as a bigger dog because of their size difference.
Training
The breed responds well to positive reinforcement, so it's not hard to train. When training your Peekapoo, don't be aggressive because it can cause physical harm.
Peekapoos may adjust to any environment, although they perform best with access to outside space, such as a fenced garden. It would be best if you didn't leave them alone in the yard because they may become prey to bigger dogs and other predators.
Because of their susceptibility to heat exhaustion, Peekapoos should always be kept in air-conditioned environments. Avoid taking your dog outdoors for exercise on hot days.
Crate training is beneficial for all dogs, and it's an excellent approach to prevent your Peekapoo from getting into trouble or places they shouldn't. A box also serves as a comfortable escape whenever they need to sleep.
Starting to crate train your dog when they're still young makes it easier for them to adjust to isolation in case something necessitating confinement ever happens.
Socialization
Your Peekapoo will benefit significantly from socialization. Introduce your dog to other animals and people by taking them on outings. That way, you can be confident that your Peekapoo dog will behave appropriately in various social settings.
Peekapoo Grooming
You'll need to groom your dog's coat daily to prevent matting and maintain its vitality. That's vital if your dog has a long coat. While you can cut the Peekapoo's coat to make maintenance easier, you'll still have to brush and bathe them regularly.
Inspect your dog's ears at least once weekly to ensure they're clean and free of any redness or odor that could signal an infection. In addition, clean them with a cotton swab dipped in a mild, pH-neutral ear cleaner.
It would help to brush your dog's teeth at least twice a week to prevent germs and tartar accumulation. Brushing your teeth twice daily is optimal if you care about avoiding periodontitis and bad breath.
Trimming your Peekapoo's nails routinely is also necessary. It's time to cut the lengthy nails when you hear your dog scratching the surface.
Start introducing your dogs to brushing and trimming routines when they're still puppies. If you make the grooming a fun experience, your dog will be much more amenable to veterinary checkups and other forms of handling in the future.
Health Problems Prevalent in Peekapoos
Peekapoos' parents are frequently prone to various hereditary disorders. They might pass on a few of these ailments, but the likelihood of a Peekapoo puppy acquiring a genetic condition may be lower than that of a purebred dog.
Before buying a Peekapoo puppy, it's crucial to look into the breeder's reputation and the parents' medical histories. Below are the most common health issues Peekapoos face.
Progressive Retinal Atrophy
Progressive retinal atrophy causes the gradual deterioration of the eye's retina. While night vision loss is generally the initial symptom of this condition in Peekapoos, it can worsen and result in complete blindness.
Your vet may recommend supplements to lessen cataract formation. Avoid purchasing a puppy whose parents have had progressive retinal atrophy, as it has no cure.
Patellar Luxation
Patellar luxation results from a knee cap dislocation. When walking, a dog's knee pops out and then snaps back into place. If you fear that your dog has this condition, you should seek instant veterinary care because it's painful.
Hip Dysplasia
Hip dysplasia occurs when the thighbone can't fit perfectly into the hip socket due to improper bone development. Consequently, the bones grind against one another, causing discomfort.
Some Peekapoos will experience difficulty walking, particularly if the condition worsens. Dogs with this condition often suffer arthritis as they age.
Are Full-Grown Peekapoos Hypoallergenic?
Peekapoos can be hypoallergenic because they have Poodle genes. However, there's no assurance that your dog will be hypoallergenic, especially if it has more Pekingese genes.
Frequently Asked Questions
Here are the most common questions dog owners ask about full-grown Peekapoo.
How big will a Peekapoo get?
Your Peekapoo should be between 4 and 20 pounds as a mature dog. They will also stand about 11 inches tall.
At what age is a Peekapoo full-grown?
Peekapoos might become fully grown as early as seven months of age. However, larger Peekapoos might take up to 12 months to reach maturity.
What does a full-grown Peekapoo look like?
A full-grown Peekapoo has big button eyes and wavy locks. When fully grown, Peekapoos are available in three distinct sizes that include miniature, toy, and teacup.
Conclusion for "When Is a Peekapoo Full-Grown"
The Peekapoo is well-known for its cheerful temperament and charming looks. They aren't difficult to train and don't require much care in terms of grooming.
The average height and weight of male and female Peekapoos are almost equivalent. They can grow as tall as 11 inches and as heavy as 20 pounds. We hope you had fun reading our guide about full-grown Peekapoo dogs.
For more guides related to this topic, check out:
Learn more about this breed by watching "Peekapoo Dog Breed Information – One of the Most Adorable Poodle Hybrids | Peekapoo Dogs 101" down below:
Garrett loves animals and is a huge advocate for all Doodle dog breeds. He owns his own Goldendoodle named Kona. In addition, he volunteers at the Humane Society of Silicon Valley, where he fosters dogs and helps animals. Garrett enjoys writing about Doodles and believes that dogs can teach humans more about how to live than humans can teach a dog.
Why Trust We Love Doodles?
At We Love Doodles, we're a team of writers, veterinarians, and puppy trainers that love dogs. Our team of qualified experts researches and provides reliable information on a wide range of dog topics. Our reviews are based on customer feedback, hands-on testing, and in-depth analysis. We are fully transparent and honest to our community of dog owners and future owners.