Are you searching for breeders with mini Australian Shepherd puppies for sale under $500? Are you finding that you'd like to avoid the high price tags that often come with dogs of this breed?
Australian Shepherds are popular dogs – within the top twenty most popular AKC breeds – and the cost to purchase a puppy reflects that. Unfortunately, "cheap" mini Aussies will likely come from irresponsible breeders.
Before you scroll further down this guide, "Find Mini Australian Shepherd Puppies For Sale Under $500," you can check out these other mini Australian Shepherd-related articles from our team at We Love Doodles: Mini Australian Shepherds in South Carolina For Sale and Miniature Australian Shepherd Puppies in Georgia For Sale.
Find Mini Australian Shepherd Puppies For Sale Under $500
To help you avoid puppy mills and exorbitant prices, we've put together a list of sources where you can find mini Australian Shepherd puppies for sale under $500. Do your research – check out reviews and interview the breeder or shelter – then start the exciting process of adopting a new puppy.
Mini Australian Shepherd Product Recommendations: Best Air Purifiers For Dog Hair and Best Flea Collars For Dogs.
1. Greenfield Puppies
Greenfield Puppies is a gold mine for mini Australian Shepherd puppies under $500. Most puppies are priced between $400 and $1,000, and it's easy to find a mini Aussie in your price range. Greenfield Puppies' dogs are primarily located in Pennsylvania and the surrounding states, but shipping and delivery options are available, so start your search here.
To find your dog, you'll first want to select the breed. On this particular site, you'll search "Australian Shepherd – miniature." From there, you'll select "show me the puppies" and be redirected to a page with a grid of puppies' pictures.
Click the puppy you love the most, and you'll be presented with more information about your new buddy. Contact the breeder using the information on the puppy's biography. Ask them about the health guarantee for your puppy, breeding rights, socialization, and any other specifics you'd like to know.
Some puppies will be eligible for registration with the ASDR. The AKC does not recognize the miniature Australian Shepherd. Shipping begins at $545, so be sure to factor this into your dog's price. Some size and breed restrictions may apply, so verify the delivery availability before you purchase your dog.
Greenfield Puppies Details
2. My Aussie Pups
My Aussie Pups is an Ohio-based breeder specializing in mini Australian Shepherds, standard Aussies, and mini Aussiedoodles. Puppies are moderately priced, and you can find a mini Australian Shepherd for sale for under $500 through this kennel.
Dogs can be shipped anywhere in the United States; shipping costs begin at $250. You'll see a link to view available puppies on the top menu bar. Select miniature Australian Shepherds, and you'll be brought to a page with pictures of each puppy waiting to be adopted.
You can sort by price, by latest, or by popularity. Find a puppy in your price range and place a deposit. The prices of dogs will vary depending on your dog's characteristics, so if you can't find a puppy under $500, check back.
Your puppy will arrive at your home vaccinated, dewormed, and microchipped. Each dog comes with a one-year health guarantee against genetic defects. In addition, you are protected for thirty days against illness or death caused by circumstances before adoption.
My Aussie Pups Details
3. Good Dog
If you're having trouble finding a breeder in your local area, check out Good Dog. You're sure to find a breeder that's nearby and one that sells mini Australian Shepherds at affordable prices. Quite a few mini Aussies are priced under $500, so give this site a try.
Good Dog does not have a separate category for mini Aussies. Instead, you'll need to search mini American Shepherds and Australian Shepherds to find the hidden mini Aussie gems. Searching by breed and location will result in the display of breeders that are nearby to your home.
If you like, you can expand your search to include nationwide results. Choose your preferred transportation method. The breeder sets the price of mini Australian Shepherds on Good Dog. Good Dog is a third-party business.
Most puppies will have their cost of adoption listed on their biography, while some breeders will require you to contact them directly. In addition to allowing individuals and breeders to post dogs, Good Dog opens its platform to shelters.
If you're interested in adopting an animal in need, check out these non-profits. Adoption fees are ordinarily quite low through shelters, though you may be required to participate in a home visit before you're permitted to adopt.
Good Dog Details
4. Miniature American Shepherd Rescue
The American Kennel Club does not recognize the mini Aussie as a registrable breed. However, breeders can opt into registration by calling their dogs "American Shepherds." It's not a common workaround, but it does exist, and you'll find many mini Aussies for sale under the American breed name.
Check out the Miniature American Shepherd Rescue if you're not sold on purchasing a new puppy and are interested in adopting a rescue. This nationwide non-profit is a resource for people like you. No matter where you are in the country, MASR can connect you with a local shelter with the perfect puppy.
The team is based in Kentucky but will act as a resource for you no matter where in the country you live. If you have questions about the breed or how to find a puppy near you, give them a call.
The non-profit educates the public about mini Aussies and will be happy to assist you. Dogs will be spayed or neutered before being adopted, and your puppy will be updated on vaccinations, dewormed, and vet-checked.
Miniature American Shepherd Rescue Details
5. Facebook
Facebook is the largest social media platform on the planet, so it shouldn't be surprising that there's a place for mini-Aussie lovers. Facebook offers an easy way to connect with fellow enthusiasts, and you can also find mini Australian Shepherd puppies for sale under $500.
Note that Facebook does have a marketplace, but pet sales are not permitted on the site. You'll have to dig deeper to find a mini Aussie to adopt. The simplest way to find a dog for sale or available for adoption is to search for "mini Australian Shepherd" in the general search box. You can find groups formed to help with training, adoption, sales, and sharing pictures.
You can also find breeders who may not have the time, desire, or expertise to create a website but instead have chosen to advertise on social media. Facebook is an awesome resource to use in your search for a mini Aussie under $500, but you'll need to use a bit of common sense.
Not everyone on Facebook sells healthy puppies, so you must get to know your breeder. Check reviews and meet the breeder in person, if possible. Bring a friend with you for safety, and inspect your dog before you exchange any money.
Facebook Details
6. Adopt A Pet
Adopt A Pet is last on our list of places you can find mini Australian Shepherds for under $500. Adopt A Pet allows individuals and breeders to list their available puppies, so you'll need to interview the seller in depth before you exchange money.
As with some other platforms, the mini Australian Shepherds are hidden within the listings for Aussies. In addition to mini Aussies, you'll also find mixed-breed puppies, so if you're searching for a purebred puppy, read the listing fully.
Contact the breeder or seller when in doubt and ask about your dog's pedigree. Prices of mini Australian Shepherds range greatly depending upon the seller. Some dogs come from individuals, some from breeders, and some from rescues.
Whereas an individual may only charge a small rehoming fee, a private breeder will likely charge more for a new puppy. When you use Adopt A Pet to purchase a dog or a puppy, you'll need to do a large portion of the "vetting" on your own.
Anyone can post, so you'll want to ensure that you receive veterinary records, registration papers (if any), and other applicable information about your dog.
Adopt A Pet Details
Conclusion For "Where to Find Mini Australian Shepherds for Sale Under $500"
Miniature Australian Shepherds are fun, playful dogs that keep a puppy-like personality even into adulthood. They're a popular breed, meaning they can come with an expensive adoption fee or purchase price.
You can find mini Australian Shepherd puppies for sale under $500 – begin with the resources in our guide. Do your legwork to ensure that your breeder or seller has treated your dog responsibly, then enjoy your newest, fluffiest family member.
If you find this guide, "Find Mini Australian Shepherd Puppies For Sale Under $500," informative and helpful, you can check out these other dog-related articles from our team:
Before you find a mini Australian Shepherd puppy for sale under $500, you can learn more about this dog breed by watching "10 Things Only Australian Shepherd Dog Owners Understand" down below: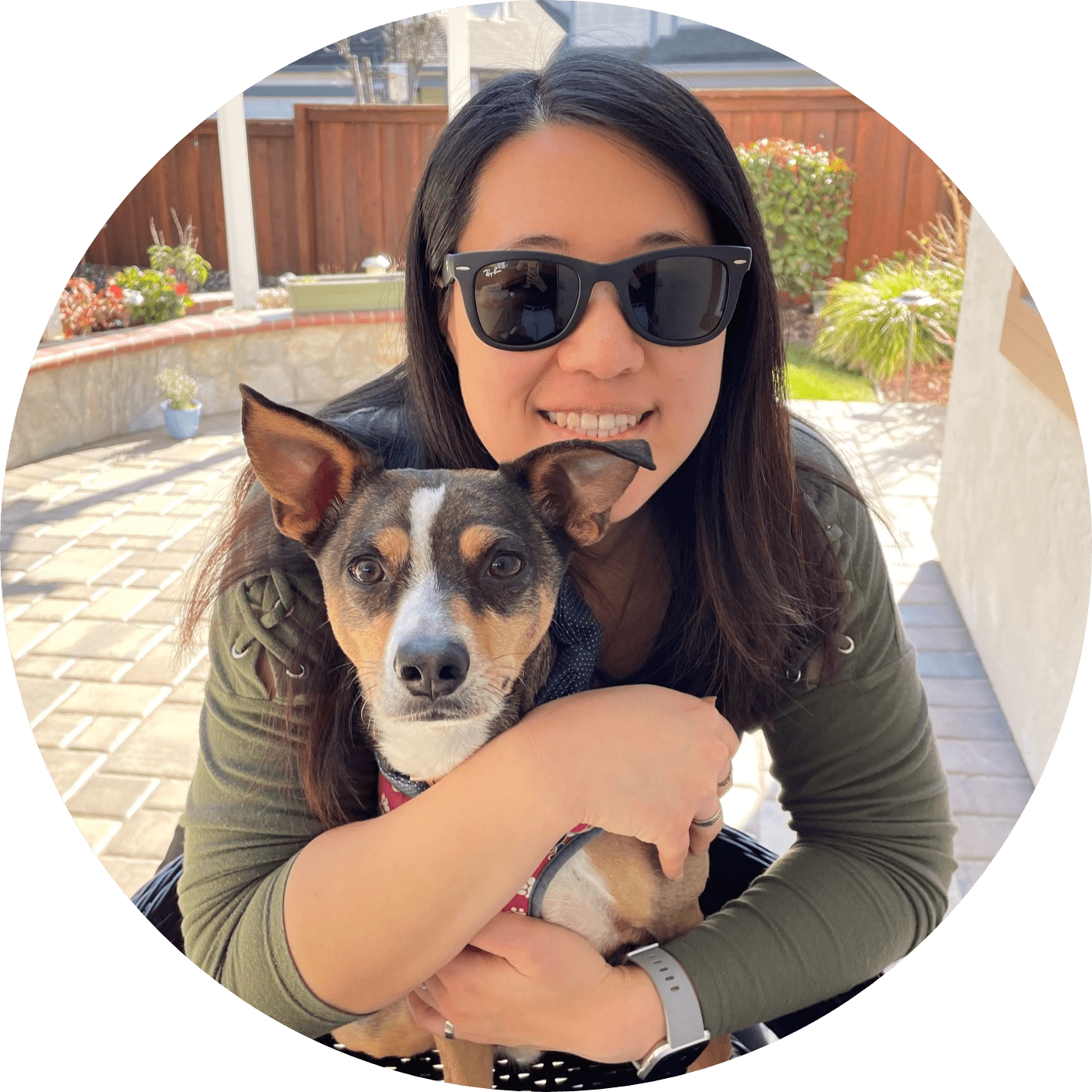 Dr. Sabrina Kong graduated from the Royal Veterinary College in England in 2016 and has been working at a small animal clinic in Northern California since then. She grew up in the Bay Area and got her bachelor's degree from Cal Poly San Luis Obispo. She also became a Certified Canine Rehabilitation Practitioner through a program at the University of Tennessee.
When she isn't in the clinic taking care of her four-legged patients, she enjoys traveling and trying new foods with her friends and her three-legged dog, Apollo. She adopted Apollo from her clinic when he was a puppy with numerous health issues. Dr. Kong truly cares about taking care of animals.