Did you recently adopt a Maltipoo? Are you wondering how long they can live? What is the oldest Maltipoo, and how does this compare to the breed's average lifespan?
Let's take a look at some fun facts about the Maltipoo so you know what to expect when you adopt a puppy — or even a senior dog. We'll look at the breed itself, and we'll also take a look at how you can help your Maltese-Poodle mix live his best, happiest life.
Before reading this guide, "What Is the Oldest Maltipoo," check out: Why Is My Maltipoo Shedding? (2023) and How Long Do Maltipoos Live? (2023).
What's the Oldest Maltipoo?
The Maltipoo was first deliberately bred in the 1990s. Because we don't have a long history of Maltipoo records, it's difficult to ascertain who, exactly, is or was the oldest Maltipoo.
There have been anecdotal reports of Maltipoo dogs living well into their late teens, with some having been reported to have made it to the ripe old age of 18. That's around 88 years old in dog years!
Smaller dogs typically live longer than larger dogs, and the Maltipoo is a small breed. When fully grown, the dogs weigh between five and 25 pounds. Of course, a dog's lifestyle will play a large part in his lifespan, too, and we'll take a look at that in just a bit.
As we mentioned, the Maltipoo was first deliberately bred in the 1990s. We only have a few decades of formal information regarding these Doodles. That's not to say Maltese and Poodles weren't bred before, meaning there are probably instances where Maltipoos lived longer than anecdotal stories we hear today.
Those anecdotal stories, though, do give us a bit of insight into just how long the dogs can live. The oldest Maltipoo dogs, according to internet lore, have lived as old as 20 years.
What's the Lifespan of a Maltipoo?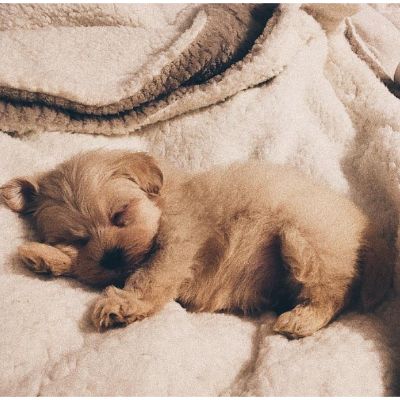 Over the years, we've learned that a Maltipoo's lifespan will range from 12 to 16 years. This is older than a typical small dog, even if your dog doesn't reach 20.
If you choose to bring a Maltipoo into your home, you'll need to ensure that your dog is getting proper nutrition and exercise. Even grooming will help your Maltipoo live longer.
The Maltipoo, like all other dogs, is more likely to be diagnosed with certain health conditions than others. Let's look at a few of those in depth.
Maltipoo Health Conditions
Like any dog, the Maltipoo is susceptible to several health conditions. Of course, not all Maltipoos will suffer from these conditions, but it's certainly a good idea to keep an eye out for symptoms.
Patellar Luxation
Patellar luxation can be genetic or it can be caused by injury or trauma. It can be painful for your dog, and can even make your dog lame, either intermittently or chronically.
Surgery can fix patellar luxation, or you may choose to give your dog painkillers prescribed by your vet to ease your dog's pain. Patellar luxation is not fatal.
Tracheal Collapse
Small dogs are most susceptible to tracheal collapse, a condition caused by the weakening of cartilage rings. Tracheal collapse can be caused by stress, heat, humidity, tobacco or wood smoke, and a number of other irritants.
Tracheal collapse can be medically managed, whether by giving your dog cough medicine or by administering bronchodilators. Steroids may also be used.
Contact your vet if your dog has a short, "honking" cough — a telltale symptom of tracheal collapse.
Obesity
Obesity has everything to do with the food and exercise opportunities you offer your dog. Your dog is considered obese when he weighs 10 to 20 percent over his ideal body weight. Speak with your vet about your particular dog's needs.
Studies show that even moderately overweight dogs can live two years less than dogs that are in shape. That means if you want your dog to earn the title of oldest Maltipoo, you'll need to monitor his weight.
Your vet can help you decide the ideal food and the right amount of exercise for your dog and for your lifestyle. In most cases, your vet will recommend changing the brand or formula of dog food you use, as opposed to simply reducing his food intake.
Shaker Syndrome
For reasons we don't yet fully understand, Shaker Syndrome most commonly occurs in small, white dogs. Hence, it's sometimes called White Shaker Syndrome.
White Shaker Syndrome is exactly what it sounds like — a condition that causes little white dogs to experience tremors. This condition is usually treated with steroids like prednisone, if at all. Shaker Syndrome generally isn't fatal but in rare cases, it can lead to seizures.
As you can see, your Maltipoo can be susceptible to a number of health conditions. Bring your pup to the vet at least yearly and schedule additional appointments if you suspect something is awry.
Sometimes early detection is the best way to cure and prevent disease.
How Much Exercise Does My Maltipoo Need?
Your Maltipoo needs about 40 minutes of exercise a day, and just a couple of walks can easily fulfill this requirement. You don't have to engage in vigorous exercise, either — there's no need to run or jog!
In addition to your walks, provide your pup with plenty of playtime. Not only will your puppy or dog get the activity he needs to stay healthy, but your dog's mental health will also benefit from the attention.
We don't always pay attention to a pup's mental health. It is, however, extremely important that you do what you can to prevent your pup from becoming anxious, depressed, or lonely.
Engage your dog in brain games, and be sure to give him the snuggles he deserves! Let him explore and play as you hide, walk, or even swim, and remember that your dog is very empathetic. He'll pick up on your own emotions, so try not to project them onto your dog.
What Kind of Food Does the Oldest Maltipoo Eat?
Are you trying to break records for the oldest Maltipoo? Then you'll need to feed your dog properly!
Talk to your vet about the brand and formula of food she recommends for your specific dog, and then pay attention to how much your pup eats. As mentioned, obesity can decrease your dog's lifespan so his diet is very important.
Read the food packaging, which will likely say that you should give between a half cup and a cup to your dog each day. Some dogs should be given mealtimes while others will be fine if you simply leave the food out for them to graze.
Seniors and puppies will have different nutritional needs, both in quantity and in nutrition. Again, it's important to read the label on your dog food bag or container and feed your pup appropriately.
Let's say you frequently bring your dog to the mountains for a hike or to the sea for a swim. His dietary needs may change. Look for a dog food that's formulated for active dogs, or talk to your vet about otherwise increasing your dog's caloric intake.
What Is the Leading Cause of Death in Maltipoos?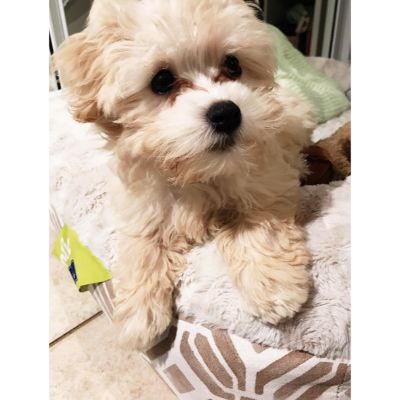 The American Veterinary Medical Association has conducted studies to determine the leading cause of death in several dog breeds. You can read the results of the study using the link above.
A lot contributes to the cause of death of dogs, but for Maltipoos the most commonly associated health concerns are heart disease and obesity. Of course, those two go hand in hand.
In many instances, your vet can help you detect these conditions early and mitigate the risks of both. You know your dog best, though! Should you notice that anything is "off" with your dog, or if she's gaining more weight than is healthy, for example, please schedule a conversation with your doggy doc.
How Can I Help My Dog Become the World's Oldest Maltipoo?
We can't guarantee your dog will be a contender for a Guinness Record, but we can all but promise you and your dog will have a healthier, longer relationship together when you care for your pup's mental health, dietary needs, and exercise requirements.
Set your puppy up with playdates and give her brain games to make sure her brain stays healthy and sharp. Feed her a food formulated to her weight, age, and activity level. And schedule regular trips to the vet.
Grooming your Maltipoo is also important to your dog's health. You'll be better able to spot bumps, lumps, and skin conditions. Your groomer will also check and clean your dog's ears, helping to prevent infection and mites. Even trimming your Maltipoo's nails will help prevent infection.
Frequently Asked Questions
Can a Maltipoo live 20 years?
While atypical, it is possible for a healthy, well-cared-for Maltipoo to live for 20 years.
How old is a Maltipoo in human years?
About one dog year equals five human years, but the formula varies based on the age of your Maltipoo. For instance, your puppy's first year will be closer to 15 human years, while its second year will represent about nine human years.
What is the most expensive Maltipoo?
There's a huge range of prices for Maltipoo puppies when buying from a breeder. You may see prices as high as $2,000 to $3,000 depending on generation, gender, and coat color.
Conclusion for "What Is the Oldest Maltipoo"
Maltipoos are a new breed, so it's difficult to determine the age of the oldest Maltipoo — there's simply not enough data. However, it's been determined that the little breed can live for up to 20 years.
It's uncommon for your pup to live that long, but you can absolutely help him prolong his life through the food, activity, and brain stimulation he requires.
We can't guarantee you a spot in the Guinness Book of World Records, but we can tell you with certainty that caring for these aspects of your dog's life will give him a solid chance to become the oldest Maltipoo.
If you find this guide, "What is the Oldest Maltipoo," helpful, check out:
Learn more by watching "Maltipoo – Top 10 Facts" down below:
Garrett loves animals and is a huge advocate for all Doodle dog breeds. He owns his own Goldendoodle named Kona. In addition, he volunteers at the Humane Society of Silicon Valley, where he fosters dogs and helps animals. Garrett enjoys writing about Doodles and believes that dogs can teach humans more about how to live than humans can teach a dog.
Why Trust We Love Doodles?
At We Love Doodles, we're a team of writers, veterinarians, and puppy trainers that love dogs. Our team of qualified experts researches and provides reliable information on a wide range of dog topics. Our reviews are based on customer feedback, hands-on testing, and in-depth analysis. We are fully transparent and honest to our community of dog owners and future owners.