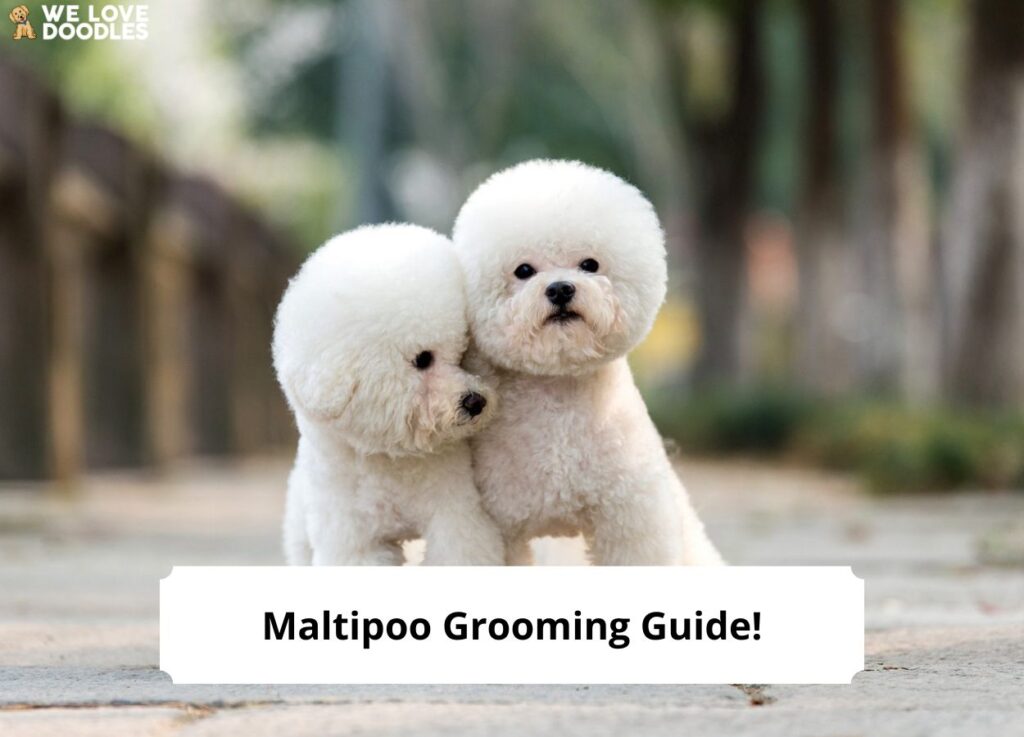 A Maltipoo is an adorable cross between a Poodle and a Maltese. These dogs are hypoallergenic with a cute appearance and cuddly nature, which makes them the perfect pet for companionship and affection. To understand how to have a groomed Maltipoo, read on to have a step-by-step grooming guide.
While they may not seem to have many needs with their small stature and short woolly fur, some essential Maltipoo grooming steps are required for the pups to look and feel their best. The following guide will make it easy to care for your pup to the best of your ability without seeming like an overwhelming feat.
While these steps may seem lengthy, the daily, weekly, and monthly tasks are easy to follow. Soon you will have this Maltipoo grooming guide memorized and be the best caretaker for your pup friend!
Before you read this guide, check out: Maltipoo Lifespan – How Long Do Maltipoos Live? (2023) and Why Is My Maltipoo Shedding? (2023).
1. Brush Hair Daily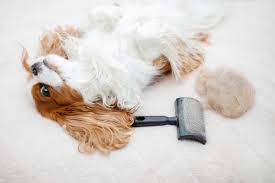 Due to Maltipoos' fur being woolly and curly, brushing is a daily requirement. Without this care, the hair will soon become matted with dirt and debris. If this matted fur appears on your Maltipoo and is not adequately cared for, your pet could suffer from sores and smells that are difficult to treat.
Your Maltipoo can have fur that is either Poodle-like or Maletese-like. A slicker grooming brush works well on a dog with a delicate fur texture.
A slicker brush will also care for fur that is medium to long hair that is wiry in texture. This brush type will effectively remove clumps, loose hair, and dirt or debris from your Maltipoo.
If your Maltipoo has courser hair, which is more Maltese-like, use a pin-and-bristle brush. This type of grooming brush will delicately work through the course hair and remove mats and knots caught in the hair of your Maltipoo.
If you have issues brushing the fur due to too many knots, use a detangling spray to help. A detangling dog product will help with those stubborn hair knots and make the brushing routine easier.
If your pet seems stressed and anxious during this daily grooming ritual, try to create a set schedule, brushing the hair at the same time each day. This routine may calm down your pup and make the brushing process easier.
2. Wipe Tear Stains Twice Daily
A Maltipoo is prone to getting dark tear stains under its eyes. Wipe the tears twice daily to prevent stains from appearing under the eyes.
Many Maltipoos need their eyes wiped with a clean, dry cloth to ward off stains. This routine can help you stay on top of the grooming routine required of your Maltipoo and prevent the prevalence of stubborn tear stains.
If your Maltipoo already has dark tear stains, you may need to perform additional care steps. First, you can use a tear stain solution to rid the fur of the tear stain. A solution that seems to do the trick for the tear stains is water and baking soda.
This solution can be applied to the stained area under the eyes with a toothbrush. This technique will help prevent eye irritation.
A second tactic is to use a contact lens solution. This technique will actively rid the eyes of the stains without the risk of eye irritation. Lastly, you can purchase dog eye wipes to remove tear stains.
3. Brush Teeth Daily
No matter the breed, daily dental care is essential for dog care. Four factors prove brushing the teeth is worth adding to your Maltipoo grooming routine. First, dog dental care will prevent tooth loss. Brushing the teeth will prevent further complications with potential tooth infections.
Second, dog dental care will prevent bad breath. Bad breath is a telltale sign that the teeth are unhealthy. Third, brushing the teeth will prevent oral pain. Unhealthy teeth can make your pup suffer from dental disease.
Lastly, dental care can prevent organ damage. If bacteria is too prevalent in the mouth, it can potentially travel to the bloodstream and vital organs, causing harm in more than one way.
To make brushing teeth easy, you can purchase a small pet toothbrush that will work well for the small mouth size of your Maltipoo. Many dog toothpaste options are available to make this experience pleasant for your pup.
Dental treats are an alternative to this. While the treats should not replace regular brushing with toothpaste, dental treats can still encourage good dental health for your Maltipoo.
4. Thoroughly Clean Ears Once A Week
Maltipoos require weekly ear cleanings. It is vital to clean the ears every week to remove the buildup of possible dirt, dust, or wax. If you do not clean the ears regularly, it may lead to an infection that could cause serious harm.
You can clean the ears with cotton gauze that is damp with water. Do this cleaning process patiently and gently to avoid damage to the ears. It is essential to avoid going too deep into the ears while cleaning them. This act may result in injury.
Lastly, if you believe the ears are too dirty to clean at home, you should get a proper veterinary ear cleaning for your pet. This cleaning will ensure that the ears avoid the risk of infection.
5. Bathe Monthly
A Maltipoo should get bathed monthly. A month is the perfect amount of time to avoid the occurrence of stripping the natural oils found in their fur. This excessive bathing will result in skin irritation.
Due to their small stature, a Maltipoo can get a bath in a small sink or halfway-filled bathtub. After dampening the fur with warm water, you can slowly massage the dog with shampoo. It is essential to avoid getting the shampoo into the ears, nose, and eyes.
The type of shampoo to use for your Maltipoo truly depends upon the unique skin needs of your pet. As a starting point, choose a shampoo that is gentle for the skin.
You do not want your shampoo choice to contain harsh chemicals that would damage the fur. You also want to ensure the shampoo is neutral in pH to protect the skin.
Lastly, you want to ensure that the shampoo does not contain excessive oil content. If lots of oil is in the soap formula, it may not wash out well and create a residue on the fur and skin.
After you finish soaping the Maltipoo down, you can wash the pup back off with warm water. Dry your dog off with a warm towel, and your monthly bathing task is complete!
6. Clip Nails Monthly
Not only is monthly nail clipping a cosmetic aspect of the grooming routine, but it also will ensure their safety. Monthly nail clipping is essential for a variety of safety reasons.
First, long nails may dig into the bottom of the paws, which can result in your pet being in pain. Second, routine clipping will prevent the nails from getting caught in the fabric of their doggy beds and carpets.
If you feel comfortable clipping the nails at home, the guillotine-style clipper is a good option. These nail clippers are easy to use and perform well when working with smaller dogs, like a Maltipoo.
If you do not feel you can do the nail clippings, you are always welcome to bring your Maltipoo to a veterinarian or professional dog groomer where they do these monthly tasks daily!
7. Trim Face Hair Monthly
Curved shears should be the grooming tool for trimming the hair around the face. These tasks will prevent instances of hair matting and knots.
While Maltipoos are eating, drinking, and playing, they can get debris stuck in the fur around their face area. Trimming the face area monthly with shears can prevent these hair issues.
Here are a few tips for beginners for monthly hair trimming: make sure to pay attention to the muzzle area of your Maltipoo. Starting the trimming process at the chin and working your way around the rest of the face will ensure that the hair is equally lengthed.
Other areas on a Maltipoo face that you need to trim monthly include the ears, above the eyes, and the sides of the head.
8. Trim Hair Around the Paws Monthly
Like the hair around the face, the paws are more susceptible to matted hair and clumps. As a result, you will want to ensure that you are giving attention to this furry part of your Maltipoo.
Like trimming the face, cut the paw hair with curved shears to remove all dirt clumps and matted hair from the area.
In addition to removing dirt and hair clumps, properly trimming the paw fur each month will improve the proprioception of the pup. Clean paws will result in your Maltipoo having better balance. The dog can successfully play worry-free without an unsteady viewing perception.
9. Trim the Full Body Hair Annually
Due to the fur type of these adorable dog types, a Maltipoo does not require a full-body trim regularly. Many Maltipoo owners do this only once a year to easily maintain the cleanliness of their pups- specifically in the warmer months.
A professional groomer can do this job best to ensure that no accidental injuries result from the full-body fur cut. The opportunities are endless for the type of hairstyle for your Maltipoo during a full-body haircut. The Maltipoo grooming styles do vary depending on the owner's preference.
Frequently Asked Questions
Let's look at some common questions about Maltipoos and their care.
Are Maltipoos high maintenance?
If you don't mind daily hair brushing, teeth cleanings, and tear wiping, a Maltipoo is a dog for you! In addition to daily brushing, a Maltipoo does require extensive monthly maintenance such as bathing, face trimmings, ear cleanings, nail clippings, and paw hair trimming.
How to groom a Maltipoo puppy?
Grooming a Maltipoo comes with several steps. To properly groom a Maltipoo puppy, create a daily routine of brushing the fur and cleaning the tears. Additionally, a Maltipoo will need nail clipping maintenance and face and paw hair trimmings monthly to obtain a healthy coat.
At what age can a Maltipoo get groomed?
Maltipoos can start getting groomed when they are twelve weeks of age. Before this age, a puppy may be too sensitive to various grooming tasks. Once Maltipoo becomes this age, they are ready for baths, hair trimming, nail clippings, ear cleanings, and more.
Conclusion for "Maltipoo Grooming Guide"
As our guide shows, Maltipoo grooming is quite a process. After reading this step-by-step article, we hope these tasks will seem digestible and easy to follow. Knowing how to groom a Maltipoo can have many benefits for pet owners. Keep being great dog owners!
If you find this guide, "Maltipoo Grooming Guide," helpful, check out:
Learn more by watching "Puppy Maltipoo First Time Grooming" down below:
Garrett loves animals and is a huge advocate for all Doodle dog breeds. He owns his own Goldendoodle named Kona. In addition, he volunteers at the Humane Society of Silicon Valley, where he fosters dogs and helps animals. Garrett enjoys writing about Doodles and believes that dogs can teach humans more about how to live than humans can teach a dog.
Why Trust We Love Doodles?
At We Love Doodles, we're a team of writers, veterinarians, and puppy trainers that love dogs. Our team of qualified experts researches and provides reliable information on a wide range of dog topics. Our reviews are based on customer feedback, hands-on testing, and in-depth analysis. We are fully transparent and honest to our community of dog owners and future owners.