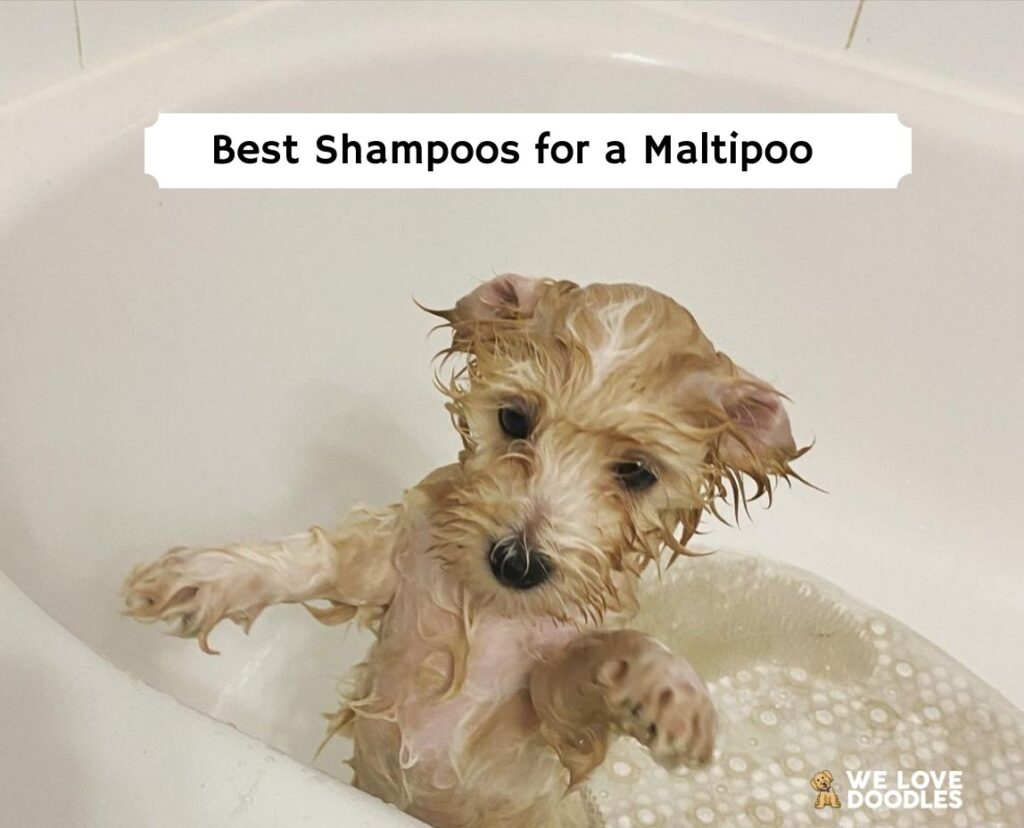 In this review, we'll discuss the best dog shampoos for Maltipoos. The information here will guide you through the process of choosing the best shampoo for your puppy. 
If you're looking for the best Maltipoo dog shampoo, we're here to give you our top picks to keep their coat clean, white, and remove tear stains. Keep in mind that because we're big on eco-friendly and sustainable pet products so we'll mainly focus on eco-friendly and cruelty-free pet products for Maltipoos! We also made sure to include several dog shampoos that were budget-friendly and less than $10.
In a rush? Here are the top picks!
Product
Best Overall
We Love Doodles Shampoo
Best for Whitening
Lillian Ruff
Budget Pick
Oatmeal Shampoo
Image
The We Love Doodles shampoo was specifically formulated for dogs like the Maltipoo. Since we know that Maltipoos are nonshedding and hypoallergenic, their coats are more prone to mats and tangles. Thus, the We Love Doodles shampoo is a 4-in-1 shampoo, detangler, conditioner, and moisturizer. It's been used by professional groomers all around the United States and just recently started selling on Amazon in April 2022.
Additionally, the We Love Doodles shampoo uses certified organic ingredients that are derived from 98.25% natural sources. Thus, there will be no harsh chemicals, synthetics dyes, sulfates, or other chemicals like other dog shampoos have. It's formulated with a light lavender and chamomile smell that will remove odors from your dog.
The shampoo is also tested, formulated, and manufactured in one of the most popular facilities in the United States. It comes with a 100% satisfaction guarantee so if you or your Maltipoo don't like the shampoo you can get your money back. We highly suggest your try it out.
Features
Used by professional dog groomers
Veterinarian approved
Formulated for dogs like Maltipoos
Affordable price point
Made in the USA
No harsh chemicals that will dry our your dog's skin
This shampoo is formulated for dogs with skin allergies, dermatitis, or other sensitive skin conditions. The shampoo has natural aloe vera, oatmeal, vitamins C and E, and jojoba oil combined to help with moisturizing and softening the coat and helping heal and protect sensitive skin. 
It can be used on all dog breeds, and is formulated for sensitive skin, and coats. We like this formula because it's eco-friendly, and the formula is pH balanced for dogs and safe if licked or swallowed. This Maltipoo shampoo helps heal and protect your pup's skin by moisturizing and softening your dog's coat. Here's the takeaway:
Features
Affordable for multi-pet homes

Suitable for sensitive skins

Crafted with aloe & jojoba for optimal canine skin and coat care

Eco–friendly pet friendly

Made with oatmeal, aloe vera, vitamins C and E, and jojoba oil 

Safe to use

Diversity of product line

Made in the US
John Paul is another cruelty-free and eco-friendly pet shampoo. John Paul pet shampoo is a product that is suitable to soothe skin irritation for your dogs at any age. This product claims to be an effective grooming shampoo for your dogs. 
John Paul pet shampoo has made its place in the market using natural ingredients that are cruelty-free and eco-friendly. We like this Maltipoo shampoo because it features hydrolyzed oat protein, aloe, and chamomile to cleanse while moisturizing your pet's fur gently.
Features
Affordable

 Sensitive skin formula

 Relieves dryness and itchiness without irritating sensitive skin

. Sweet almond oil scent

 Cruelty-free international & eco friendly

 Made in the US

 Reputable company
The 4legger USDA Certified Organic Herbal Shampoo is an all-natural shampoo that offers soothing relief for dry, itchy skin. The natural ingredients soothe while leaving your dog's coat shiny and clean. 
4Legger organic herbal shampoo for Maltipoos does not contain harsh chemicals, safe for puppies and kittens. 4Legger organic herbal shampoo also kills bacteria, soothes itchiness, removes unpleasant odors, even urine smell, and removes yeast overgrowth on the skin. This is also a cruelty-free, eco-friendly pet product.
Features
Crafted with lemongrass, aloe vera & natural coconut oil

Uses plant-based, natural ingredients

Affordable & hypoallergenic

Concentrated with a little going a long way!

Certified USDA organic with vegan ingredients

Cruelty-free & eco-friendly

Climate Pledge Friendly 
K-9 Max dog shampoo is tearless and soap-free. This is another cruelty-free oatmeal medicated shampoo for itchy skin, dry skin, hot spots, scrapes, cuts & abrasions. 
The shampoo is crafted with natural oatmeal extract to condition the coat, while aloe vera lubricates the skin. With K-9 Max, you can bathe your Maltipoo once a week without drying your dog's sensitive skin or irritating his eyes. 
A fresh, clean natural scent with no added color, K-9 Max dog shampoo is dye-free! Soap-free formula is safe for dogs prone to yeast infections or who have allergies to fragrances found in most pet shampoos. 
This medicated shampoo formula will help relieve skin irritations caused by exposure to grass, pollen, sand, or dirt. Great for dogs of all ages and especially good for the elderly or convalescing pet that is itchy due to skin conditions such as hot spots. 
When you use K-9 Max Dog Shampoo on your Maltipoo, you can feel good about what you are using on your little friend because all the ingredients are non-toxic, cruelty-free and hypoallergenic. Here's the takeaway:
Features
All-natural cruelty-free product

Affordable

Hypoallergenic

Cucumber & melon scent

Crafted with proprietary liposome technology 

Made in the US
Lillian Ruff Berry Blue Brightening Shampoo is a 100% natural all-purpose soap made with organic blueberry extract rich in Vitamin C, vitamin E, and A. It produces a deep clean that leaves your pet's coat silky soft without the use of parabens or other harsh chemicals. 
This gentle, tear-free shampoo can be used on both cats and dogs for a thorough cleaning that is gentle enough for puppies and kittens. Lillian Ruff Berry Blue Brightening Pet Shampoo can be used to treat skin conditions such as hot spots, dry skin, flakiness, acne, sores, and other irritations. It can also remove tear stains on cats leaving them clean and bright! 
Features
Affordable

A whitening and brightening shampoo for Maltipoos

Crafted with a blueberry scent made from natural fruit extracts.

Tear-free shampoo

Hydrates itchy & dry skin

Made in the USA

100% Cruelty-free
Oliver's Choice Pet Shampoo is for the pickiest pets around. This all-in-one shampoo has oatmeal, aloe, and shea butter to cleanse, moisturize lightly condition your dog's skin and coat. The best part? Oliver's Choice Dog Shampoo acts as an excellent tearless shampoo for dogs that hate baths!
Oatmeal, aloe, and shea butter cleanse, moisturize lightly, and condition your Malipoos skin and coat. It acts as a tearless shampoo for dogs that hate baths! Rinses quickly from coat and skin! 
This shampoo is a must-buy if your Maltipoo hates having a bath because it acts as a tearless shampoo which means that it doesn't sting your dog's eyes if some of the shampoos get into them. 
You can also use this shampoo on cats! And yes, this is another cruelty-free and biodegradable pet product. Here's the takeaway:
Features
Affordable

Moisturizes & deodorizes

Cruelty-free

& hypoallergenic

Tear-free & paraben free

Features oatmeal, aloe vera & shea butter
This pet shampoo was made with the environment in mind, making it an excellent choice if you want an eco-friendly dog shampoo. The Bodhi Maltipoo shampoo features a deodorizing blend of natural ingredients like aloe vera, oatmeal extract, chamomile extract, and more. Great for dogs with sensitive skin allergies.
Bodhi dog organic shampoo is safe for all dogs, cats, puppies, and kittens. This nature-based hypoallergenic formula keeps your Maltipoos coat clean and silky soft throughout the day. The natural ingredients help to soothe itchy skin and keep flaky scales away.
 This is an environmentally-friendly and cruelty-free pet shampoo that is 100% biodegradable and eco-friendly. It contains no harmful chemicals, parabens, sulfates, or dyes. You can rest assured that this Maltipoo organic dog shampoo will not harm your pet's health in any way.
Features
Affordable

Shampoo/ conditioner combo

Plant botanical-based moisturizing pet shampoo

Crafted with oat proteins, aloe vera, coconut, vitamins A, D & E, and fruit extracts 

Formulated with a light apple scent

Made in the US
The Kin & Kin natural dog shampoo is an all-natural, organic, and vegan dog shampoo made with certified USDA Organic ingredients. The shampoo is free of artificial fragrances and colorings, which is perfect if your Maltipoo has skin allergies. It's also one of the best hypoallergenic shampoos for dogs with sensitive skin.
The shampoo is hypoallergenic, soap-free, paraben-free, phthalate-free, and cruelty-free. It will not irritate or dry out your Maltipoo's sensitive skin like most other commercial pet shampoos do! In addition, this best dog shampoo contains antiseptic and antibacterial properties that promote a healthy coat and skin.
The non-toxic formula is made with 100% natural ingredients crafted in the USA. The hypoallergenic shampoo for Maltipoos includes certified USDA organic olive oil combined with coconut oil that eliminates itchiness by moisturizing the skin. It also contains aloe vera that helps with itchy skin, dry spots, and rashes. The shampoo is suitable for all dogs, especially Maltipoos with allergies or sensitive skin!
In addition, the formula contains oatmeal extracts that relieve irritation from bug bites, poison ivy, and other allergies your dog might have. However, if your Maltipoo has sensitive skin, this is one of the best natural shampoos you can get.
The shampoo also contains natural cruelty-free ingredients that help with itchy skin, redness, and irritation. If your dog struggles with allergies or sensitivities to various ingredients, you can trust this shampoo. People with sensitive skin even approve of it!
The all-natural formula is perfect for dogs over ten weeks old and safe to use regularly.
Features
Affordable

Cruelty-free

Provides natural itch relief

Crafted with glycerin, coconut & olive oil, rosemary & peppermint oil.

Vet formulated

Certified Leaping Bunny cruelty-free.

GMO-free

It contains argan oil to help with frizzy Maltipoo coats.
Maltipoo Dog Breed
History and origin: This is a crossbreed between Poodle and Maltese breeds. Color: The rarest Maltipoo colors include phantom, brown, black, and grey.
Maltipoo size
Life span: 10 to 15 years Weight: 6-18 lbs. (2.7-8.2 kg) Height: 7-12 inches (17-30 cm)
Where does a Maltipoo come from?
Maltipoos are designer dogs that have been gaining in popularity lately. They're a cross between the Poodle and the Maltese (one of the oldest dog breeds) breed, making them non-allergenic, in addition to being hypoallergenic.
Maltipoos tend to be very good-natured and affectionate dogs that enjoy playing. Because they're small and energetic, they do best with people who have a yard for them to play in. 
Maltipoo Breed Characteristics
Activity: This dog is suitable for both apartment and rural living but needs regular exercise. 
Friendliness: This breed is friendly with the family and other pets but is wary of strangers. 
Trainability: Maltipoos are easy to train. They are intelligent dogs that pick up new behaviors quickly. But they can also be stubborn, so make sure to repeat the training commands, in the same way each time with plenty of treats.
Energy Level: Maltipoos are intelligent dogs that require daily mental and physical exercise. They love interacting with people and other animals, so it's best to take them on long daily walks.
Maltipoo Coat Variations
What are the different types of Maltipoo coats?
Although all Maltipoo coats are soft, there's a difference between what they look like. The most common type has medium-length hair that tends to curl at the end. 
In addition to straight and curly coats, you might also see a wavy coat on this pup. In all cases, their coats are soft and silky.  Maltipoos can have either soft and silky, thick and curly, or wiry and wavy coats.
Maltipoo Coat Grooming & Clipping
Since the Maltese breed doesn't shed much, you'll have more grooming work with a Maltipoo. So if you opt for this dog's curly coat, be prepared to spend time brushing or combing their fur; it can take a while to untangle the curly hair. You need to also focus on the hair around their eyes. This needs to be trimmed regularly to avoid future eye problems.
Maltipoo Coat, Color, and Grooming
Maltipoo coat type
This designer breed has a single coat that is short to medium length. It's essential to know how to groom the Maltipoo properly because of his curly coat so that you can keep his coat tangle and mat-free. Trapped shed hair can cause matting and tangling that's hard to get rid of.
Maltipoo Grooming Type
This dog is relatively low maintenance when it comes to grooming. Bathe your Maltipoo every few weeks, depending on his lifestyle and how dirty he gets. You can use a gentle dog shampoo. You will also need to focus on tear stains and ensure that your furbaby is free of common eye diseases that he's prone to.
Apply the shampoo from the back of the neck and work down. Be careful to use only dog shampoo, not human shampoo. Human shampoos contain fragrances and other ingredients that irritate your pup's skin.
Maltipoo Health Issues
Common Health Problems: Hypoglycemia, Legg-Calve-Perthes Disease, Collapsed Trachea, Eye Problems, Prolapsed Gums and Retinal Dysplasia.
Maltipoo Appearance
The affectionate Maltipoo is a small-sized hybrid that usually weighs more than 20 lbs. The head should be proportional to the body and have an elegant shape. The nose should be black and large. The muzzle should have a domed forehead but not a pronounced stop. The teeth should meet in a scissors bite. Eyes are oval and dark-colored, with the nose placed on top of them. This breed is almost hypoallergenic, so they make an excellent choice for any family member suffering from allergies.
Maltipoo Behavior
This dog is loyal to his family and gentle with children. He gets along well with other pets in the house but can be wary of strangers when not properly socialized. Although Maltipoos are intelligent, they may also show some stubbornness at times.
Maltipoos are affectionate and loving dogs that are great with children. They're intelligent, loyal, and eager to please their family. These are low-maintenance dogs that require regular grooming. With proper socialization, Maltipoos will be friendly toward strangers too.
Benefits of Natural Maltipoo Shampoos
Natural pet shampoos are gentle on the skin, free of dyes, and plant-based. Organic products provide natural nutrients for your dog's coat. Natural pet shampoos can also help prevent dryness and irritation of sensitive skin without heavy fragrances or chemicals. Natural pet shampoos are safe to use on dogs with allergies or flea infestations. 
Other articles you would like:
Frequently Asked questions
What is the best Maltipoo pet shampoo?
The best shampoo for Maltipoos is one that is cruelty-free and natural, has no harsh chemicals or dyes in it, smells pleasant to humans, and doesn't irritate the dog's eyes.
Do Maltepoos shed?
Maltipoos do not typically shed much fur, but they may drop small amounts during the year. If you want a breed with no shedding, consider one of the Poodle mixes such as the Shihpoo or Yorkie Poo that are hybrids of Poodles or Yorkshire terriers.
How much grooming does a Maltipoo require?
Maltipoo does not need much grooming. You'll need to brush his coat regularly with a non-shedding dog brush to remove dead hair and reduce shedding.
Is the Maltipoo a purebred dog?
The Maltipoo is not purebred but a hybrid of the Poodle and Maltese breeds. 
Is the Maltipoo hypoallergenic? 
No, the Maltipoo is not entirely hypoallergenic. Many people with allergies find they can tolerate the Maltipoo better than other breeds, but some dander or protein in their saliva may cause an allergic reaction.
What causes tear stains?
Tearstains are usually caused by a buildup of bacteria, dead skin cells, or other debris on the eyelids. Some dogs have a natural squinting expression that causes tear staining. Other possible causes include blocked tear ducts and a low-lying eyelid.
How long do Maltipoos live?
Maltipoos can live up to 15 years or more, although the life span is typically 12-15 years depending on their family's medical history and environment.
Are Maltipoos noisy or yappy?
Maltipoos are friendly and affectionate, but they bark when they need something, such as going outside or wanting food. 
What temperaments do Maltipoos have?
Maltipoos are great dogs if you're looking for an affectionate, intelligent, active, and easy-to-train companion that does not need a lot of grooming or exercise. They are ideal dogs for seniors or families with young children because they are small, gentle, and friendly.
What are Maltipoos like to play with?
Maltipoos are energetic, affectionate, and cuddly. They love to play outdoors, sniff around your yard, sleep in your bed or follow you around the house.

Claudia Bensimoun is a writer who specializes in dog content and veterinary topics! Aside from writing for We Love Doodles, Claudia also writes for other major dog blogs like Fido Friendly, Animal Wellness Magazine, and the United States Dog Agility Association (USDAA). She has a ghostwritten over 50 different dog e-books. Her passions include animal welfare, veterinary research, and wildlife conservation.
Why Trust We Love Doodles?
At We Love Doodles, we're a team of writers, veterinarians, and puppy trainers that love dogs. Our team of qualified experts researches and provides reliable information on a wide range of dog topics. Our reviews are based on customer feedback, hands-on testing, and in-depth analysis. We are fully transparent and honest to our community of dog owners and future owners.