On average, Labradoodles live for approximately 12 years. However, the life expectancy of a Labradoodle can vary depending on the specific Poodle parent. Labradoodles result from crossing a Poodle with a Labrador, and Poodles come in three different sizes: Standard, Miniature, and Toy. So, what do Labradoodles die from?
These intelligent and lively dogs possess unique health characteristics and personality traits, with smaller Poodles generally having longer lifespans than Standard Poodles or Labradors. These dogs can suffer from common health issues like dysplasia, allergies, and Addison's disease.
Additionally, environmental factors have an impact on the lifespan of Labradoodles. Exercise, diet, nutrition, weight management, and caloric intake contribute to your dog's overall health as they mature.
Before reading this guide, "What Do Labradoodles Die From," check out: Can a Labradoodle Be a Service Dog? (2023) and Are Labradoodles Smart? (2023).
What Effects a Labradoodle's Lifespan?
Crossbreeding
The deliberate crossing of two distinct pedigrees sparks numerous debates, with proponents and opponents sharing their arguments. Among these arguments, a compelling case favoring crossbreeding is that mixed-breed dogs tend to live longer than purebred dogs.
According to a 2006 study, crossbred dogs can enjoy an extended lifespan of up to 1.2 years. This longevity advantage could give your Labradoodle an edge over either of its purebred parents.
Weight
It's essential to provide Labradoodles with a well-balanced diet. It is crucial to avoid both underfeeding and overfeeding, as both can hurt the lifespan of Labradoodles.
A study conducted in 2018 discovered that overweight dogs, on average, had a lifespan that was 2.5 years shorter than dogs at a healthy weight. Therefore, maintaining a healthy weight through proper feeding is vital for the longevity of Labradoodles.
Five Common Health Issues for Labradoodles
Addison's Disease
Labradoodles may be more susceptible to Addison's disease, characterized by the body's inability to regulate cortisol production and manage stress. This disease is present in both Poodles and Labradors and appears in Labradoodles too.
Simply put, it occurs when the pituitary gland fails to produce ACTH, producing irregular cortisol levels. That can lead to symptoms such as impaired food digestion, increased weakness, elevated heart rate, excessive thirst and urination, and diarrhea.
If you observe these symptoms, it is essential to consult your veterinarian, who can diagnose Addison's disease in your Labradoodle.
The Poodle and the Labrador are dog breeds celebrated for their intelligence, loyalty, charm, and abilities. It is only natural that their offspring would inherit similar traits.
Under normal circumstances, the Labradoodle is a surprisingly resilient breed that may not inherently possess the qualities above but is worth observing. When purchasing a Labradoodle puppy, inquire extensively and insist on meeting both parents.
The Labradoodle is an affectionate companion brimming with energy, making them an excellent choice for families and suitable for both novice and experienced dog owners. If you are considering adding a new dog to your family, rest assured that you can't go wrong with a Labradoodle.
Allergies
While allergies are common in most dogs, Labradoodles tend to be particularly prone to them. Allergies can be topical, contact, and food allergies.
Food allergies, specifically, can pose challenges for Labradoodles and may require veterinary attention and dietary restrictions based on the severity of the allergy. Managing food allergies can be tricky, as Labradoodles are known to get into mischief and consume things they shouldn't.
Contact and topical allergies present different issues as they happen through the skin. Common triggers include flea powder in bedding, shampoos, and household chemicals. Allergies can be bothersome, but once you identify the culprit, you can usually effectively manage them through medication or dietary adjustments.
That allows you and your Labradoodle to resume enjoying each other's company without discomfort.
Epilepsy
Labradoodles tend to develop epilepsy, a neurological condition that is often hereditary. The occurrence of seizures can be concerning, but the long-term outlook for Labradoodles with epilepsy is generally favorable. If you suspect that your Labradoodle may be experiencing epilepsy, it is crucial to seek a diagnosis from your veterinarian.
Symptoms may include unsteady movements, seeking seclusion, sudden collapse, stiff limbs, or loss of consciousness. If you have observed any of these symptoms, it is advisable to consult with your veterinarian promptly.
Elbow and Hip Dysplasia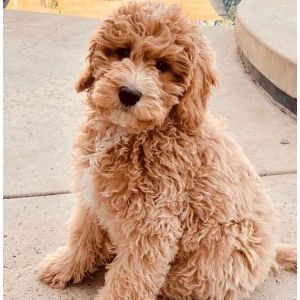 Hip dysplasia is a prevalent health issue affecting various dog breeds, including Labradoodles. It occurs when the thigh bone does not fit properly into the hip joint. Dogs with hip dysplasia may display lameness or experience pain, and the long-term prognosis often involves the development of arthritis in the affected joint.
Elbow dysplasia is another degenerative disorder that Labradoodles can be more susceptible to, primarily affecting the elbow area. This condition often leads to a weakened or malformed joint.
Both hip and elbow dysplasia are genetic conditions, underscoring the importance of ensuring that the parents of your Labradoodle puppy are free from these ailments.
Ear Infection
Both Labrador and Poodle owners are well aware of the potential ear issues their pets can experience. Considering that Labradoodles are a mix of these two breeds, it is logical to expect them to have similar tendencies. The floppy ears of Labradoodles can trap moisture, making regular ear checks essential.
Be vigilant for signs such as discolored wax, discharge, or unpleasant odor as an owner. Regular cleaning is crucial; you can find ear-cleaning solutions at your local pet store to incorporate into your routine. If the problem persists, veterinary assistance will be necessary.
How Can You Help Your Labradoodle Live Longer?
While certain factors influencing a dog's lifespan may be beyond our control, proper care significantly contributes to longer and happier lives for our furry companions.
Basic Needs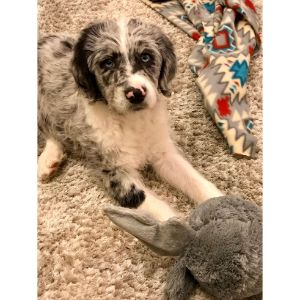 Provide a Nutritious Diet
Feed your Labradoodle a balanced, high-quality diet that meets their nutritional needs. Consult with your veterinarian to determine the most suitable dietary options.
Veterinary Care
Schedule regular check-ups with a trusted veterinarian for routine examinations, vaccinations, and preventive treatments. Early detection of any health issues can lead to timely intervention.
Dental Care
Maintain good oral hygiene by regularly brushing your Labradoodle's teeth and providing appropriate chew toys or dental treats. Dental health is crucial for their overall well-being.
Mental Stimulation
Engage your Labradoodle in mentally stimulating activities such as interactive toys, obedience training, and puzzles. Mental stimulation promotes cognitive health and prevents boredom.
Socialization
Expose your Labradoodle to various environments, people, and other animals from a young age. Proper socialization helps build their confidence and contributes to their overall happiness.
Grooming
Regularly groom your Labradoodle to maintain their coat's cleanliness and health. That includes brushing, bathing, and regular trimming of nails and hair.
Remember, each Labradoodle is unique, and individual care requirements may vary. By implementing these practices and providing a loving and nurturing environment, you can give your Labradoodle the best chance at a long and fulfilling life.
Regular Exercise
As oversized and active dogs, Labradoodles require ample exercise to maintain their happiness and overall well-being. Providing them with daily walks and engaging in plenty of playtime is essential. Having access to a yard where they can freely run around or enjoy a lively game of fetch is greatly appreciated by Labradoodles.
Additionally, given their water-loving heritage, they also tend to enjoy swimming. Just like humans, dogs who expel their energy through exercise tend to be in better spirits, maintain a healthier physique, and generally live longer lives.
Safety
In addition to fulfilling their basic needs and providing regular exercise, consistently monitoring your dog is one of the most beneficial actions you can take for their overall health. Often, changes in behavior serve as the initial indicators of a potential problem.
If your dog displays reduced activity, loss of appetite, or unusual behavior, it's crucial to schedule a check-up with the veterinarian promptly. However, it is only by paying close attention to your dog's day-to-day actions that you can effectively identify such issues.
Frequently Asked Questions
What is the life expectancy of a Labradoodle?
The life expectancy of a Labradoodle can vary depending on several factors, including genetics, overall health, diet, exercise, and access to veterinary care. Labradoodles have a life expectancy of around 10 to 15 years.

It's important to note that this is just an estimate, and individual Labradoodles may live shorter or longer lives. Providing your Labradoodle with proper nutrition, regular exercise, routine veterinary check-ups, and a loving environment can help increase their chances of living a long and healthy life.
What are common health issues with Labradoodles?
Labradoodles are relatively healthy due to their mixed heritage, which can introduce a broader genetic diversity than purebred dogs. However, Labradoodles can still be susceptible to specific health issues common in their parent breeds.

Some of the potential health concerns that Labradoodles may face include:

Progressive Retinal Atrophy (PRA)

PRA is a group of genetic eye disorders that can lead to progressive vision loss and, in severe cases, blindness.

Gastric Dilatation-Volvulus (GDV)

Also known as bloat, this is a potentially life-threatening condition where the stomach fills with gas and can twist on itself. It requires immediate veterinary attention.

It's important to note that not all Labradoodles will develop these health issues, and responsible breeding practices, regular veterinary care, a balanced diet, and proper exercise can help reduce the risk of many of these conditions.

If you're considering getting a Labradoodle, it's advisable to research and choose a reputable breeder who conducts health screenings on their breeding stock to minimize the risk of inherited diseases.
Are Labradoodles prone to illness?
Labradoodles, like any other dog breed, can be prone to certain illnesses and health conditions. However, it's worth noting that the mixed-breed nature of Labradoodles can introduce more genetic diversity, which may help reduce the risk of certain inherited diseases common in purebred dogs.

While Labradoodles are a healthy breed, they can still be susceptible to health issues. These can include the conditions mentioned earlier, such as hip and elbow dysplasia, progressive retinal atrophy, allergies, ear infections, gastric dilatation-volvulus (bloat), epilepsy, and others.

It's important to remember that not all Labradoodles will develop these health issues, and many live long healthy lives. Choosing a reputable breeder who conducts health screenings on their breeding stock and takes steps to breed for overall health and genetic diversity to minimize the risk of health problems is advisable.

Additionally, providing your Labradoodle with a balanced diet, regular exercise, routine veterinary care, and attention to their overall well-being can help promote good health and reduce the likelihood of illness. Regular check-ups with a veterinarian can help identify any potential health concerns early on and allow for appropriate treatment and management.
Conclusion for "What Do Most Labradoodles Die From"
The lifespan of a Labradoodle can vary depending on several factors, including genetics, the size of the Poodle parent, and environmental factors. On average, Labradoodles live for approximately 12 years, with smaller Poodles generally having longer lifespans than Standard Poodles or Labradors.
Crossbreeding can contribute to a longer lifespan in Labradoodles than in purebred dogs. However, Labradoodles can be prone to and die from specific health issues, including Addison's disease, allergies, epilepsy, hip and elbow dysplasia, and ear infections.
Providing proper care, including a nutritious diet, regular veterinary check-ups, dental care, mental stimulation, socialization, grooming, and regular exercise, can help improve their overall health and increase their lifespan.
Additionally, monitoring their behavior and seeking veterinary assistance is crucial for their well-being. By following these guidelines and choosing a reputable breeder, Labradoodle owners can give their furry companions the best chance at a long and fulfilling life.
If you find this guide, "What Do Most Labradoodles Die From" helpful, check out:
Learn more by watching "Labradoodle – Top 10 Facts" down below:
Garrett loves animals and is a huge advocate for all Doodle dog breeds. He owns his own Goldendoodle named Kona. In addition, he volunteers at the Humane Society of Silicon Valley, where he fosters dogs and helps animals. Garrett enjoys writing about Doodles and believes that dogs can teach humans more about how to live than humans can teach a dog.
Why Trust We Love Doodles?
At We Love Doodles, we're a team of writers, veterinarians, and puppy trainers that love dogs. Our team of qualified experts researches and provides reliable information on a wide range of dog topics. Our reviews are based on customer feedback, hands-on testing, and in-depth analysis. We are fully transparent and honest to our community of dog owners and future owners.