A few more pounds on your dog can have detrimental effects on their health, increasing their chance of developing a variety of illnesses and disorders as well as a shorter lifespan. An overweight Weimaraner will have a lower quality of life by limiting his mobility, playtime energy, and general disposition.
You can manage your overweight Weimaraner's health by providing him with a proper diet, exercising him, and cutting back on treats. It's important to be patient throughout this process. Having the vet create a diet plan is also a good idea.
Luckily there are a few ways you can manage your Weimaraner's obesity. But first, let us look at the risks of obesity in dogs.
Before scrolling down this guide, "How To Help Your Overweight Weimaraner," check out these other related articles: Best Interactive Dog Toys and Dog Food Brands to Avoid.
What Are the Risks of Obesity?
Dogs who are obese have shorter lives and are much likelier to fall sick. It was long believed that heavier dogs typically lived 6 to 12 months less than leaner canines. However, a major, long-term research of Labrador Retrievers revealed that even mild obesity can shorten a dog's life span by about two years when compared to its slimmer counterparts. This is a scary statistic.
Fat was once thought to be a relatively inert tissue that did little more than store extra calories and increase body bulk. Scientific research has since shown that fat tissue is physiologically active.
It releases inflammatory hormones and puts the body's tissues under oxidative stress, both of which combine to cause numerous illnesses. A novel perspective is to see obesity as a persistent, mildly inflammatory disease.
Obese dogs have a higher chance of developing osteoarthritis and other forms of arthritis, as well as several types of cancer, diabetes mellitus, heart disease, and hypertension.
Urinary bladder stones are also a common occurrence in obese dogs.
On the other side, obesity may be a sign of an underlying condition, such as Cushing's disease or hypothyroidism (an underactive thyroid gland) (overactive adrenal glands).
Find Your Dog's Healthy Weight
There are several healthy weight ranges for different breeds and ages.
Confirm the recommended weight for your Weimaraner according to the AKC Breed Standard. Consult your veterinarian if your dog is outside of that range. The best course of action is to get the assistance of a specialist as they evaluate your pet's actual weight, bodily condition, and food, decide whether your overweight Weimaraner will benefit from a weight-loss plan, and establish a goal weight to strive for.
It should be noted that certain dogs may be shorter or taller than the minimum height criteria for their breed, in which case the optimum weight would fall within the breed's normal height descriptors for those dogs.
The AKC states the average male Weimaraner is 25-27 inches tall at the top of the shoulder. A healthy weight for a male Weimaraner of that size is 70-90 pounds (32-40kg). A healthy female Weimaraner at 23-25 inches tall should weigh 55-75 pounds (25-34kg).
What to Do If You Have an Overweight Weimaraner
If you have an overweight Weimaraner, don't worry; we've listed some of the ways you can manage their weight. Keep reading below.
Proper Diet
Dogs acquire weight in the same manner as people do: by overeating and underexercising. Dogs who consume too many goodies, leftovers from meals, and meals themselves will quickly put on weight, especially if they aren't very active. Have your dog's new diet and exercise routine authorized by your veterinarian before beginning.
Giving your dog his regular breakfast while substituting his second meal with largely low-sodium green beans, some kibble, and a doggy multivitamin in the evening might help your dog lose weight quickly.
Making healthier treat substitutions for your dog will aid in his weight loss as well. Reduce the amount of snacks offered at once to significantly lower the number of calories. Try using fresh sliced carrots, apples, or green beans with no extra seasoning in place of crackers, cheese, and other high-fat snacks. Your dog will almost certainly appreciate this new crunchy treat.
When rewarding your overweight Weimaraner with goodies during training, don't forget to deduct those calories from your dog's daily meal allowance.
Finally, avoid the classic mistake of confusing love and feeding. Giving your dog too much food and letting him get obese will most likely result in you losing him sooner. Likewise, don't place too much value on what your dog thinks: despite the fact that they've consumed all the calories they need for the entire day, many dogs still appear hungry.
Plenty of Exercise
Of course, more activity will aid in your Weimaraner's weight loss. The majority of dogs enjoy taking walks, swims, and treks, and Weimaraners particularly like to run. Be sure to take him outdoors so he can engage in some outdoor adventures with you.
It's advisable to start out slowly and gradually increase activity for an obese dog when he begins to lose weight. Be careful not to overwork him and keep an eye out for indications of heatstroke, particularly if he has a health problem or if you're walking your dog on a hot day.
Running Practice
If you decide to run alongside an overweight Weimaraner, consider his age. Running repeatedly on hard surfaces like concrete and asphalt can harm their joints. Numerous breeders advise against running on hard surfaces before a dog is at least one year old and ideally 18 months old, especially for large breeds. Rather, try unstructured play on a soft surface like compacted sand or a grassy area.
When your dog reaches adulthood, if you want to begin running with him, make sure he's in top physical shape. Consult your dog's veterinarian to ensure that he does not have any physical weaknesses that would make running difficult or even hazardous, such as heart problems, orthopedic problems like hip dysplasia, or a luxating patella (the canine equivalent of a "trick knee").
Equipment like exercise balls can be used to improve balance and coordination if your dog might benefit from some muscular development. If your Weimaraner likes to fetch, consider a dog soccer ball toy or an automatic ball launcher.
Adding Fun to Exercise
Dog games are a fantastic way to bond with your dog and get both of you some exercise. Agility, which is essentially a planned obstacle course, needs you to be capable of communicating with your dog using hand signals and nonverbal cues.
It also burns a lot of calories as you race past tunnels or over jumps. Join a training class if you're a beginner so you can familiarize yourself and your dog with the challenges the course will provide. The AKC website has further information on a lot of these programs.
Always keep an eye out for your Weimaraner's appearance and behavior. If he is breathing heavily, slow down or halt, and look for a cool or shady area to rest. Any breed of dog can become overheated. Short walks first thing in the morning or late into the evening are preferable to long walks on hot days because brachycephalic, or short-nosed breeds, can quickly overheat.
Bear in mind that asphalt may be quite hot during the summer; pay attention to those exposed paw pads. Dogs will have to become accustomed to running on concrete floors for lengthy periods of time.
Differentiate Between Hunger and Begging
Begging is frequently a ruse to gain more attention; it is not necessarily about needing more food. When you reward behaviors like this, you strengthen them and help them stay. Don't presume your dog is starving if he begs. Pay attention to when the last meal was and follow your gut.
Choose a high-protein meal with a combination of fiber if your Weimaraner is inclined to begging and you are inclined to give in to those puppy dog eyes. This will help control your dog's hunger and limit their voluntary food consumption. In this way, you can feed your dog with the confidence that he will eat less and feel fuller for longer.
Cut Back on Treats and Table Scraps
Many of us give our pets too many goodies and table scraps, even when they aren't begging for them. Dogs don't have to eat the same as us. To help you limit them, think of treats and leftovers for your pet like you would sweets for kids.
If you give your dog treats as part of training, choose low-calorie, low-fat snacks, and give them in moderation. Instead, keep in mind that clickers are excellent for reinforcement – and they contain no calories.
Since dogs are much smaller than humans, a few more pounds may really have an impact, including those huge breeds. So, concentrate on feeding them well and resist the impulse to "treat" them even more.
Monitor and Measure
Once your veterinarian has created a weight-management plan, you should have a solid understanding of how much food your overweight Weimaraner should consume at each meal. Be cautious; use a suitable measurement instrument instead of free-feeding or eyeballing how much you scoop out to make sure you are practicing portion control.
Adapt Your Dog's Diet
It's critical to match your dog with a nutrition strategy that properly targets their unique needs because not all weight-loss meals are created equal. If your overweight Weimaraner also has other conditions, such as food allergies or diseases, look for a company that offers food ranges for those conditions.
Don't Give Up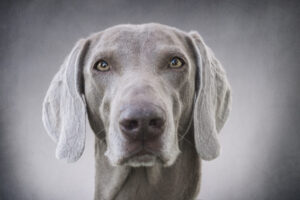 No, we're not just talking about giving your dog leftovers. Instead of drastically altering your dog's nutrition, it's crucial to introduce changes gradually. Always check with your veterinarian before beginning a new routine for your dog. Prepare for at least a seven-day transition period when introducing a new food.
Be Persistent
According to studies, around half of all canines gain weight after successfully decreasing it. The good news is that researchers discovered that putting dogs on a weight-loss diet even after they reached their target weight greatly prevented rebound weight gain.
Stick with it now that you've put in the effort and switched to a new strategy that's working. Consistency is as crucial in our dogs' world as it is in so many other areas.
Frequently Asked Questions
How much should a Weimaraner weigh?
According to the AKC, a male Weimaraner typically weighs 70-90 pounds (32-40kg), and a female weighs 55-75 pounds (25-34kg).
How do I know if my Weimaraner is overweight?
In addition to checking your dog's weight, you can tell if a Weimaraner is overweight by their look and feel. A healthy Weimaraner is lean with an upward slope from their ribcage to their flank. While you shouldn't be able to see individual ribs, you should be able to feel them.
How can I get my Weimaraner to lose weight?
Make sure your Weimaraner is getting exercise, not eating too many high-calorie treats, and is eating the right amount of dog food at each meal. Try a dog food that is good for Weimaraners.
Is it okay if my dog is overweight?
Overweight dogs have more health issues and a shorter lifespan, so if you notice your dog is gaining weight, take steps to reduce their weight gain right away.
Conclusion For "How To Help Your Overweight Weimaraner"
Weimaraners are wonderful dogs in so many ways, but due to their propensity for overeating, they wind up being overweight, which causes more significant health issues. With exercise and a well-balanced diet, an overweight Weimaraner may be able to get to a healthy weight and stay healthy for many years.
If you find this guide, "How To Help Your Overweight Weimaraner," helpful, you can check out:
You can learn more about the Weimaraner dog breed by watching "Weimaraner Facts: The Dog With a Human Brain" down below:
Garrett loves animals and is a huge advocate for all Doodle dog breeds. He owns his own Goldendoodle named Kona. In addition, he volunteers at the Humane Society of Silicon Valley, where he fosters dogs and helps animals. Garrett enjoys writing about Doodles and believes that dogs can teach humans more about how to live than humans can teach a dog.
Why Trust We Love Doodles?
At We Love Doodles, we're a team of writers, veterinarians, and puppy trainers that love dogs. Our team of qualified experts researches and provides reliable information on a wide range of dog topics. Our reviews are based on customer feedback, hands-on testing, and in-depth analysis. We are fully transparent and honest to our community of dog owners and future owners.