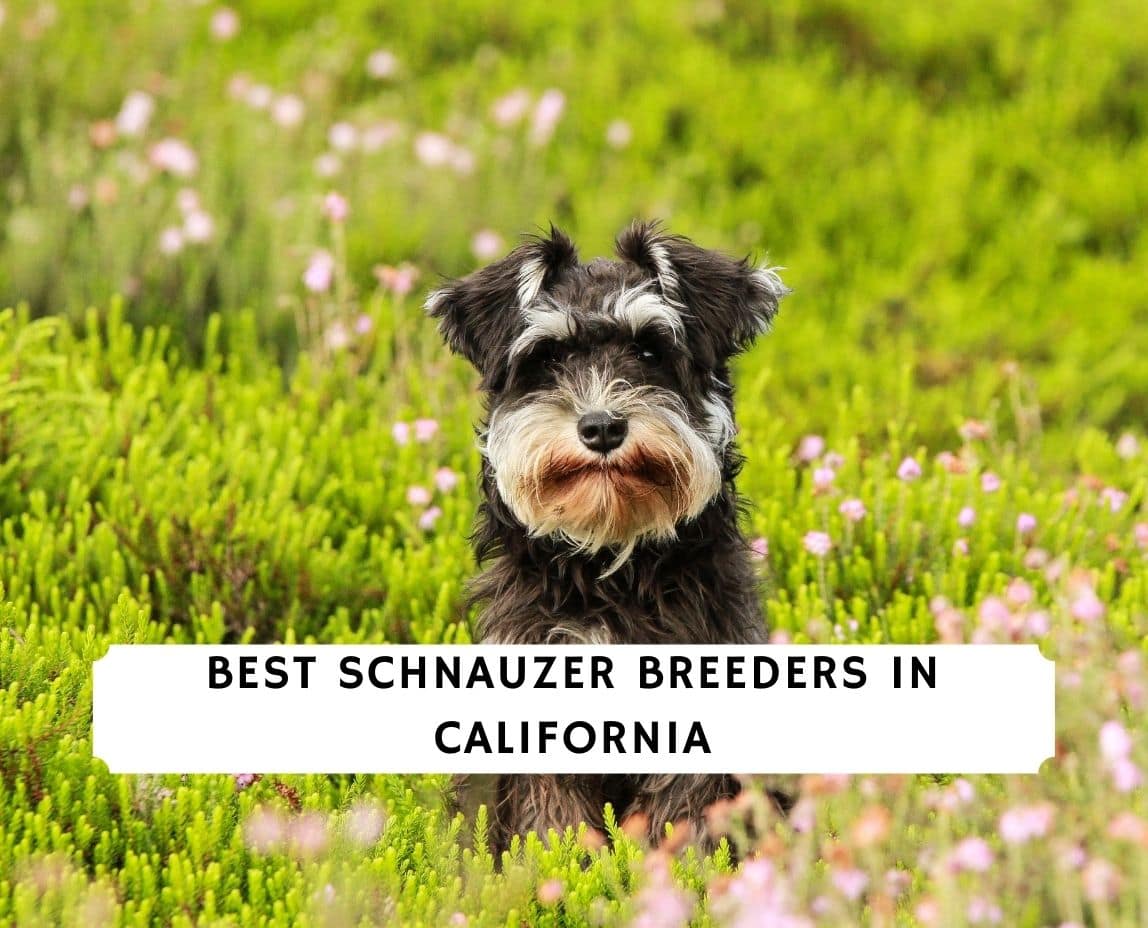 If you're searching for the best Schnauzer breeders in California, then this list will help you. Has the popularity of Schnauzers triggered your search for the best Schnauzer breeders in California? Maybe you've long admired the breed's mustache and how they love to run around the backyard and sniff just everything. There's a lot to love about these intelligent, fearless, and highly sociable dogs.
Before scrolling down this list of Schnauzer breeders in California, you might be interested in our other recommendations: Best Pug Breeders in California and Best Boston Terrier Breeders in California.
Schnauzer Puppies For Sale in California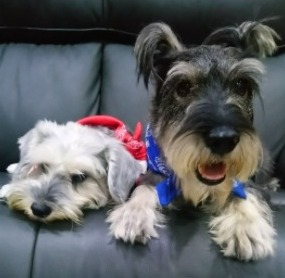 Regardless of why you need a Schnauzer, unless you have sufficient details about a given breeder, you can't be sure to find the best deal. Your search for a new furry friend should be an enjoyable experience that exceeds expectations. We've compiled a list of the seven best Schnauzer breeders in California to make your search easier and fruitful. Let's get into it.
Get started in advance with our dog product recommendations: Best App-Controlled Dog Door and Best Dehydrated Dog Food.
1. Vorberg Standard Schnauzer
First on the list of Schnauzer breeders in California is "Vorberg Standard Schnauzer." Vorberg Standard Schnauzer started in 2016 with a dog happy-go-lucky dog named Izzy. Sheri Irion, who owns the kennel, started showing Izzy when she was only six months old.  Through the years, Izzy bewitched the family with her capacity for love and affection. So much so that the family started their own Schnauzers breeding business. Since then, Vorberg Standard Schnauzer has become a household name in California, especially among individuals looking to keep Schnauzers for the first time.
The owner is the current president of the Standard Schnauzer Club of Northern California, courtesy of her dedication to Schnauzer breeding. The primary goal of the breeder is to raise healthy puppies that are fan-loving and easy to handle. To maximize the dog breeds structure, temperament, and wellbeing, Vorberg Standard Schnauzer dogs are regularly examined and tested to ascertain their health status. Browse their puppies' page, fill out the application form, and send it to the breeder for a chance to own one of their Schnauzer puppies. The breeder is open to calls from anyone inquiring about Schnauzers.
Vorberg Standard Schnauzer Details
2. SoCal Schnauzers of California & Texas
Looking for a comprehensive breeder that educates you, showcases different Schnauzers, and prioritizes your custom needs? SoCal Schnauzers of California & Texas is all you need. It's among the few breeders who don't breed for profit but because of their passion for Schnauzers and pet parents' satisfaction. The breeder pays keen attention to the heritage and bloodline of their pups, and that explains why they produce the best quality Schnauzers.
Since dogs here share space with humans from day one, they know how to behave and bond with strangers in the shortest time possible. Another main focus is on training their dogs and making sure they are healthy and lovable. Their highly experienced trainers take advantage of the adequate farm space to ensure all the dogs can respond to commands, exercise fully, and play around. Check out this breeder if you're looking for healthy, vibrant, and taken care of puppies.
SoCal Schnauzers of California & Texas Details
3. Hanlon Standard Schnauzers
Lonnie & Kim Studley started Hanlon Standard Schnauzers after their children were grown and began their own adult lives. The void was so deep that they decided to fill it up with a Schnauzer puppy. Bringing up Lana and later Finn brought immense satisfaction, which was the beginning of their professional breeding journey. As a member of the National Board for SSCA, the lead owners take pride in what they do and love taking out their dogs for functions and shows.
The puppies are appropriately trained to obey all commands. Once in a while, they invite guest trainers to facilitate training sessions and help impart knowledge and skills to sharp-minded companions. This is the ideal place to get your Schnauzer if you are looking for puppies with excellent social skills, vibrant mood, and can relate well with kids and other pets around. You don't have to worry about their health or spend money guaranteeing them after purchase; they're checked regularly to monitor potential health complications.
Hanlon Standard Schnauzers Details
4. Castlewood Standard Schnauzer Breeder

Castlewood Standard Schnauzer Breeder is a trusted Northern California breeder offering standard premium Schnauzer dogs and puppies. The breeder is quite fussy when it comes to choosing breeding parents and bringing up new puppies. Their goal is to raise AKC recognized and pure breed puppies. Since these puppies take part in sports, they have excellent fitness that helps in backyard hunting.
Behavioral training starts at 3-4 days old and never stops—your bearded buddy won't mess up your couch; they have a commendable level of discipline and will listen to your commands without aggression. Each dog is individually trained and receives special attention at all times. The breeder is categorical that breeding Schnauzers is not just a means of livelihood. They do it for the love of breeding the best family pets that suit a range of families in Northern California and beyond. Check out their websites and save your spot for the following available puppies.
Castlewood Standard Schnauzer Breeder Details
5. Stephanie's Schnauzers
Stephanie is an experienced AKC breeder with a genuine passion for breeding Schnauzers. The breeds available have perfect physical and behavioral qualities. Thanks to the champion bloodlines sourced from different parts of the globe. The breeder limits the registration, and all their puppies are non-breedable. With more than 17 years of experience and highly experienced trainers, puppies here get to learn how to share space with humans, basic commands, and appreciating each other. Stephanie's Schnauzers is located in a serene environment where dogs get exposed to the outside world when they're still young. And that's why when you buy a Miniature Schnauzer from this breeder, you get a companion that you'll treasure for life. According to Stephanie, when you choose to own one or several of their puppies, you enjoy the lifetime support.
Stephanie's Schnauzers Details
6. Regency Schnauzers
Regency Schnauzers is an ideal breeder to view whether you need Schnauzer puppies, older dogs, or show dogs. Being in the game since 1972 and remaining true to their mantra "Breeding World Champion Miniature Schnauzers Since 1972," they'll undoubtedly give you the best Schnauzer puppy. Beverly and her family started by owning one dog, and their hobby gave birth to one of the best breeding Schnauzer spots in California. Today, Regency Schnauzers is a true definition of a pet's multi-faceted business that approaches breeding and raising Schnauzers in a unique approach.
For instance, puppies here are trained by experienced individuals from different parts of the country. The pups are also regularly checked for any infections and have mastered the art of controlling their temper. You can share space with these puppies without worrying about the safety of your little ones. Browse Regency Schnauzers' website, and you won't miss a show dog you've wanted or a bearded male companion that can turn your home into a hub of happiness and fun.
Regency Schnauzers Details
7. Cortes Mini Schnauzers
Last on the list of Schnauzer breeders in California is "Cortes Mini Schnauzers." Cortes Mini Schnauzers is a small breeding family business that specializes in raising AKC-standard miniature schnauzers. All dogs here receive quality and special attention in all aspects of growth and development. Everyone in that family loves the pups and ensures they're well-fed, closely monitored, and continually tended to their individual needs. Since there are fewer puppies, there's enough space to teach them several skills like socializing, running, sniffing, obeying commands, and controlling their temper.
With more than a decade of experience and learning every day, the breeder ensures you get all-around Schnauzers that will make your home a place to cherish. Some quality male and female bearded puppies from Cortes Mini Schnauzers have been used as companion dogs for seniors and people abled differently, positioning the breeder as the go-to choice irrespective of the Schnauzer features you're looking for. Talk to Cortes Mini Schnauzers and own a healthy puppy with a good temperament and fun to have around. Browse the breeder website and place your order today for a chance to have a puppy when the subsequent litters are available. Upon purchase, the breeder can also organize a safe delivery within California and beyond.
Cortes Mini Schnauzers Details
Conclusion For The "Best Schnauzer Breeders in California"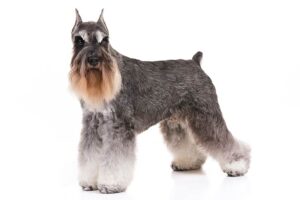 Schnauzers are gentle, beautiful dogs known for their blocky heads and hairy chins, and they complement your home in all aspects—from hunting, companionship to therapy provision. And each time you set your eyes on them, without a doubt, you'll yearn to own a Schnauzer. With this guide on the best Schnauzer breeders in California, you no longer have to take chances —you have an opportunity to own an outgoing Schnauzer that's healthy and well trained. As you do your research and learn more about the mini and standard Schnauzers and weigh the most trusted local breeder to opt for, this informative review will help fast-track your efforts and ensure you take the best puppy home.
For more articles with mentions of the Schnauzer dog breed, you can check out:
To learn more about the Schnauzer dog breed, watch "Top Facts About The Standard Schnauzer" from Dogs Wiz down below: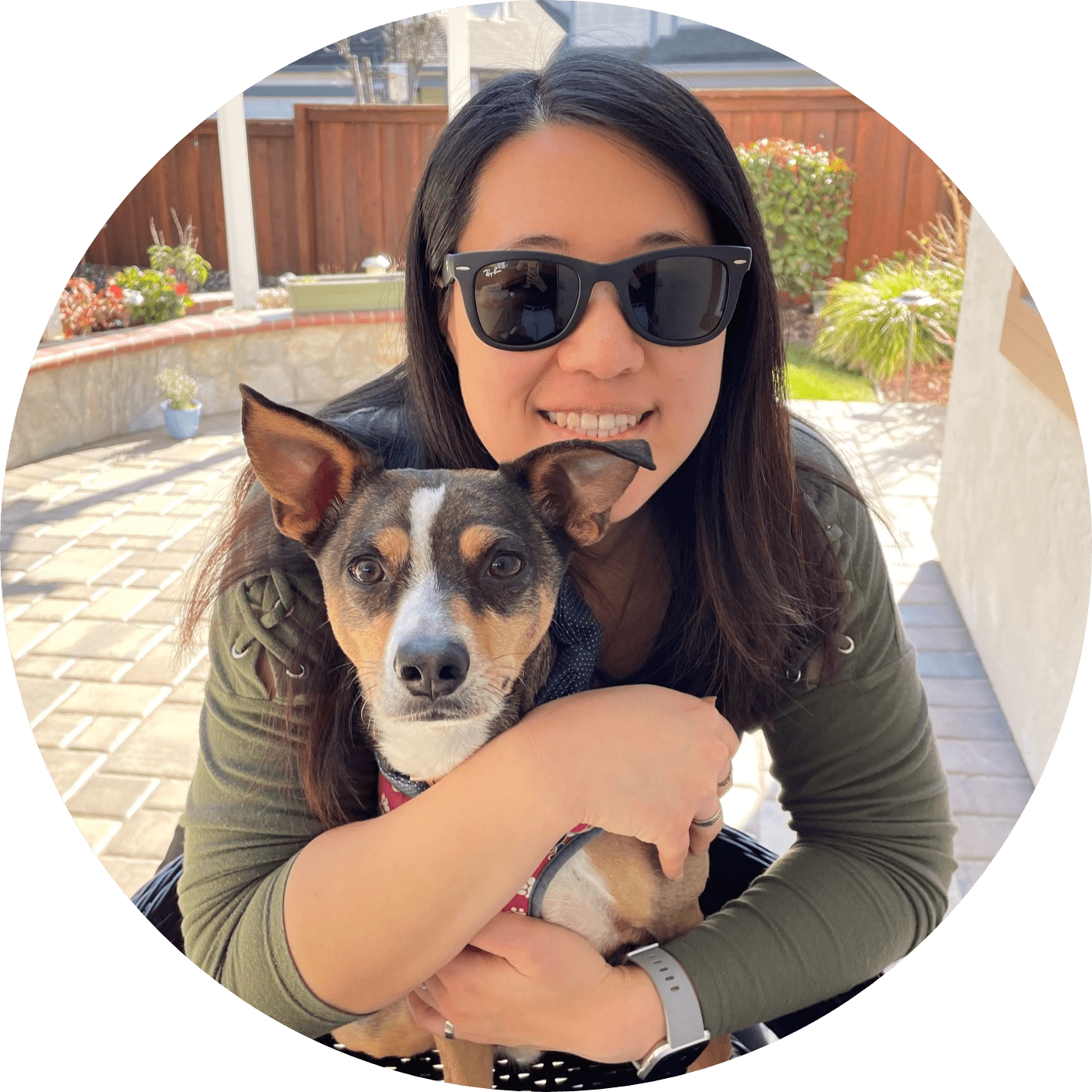 Dr. Sabrina Kong graduated from the Royal Veterinary College in England in 2016 and has been working at a small animal clinic in Northern California since then. She grew up in the Bay Area and got her bachelor's degree from Cal Poly San Luis Obispo. She also became a Certified Canine Rehabilitation Practitioner through a program at the University of Tennessee.
When she isn't in the clinic taking care of her four-legged patients, she enjoys traveling and trying new foods with her friends and her three-legged dog, Apollo. She adopted Apollo from her clinic when he was a puppy with numerous health issues. Dr. Kong truly cares about taking care of animals.