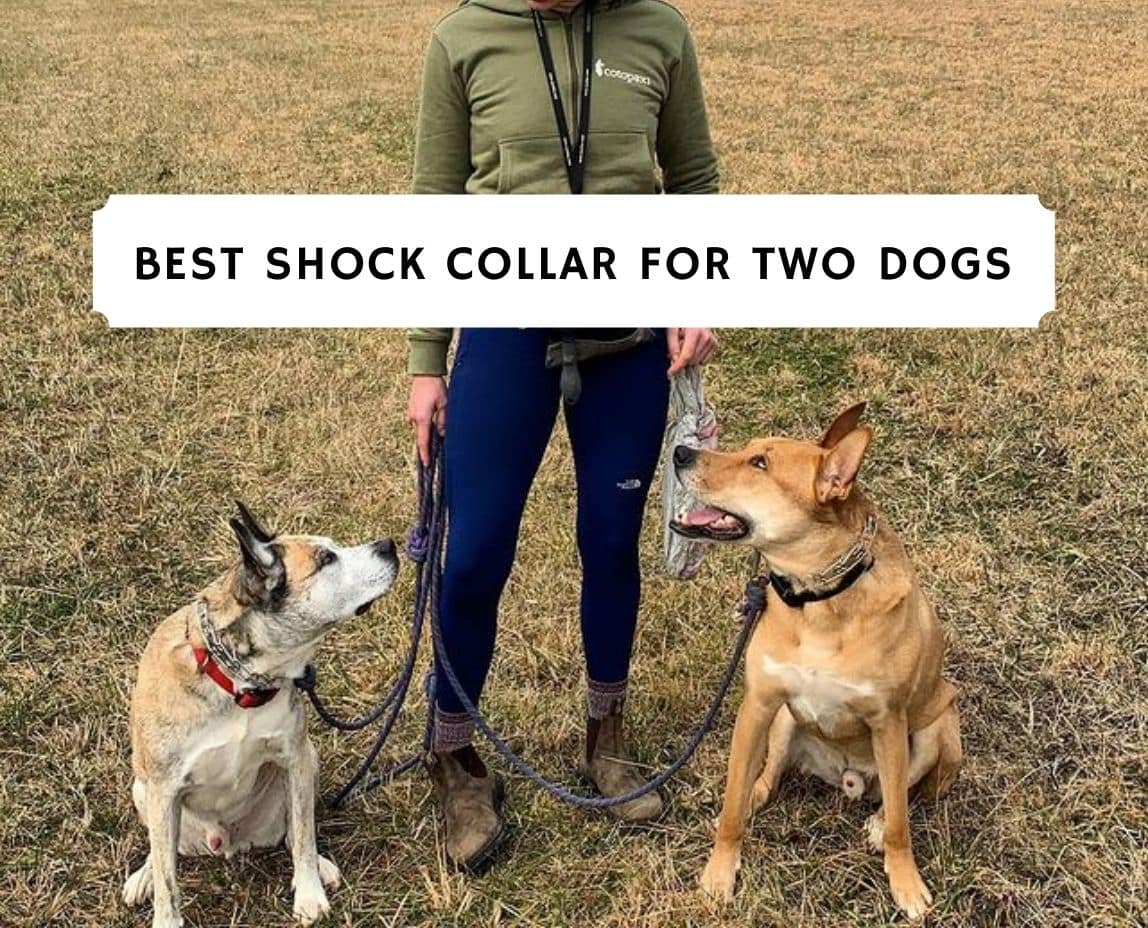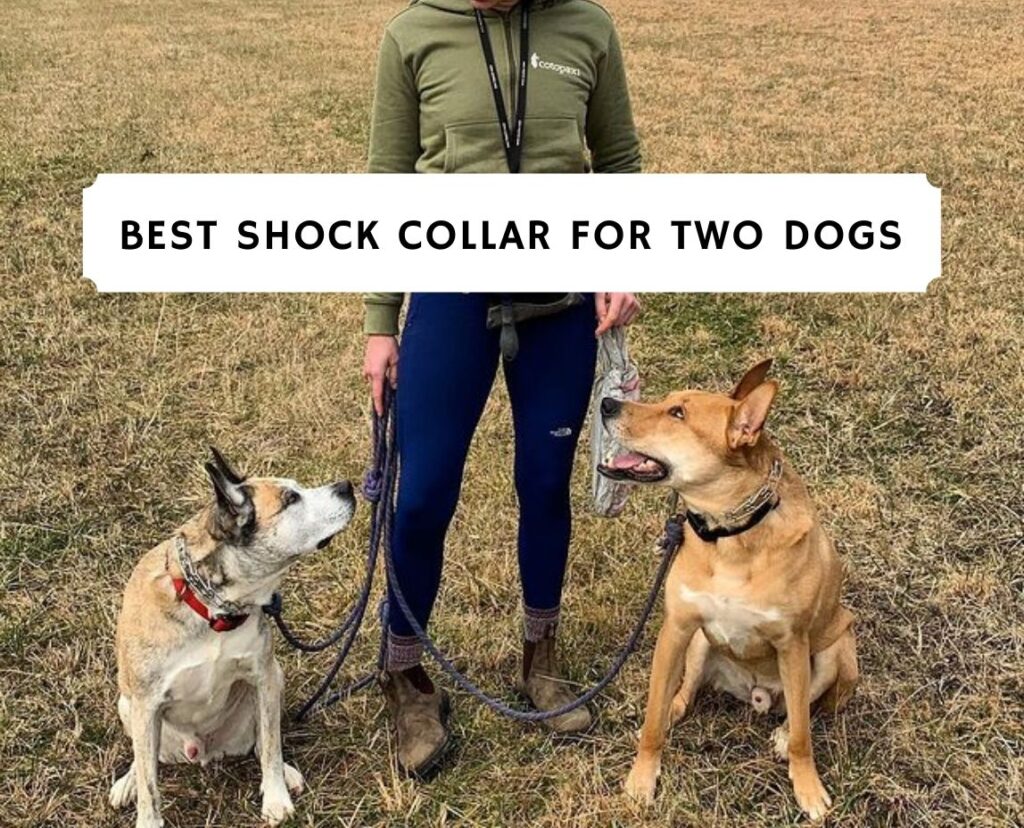 If you ask a cat person what's better than a dog, then you might be able to predict the answer. However, if you ask a dog-lover what's better than a dog? Simple. Two dogs. Asking them what's better than 2 dogs and so on, may create an exponential cascade of canine adoration you may not be prepared for.
Something you may also not be ready for: Training two or more dogs either to become housebroken, to be a great hunter, or just be more easily manageable. The solution: Shock collars with remotes that can support 2 or more dogs at the same time.
Now, if you've ever had a bad experience with a shock collar, or heard worrying things about its usage, we're also here to help you understand the reasons behind them, and how to easily avoid them.
We have here, for your perusal, five good-quality shock collars alongside commentary on their features and tidbits of insight about their use that may help you decide which is best for you.
In a rush? Here are the top picks!
Product
Best Overall
Pet Resolve Dog Training Collar
Runner-Up
SportDog Shock Collar
Best Value
Educator E-Collar
Garmin Delta Shock Collar
Image
Features:
Shock, Tone, and Vibration Modes

10 Levels of Stimulation

Remote Supports Up to Three Collars

Memorizes Settings for Each Collar

3/4 Mile Range

Nightlight

Always-Awake Mode

Automatic Anti-Bark Mode.

Weatherproof Remote Controller, Waterproof Collar

Additional Extra-Long Metal Prongs and Non-Conductive Plastic Prongs

Lithium-Ion Rechargeable Batteries
We start strong with the Goldilocks of Shock Collars in the list. The Pet Resolve collar has every feature you need for just about any scenario you would normally use a shock collar on like dealing with bad behavior, hunting or just playing on the beach. The collar has three training modes, namely shock, vibrate, and tone. This way, you can take the no-shock route and use either vibrate or tone when you're training your dogs. Should they be unresponsive to vibrate mode or tone, you can then start with low-level shocks and work your way up until they start noticing it.
It has 10 stimulation levels with an overall "moderate" shock strength, making it ideal for beginners and those unsure how tough or sensitive their fur-buddies are. It also has an impressive range of 1300 yards in open space. Realistically, with all kinds of interference like walls and foliage, you might just get 50% to 75% of that range, but that, at least, is still around 650 yards. If you are training two dogs and they just happen to run at opposite distances, they still have to cover 3 football fields each just to be out of range.
Now, the most important feature is that it can support a total of three collars. The remote has labeled buttons on the bottom that switch which collar is used and the remote remembers the settings. This is important when you're training say, a stubborn and quirky dog like a Shiba Inu alongside a gentler, more grounded dog like a Border Collie. (However, unless you're particularly adept at training, it's often far more difficult to train two or more dogs at the same time. Imagine if one of the dogs is a bit on the jealous side wants to hog your attention while you're training the other one.)
If your fur-pal also has a bit of an excessive barking problem, you're in luck. You can switch the collar to Anti-Bark mode, which will then listen to your dog's barks. If they bark for more than a few seconds, the collar will send an audible beep. Further barking after the beep will trigger a shock of your chosen level. It's simple, hands-free and still allows your dog to bark, just not as excessively. Sooner or later, your dog will learn to limit their bark by stopping at the beep, and eventually, just learn to keep loud barking at a minimum.
The nightlight is very handy in low-light conditions. It also helps your dog find their way in case it's dark. Perfect for taking trips in the park or 
This shock collar also has a quirk that may sound detrimental at first but hear us out. It's advertised as "Always-Awake" meaning it doesn't have a standby or sleep mode. This means it uses up batteries much more than those who have sleep mode, but it means you don't have to "wake" the collar up every five or ten minutes. Training a dog requires timing and forgetting that your device is already asleep can ruin timing. This is more important when hunting, where you would track your target for minutes and use the shock collar to signal your dog to do a particular command, like flushing them out or bailing them.
The receiver has a waterproof design, it can be submerged in water without any damage. The remote is water-resistant and can resist heavy rains and a blast from the garden hose. Both devices work even in harsh cold winters.
For dogs that have longer and thicker fur, this collar kit comes with extra long prongs. Getting the prongs to make contact is crucial for both consistencies of the shock strength and your dog's comfort. In some cases, may need to tighten the collar a little bit more to achieve the correct contact, so long prongs eliminate that need.
As for the batteries, as long as you properly turn the receiver off after using, it will last about the same time as all the collars in this list, which is about 1-2 weeks. They all also charge to full around the same time: 2 hours.
Features:
Shock, Vibrate, and Tone Mode

10 Levels of Intensity

500 Yard Range in Open Areas

Remote Supports 2 Collars

Memorizes Settings for Each Collar

Nightlight

Waterproof Remote Controller and Collar

2-Hour Rapid Charge Batteries
Though it doesn't have a long list of features like the first one, it's a great model for what a standard collar should at least have. It has three training modes, with 10 levels of Shock and two harmless options: tone and vibrate. According to most users, the collar's overall power is "moderately strong", so when using it for the first time, always use the lowest levels first. The vibration and tone are quite strong too, so you can opt to use the vibrate if you have a sensitive dog. 
The remote has a total range of 500 yards in open space. Some users report the distance being half that, but like the first collar, even 250 yards is already significant even if you're letting your dog play on their own in a park or the beach. 
The bright orange remote control has two buttons on the bottom that help you quickly switch between each collar and for your convenience, the remote remembers the shock level of each collar. It does, however, only have a single button for shock and it's a continuous shock feature. This doesn't affect training all that much since you will be using the continuous shock for nearly all "Reinforcing" exercises.
It's also as waterproof as the collar's receiver is, so if your dog happens to dive into the lake with you, the kit will survive being submerged, but not for too long hopefully.
With battery life, you'll find yourself almost forgetting that the collar needs charging. Most training durations are, at the longest, 20 minutes per session, and these quick charge batteries last around 50 hours at the least.
Features:
Shock, Vibrate, and Beep Mode

100 Static Stimulation Levels

1/3 to 1 Mile Range 

Supports Up to 2 Dogs

Memorizes Settings for Each Collar

Waterproof Remote Controller and Collar

2-Hour Rapid Charge Batteries
Already the first thing that you may notice is the 100 shock levels. This does not mean it has an extremely powerful shock. Instead, it has the most precision of shock strength in this list. A shock level of 1 is perhaps barely palpable whereas 100 is the intended maximum electric shock the kit can offer.
One of the collar's key features is its "blunt" shock. This can be achieved by using a lower frequency of shock. Think of the shock-like sound and it means it has more bass. It still delivers the same power, just a slightly less irritating "pinch" and more of a "thump". 
It also has two other training features: Vibration and Beep mode. Beep mode can be especially useful for dogs that struggle with paying attention since you can use it to signal them when you're about to do a command. 
As long as you choose the correct models, it can support up to 2 dogs with varying distances. If you're hunting, you may need to control two to three dogs at a time, and you'd want as much range as possible depending on the game. The remote is also water-resistant and as a bonus, floats on water, increasing its survival rate in case it falls into a lake. The collar is equally waterproof but doesn't float. 
Speaking of the remote, it's quite compact. It has few buttons to work with so to access all the features, you need to memorize a few button combinations. The remote also has an LCD to help you see battery life, which collar is active, and what stimulation levels you're currently using. 
Despite the small size, the remote still sports the same battery life as the rest of the collars on the list. It can also be fully charged in 2-3 hours, so after about a week of usage, you can charge it up to full for the next week. 
Features:
Shock, Tone, and Vibration Modes

8 Levels of Shock

1100 Yard Range

Supports Up to 2 Dogs

Memorizes Settings for Each Collar

Weatherproof Remote Controller, Waterproof Collar

2-Hour Quick Charge Batteries
At this point, you'd notice that all the collars in the list are roughly the same, with some having handy features and others having stronger shock strength. This kit, however, only has 8 levels of shock, so the 1st level could be quite strong already. If you think your dog isn't ready for the shock levels, consider using the vibrate feature. 
The kit has a pretty good range of 1100 yards, just a bit more than 1/2 miles. If you managed to teach your dog to approach you or a certain place like inside your home when they hear a beep or a certain pattern, you'd practically be able to call your dog home from even if they were two streets away.
You can switch between 2 collars using the small switch on the bottom of the remote. The remote doesn't have an LED display, so you're going to depend on the information printed on the buttons themselves. Thankfully, everything is easy enough to understand and once you get used to it, you can use it without looking. 
The collar is waterproof, the remote is water-resistant. Like all the collars on the list, it works even in bitter winter, or arid summers. As far as impact resistance goes, they can all withstand a 10 ft. fall, but hopefully just once. 
As an exception, this model's battery life is not as long as the rest, lasting 3 days to 1 week of use. Still, it charges to full in 2-3 hours. It doesn't help that the remote doesn't have an LCD to tell you when the battery is low, so charge it at the end of the week.
Conclusion Best Shock Collar For Two Dogs!
Dogs work great in teams, they evolved this way, making them great partners for hunting or just being part of a family. As much as we want them to do their doggy things all day, some of them still need to understand how the household works and how to get along with people and their fellow dogs. With our ever-changing lives, dogs need more ways to adjust if we want them to live it us in harmony. A shock collar is simply a tool among many and the most important tool is our respect and understanding of man's best friend.
Other articles you would like:
Frequently Asked Questions
Thank you for taking the time to read our list. At this point, you're already aware of what kind of features most good quality shock collars have, so to further help you decide if you want or need to use shock collars, we'll answer the common questions people tend to ask regarding shock training collars and training. 
Are Shock Collars Safe?
For the most part, yes. If you have a good quality collar and a good understanding of how to use it, it's completely safe for your dog's mind and body. You can even use the non-shock functions instead and only reserve the shock for scenarios that would otherwise place your dog in danger. Shock collar training itself is a safe process provided you use the lowest effective shock level possible, which is the lowest level of shock that makes your dog react in the smallest way. 
Can I Use a Shock Collar on My Puppy?
It depends on what you mean by 'puppy.' If anywhere between 4-6 months of age, then yes, you can. Dogs enter a "fear phase" around those months (the actual period varies depending on dog size and breed.), priming them for learning and training. 
How Do You Use a Shock Collar?
In a nutshell, you use it for "Negative Reinforcement." This is fundamentally different from "Punishment." The idea is to remove the stimulation (shock or vibrate) when your dog does the correct behavior. It's NOT to be used haphazardly just because your pup did something bad. It requires a bit of timing so your dog can learn that what they did was bad.
An example would be: Commanding your dog to go prone, then immediately pressing the continuous shock. When your dog goes prone, you quickly release the shock button. 
It's mandatory that after your dog does the right action, you acknowledge it with a "Good!" (Or whichever signal you want for 'good job!') followed by a nice dog treat.
What if you wanted to remove a destructive behavior like chewing on furniture? This is where timing is needed. As soon as they start doing any kind of unwanted behavior, state a command like "Stop!" and trigger the remote's continuous shock. As soon as they drop what they're doing, let go of the trigger and praise them for doing so. A treat is optional but welcome. 
Do Shock Collars Cause Aggressive Behavior?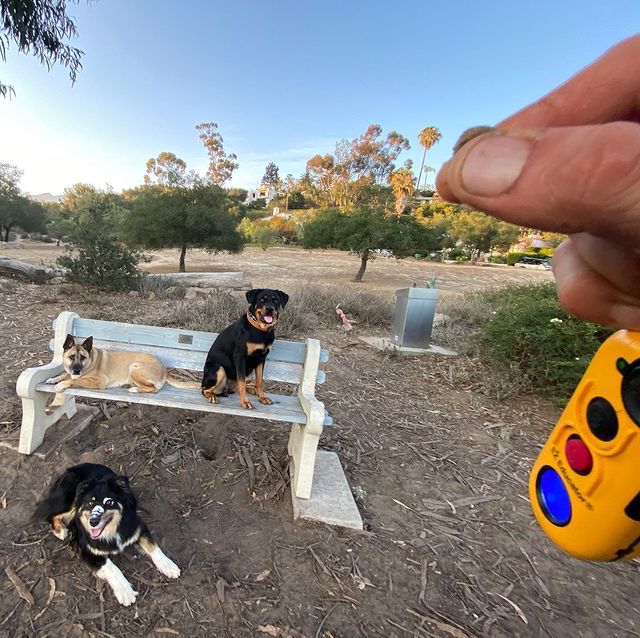 Dogs will commonly become aggressive when they get too anxious or afraid of something. When Shock collars are involved, it's always due to misuse. Some examples of misuse are: setting the shock level too high and using the shock as punishment. Professional trainers use shock collars to help reduce aggressive behavior in dogs. 
How Long Do I Use the Shock Collar On My Dog?
Keep the collar on for no more than 8 hours, less if you can. It's also ideal for repositioning or rotating the collar so that the prongs make contact with a different part of the dog's neck. This way, you avoid the two most common injuries with shock collar use: Pressure Sores and Friction Wounds. These often look like burn marks, but it's not improbable that some poorly made shock collars cause the prongs to heat, leading to an actual burn. (Though none of the collars in this list should have that.)
Do Vibration Collars Work?
It depends. Putting it bluntly, a shock collar is supposed to "annoy" your dog into doing the correct behavior. Vibration collars do exactly that, but most dogs are proud, beefy, or stubborn enough that a vibration collar doesn't register enough "annoyance" for them to react properly. Since our shock collars here all have vibrate functions, you can opt to try that first on your dog and only switch to shock if they aren't responding to it, or ceased responding to it.
Garrett loves animals and is a huge advocate for all Doodle dog breeds. He owns his own Goldendoodle named Kona. In addition, he volunteers at the Humane Society of Silicon Valley, where he fosters dogs and helps animals. Garrett enjoys writing about Doodles and believes that dogs can teach humans more about how to live than humans can teach a dog.
Why Trust We Love Doodles?
At We Love Doodles, we're a team of writers, veterinarians, and puppy trainers that love dogs. Our team of qualified experts researches and provides reliable information on a wide range of dog topics. Our reviews are based on customer feedback, hands-on testing, and in-depth analysis. We are fully transparent and honest to our community of dog owners and future owners.