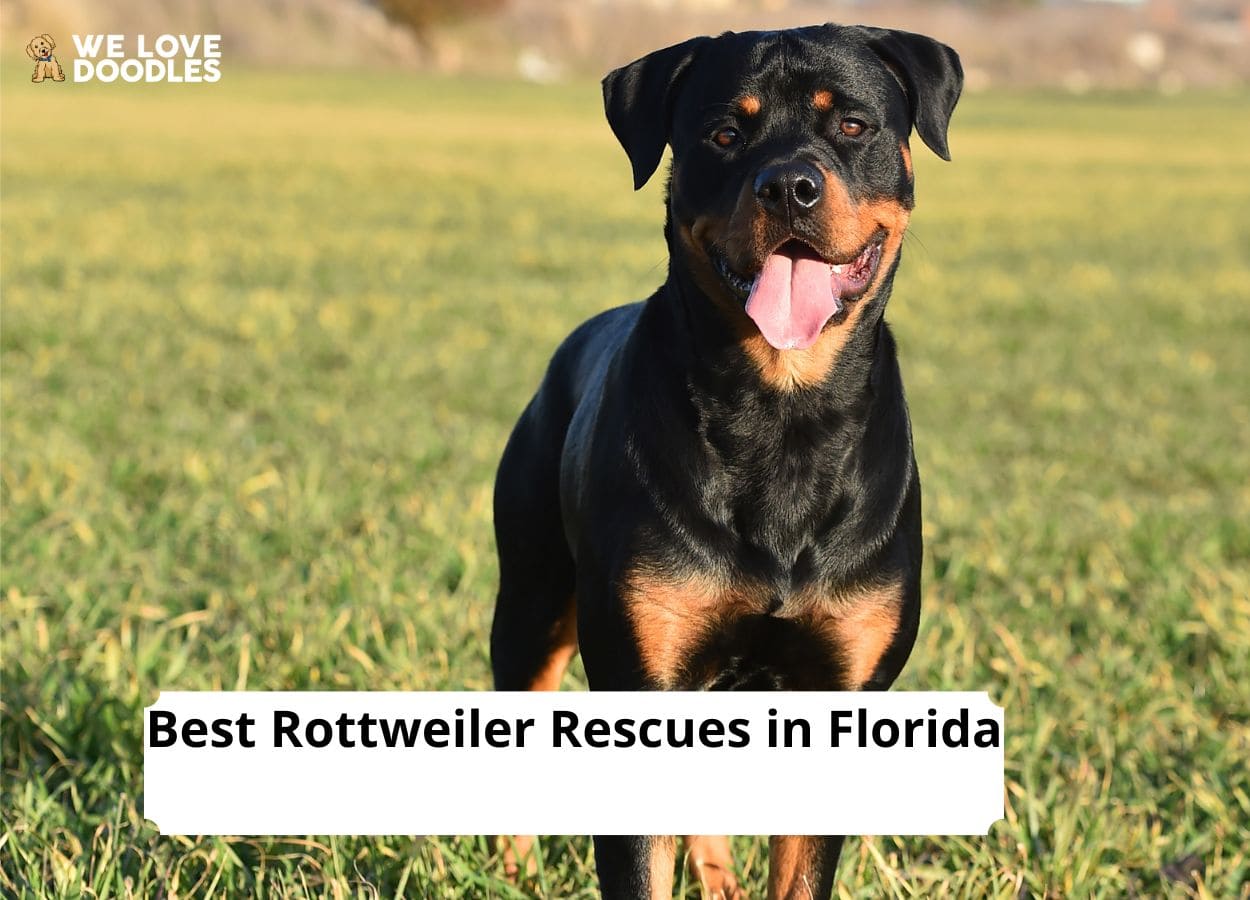 Here's what you need to know if you're searching for Rottweiler rescues in Florida. When trained right, Rottweilers are gentle giants. The large dog breed grows to as big as 130 pounds, and their strength is often misinterpreted as ferocity. The truth is that these puppies make loving and loyal companions, even to families with children. 
If you're a Florida resident or family looking to bring a Rottie into your home, check out our list of the best Rottweiler shelters in the Sunshine State. When you adopt from a shelter, you're bringing a dog into your family that wouldn't otherwise have the opportunity for a healthy, happy life.
As with any pet adoption, ensure you meet your puppy when possible. Bring your kids and any dogs already in your household if you can. This will help ensure that your puppy's transition into your home is easy. 
Before you scroll down this list of Rottweiler rescues in Florida, you can check out these other rescue shelter recommendations from our team at We Love Doodles: Best Dog Rescues in Florida and Best Pomeranian Rescues in Florida.
Find a Rottweiler Rescue Shelter Near Me in Florida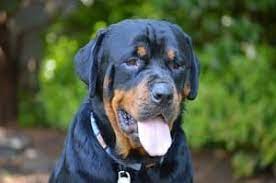 Our team at We Love Doodles compiled this list of the best Rottweiler rescues in Florida to help you on your journey to introducing a companion into your home. We hope this list will save you time and trouble.
Rottweiler Product Recommendations: Best Muscle Growth Supplements For Dogs and Best Dog Crate Alternatives.
1. Florida Rottweiler Rescue Ranch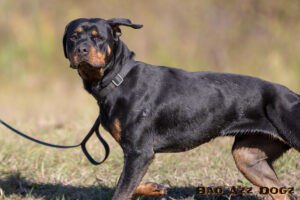 Florida Rottweiler Rescue Ranch is a non-profit, 501(c)3 organization that relies heavily on contributions from the community. They offer opportunities to volunteer, or you can choose to donate to the groups – it's tax deductible. You'll need to apply with Florida Rottweiler Rescue Ranch before you bring a puppy home. The team wants to know about your dog experience, particularly with Rottweilers.
You'll also be asked to provide information about your home, family, and veterinarian. A phone interview and a home visit are also required. Once approved, you can view the available sanctuary dogs on the Florida Rottweiler Rescue Ranch website. Choose a dog you're interested in, and the team will help you determine whether the dog is an appropriate match for your home.
If so, you can speak with the volunteer team about how much of an adoption donation is expected. Your dog will be spayed or neutered, microchipped, and up to date with vaccinations and wormers. Any pre-existing health conditions will be disclosed to you by the Florida Rottweiler Rescue Ranch staff, and medical records will be provided. 
Florida Rottweiler Rescue Ranch Details
2. Gulf Coast Rottweiler Rescue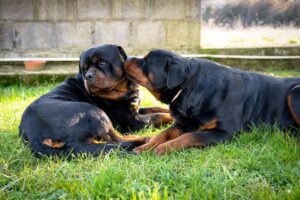 Next on our list of the best Rottie rescues in Florida is Gulf Coast Rottweiler Rescue. This is another non-profit group, and, like many others, they rely on the help of donations to continue their mission. This group takes in animals from local, high-kill shelters and accepts owner surrenders. Opportunities to adopt and foster are available with Gulf Coast Rottweiler Rescue.
No matter which option you choose, you'll need to fill out an application. Gulf Coast Rottweiler Rescue will review your information and check your veterinarian references. A phone interview and a home visit are required before you can be approved to bring a dog home with you. The cost to adopt your dog will range from $150 for an older dog to $400 for a full-breed adult Rottweiler.
Sometimes, a special needs or senior puppy may be available to you at no cost, but you must meet certain requirements. Many dogs that come to the Gulf Coast Rottweiler Rescue will be accepted without medical history. When they are ready to go home, vaccinations and wormers will be administered, and your dog will be microchipped, spayed, or neutered. 
Gulf Coast Rottweiler Rescue Details
3. Gulfstream Guardian Angels Rottweiler Rescue
Gulfstream Guardian Angels Rottweiler Rescue is a non-profit, volunteer-run shelter that rescues Rotties from owners who have surrendered them and from shelters with a high kill rate. Dogs are rehabilitated if necessary, then placed in foster homes until they're ready for permanent placement in a home like yours.
You must live in Florida to adopt from this rescue, and you must have a home with a fenced yard. You'll be asked to verify this via a FaceTime call – the team will be on the line with you as you give them a "tour" of your property. Veterinarian references are required. Once approved, you'll bring your adoption fee ($150 to $400, depending upon the dog's age) to meet your dog.
You must bring your entire family with you. You can usually bring your dog home that day unless the dog needs further veterinary care. Dogs will be spayed or neutered, microchipped, vaccinated, and dewormed when they go home with you. The exception is for families who wish to foster – you may be responsible for assisting with vet appointments. 
Gulfstream Guardian Angels Rottweiler Rescue Details
4. Rottie Nation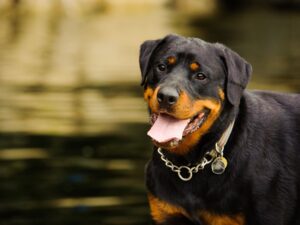 Rottie Nation is next on our list of the best Rottweiler rescues in Florida. They're a 501(c)3 non-profit that largely relies on foster homes to shelter dogs, though the team does have a physical shelter in the Cape Coral area. Rescued dogs come from shelters, owner-surrender situations, and animal control. 
Rottie Nation is a relatively new shelter, so the number of adoptable dogs is limited. You can view the available puppies on the website or Adopt A Pet's listings. Speak with the shelter team about the adoption fee required to bring a puppy home; this fee will cover all necessary medical treatments and spaying or neutering. 
While you're searching for your new Rottweiler, be sure to check out the shelter's shop. You can support the organization by purchasing t-shirts, wristbands, and vehicle decals. Foster opportunities are also available for families along the southern East Coast. 
Rottie Nation Details
5. Rising Star Rottweiler Rescue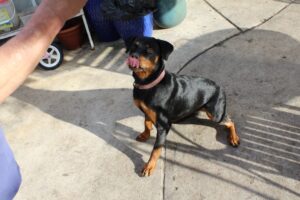 The next non-profit Rottweiler rescue on our list is Rising Star Rottweiler Rescue. They're located in Lake Worth, Florida, another shelter run with volunteers' assistance. They rely on community helpers and donations to remain in operation, so consider contributing if you can.
This shelter typically has around a dozen or so dogs available for adoption, but you can choose to foster a dog if you're not sure a Rottweiler – or any dog – is right for your family. The cost to adopt may vary based upon the age and pedigree of the dog, as well as what kind of healthcare the puppy needed while in foster care. 
To adopt from this organization, you must agree to keep your Rottie as an indoor dog. You may also be required to meet certain criteria regarding your physical home, so contact the Rising Star team for more information. 
Once you adopt your dog, expect to become a part of the Rising Star community. New "puppy parents" frequently communicate through social gatherings, events, and social media. The Rising Star team offers lifetime support should you have questions or concerns about your dog. 
Rising Star Rottweiler Rescue Details
6. Big Dog Ranch Rescue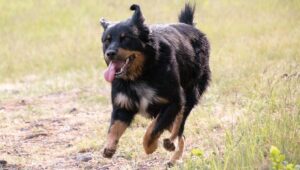 Located in Palm Beach County, Florida, Big Dog Ranch Rescue is exactly what the name implies. This organization specializes in rescuing large dogs (though small dogs may be available occasionally) and adopting them to their forever homes. You can view a list of available dogs on the DBRR website, and it's a good idea to have a couple of puppies in mind when you apply to adopt.
That's because Big Dog Ranch Rescue strives to match each baby with the perfect household – if a particular Rottweiler isn't right for you, BDRR will find a more suitable match. The cost to adopt a dog through this Florida Rottweiler rescue will vary based on breed, age, and health.
Veterans and first responders also qualify for a 50 percent discount off certain dogs. Depending on your dog, you can expect to pay between $100 and $475 for your dog. Your dog will be vet-checked, and you'll be notified of any known medical conditions. Pups are microchipped and current on shots and wormers. 
Big Dog Ranch Rescue Details
7. Abandoned Pet Rescue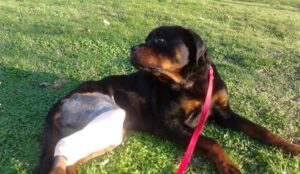 Abandoned Pet Rescue is an Ft. Lauderdale rescue specializing in rehabilitating and rehoming dogs and cats. They are a non-profit, no-kill shelter that, over the past decade, has become one of the largest in Florida. There is a wide variety of breeds available at Abandoned Pet Rescue, so check back frequently for Rottweilers that are ready for a new home. 
To adopt any animal from Abandoned Pet Rescue, you'll need to fill out an application, which can be completed online. You must be 22 years old or older to adopt, and you'll need to prove that you're permitted to have pets in your home if you're renting.
Once approved to adopt, you'll pay either $175 for a puppy or $150 for an adult dog. Should you choose to bring two dogs home, the total adoption fee is $250. Veterans receive a discount. If you're unsure whether dog ownership is right for you, consider one of the Abandoned Pet Rescue's volunteer opportunities.
Spending time with the dogs and cats will allow you to get to know them better and may help you determine whether you're ready to commit. Abandoned Pet Rescue is a not-for-profit organization; check out the website to learn about other ways you can contribute to the group. You can volunteer, donate, or participate in one of the shelter's events. 
Abandoned Pet Rescue Details
Conclusion For The "Best Rottweiler Rescues in Florida"
Florida families or individuals who wish to adopt a Rottweiler are considering quite a big step. Rottweilers are sweet, snuggly dogs, but they are large and energetic. It's best if you have plenty of time to give your dog attention and much-needed exercise. 
Unfortunately, some Rottweilers are abandoned by families that didn't think the decision through. For that reason, Florida rescues and shelters are overflowing with Rotties and other dogs that have been abandoned or surrendered. 
You can make a difference in the life of a Rottweiler (and in your life) by adopting a Rottweiler companion from one of these reputable shelters. Meet your dog in person before adopting, when possible, then get ready to take home a new forever friend. 
For more guides similar to this list of Rottweiler rescues in Florida, you can check out these other recommendations from our team at We Love Doodles:
Before you bring home a Rottweiler companion from a rescue shelter in Florida, you can learn more about this dog breed by watching "The Pros and Cons of Owning a Rottweiler" down below: