The 350-acre Zilker Park offers recreation activities for Austinites, including hiking and biking trails, sports fields, kite flying, picnics, and off-leash dog walking.
The park lacks fencing, so dogs must obey vocal commands if they wish to go off-leash. Despite not being fenced, this dog park offers a scenic view of downtown across the lake, and well-behaved dogs are welcome to play off-leash.
While it runs along Lady Bird Lake's waters, it is surrounded by rolling hills and beautiful trees. Family picnics and runners, as well as four-legged friends enthusiastically participating, fill the park on weekends with impromptu football, soccer, Frisbee, and catch games.
This dog park is located in Zilker Metropolitan Park at 2100 Barton Springs Road.
Before you scroll down this guide about Zilker Dog Park in Austin, check out: 7 Best Dog Daycares in Austin! (2023) and 5 Best Dog Groomers in Austin! (2023).
History of the Park
Among the Austin parks system, Zilker Park is considered its crown jewel. Andrew Jackson Zilker donated parcels of land to Austin starting in 1917, establishing Zilker Metropolitan Park, Austin's oldest metropolitan park. He became a banker and businessman in Austin in 1876.
Three separate gifts by Mr. Zilker — in 1918, 1923, and 1931 — enabled the community and schools to benefit from his ranch. In 1934, Zilker gave the Girl Scout Clubhouse site to the city as the last gift. Officially, Zilker Park was named that same year.
It consists of more than 350 acres of public lands at the confluence of Barton Creek and Lady Bird Lake. Civil Works Administration and Civilian Conservation Corps programs contributed greatly to the development of parks in the 1930s.
Several historical, architectural, and archeological resources are included in Zilker Metropolitan Park, which was included on the National Register of Historic Places in 1997.
Today's Zilker Park
A number of recreational activities are offered at the park today, including, but not limited to: pools, gardens, nature and science centers, lodges, youth camps, sculptures, recreation centers, bike trails, festivals, and special events. It also has a nice space for dogs to run off-leash.
Austin Dog Park Rules and Safety
There are numerous dog parks in Austin and the same rules apply in each of them. Off-leash areas must adhere to the following rules:
When walking your dog to and from an off-leash area, you should keep him on a leash.
Humans/handlers must always keep an eye on their dogs.
Off-leash areas are not allowed for dogs in heat.
Public spaces should be free of aggressive dogs at all times.
State law requires all dogs to be vaccinated against rabies.
Waste must be deposited into a trash can after the dogs are cleaned up after.
Scoop the Poop
Dogs in Austin produce 1/2 pounds of poop a day on average. There are bacteria, protozoa, and worms in pet waste, which contaminate streams and rivers when it rains. You should always scoop and throw away dog poop.
Be Aware of Harmful Algae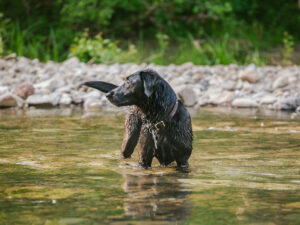 Certain types of algae can poison dogs. Summer and fall are the most likely times to find these algae in lakes and streams.
Watch Out for Hot Surfaces
During the scorching afternoon hours, sand can be extremely hot. Paw pads on your dog can easily burn. Try to carry your dog if there is an asphalt stretch from your car to the beach. You can also find shoes or socks that your dog can wear to protect their feet during their visit to the dog park.
Be Aware of the Temperature
In warmer weather, dogs overheat when they play too long. Due to the cooler temperatures in the mornings and evenings, these are the best times to be outside.
If you do not live near a temperature-controlled indoor dog park, it's best to avoid hot, humid days when the risk of heat stroke is high.
Make Sure Dogs Are Vaccinated
Dog parks can spread infectious diseases including parvovirus, canine influenza, and kennel cough. For recommendations on dog park vaccinations based on local risks, consult your veterinarian.
Bad Weather
Considering mud and dirt on a rainy day may be a good idea. When the dogs return home from the mud, they'll need a bath. If it's raining, find a dog play area that charges a daily fee at a local business.
Things to Do at the Zilker Dog Park
There are many things to do in and near the Zilker Dog Park.
Zilker Train
This park has been home to a mini train since 1961. Zilker Zephyr, the previous train, ceased operations in May 2019. Guests were saddened to hear that the train will close, as many people know it played a significant role in Austin's past. The success was due to their help, which ensured its future in Austin.
The train company was contacted by Zilker Park as part of a master planning process to build a new, long-term vision for the park because of their partnership with the City's Parks & Recreation Department.
As part of the new vision for Zilker Park, they will operate the Zilker Eagle with proceeds benefiting the park. Meanwhile, the community will have a chance to decide how the Zilker Eagle fits into that vision.
Zilker Cabin
Within walking distance of downtown Austin, Zilker Cabin is located at Zilker Park. Whether you're vacationing with your troops or on a business retreat, this is the perfect spot for a weekend getaway. Zilker Cabin can accommodate up to 32 people overnight or 50 people during the day.
Located in a rustic building with two bathrooms and a full kitchen, the cabin does not provide beds. There are two toilets and one sink in the upstairs bathroom, and two toilets, one sink, and two showers in the downstairs bathroom.
A stove, refrigerator, and microwave are located in the cabin's kitchen on the lower level. There are stone steps leading down to the kitchen from the outside. It is right outside the cabin where picnic tables and a large fire ring are located.
Sculpture Garden and Museum
As a natural oasis near Barton Springs and only blocks from the center of the city, UMLAUF Sculpture Garden + Museum is synonymous with what makes Austin so unique: superb art in a shady garden of native Texas plants.
For almost four decades, these four acres were buried under vines of dewberry trees and illegal dumping after initially containing small ponds used for fly casting by soldiers during the late 1930s and 1940s.
Charles Umlauf, a noted 20th-century American sculptor, donated dozens of bronze and stone pieces to the City of Austin in 1991, transforming the grounds into a Sculpture Garden. Art and nature harmoniously intertwine.
Visitors to the Garden can contemplate the sculptures or their own thoughts in peace as the waterfall and streams muffle the sounds of traffic. The natural environment around each sculpture changes as the seasons change. You can access the Garden in a number of ways.
Austin Sunshine Camp
A joint effort between Austin's Young Men's Business League and Zilker Park's Austin Sunshine Camps was established in 1928 in response to the threat of youth tuberculosis in the community.
Local, economically disadvantaged children benefited from the park's space, which provided a place where they could gain weight, grow stronger, and spend time outdoors. In addition to serving youth living near or below the poverty, Austin Sunshine Camps continue to offer educational programs.
Through education and healthy living, our programs enrich the community. Kids at Austin Sunshine Camps have the space and comfort they need to dream big despite their current circumstances.
Frequently Asked Questions
Is Zilker Park free?
Zilker Park is free and you can visit from 5:00 a.m. to 10:00 p.m.
Are dogs allowed at Zilker Botanical Gardens?
Outside of special events, dogs are generally allowed at the gardens, but they should be leashed.
Is it legal to drink at Zilker Park?
Alcohol display and consumption are prohibited at Zilker Park.
Conclusion for "Zilker Dog Park in Austin, Texas: What You Need to Know"
There is no doubt that Zilker Park is one of Austin's most popular parks. If you're in Austin or are thinking of stopping by with your dog, make sure to squeeze in a trip to Zilker Dog Park.
For more guides similar to this Zilker Dog Park in Austin, check out:
Before visiting the park, see what it's like by watching "Zilker Dog Park" down below:
Garrett loves animals and is a huge advocate for all Doodle dog breeds. He owns his own Goldendoodle named Kona. In addition, he volunteers at the Humane Society of Silicon Valley, where he fosters dogs and helps animals. Garrett enjoys writing about Doodles and believes that dogs can teach humans more about how to live than humans can teach a dog.
Why Trust We Love Doodles?
At We Love Doodles, we're a team of writers, veterinarians, and puppy trainers that love dogs. Our team of qualified experts researches and provides reliable information on a wide range of dog topics. Our reviews are based on customer feedback, hands-on testing, and in-depth analysis. We are fully transparent and honest to our community of dog owners and future owners.