How often should you groom a Goldendoodle? This guide will provide everything you need to know about grooming your Goldendoodle puppy. Goldendoodles are loved for their charming personalities and their prepossessing hypo-allergenic coats.
While most pet parents seek out the breed for their thick fluffy coats, they appear to be intimidated by Goldendoodles' grooming. Their gorgeous coats require high maintenance. Goldendoodles' coats demand substantial maintenance as when left unattended, their hair mat. Matting causes discomfort, infections, and many other issues.
Goldendoodles need to be combed daily and groomed thoroughly twice a month. Dogs with long hair need professional grooming every 6 to 8 weeks. Grooming a Goldendoodle is not difficult once you understand your dog's grooming needs. This article sheds light on everything you need to know about Goldendoodle's grooming, from how often to when you should do it.
Before you scroll down this guide, "How Often Should You Groom a Goldendoodle," you can check out these helpful guides from our team at We Love Doodles: Goldendoodle Grooming Guide and Best Grooming Tools For Goldendoodles.
Why Goldendoodles Need Regular Grooming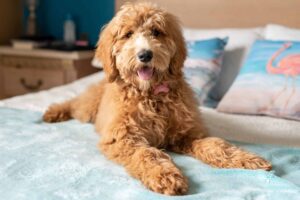 Goldendoodles require regular grooming for several reasons.
1. Maintain a Healthy Coat
By brushing and combing your Goldendoodle's coat, you spread natural oils (sebum) all over the hair, giving it an attractive shine and hydration. Sebaceous glands, which are abundant in areas near the paws, chin, tail, rump, and the back of the neck, produce sebum into your dog's hair follicles and onto the skin.
The oily substance is a mixture of fatty acids that keeps your Goldendoodle's skin pliable, moist and soft. The oils also give the hair a sheen and have antibiotic properties that can inhibit the growth of bacteria. Your Goldendoodle relies on a healthy coat for insulation from cold winters and hot summers.
2. Prevent Matting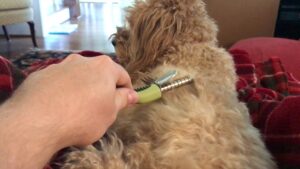 Goldendoodles have a unique coat that is very prone to tangles and mats. Tangling and matting are caused by friction, allergies, and infestation, which causes itching and scratching and a lot of hair movement. Mats trap moisture creating breeding grounds for bacteria and causing infections.
Mats harbor fleas, which most dogs are allergic to, resulting in severe scratching and hot spots. Mats cause tightness which creates discomfort and limits your dog's movement. Regular grooming involving brushing and combing the dog's hair can prevent matting.
Related: Best Shampoos For Matted Dog Hair.
3. Controlling Shedding
Goldendoodles shed, depending on the coat type, and grooming can reduce the amount of shedding. Grooming will not stop shedding but will reduce the amount of dropped hair on your floor and furniture. Using the best grooming strategies like cleaning products and quality brushes can reduce shedding. Grooming is also an opportunity to socialize and bond with your dog.
Related: Why is My Goldendoodle Shedding?
When Is The Right Time to Groom Your Goldendoodle?
Goldendoodles' hair mat easily; hence needs to be brushed or combed daily. Dogs with longer hair will need appointments with a professional groomer every 6 to 8 weeks. If you keep your dogs' cuts shorter, you can go for professional grooming every ten weeks. Goldendoodles' hair grows quickly, and regular grooming can prevent matting and related issues.
If you can do grooming at home, take your dog to a professional groomer at least twice a year, preferably at the beginning and end of summer. There are other factors to consider when deciding how often to groom your dog. The health of your dog is one of them.
If your dog is ill, get a recommendation from a vet and professional groomer on how frequently. If your dog is active, regular grooming is necessary. Active dogs should be bathed every two weeks. If your Goldendoodle rolls around in the mud or participates in activities where they get dirty, bathe them after every activity.
Goldendoodles shed hair the most during transitions between cold and hot seasons and need more attention at least every six months. When shed hair is not brushed down, it moves to the undercoat forming tangles and mats. If your dogs have a nasty odor, you should bathe them immediately.
More Goldendoodle Guides: Improper Coat Goldendoodle and Furnishings.
Can You Groom a Goldendoodle Puppy?
While adult Goldendoodles have more grooming needs than puppies, getting your puppy accustomed to grooming is still necessary. This will reduce the hassles of grooming your dogs when they are adults. The grooming frequency of puppies should be twice a week, with the sessions lasting a few minutes.
Don't force your puppy to accept grooming immediately. Try as much as possible to make grooming fun. Give your puppies extra attention when they are sick or smelling more than usual, if they have rolled in something filthy, or injured with limited flexibility.
Related: How to Trim a Goldendoodle's Face and Shaving a Goldendoodle (Step-by-Step Guide).
How to Groom a Goldendoodle Properly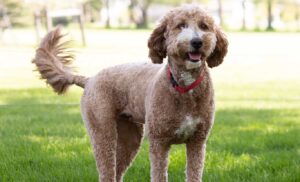 Regular grooming is compulsory to take care of your Goldendoodle's unique coat. Here is a comprehensive grooming guide to keeping your dog clean and healthy.
1. Brush Your Goldendoodle
When brushing your dog, look for new injuries and irritation to catch issues before escalating. You could check for this by running your fingers through the hair and observing your dog's body language.
Start grooming by giving your dog a good brush on the coat to remove debris in the coat and detangle the hair. Brushing your Goldendoodles' hair daily will prevent tangling and keep the coat mat-free. Use a slicker brush for combing as it is the best for Goldendoodles.
2. Remove Tangles
Using a clipper, remove knots and tangles from your Goldendoodle's coat. If the coat is matted, use corn starch and a comb to remove it. Apply corn starch to the mat and use your fingers to unknot it. The corn starch will make the comb's bristles glide through the hair, removing the knots. Avoid grooming scissors when unknotting tangled hair as it can cause injuries.
3. Bathe Your Goldendoodle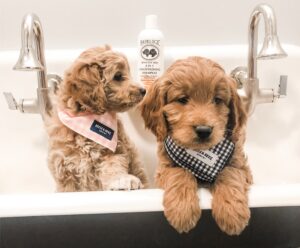 Avoid wetting your Goldendoodle's hair before removing the mats. Untangle the hair, remove the mats, and prepare warm water to bathe your dog. Scrub the coat gently with the recommended dog shampoo and rinse thoroughly.
4. Dry Your Goldendoodle's Coat
Dry your Goldendoodle's coat with a dry towel by rubbing the moisture. Ensure the area around the ears is also dry as trapped moisture can easily cause ear infections. Allow the remaining moisture to air dry.
5. Trim Your Goldendoodle's Hair
Don't trim the hair when wet, as wet hair shrinks and can mislead you on the length. Trim your dog's hair using clippers focusing on several key areas. Start trimming your Goldendoodle's ears and the areas around them. If hair is blocking the ear, trim it to a short length. Hair at the ears entrance can trap moisture and block air circulation, causing ear infections.
Trim the fur around your Goldendoodle's eyes and the face for your dog to see clearly. Trimming the fur on your Goldendoodle's muzzle is necessary, despite being challenging. This will prevent the hair from getting into their mouth when feeding. Proceed to trim the hair on your dog's feet and the whole body with the clippers.
Related: Best Types of Goldendoodle Haircuts.
6. Trim the Toenails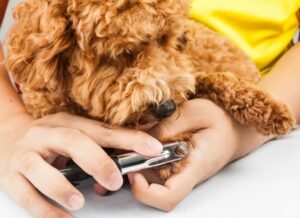 Trim your Goldendoodle's toenails after cleaning up the fur on the whole body and feet. This is necessary, mainly if your dog stays in the house walking on soft surfaces and you don't file down the nails. Use a dog nail trimmer to cut the nails while holding your Goldendoodle. Avoid cutting off the nails too much as you could cut into the blood vessel in the nails.
7. Brush Your Goldendoodle's Teeth
Good oral hygiene in dogs will keep your Goldendoodle's gums and teeth healthy. Brushing your dog's teeth prevents infections that can cause tooth loss. Neglecting your dog's oral care leads to bacteria buildup, causing a foul odor.
Poor oral hygiene can cause periodontal disease, and gingivitis can cause oral pain. They don't only cause discomfort and pain but also affect your dog's ability to feed. Common signs of dental disease in dogs include bad breath, bleeding gums, broken teeth, loose teeth, and drooling.
Plaque-causing bacteria could enter your dog's bloodstream and spread to vital organs such as the kidneys, heart, and liver causing organ damage. Use a dog toothpaste and a dog toothbrush with soft bristles to clean inside the mouth of your Goldendoodle. It may take some time for your Goldendoodle to get used to brushing but do it.
8. Brush Your Goldendoodle's Coat Again
Give your Goldendoodle's coat another brush to remove the remaining fur to complete the routine.
Related: Best Grooming Tools For Goldendoodles and Tips For Grooming Your Doodle at Home.
Ingredients to Avoid When Using Goldendoodles' Grooming Products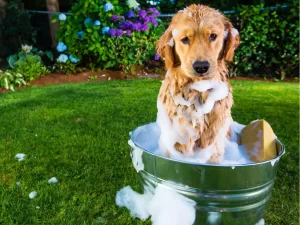 Some dog grooming products contain awful ingredients that can harm your dog. They affect the health of their hair and fur and may end up in your dog's digestive system when they lick the ingredients from their paws and coats. Some of the products can be absorbed into the bloodstream through their skin.
It is vital to look closely at the labels and watch for artificial dyes, sulfates, parabens, and mineral oils. If you use grooming products, watch out for flaky or irritated skin as it may be a sign of harmful chemicals in the products.
More Goldendoodle Guides: Types of Goldendoodle Colors and Facts About The Curly Goldendoodle.
Conclusion "How Often Should You Groom a Goldendoodle"
Grooming should be a regular practice if you have a Goldendoodle. By taking your dog to a professional groomer every six to ten weeks, you control your dog's shedding, prevent mating and protect their health.
Grooming should be thorough and comprise hair brushing and trimming, trimming of the nails, and brushing your dog's teeth. A regular grooming schedule with the right products and tools will prevent your dogs from getting infections and make them look their best and happy.
If you find this guide, "How Often Should You Groom a Goldendoodle," helpful, you can check out these other Goldendoodle guides:
For more tips and tricks on grooming a Goldendoodle, you can learn more by watching "Grooming a Large Goldendoodle – Professional Tips" down below: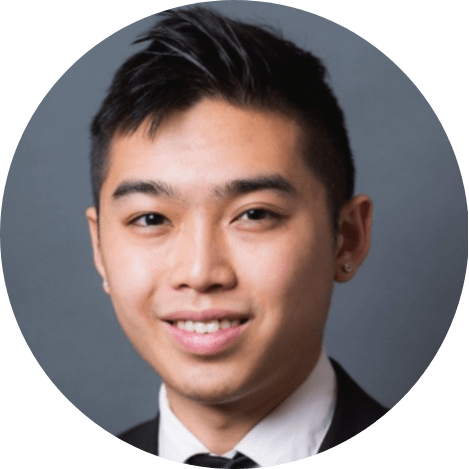 Andy is a full-time animal rescuer and owner of a toy doodle. When he's not saving dogs, Andy is one of our core writers and editors. He has been writing about dogs for over a decade. Andy joined our team because he believes that words are powerful tools that can change a dog's life for the better.
Why Trust We Love Doodles?
At We Love Doodles, we're a team of writers, veterinarians, and puppy trainers that love dogs. Our team of qualified experts researches and provides reliable information on a wide range of dog topics. Our reviews are based on customer feedback, hands-on testing, and in-depth analysis. We are fully transparent and honest to our community of dog owners and future owners.