The American Kennel Club has listed the Golden Retriever as one of the three most popular dog breeds for years. Do you have one? If so, you'll love our Golden Retriever jokes, puns, and memes!
Use these jokes to make all the dogs at the dog park giggle, or just tell them to your friends. We've got the market cornered on silly puns and memes, and our dad jokes can't be beat. Here are the funniest — and most ridiculous — Golden Retriever jokes for fans of the breed.
Before you read this list of Golden Retriever memes, check out: The 20 Best Funny Dancing Dog Memes! (2023) and 13 Walter the Dog Memes! (2023).
The Best Golden Retriever Jokes on the Internet!
If you tell these Golden Retriever jokes to your dog, we guarantee he'll be howling with laughter. Or, just tell them to your family members for a few giggles.
Question: Why don't Golden Retrievers catch the balls you throw?
Answer: They're retrievers, not catchers!
Question: What do you call a Golden Retriever at a costume party?
Answer: A golden deceiver!
Question: Why do Golden Retrievers love to camp?
Answer: Because they're so good at ruff-ing it!
Question: What do you call a dog with a metal detector?
Answer: A Golden Retriever, of course!
Question: What's a dog's favorite Journey song?
Answer: Don't Stop Retrieving!
Question: What did the Golden Retriever say when he finished last in a race?
Answer: I'm last, but not leashed!
Question: What happened when the retriever ate a firefly?
Answer: He yelped with de-light!
Question: What kind of Golden Retriever doesn't bark?
Answer: A hush puppy!
Question: What do Golden Retrievers have that no other animals have?
Answer: Golden Retriever puppies!
Question: What do you get when you cross a dog with a phone?
Answer: A golden receiver!
Golden Retriever Puns, Dad Jokes, and One-Liners
You can work these witty one-liners and dad jokes into your everyday conversation. Better yet, tell them to your kids in front of their friends. We promise you'll be the "cool dad."
I bred some Rottweilers with some Golden Retrievers and ended up with a bunch of rotten retrievers.
My Golden Retriever is so smart — he just "gets" things.
My neighbor told me his Golden can bring a brick back from half a mile away, but that seems a little far-fetched to me.
I'm selling my Golden Retriever. I've had him for a year and he's yet to retrieve gold.
I picked up my Golden Retriever from doggy daycare today — I became the Golden Retriever.
I got mad at my Golden Retriever today. We went hunting, and he gave me the bird.
The Best Funny Golden Retriever Stories
If you prefer your jokes in story form, we've got just the thing for you! These little stories about Goldens show you just how clever they can be.
Dog for Hire
A dog walks into a bar and sits down. "Bartender," he says, "give me one beer and one shot."
"Holy cow!" Shouts the bartender. "A talking dog — you should be in the circus!"
"Why," replied the dog. "Are they looking for a plumber?"
Talking Dog
A man is sitting roadside with a Golden Retriever and a sign that says "Free Talking Dog."
A woman pulls up beside the pair and asks, "Can your dog really talk?"
The dog says, "I can answer that! Yes, I can talk! And I'm looking for a new home because first I lived as a monk in a Tibetan monastery. Then, I moved to the United States to become a seeing-eye dog for a blind child. Finally, I worked with the police force, sniffing out and disarming bombs! I'm just ready for a change."
The woman asks the man with the sign, "How can you possibly give this talking dog away?"
To which the man replies, "Because he's a liar! He's never done any of those things!"
Flying Dog
A woman calls the airline to see about flying her dog.
The airline tells her that she'll need to bring her own kennel. "The crate must be large enough for your dog to stand, sit, turn, and roll over," said the attendant.
"Oh," said the woman, disappointed. "I'll never be able to teach my dog all that by tomorrow."
Golden Retriever Memes to Save and Share
Does your social media cover pic need an update? We've got the best Golden Retriever memes for you to save and share with others! Check out these Golden images, jokes, and memes from around the web.
Get it? A high rate of return? This smart pup knows what's up — especially if you have a Golden Retriever like him!
From: Luverdog
Those sweet, pleading little eyes will get you every time! When your dog has convinced you to give him human food, just make sure it's safe for pups.
From: Augiedoggy
Did you know that National Golden Retriever Day is February 3rd of each year? Don't forget to bring out a few pup-sicles and have a paw-ty so your baby won't look as sad as this one!
From: Reddit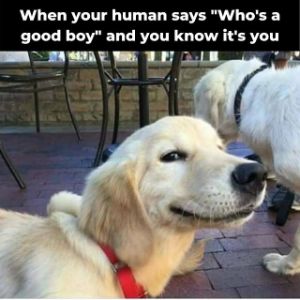 We've never met a Golden who wasn't a Very Good Boy or a Very Good Girl. This little buddy knows it's true — he's the bestest boy! Golden Retrievers are very smart and easily trained, so we know your companion is a Very Good Dog, too!
From: Luverdog
This little Golden Retriever isn't too excited about the cat. To be fair, though, he may be the exception. Goldens usually get along with other animals in the house, as long as they're being given the snuggles they feel they deserve.
From: IWasteSoMuchTime
Warning! Your Golden Retriever may crash unexpectedly after a particularly riveting case of the zoomies. Don't worry, though. He's easily repaired with a nap in the sun and a dog biscuit.
From: Memedroid
This one speaks for itself. This is a purebred, AKC-registered loaf. Or maybe he just got caught bread-handed in the pantry. Okay, maybe our bread puns are a little crumby. But this pup sure is cute!
From: Imgflip
Frequently Asked Questions
Who is the famous Golden Retriever on TikTok?
The famous Golden Retriever on TikTok is Teddy.
Who is the famous Golden Retriever on social media?
One of the most famous Golden Retrievers on social media is Tucker Budzyn, a Golden Retriever with millions of subscribers across YouTube and Instagram.
What is the mental age of a Golden Retriever?
It's believed that Golden Retrievers have the mental capabilities of a two-year-old child.
Conclusion for "Best Golden Retriever Jokes, Puns, and Memes"
We hope this little collection of Golden Retriever jokes gave you something to giggle about!
Feel free to share them on social media or save them to your devices — a Golden Retriever meme makes the paw-fect wallpaper.
If you enjoyed these Golden Retriever memes, you could also check out:
You might also like watching "Dog Memes That Make You Want A Dog Immediately 🥰 Cutest Puppies Compilation 🐶" down below: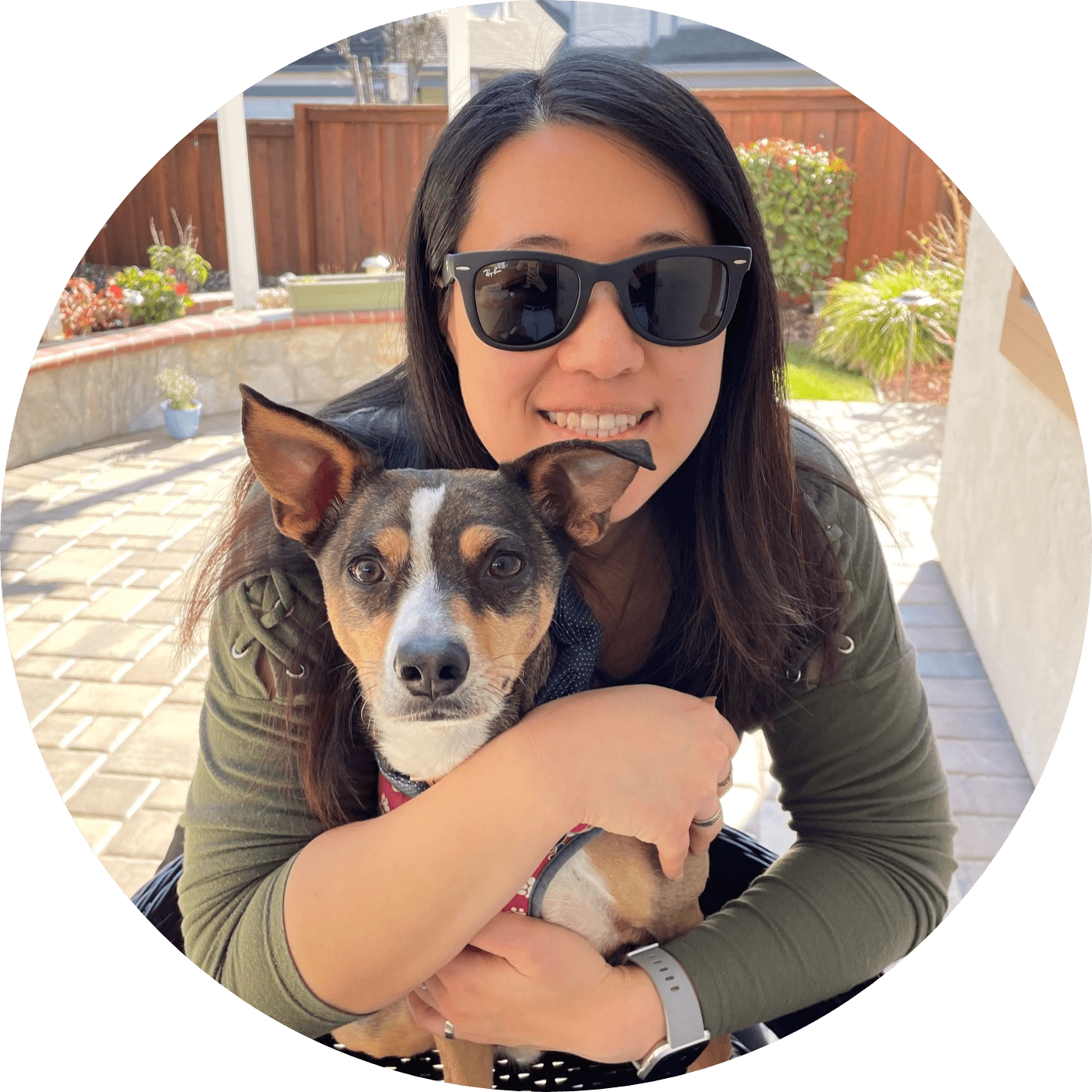 Dr. Sabrina Kong graduated from the Royal Veterinary College in England in 2016 and has been working at a small animal clinic in Northern California since then. She grew up in the Bay Area and got her bachelor's degree from Cal Poly San Luis Obispo. She also became a Certified Canine Rehabilitation Practitioner through a program at the University of Tennessee.
When she isn't in the clinic taking care of her four-legged patients, she enjoys traveling and trying new foods with her friends and her three-legged dog, Apollo. She adopted Apollo from her clinic when he was a puppy with numerous health issues. Dr. Kong truly cares about taking care of animals.