The most devastating thing you can experience as a pet owner is the death of your beloved dog. And when your dog begins to howl before he dies, it can be a difficult and confusing experience. But why did my dog howl before he died, you may be wondering?
While the exact cause of why your dog howled before his death is not known, it is believed that dogs howl to attract attention and communicate. It is speculated that if your dog was in pain, he might have been howling to express discomfort. He also may have been trying to tell you he was ready to pass.
In this article, we will discuss the common reasons why your dog may have howled before he died and what the final stages of life might look like for your furry friend.
Before you read a more in-depth answer of this guide, check out: Why Do Dogs Walk in Circles Before They Die? (And What Does It Mean?) (2023) and Why Does My Dog Growl at Nothing? (2023).
Do Dogs Howl at Death?
Many pet owners can attest to the fact that the bond between humans and animals is very strong. We are always deeply saddened when our beloved fur babies pass away, leaving us with plenty of questions in our minds. One such question is, "Do dogs howl at death?"
The answer is: it depends. Some dogs may howl at the moment of death, while others may not. Other dogs may howl shortly before they die as a way to say goodbye or express pain.
If you're wondering, "Why did my dog howl before he died," there are several theories to consider.
Some believe it is an evolutionary trait that helps alert other members of the pack or family to impending danger so they can take necessary measures for safety.
Others hypothesize that it could be an intuitive way for canines to express their pain and fear associated with the experience since they cannot communicate verbally like humans.
We'll dive deeper into the reasons why your dog may have howled before he died in a bit. But before that, it's important to note that howling isn't necessarily something all dogs will experience near death — its occurrence is different between each canine and can range from none at all or quite often.
Additionally, some experts suggest that howling could not only be caused by physical discomfort or mental stress but also by sensory changes in the environment, such as uncomfortable temperature levels or unusually loud noises, which can cause distress in animals just like humans.
Why Did My Dog Howl Before He Died – 5 Common Reasons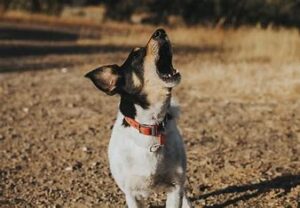 While not every dog will necessarily howl before death, there are some common reasons why it might occur:
1. To Communicate
As stated before, it is believed that dogs howl to communicate and express their needs. If your dog was in pain or distress, he might have been howling to let you know that he wasn't feeling well. He may have also been trying to tell you goodbye and that he was ready to pass away.
Due to the state of discomfort your dog was in, he may not have been able to vocalize it in any other way. So, the howling could have been a last-ditch effort to let you know he was not doing well and needed your comfort.
2. To Attract Attention
Dogs are social animals, and when they sense their demise looming nearby, they may be trying to make sure that they have their loved ones close by. Howling could be a last-ditch effort to make sure they are surrounded by the people and animals they care about in their final moments.
If your dog was delirious, he may have been particularly vocal and tried to attract as much attention as possible with his howling. Dogs may howl to attract their owners, as they know that you will be able to provide the comfort and support they need during this difficult time.
3. To Express Fear or Anxiety
Dogs will often howl when they are afraid or anxious, as it is their way of alerting others to their distress. It is also possible they are afraid of the death process itself and are trying to express fear.
If your dog was not in physical pain but was experiencing anxiety or fear, it may have manifested as a howl before his passing. Dogs can be incredibly intuitive, so it is likely that he sensed his own mortality and was trying to express it in the only way he knew how.
4. To Show Confusion
It is possible your dog was confused and disoriented in his final moments. If this was the case, he might have been howling out of bewilderment rather than fear or pain.
Your dog may not have understood why things were happening the way they were, so a howl could have been his way of expressing his confusion.
The concept of death is not as easy for a dog to understand as it is for humans, and if he was feeling confused or disoriented, he may have been expressing that confusion with a howl.
5. To Bid Farewell
Some people believe dogs may howl to say goodbye to their loved ones before they go. It is possible that your dog was trying to tell you he loved you and was bidding a final farewell before his passing.
Dogs are incredibly perceptive creatures, and it is possible that he knew exactly what was happening and why it was happening. Mature dogs, in particular, may have a strong grasp of the concept of death, so it is possible that your dog was saying goodbye with his howl.
Do Dogs Make Noises When They Are Dying?
As mentioned, dogs are incredibly intuitive and can sense impending death. In fact, many pet owners have reported that their four-legged friends will become increasingly vocal leading up to death.
Often, the noises they make will be whimpers, moans, or howls of distress. These noises are usually indicative of the pain and anxiety they are feeling in their last moments, so it is important to provide as much comfort and love as possible to ensure that your pet's passing is peaceful.
It is also important to remember that all dogs are different, and some may not make any noise at all when they are dying. It is possible that your dog may have been in too much discomfort to vocalize his distress or simply chose to remain silent as a sign of strength and courage.
Agonal breathing is also common in dogs as they pass away. Agonal breathing is when a dog's breathing pattern becomes shallow and labored, and it can be an indication that the end is near.
What Is a Dog's Death Howl?
A dog's death howl is a loud and prolonged cry that a dog may make just before their passing. This sound often resembles a song or a high-pitched wail, and it can be heard from some distance away.
Dogs' death howl has been described as one of the most heartbreaking sounds to come from any animal, and it often signifies that the end of their life is near. It is also believed that by howling, dogs are trying to tell their owners not to be afraid and to remain strong in their last moments together.
Some owners believe this behavior is a primitive instinct, one that has been passed down through generations of dogs. This theory suggests that the death howl is an ancient ritual that may have been used by ancestors to help ease the pain and grief associated with losing a beloved pet.
What Are the Final Stages of Death in a Dog?
It is important to understand that dogs go through physical, mental, and emotional changes before they pass away. They may experience fatigue or become disoriented, as well as begin to lose their appetite and thirst.
Here are some of the most common signs that indicate a dog is in their final stages of life:
Discomfort and Pain
Discomfort and pain are often the most evident signs that a dog is approaching the end of its life. As this process progresses, dogs may become less active and may struggle to walk or move around. They may also experience difficulty breathing, and their mobility further decreases as time goes on.
Loss of Appetite and Thirst
Dogs in the later stages of life will likely lose their appetite and thirst. They may stop eating and drinking, or they may begin to choose fewer types of food than before. Their interest in treats and toys can also significantly decrease as their health deteriorates.
Disorientation
Disorientation is another indication that a dog is in their final stages of life. They may wander off and become confused, even in familiar places. Dogs may also forget commands or tasks they're usually good at performing. In extreme cases, they can forget who their owners are or why they're there.
Frequently Asked Questions
Is it a bad omen when a dog howls?
There's a superstitious belief that a dog can "death howl," but there isn't definitive proof. It's safe to say that dogs howl to communicate, but what they are communicating is up for debate.
Why would a dog suddenly start howling?
Dogs can howl for various reasons, including to communicate and make themselves known.
Why were dogs howling last night?
Dogs howl at each other, unfamiliar or bothersome noises, and due to boredom or loneliness.
Conclusion for "Why Did My Dog Howl Before He Died"
So, why did my dog howl before he died? Ultimately, why your furry best friend chose to howl before he died remains unclear.
However, we know that it was likely an attempt by him to express something emotionally meaningful, whether physical pain, discomfort, fear, or even simply missing you before meeting his final fate.
With proper and immediate medical attention, you can make sure that your pup's last moments are as comfortable and painless as possible.
If you find this guide, "Why Did My Dog Howl Before He Died," helpful, check out:
Learn more by watching "When a Dog Howls Does it Mean Death?" down below:
Garrett loves animals and is a huge advocate for all Doodle dog breeds. He owns his own Goldendoodle named Kona. In addition, he volunteers at the Humane Society of Silicon Valley, where he fosters dogs and helps animals. Garrett enjoys writing about Doodles and believes that dogs can teach humans more about how to live than humans can teach a dog.
Why Trust We Love Doodles?
At We Love Doodles, we're a team of writers, veterinarians, and puppy trainers that love dogs. Our team of qualified experts researches and provides reliable information on a wide range of dog topics. Our reviews are based on customer feedback, hands-on testing, and in-depth analysis. We are fully transparent and honest to our community of dog owners and future owners.