If you're searching for Dachshund breeders in Oregon, then here's what you need to know. The Dachshund is a popular dog breed worldwide. The small sausage dog has a stature that places it as a top contender for the World's Cutest! While practically every dog breed is adorable as a puppy, Dachshunds keep their cuteness even as adults.
While Dachshund puppies are simply adorable, adult Dachshunds become longer versions of their puppy selves. The Dachshund breed is particularly loving and loyal to their family, so you're sure to have a short little snuggle-buddy for life.
Consequently, these charming dogs have become in high demand in one of the most pet-friendly states: Oregon. Oregon is certainly a welcoming spot for an additional furry member in the family, with pet-friendly hotels, activities, and restaurants.
Before scrolling down this list of Dachshund breeders in Oregon, you can check out these other recommendations from our team at We Love Doodles: Best Bernese Mountain Dog Breeders in Oregon and Best Chihuahua Breeders in Oregon.
Dachshund Puppies For Sale in Oregon
If you are searching for the best Dachshund breeders in Oregon, this guide is for you.
Dachshund Product Recommendations: Best Luxury Dog Bowls and Best Dog Football Toys.
1. PuppySpot's Dachshunds For Oregon
Since you're searching for Dachshund breeders in Oregon, we recommend checking out PuppySpot's website. PuppySpot is an online marketplace where you can search for available Dachshunds from the comfort of your home in Oregon.
All Dachshund breeders on PuppySpot must meet strict guidelines before listing any puppies, so you can rest assured knowing that your companion will be safely shipped to you in Oregon. As you progress on your journey for a Dachshund puppy for sale in Oregon, you can check out the link to the marketplace below.
PuppySpot Details
2. Big Bad Doxies
Big Bad Doxies makes a serious effort to offer you a happy, healthy, and socially well-adjusted fur baby. There are black and tan, black and cream, cream, red, chocolate, and chocolate & tan Dachshund puppies for sale in Oregon as well as the rare exotic types such as blue or wild boar.
Big Bad Doxies' Dachshund puppies are reared in the breeder's home from birth until delivery to you. Big Bad's Dachshund puppies for sale in Oregon will be ready to go at eight weeks, and each dog comes with a 1-year health guarantee.
Big Bad Doxies warns that anyone claiming to be an agent allowed to sell their puppies or who claims to have received puppies from them for resale are most likely fraudsters, so beware.
Big Bad Doxies Dachshund Details
3. Weenie Central
Weenie Central dedicates its services to matching their beautiful miniature AKC Dachshunds to the most fitting owners. Not to mention, Weenie Central's number one goal is to rear healthy, well-socialized puppies. The dream is to match Dachshund puppies for sale in Oregon with a family who would welcome the puppies with joy as soon as they entered the room and vice versa.
When you buy Dachshund puppies in Oregon from Weenie Central, you will get:
AKC paperwork
A vet check
The first round of immunizations
A harness
Toys
A couple of days' worth of food
The Dachshunds for Dummies book
A hairbrush
A puppy blanket
Weenie Central Dachshund Details
4. Longdox Miniature Dachshunds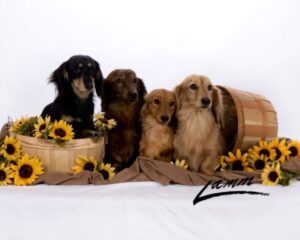 The Lee family rears Miniature Dachshunds solely in Salem, Oregon, and has them accessible throughout the year, providing AKC and CKC Dachshund puppies to families worldwide. The principal objective of Longdox is to "Better the Breed."
Ultimately, this objective is every reputable breeder's goal, and it is how they try to grow their Dachshund puppies for sale in Oregon. Accordingly, they provide some of the healthiest Northwest Dachshunds with a two-year health warranty.
By doing business with Longdox, you can ensure that all puppies will be vaccinated and dewormed. Also, all dogs are AKC certified; however, puppies are not unless specified. Longdox's doxies are family-socialized and come to you trained on puppy pads and crates.
Longdox Miniature Dachshunds Details
5. Hope Dachshunds
Hope Dachshunds has been breeding Miniature Dachshunds for over 40 years. To ensure that the puppies are well-adapted to family situations, they are born in the bedroom and then taken into the kitchen, handled by people, and exposed to various household noises, a process known as Household Desensitization.
Hope Dachshunds only breeds dogs periodically. At time of writing, puppies are available! However, you'll want to bookmark their homepage and check back frequently if no puppies are available when you're ready to adopt.
Hope Dachshunds Details
6. Royaldox Mini-Dachshunds
Last on the list of the best Dachshund breeders in Oregon is Royaldox Mini-Dachshunds. Located in Estacada, Oregon, Royaldox breeds AKC Mini-Dachshunds. Royaldox raises some of the best of the breed in terms of appearance, personality, and health.
They regard their faithful dogs as family members, allowing them to live inside their homes during the day and share their bedroom at night. Royaldox Dachshund puppies come with a health guarantee, first vaccinations, dewormings, and freebies like blankets and toys.
Royaldox Mini-Dachshunds Details
How to Choose a Dachshund Breeder in Oregon
Choosing a quality breeder is as crucial as selecting the most suitable dog to be your newest family member. In this regard, a knowledgeable, ethical, and respected breeder can make all the difference.
Good breeders select dams and sires that produce puppies with even better genes than the parent dogs! Years of research and experience are often involved in the breeding of quality puppies, so if you can find a breeder with this experience, all the better.
You, as a buyer, can "vet" your breeder by checking reviews, speaking with members of the community, and even visiting the breeder in person. Ask questions! A reputable breeder will take the time to ensure all your questions are answered, as they want to ensure the dog is joining an appropriate family.
Ask the breeder, too, about screening for hereditary disorders; this should be done prior to breeding two dogs. A good breeder will let you see the results of these tests.
Any puppy purchased from a reputable breeder should include a bill of sale or contract and health records. Often, you will receive all of the documentation described above, information booklets, and either a registration application or the paperwork necessary to complete your puppy's preregistration.
More Information About Dachshund Breeders in Oregon
Oregon is one of the most pet-friendly states, with a wide range of restaurants, motels, and parks where you and your furry best friend can have a good time. While there are numerous factors to consider when choosing a breeder, it's ultimately best to choose the one with whom you feel most at ease and who meets most, if not all, of the characteristics of a reputable breeder.
Related: Doxiepoo Guide.
Dachshund Costs From Oregon
If you're debating whether or not to get into the dog breeding business, you should never underestimate the responsibilities of even a small breeding kennel. You'll need to spend a lot upfront to get a good dame. Keep in mind how much time and money it takes to raise a litter of active, healthy puppies.
Puppies with pedigrees are often unable to be found for sale in the area. There will be a lot of advertising and time and money spent finding the right place. If operating costs are a concern, will you be forced to feed your animals grain-based diets deficient in essential nutrients?
What will you do if you suddenly have unplanned vet expenses? How much does it cost for insurance, advertising in the right publications, and miscellaneous costs related to the dog-breeding business? Have you thought about the zoning issues? No more than a handful of pets are allowed on the property in some municipalities.
A Dachshund breeding operation should not be considered a side hustle or a way to supplement your primary income. It takes a lot of time and effort to take care of your dogs. Even though you care deeply about the little guys, you still have to view them as business investments.
A business plan should include all of the costs you expect to incur in the first five years of your company's existence. How are these costs going to be covered? Assuming everything goes perfectly and there are no major medical expenses, you won't see any profit for at least four years, even if you do everything perfectly. A kennel business is not a fast track to riches.
Frequently Asked Questions
Still have questions about adopting a Dachshund into your family? Here are some answers!
Who are Dachshunds best for?
Doxies are excellent with children, and they're great with other dogs. Be sure you introduce your new puppy to your other family members gently and in a neutral space.
Furthermore, they're small dogs. Dachshunds don't need a ton of space to have room to play and exercise, so if you live in apartment, townhome, or other small space your Dachshund will be a good fit. Keep in mind, though, that these dogs can be vocal. Teach your pup his manners from an early age to avoid, frankly, annoying the neighbors.
Why do Dachshunds cost so much?
Dachshunds aren't far from being the perfect dogs! They're friendly, small, and oh-so-cute, and this means they're in very high demand. To keep up with this demand, a breeder will often raise prices to avoid miles-long waiting lists for dogs. You may also be required to place a deposit once you've expressed interest in purchasing a Doxie puppy.
What is the lifespan of a Dachshund?
Small dogs generally live longer than large dogs. The little Doxie will typically live to be between 12 and 15 years old.
Are Dachshunds smart?
Dachshunds have "average intelligence." That means that they're trainable, but if you're a first time dog owner you may need to hire a pro to help you train your pup. Beyond that, the Dachshund is extremely stubborn. The training process can try your patience, so if you find that you don't have the time or patience to commit, it may be best to choose another breed.
Conclusion For The "Best Dachshund Breeders in Oregon"
Getting a new puppy is similar to bringing home a new baby. You'll spend plenty of time and money raising your pup, but in doing so you'll create an unbreakable bond between yourself and your pet.
As such, you should always ensure that you start on the right foot by getting your new puppy from a reputable breeder. We hope that you can find the right Dachshund breeders in Oregon on this very list!
For more guides similar to this list of Dachshund breeders in Oregon, you can check out:
Before you bring home a Dachshund puppy from a breeder in Oregon, you can learn more about the dog breed by watching "Everything You Need to Know About Dachshunds or Wiener Dogs" down below: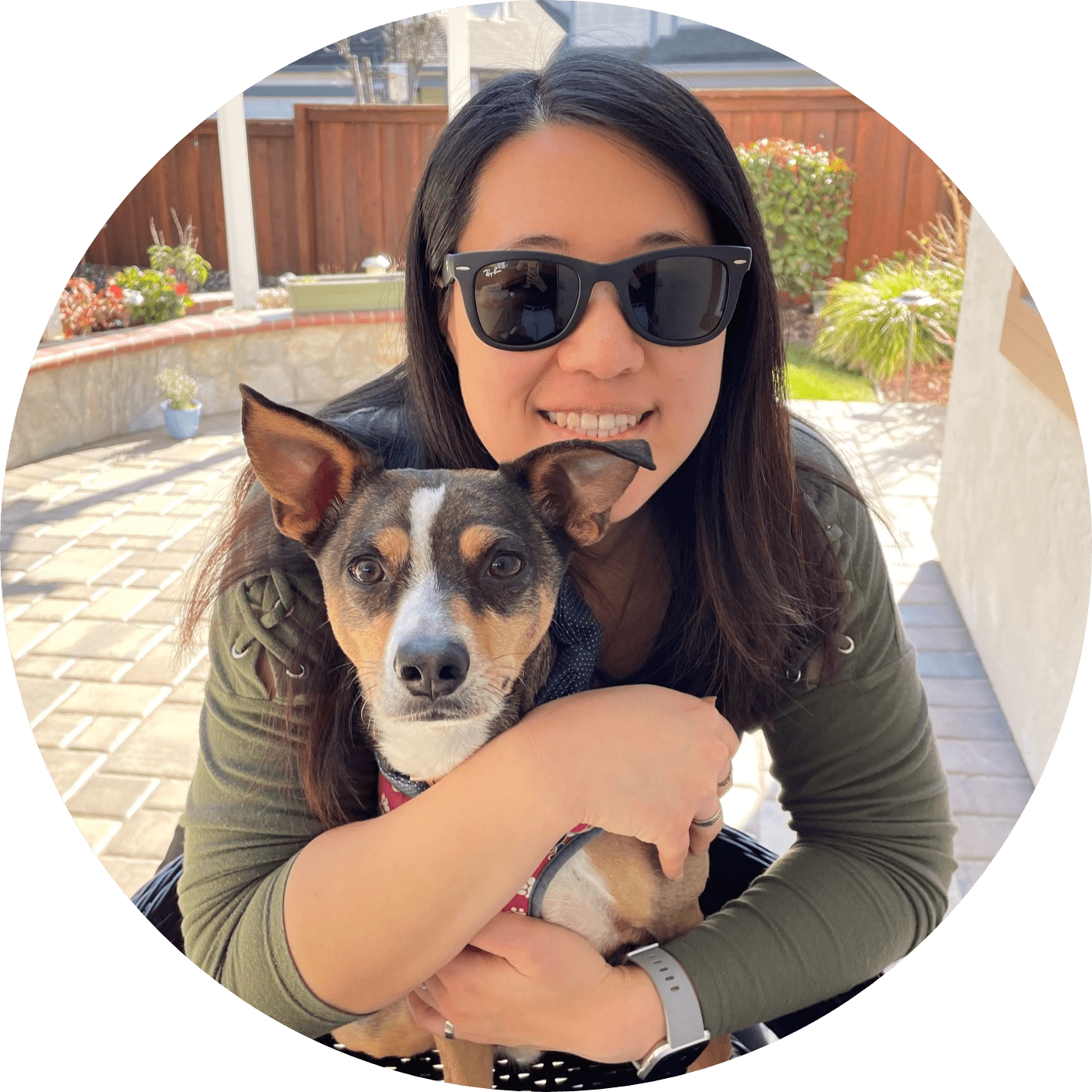 Dr. Sabrina Kong graduated from the Royal Veterinary College in England in 2016 and has been working at a small animal clinic in Northern California since then. She grew up in the Bay Area and got her bachelor's degree from Cal Poly San Luis Obispo. She also became a Certified Canine Rehabilitation Practitioner through a program at the University of Tennessee.
When she isn't in the clinic taking care of her four-legged patients, she enjoys traveling and trying new foods with her friends and her three-legged dog, Apollo. She adopted Apollo from her clinic when he was a puppy with numerous health issues. Dr. Kong truly cares about taking care of animals.