French Bulldog puppies in Florida are easily one of the most identifiable dog breeds. With their bat-like ears and smushed faces, you can't miss their cute faces. Along with their easygoing temperament and loving personality, this breed has skyrocketed in popularity. It's no surprise that you'll find several French Bulldog breeders in Florida.
However, not all breeders are created equal and there are several puppy mills and backyard breeders that you need to be aware of. This is one of the reasons why we created a list of reputable French Bulldog breeders in your area.
Other articles you may like: Best French Bulldog Rescues and Dachshund Breeders in Florida.
French Bulldog Puppies For Sale in Florida

To save you time from doing hours of research for French Bulldog breeders in Florida, we present to you with a list of our recommendations. We did our own independent research to find breeders who socialized their dogs and checked their health. Before you purchase a dog you should reach out to a breeder and ask them several questions. Ultimately, you want to find someone that you can trust to sell you a healthy French Bulldog puppy.
1. Premier Pups' French Bulldogs For Florida
Since you're searching for French Bulldog breeders in Florida, we highly recommend starting your search with Premier Pups. Premier Pups is highly recommended on our list. You can find many available dog breeds, like the French Bulldog, from reputable breeders nationwide. Many reviews mentioned the exceptional customer care that Premier Pups provides.
If you want a companion, you can browse through a wide selection of available puppies and connect with a reputable and trusted dog breeder. There's a reason why Premier Pups' Google business account has over 2,000 positive reviews. Most current dog owners who got their puppies on Premier Pups had an enjoyable experience, and you will too.
Premier Pups' Details
2. Tato's Frenchies Florida
First on the list of French Bulldog breeders in Florida is Tato's Frenchies. Tato's Frenchies is a breeder on a mission to bring you the healthiest, most good-looking, and most exquisite French Bulldog pedigrees. The breeder imports exclusive pedigrees from places such as China, Ukraine, Russia, Brazil, and Europe. They are also conveniently located in West Palm Beach, Florida.
The breeder treats their Frenchies like their children and nurtures the best personalities in them. This breeder's Frenchies are AKC-registered and fully screened for health and possible ailments. We like that they also provide 24 hours service for the lifetime of your puppy in case any questions arise when you take them home. They are very knowledgeable about this particular dog breed and can help answer any questions you may have.
Tato's Frenchies Details
3. Poetic French Bulldogs
The breeder believes that when properly bred, the French Bulldog can be an ideal companion and house pet because of their charming personalities and mellow temperaments. The Frenchie breeder has impeccable breeding standards. Their puppies are as healthy as they are beautiful. Additionally, these puppies are available in different colors, such as lilac, blue, chocolate, and merle.
The French Bulldog breeder makes sure to choose only the healthiest adult pedigrees for their breeding and are very proud of the results they get from each puppy. Poetic French Bulldogs can't wait to bless your home with one of their lively puppies. This breeder guarantees you the best of service on your buyer's journey.
Poetic French Bulldogs Details
4. Jem French Bulldogs Florida
This breeder from Southern Florida has a very personal approach toward breeding and making sure both the dogs and their new owners are more than excited about their new lives together. The adult Frenchies puppies in Miami, Florida, are not only very healthy but also have the best temperaments. The result is French Bulldog puppies with wonderful personalities. All puppies are raised in a loving and affectionate environment and given the appropriate level of socialization and training.
The breeder makes sure to provide a balanced diet as well as the recommended dose of exercise to keep them healthy and active. The breeder is especially protective of their dogs and hopes that the puppies' new homes give them the same love, respect, and attention.
Jem French Bulldogs Details
5. Championsgate Frenchies
Championsgate Frenchies is a small, home-based business that only breeds French bulldogs. The Frenchie breed is a personal passion project for this breeder. Emphasizing quality over quantity, the breeder prides itself on breeding only the healthiest, brightest, most well-socialized dogs for their clients.
All their French Bulldog puppies in Florida from this breeder are AKC registered. The reason Championsgate is on our list of French Bulldog breeders in Florida is that they put in lots of care for their puppies. The breeder only chooses the healthiest adult dogs with mellow temperaments for the breeding program.
Championsgate Frenchies Details
6. Oceanside Frenchies
Last on the list of French Bulldog breeders in Florida is Oceanside Frenchies. This family of breeders works hard to ensure that they only produce the best, healthy, high-quality dogs, with agreeable temperaments while following proper breeding protocols.
The breeder insists that they are not a kennel, and treats their dogs like members of the family, uncaged and free to be curious. They only sell to loving pet homes that will continue to treat the puppies with the love and care that they are raised with.
Oceanside Frenchies Details
More Information About French Bulldog Puppies in Florida
The French Bulldog, created in England in the 19th century by the Nottingham lacemakers, was meant to be a toy-sized version of the regular bulldog.
When the lace workers got displaced because of the Industrial Revolution and emigrated to France, they bought their small bulldogs with them. Some of the French Bulldogs made their way to Paris, where tourists from the United States discovered the breed. The tourists began bringing the charming goofball to the United States and nicknamed it "Frenchie" — an affectionate moniker still used to this day.
To this day, the French Bulldog is primarily bred for domestic companionship. Puppies have a lifespan of about 11-13 years and various colors, including brindle, fawn, cream, and white. Its standard weight is a maximum of 28 pounds. According to the standards of the American Kennel Club (AKC), this dog's coat must be soft and loose, fine, and silky which forms wrinkles.
Other AKC specifications state that the dog must be square-headed, and large with bat-like ears and dark-colored eyes. French Bulldogs are very clingy dogs. They experience separation anxiety when left alone by their owners for a few hours. They are referred to as the "clowns of the dog world" because of their playful and entertaining nature. These dogs are patient and affectionate, with little to no trace of aggressive behavior. French Bulldogs are also very agreeable and human-oriented including new strangers and children. Additionally, they rarely even bark which makes them almost impossible to use as guard dogs.
French Bulldogs also socialize well with other pets. They carry their playful nature into their training sessions, making them easy to train despite a mild stubbornness. Frenchies are difficult to place in competitions involving obedience, agility, or other such challenges. However, they are both humorous and mischievous in nature which requires a lot of firmness, patience, and understanding from their owners. They thrive in human contact and affection but give back even more.
These dogs are very protective of their human families and can rise to the occasion as watchdogs if properly trained. Yes, they hardly bark, but they would alert their owners if they sense any danger.
French Bulldog Breed Guide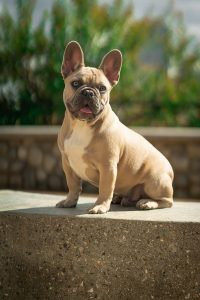 Still unsure if the French Bulldog is the best canine companion for you and your family? The following may help give you some more insights into this adorable dog type.
Health
French Bulldog puppies in Florida are prone to several diseases and ailments. Experts say that their susceptibility to these health concerns is a result of their selective breeding process. Common ailments in French Bulldogs include:
Ear infections
Eye problems (conjunctivitis, corneal ulcers, cherry eye)
Skin problems
Chronic allergies
Obesity
Severe respiratory diseases (for those with Brachycephalic syndrome)
Intervertebral disk disease
It is recommended that the French Bulldogs be certified by the Canine Eye Registry Foundation (CERF) and the Orthopedic Foundation For Animals (OFA) to make sure that the dogs are free of ailments common to the breed.
Regular health checks, vaccinations, and screenings also serve in making sure that French Bulldogs live as long as they should.
Maintenance and Grooming
Despite being very playful, French Bulldogs have a low-energy level and can be lazy. Regular exercise is important to keep them healthy and avoid obesity. Be careful, however, as they are also prone to heat exhaustion, so work them out in cool temperatures. When trying to train Frenchies, you must understand that their freethinking nature allows for a lot of stubbornness. The key is to make training look like games, which are something they love to do.
Crate training is also very important at the puppy stage if you don't want them going rogue on household items and furniture when they get older. Feeding recommendations include a daily amount of high-quality dry food of 1 to 1.5 cups a day. Keep in mind that this is only a recommendation and not set in stone. Be careful also in the dog food you give them.
The Frenchies digestive system, in general, isn't strong. They are also prone to food allergies. The ideal nutrients recommended for French Bulldogs include protein (18%), fat (5%), carbohydrates, vitamins, and minerals. For grooming, French Bulldogs require an occasional hair brushing. These dogs are average shedders.
On the other hand, ears should be cleaned regularly with a damp cloth and nails trimmed down to avoid tearing. Baths can be done monthly with a good quality shampoo and proper drying of the skin in between folds.
Temperament
They are extremely playful and fun-loving. Charming, dedicated, and affectionate, Frenchies should undergo early socialization to bring out the best social skills in them. They are particularly clingy to their owners and do not enjoy being left alone for long periods. They thrive on physical contact, the best thing you can do is reciprocate all of the affection they shower on you.
They make the best buddies and companions. Because French Bulldogs hardly bark, they are great with apartment-style living. Frenchies are agreeable dogs most of the time. However, they could tend to be obstinate, especially if their pet owner has yet not learned the best reward systems to use for their training or get the most out of these dogs. French Bulldogs, while they do not have the aggression or fierceness it takes to be security or guard dogs, can get quite protective and possessive of their human families. 
Conclusion For The Best French Bulldog Breeders in Florida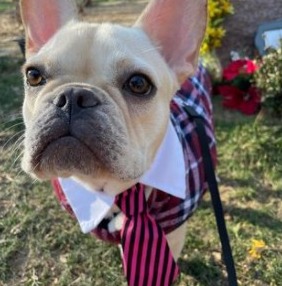 Hopefully, this guide on the best French Bulldog breeders in Florida will help you find your desired companion. If you're planning to purchase from unknown French Bulldog breeders, please do your research before making any decisions. There are numerous puppy mills throughout the state and it's better to catch these red flags to prevent their unethical behaviors. If you already know what you're looking for, then congratulations to you and your new companion. It's time to flip the page to a new chapter.
If traveling to these French Bulldog breeders in Florida is too far for you, we have recommendations from other states that you could visit:
For more information on raising the French Bulldog breed, watch "Before You Own a French Bulldog" down below:
Garrett loves animals and is a huge advocate for all Doodle dog breeds. He owns his own Goldendoodle named Kona. In addition, he volunteers at the Humane Society of Silicon Valley, where he fosters dogs and helps animals. Garrett enjoys writing about Doodles and believes that dogs can teach humans more about how to live than humans can teach a dog.
Why Trust We Love Doodles?
At We Love Doodles, we're a team of writers, veterinarians, and puppy trainers that love dogs. Our team of qualified experts researches and provides reliable information on a wide range of dog topics. Our reviews are based on customer feedback, hands-on testing, and in-depth analysis. We are fully transparent and honest to our community of dog owners and future owners.