If you're searching for the best Bullmastiff breeders in the United States, then this guide will provide you a trustworthy list. Bullmastiffs are significant and perhaps intimidating. Those who don't know this gentle giant dog breed, the Bullmastiff breed, was born by crossing the English Mastiff with the Old English Bulldog, a breed that is now extinct but lives on through the Bullmastiff.
While they're considered working dogs, Bullmastiffs were originally bred to prevent poachers on game farms, but they don't aggressively bark or bite. Instead, they tracked down trespassers and pinned them until someone could arrive to help. While this instinct has survived, and Bullmastiffs can be intimidating to intruders because of their loyalty to their families, you might want to get a security system, too. Bullmastiffs are docile despite their power and protective nature, and they are reserved, loving, and calm.
They will protect their families is they must, but if no one else starts anything, there is likely not to be anything from this loyal, devoted breed. As for intruders, it would be best if they tiptoed away quietly, or risk become a cushion for a dog that can weight as much as 130 muscled pounds.
Before scrolling down this list of Bullmastiff breeders, check out our other recommendations: Best Bernese Mountain Dog Breeders in the United States and Best Beauceron Breeders in the United States.
Bullmastiff Puppies For Sale in the United States
Many breeders throughout the United States provide Bullmastiff puppies, but our team at WeLoveDoodles found some of the best across the country to help you find your perfect puppy companion.
Get started in advance with our dog product recommendations: Best Outdoor Dog Bed and Best Dog House For Hot Weather.
1. StoneBull Bullmastiffs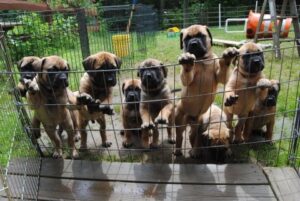 First on the list of Bullmastiff breeders in the United States is "StoneBull Bullmastiffs." Steve Krulish and Jackie Smith began raising bullmastiffs in 1989, simply for the love of the dog and the breed. "We acquired a puppy and began a wonderful long-term mentor relationship with the breeder. We soon discovered that doing dog-related activities together as a family was a lot of fun, so a second Bullmastiff soon followed and StoneBull Bullmastiffs was launched," Krulish said in an interview with the American Kennel Club.
Their goal then shifted to breeding raising healthy puppies that are a good reflection of the breed itself. The small hobby kennel tests their puppies at seven weeks using Wendy Volhard's Puppy Personality Profile, which then allows Steve and Jackie to match their puppies with the perfect forever family, based on temperament and other features. Prior to that, however, the dogs at StoneBull Bullmastiffs get excellent training, including agility, obedience, and some tracking. To think it started with just one dog that stole their hearts enough that they felt compelled to find her a mate.
Stonebull Bullmastiffs Details
2. TruGrit Bullmastiffs
Al and Diane Batchelor have owned their TruGrit Bullmastiffs breeding facility for numerous years, and have taken inspiration from other respected breeders to earn their own solid reputation. Over their 46 years of experience, their best dog thus far has been Rudy, who remains the only Bullmastiff to produce threeEukanuba Best of Breed winners, thanks to his classic head and bone structure, movement and temperament.
It was his childhood that inspired Al Batchelor. Al's first dog Mac, was named the reserve winnersdog at the 1979 Westminister KC DogShow at Madison Square Garden, and he and his wife have been developing winners ever since. Their website is peppered with pictures of champion dogs, and those photos only emphasize the experience this couple has with Bullmastiffs. Over more than four decades, this couple must know everything there is to know about the Bullmastiff. That makes them a great choice when looking for a Bullmastiff puppy of your own.
TruGrit Bullmastiffs Details
3. Lonely Creek Bullmastiffs
Lonely Creek Bullmastiffs and owners Sonya Worley and her husband, Tim. Lonely Creek Bullmastiffs will make sure that your puppy is safe and secure after it leaves, and their puppies are microchipped in case they ever slip away. Given the strength of a Bullmastiff, this could be a most important part of these breeders' preparation for puppy adoption. They require a fenced-in yard, proper socializing, usually at the puppy phase. They send puppies to their forever families with puppy packs included's a blanket that smells like mom, so they don't have as much anxiety about being away from her and their littermates.
While they recommend a raw food diet, if you prefer dry dog food, the healthiest food they can find is Life's Abundance, which has never been recalled or linked to any deaths. Dogs from Lonely Creek can be shown, but the AKC paperwork still includes Sonya Worley's name to protect dogs from ending up in an unsatisfactory place. If for some reason your family cannot keep your Bullmastiff puppy, Lonely Creek will welcome them back.
Remember that reputable breeders would never allow their puppies to end up at a pet shop for purchase. It's vital if you're going to spend large amounts of money on a dog to use a breeder who will be there for you and your dog for years to come. She is a breeder that does health testing on parents and temperament tests each puppy to be able to match puppies to their best potential forever homes. They ask that you fill out their puppy application to begin this process.
Lonely Creek Bullmastiffs Details
4. Boulder Ridge Kennels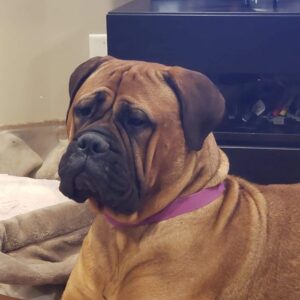 Amy Herbert, the owner of Boulder Ridge Kennels in Maine, has been training dogs since she was a child, and is considered one of the most knowledgeable breeders around. She raises Bullmastiffs and Golden Retrievers, and makes each dog a part of her family. She never stops researching the best diets, vaccine regimens, and training to make sure that her dogs are being raised to be the healthiest and happiest dogs possible.
She also researchers the traits of her own dogs to determine which dogs will produce the best puppies with the best temperament and longevity when they mate. She researches potential adopters so that the right dog is matched with the right family, such as a lazier dog finding a home with an older couple or a more exuberant dog finding a family that might be interested in shows.
A few short walks a day are generally enough exercise. If it's steaming outside, your Bullmastiff may go to the door, feel how beastly it is when the heat blows in, and turn around and jump back on the couch. Their thick coat makes them more comfortable in the winter. Amy holds many certificates for excellent training, and is a member in good standing with the American Bullmastiff Association, the Maine Golden Retriever Club, the Golden Retriever Club of America, the Natural Rearing Association, and the ​American Kennel Club.
Boulder Ridge Kennels Details
5. Kampbell Kennels Bullmastiffs
Last on the list of Bullmastiff breeders in the United States is "Kampbell Kennels Bullmastiffs." Located just minutes from the Great Smoky Mountains National Park, the Bullmastiffs that are raised at Kampbell Kennels Bullmastiffs are surrounded by some of the most beautiful landscapes in the south. That only accentuates their best qualities, somehow. Bullmastiffs are massive dogs with lots of strength – in many ways like the mountains that they live near, but need to be trained accordingly for safe, comfortable walks. Their coats are easy to care for and they are calm and quiet, making them an ideal indoor dog (most dogs do best as an indoor dog, so they can be a member of the family).
They can be a quiet yet unnerving watchdog likely to scare off intruders. They are mild-mannered with strangers, so welcome visitors don't have to worry. Kampbell Kennels have been breeding Bullmastiffs since 2008, and raise their dogs like family. Visitors are always welcome, unless a new litter of puppies is too young with an undeveloped immune system or a pregnant mom is on site.
They send dogs to their new homes with puppy packs that include a two-door, extra-large crate, a 40-pound bag of high-quality puppy food, a Lupine collar, a six-foot Lupine lead made of strong materials so they can handle your Bullmastiff as he or she grows, a Kong Toy of you choosing, a Kong teether (Kong toys are strong and are usually designed to keep dogs busy when they are home alone), dog bowls, and more.
Kampbell Kennels Bullmastiff Details
Conclusion For The "Best Mastiff Breeders in the United States"
The first Bullmastiffs were brought to the United States by oil baron John D. Rockefeller, but they eventually became a celebrity favorite for their gentle, loving dispositions. Sylvester Stallone's Bullmastiff Butkus appeared in the movie "Rocky." Other celebs who have owned a Bullmastiff include Marlon Brando, Christina Aguilera, and Jon Bon Jovi. Bob Dylan had one, too, and apparently, Dylan's dog found neighbor Katharine Hepburn's garden appealing as a restroom. Hepburn was a dog lover, she and Dylan's neighborly relationship survived.
For more articles with dog breeds similar to the Bullmastiff, check out:
To learn more about the Bullmastiff, watch "All About Living With The Bullmastiff" from Dogumentary TV down below: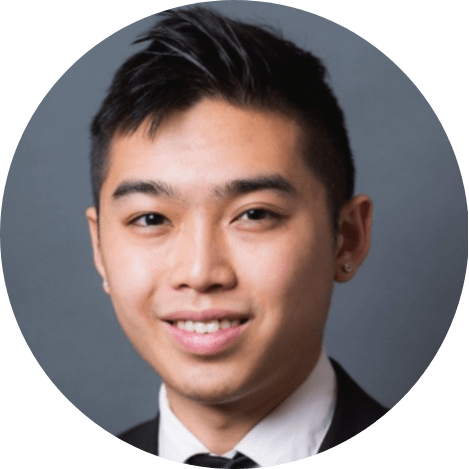 Andy is a full-time animal rescuer and owner of a toy doodle. When he's not saving dogs, Andy is one of our core writers and editors. He has been writing about dogs for over a decade. Andy joined our team because he believes that words are powerful tools that can change a dog's life for the better.
Why Trust We Love Doodles?
At We Love Doodles, we're a team of writers, veterinarians, and puppy trainers that love dogs. Our team of qualified experts researches and provides reliable information on a wide range of dog topics. Our reviews are based on customer feedback, hands-on testing, and in-depth analysis. We are fully transparent and honest to our community of dog owners and future owners.