Normal pain-free mobility is essential for your dog to enjoy long walks and plenty of outdoor fun. But what if your large dog is suffering from hip dysplasia or has just had surgery and is unable to move around freely? 
In this review, we'll discuss how dog strollers for large breeds can help your dog with mental stimulation and help him get plenty of outdoor time while you exercise. Life with your puppy can be much easier if you get a large breed stroller to get from point A to B. 
If you're unsure as to which large dog strollers are best for your pooch, we're here to help you. We've explored the market for the best dog strollers for large dogs. We've examined specs, prices, comfort, and, most importantly, reviews to help you make the best choice for your furry best friend. If you're in a rush, scroll through and pick one of our top picks.
In a rush? Here are the top picks!
Product
Best Overall
HPZ Pet Rover Stroller
Runner-up
Pet Gear Large Dog Stroller
Budget Pick
PawHut Dog Stroller
Ibiyaya Large Dog Stroller
Image
What to Consider Before Buying a Large Dog Stroller?
When we think about dog strollers, we typically think about smaller dog breeds. However, large dogs with joint issues or recovering from surgery or illness do well with a large dog stroller until they return to the daily routine of walking with you. That said, here are some buying tips when it comes to large dog strollers.
Suspension system
Suspension is key to having an excellent pet stroller for large dogs because if you're planning a brisk walk or jog alongside your puppy, you'll need the best suspension system for an easygoing ride. Additionally, if your dog is in pain then rough terrain with no suspension may cause discomfort to your dog.
Tires
With big dog strollers, there are a variety of tires. It's best if you opted for the best tires that are well matched for the terrain you'll be on. You can find plastic tires, air-filled tires, and EVA foam tires in dog strollers. We generally like to recommend larger-sized tires on a dog stroller because they tend to hold more weight.
Terrain
Always consider the terrain your dog stroller will be on before making a purchase. Your puppy needs to be comfortable inside the stroller, and the ride needs to be pleasant.
Weight Limit
If you have a large dog, you'll need to make sure that the size and weight of your puppy does not exceed the manufacturer's recommendations. Read the instructions and look for the stated weight limit for each given brand.
Folded Size
It's essential to consider your living space, especially if you're living in an apartment or small home. Think about whether you'll need to fit your dog stroller into a tight space. If so, you should only consider models that fold up easily to save space. Keep in mind that numerous dog stroller brands do not fold up.
Cabin Size
If you have a large dog, you should first measure your pup to check whether he fits into the main compartment comfortably. Your furry best friend needs to feel comfortable during long walks.
The 6 Best Dog Strollers for Large Dogs Reviewed
Below is a list of the best dog strollers for large dogs.
Pet Gear Ni-Zip Dog Stroller for large dogs features a no-zip and push-button entry stroller. This allows you to lock and unlock doors without fumbling with zippers. It has dual access, where your furry best friend can be loaded from either the front or the rear entry. 
With this large dog stroller, your dog does not have to turn around to exit the stroller. This is beneficial for large senior dogs or injured pets. We like the Pet Gear No-Zip Stroller because it has dual entry and can be used for multiple smaller pets. The no-zip access makes this large dog stroller easy to use. Pet Gear has been around since 1936 and is committed to outstanding customer service.
Features
Pet ear features many sizes and colorways for the fussiest pet parent

Push-button zipperless entry

High-quality materials

Suitable for small pets or one large breed

Tire type Air Ride with 12 by 12-inch front & back tires

It folds flat in seconds

Measures: 28-inch L x 12.5-inch W x 22.5 inch

Features cup holder and storage basket 
The PawHut dog stroller for medium and large dog breeds is a reliable pet stroller with a spacious interior and five windows. The stroller back windows are crafted with waterproof mesh to prevent bugs from getting inside. The mesh allows for optimal airflow and ventilation while on a dog walk with Fido. 
What we like about this stroller for big dogs because it features a sunroof so that your pup can pop his head and shoulders out to get some fresh air and get in on the outdoor activity. While supporting up to 120 lbs., it easily carries multiple small breeds or a large dog breed. Here's the take with PawHut:
Features
Foldable with lightweight design

Priced well

2-level adjustable handle height

Heavy-duty steel frame

Storage pockets & safety rope

Roll-up mesh door
The HPZ Pet Rover Titan-HD dog stroller for large dogs is our top pick because it's almost like a super-sized pet SUV. The frame material is, and there's a lifetime warranty! HPZ also offers three-year wheel protection. The HPZ features a retractable front ramp and a height-adjustable handlebar for optimal comfort. Best of all, it comes with four all-terrain rubber wheels that are heavy duty and automotive grade. 
Features
4 x all-terrain rubber wheels

Swivel locks and front-wheel suspension

Super spacious pet compartment

Four interior tethers and front/rear entries

Three organizer pockets, cup holder, and large under-basket 

Priced well
The Sepnine large pet dog bike trailer features seven colorway options and has large 20″ back wheels making this the perfect big dog stroller for hikes, camping, short grass, and sidewalk fun.
The Sepnine features an extra steel structure for Fido and carries up to 88 lbs. of dog weight. We like this brand because it has an anti-slip floor with a pegboard and features reflectors and a safety flag for optimal safety during dusk and dawn hikes. Here's the take with Sepnine big dog outdoor stroller.
Features
Numerous pet strollers for all breeds

The maximum load capacity of 88 lbs.

Easy conversion from pet stroller to pet trailer

Weather-resistant cover

20-inch rear wheels for all types of terrain

Lightweight & comfortable
The Ibiyaya heavy-duty large dog stroller features a simple color scheme and design and is a compact and functional, heavy-duty large dog stroller. This stroller is crafted with a robust aluminum frame structure and can easily carry dogs up to 110 lbs. 
We like this stroller because it only weighs 33 lbs. and has large air-filled rear tires for all-terrain. The Hercules pet stroller for large dog breeds allows you to travel comfortably and smoothly on concrete paving, asphalt road, gravel, and sandy or dirt terrain. 
Features
It can be used for one large breed or multiple medium-sized breeds.

Compact design

Quick-release air-filled wheels

Measurements: 23.5" x 31″ x 27″

Ergonomic design

Can carry weight up to 110 lbs.

Quick-release swivel wheel

Height adjustable handlebar (3 handlebar height settings)
The Schwinn Rascal Bike Pet Carrier for medium and large dogs features two colorways: orange and green. This XL dog stroller not only is priced right but has over 2,400 positive ratings. It features a weather shield and bug screen as well as quick-release wheels. We like this dog stroller for big dogs because it features a rear doggy door and sunroof opening. It also can hold up to 100 lbs. Here's the take with this extra-large dog stroller.
Features
Easy entrance and exit 

Compact storage

Removable, non-slip lining

20″ air filled tires

Weather shield and bug screen

Measurements: 34 x 28 x 19.5 inches
Why do people buy dog strollers for large dogs?
Hip Dysplasia
Hip dysplasia is usually seen in large dog breeds like German Shepherds, Mastiffs, Newfoundlands, Golden Retrievers, Rottweilers, and Labrador Retrievers. It is the abnormal development of the hip joint in large dogs and is characterized by a loose joint and then osteoarthritis. Hip dysplasia can come about from excessive growth, exercise, nutrition, and hereditary factors. This is the number one reason why people buy pet stroller for their large dogs.
Signs of Hip Dysplasia
Your senior dog may show signs of slowing down, with lameness being mild, moderate, or severe. The symptoms associated with hip dysplasia may also become worse after exercise. Your pup may do a bunny-hop or wince in pain when they walk.
With hip dysplasia, there may be joint stiffness, less range of motion, a loose joint, and a grating sound with a full extension and bending of the joint during a veterinary examination. Your vet will use x-rays to determine the course of treatment. Surgery may be beneficial if recommended by your vet and if performed correctly. Nonetheless, dogs that do not undergo surgery may have to undergo significant lifestyle changes to be comfortable.
Regular Exercise
This helps to keep pets healthy, including your dog's bones and joints. That said, if your dog cannot exercise because of mobility issues, you should not deprive him of mental stimulation. Dogs with light arthritic pain can still benefit from daily exercise and regular movement. Your pup will need to take part in a low-impact exercise like swimming and walking on soft surfaces. Warm pool water swimming with particular ball and step exercises will help your dog's condition, as well as the use of underwater treadmills.
Environmental Support
Don't forget about accessories you can provide in and around your home and garden to support your dog or cat with arthritic or health and joint health issues. Items for dogs with common joint problems may include the following:
Dog strollers

Steps or ramps to aid your senior dog get onto furniture or in and out of cars

Orthopedic foam beds for optimal support while resting

Nutritional support with supplements and herbal pet meds

Chiropractic care

Acupuncture

Massage therapy

Laser therapy

Prolotherapy

Stem cell therapy
Conclusion for Best Dog Strollers for Large Dogs
Not all dog strollers are alike, but to make the right choice for your pup, you'll need to consider where you walk, the size of your pup, and your weather conditions. You should also look at door placements because dogs with disabilities may have difficulty getting in and out of the large dog stroller. 
Dogs that are recouping from surgery, as well as dogs with joint issues, may have a hard time turning around in an XL stroller, so it's always a good idea to opt for front and rear doors. If you're planning on plenty of outdoor adventures on rough terrain, you should opt for inflatable rubber tires for a smooth ride.
If all you're doing is pavement walking, then smaller plastic tires work well. Optimal airflow is key to pet safety in all dog strollers and for your pup to sniff in all the different scents and look at the surroundings. 
Lastly, extra features are a plus, so storage baskets, cup holders, removable floor lining, adjustable handlebars, and pockets will make life much easier. Your extra-large dog stroller should be easy to push, stop, and should steer in any direction without hassles. 
Some pet strollers may be heavy, so always consider weight and think about how easy it will be to push with your dog's weight added in. That said, whatever large-sized dog stroller you choose, the size and stroller features have to work for you and your pup to have a comfortable and enjoyable outdoor experience together.
Other articles you would like:
Frequently Asked Questions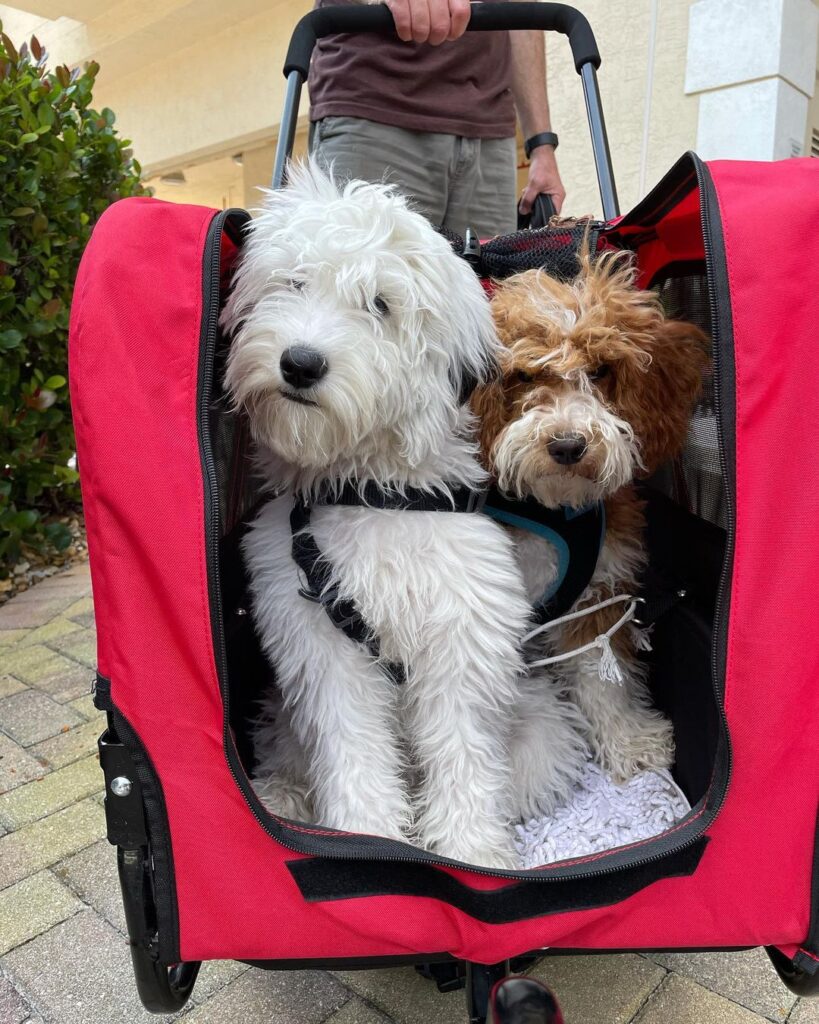 Why use a pet stroller for giant breeds?
Pet strollers can be used for all dog breeds small, medium-sized, and large dogs. Pet strollers are beneficial in reducing stress on your pet's body if they're having problems walking, either due to post-surgery recovery, arthritis, or joint pain. They are similar to a crate on wheels, and you get to take your pup out with you. Dog strollers aid in providing mental stimulation, and you also get to take your furry best friend with you while you exercise.
Are there benefits in purchasing a no-zip stroller?
No-zip strollers save time and hassle. You won't ever have a zipper glitch. No-zip features allow for an easy and fast locking hatch instead of zipper use. It allows you immediate access to your furry best friend without using a zipper or facing a common zipper glitch.
How do I choose the best big dog stroller?
You should always review the comparison chart on review guides when choosing the best big dog stroller for your dog. You can also use a towel for measuring purposes and fold it to the exact interior dimensions of the stroller. This means the same length and width as the large breed dog stroller. After that, you should also measure your pet's height when he's sitting to ensure that the stroller you choose is the correct height. It should be more than 4 inches of your dog's original size.
Still not convinced? Check out a video of a dog stroller for large dogs in action!
Garrett loves animals and is a huge advocate for all Doodle dog breeds. He owns his own Goldendoodle named Kona. In addition, he volunteers at the Humane Society of Silicon Valley, where he fosters dogs and helps animals. Garrett enjoys writing about Doodles and believes that dogs can teach humans more about how to live than humans can teach a dog.
Why Trust We Love Doodles?
At We Love Doodles, we're a team of writers, veterinarians, and puppy trainers that love dogs. Our team of qualified experts researches and provides reliable information on a wide range of dog topics. Our reviews are based on customer feedback, hands-on testing, and in-depth analysis. We are fully transparent and honest to our community of dog owners and future owners.