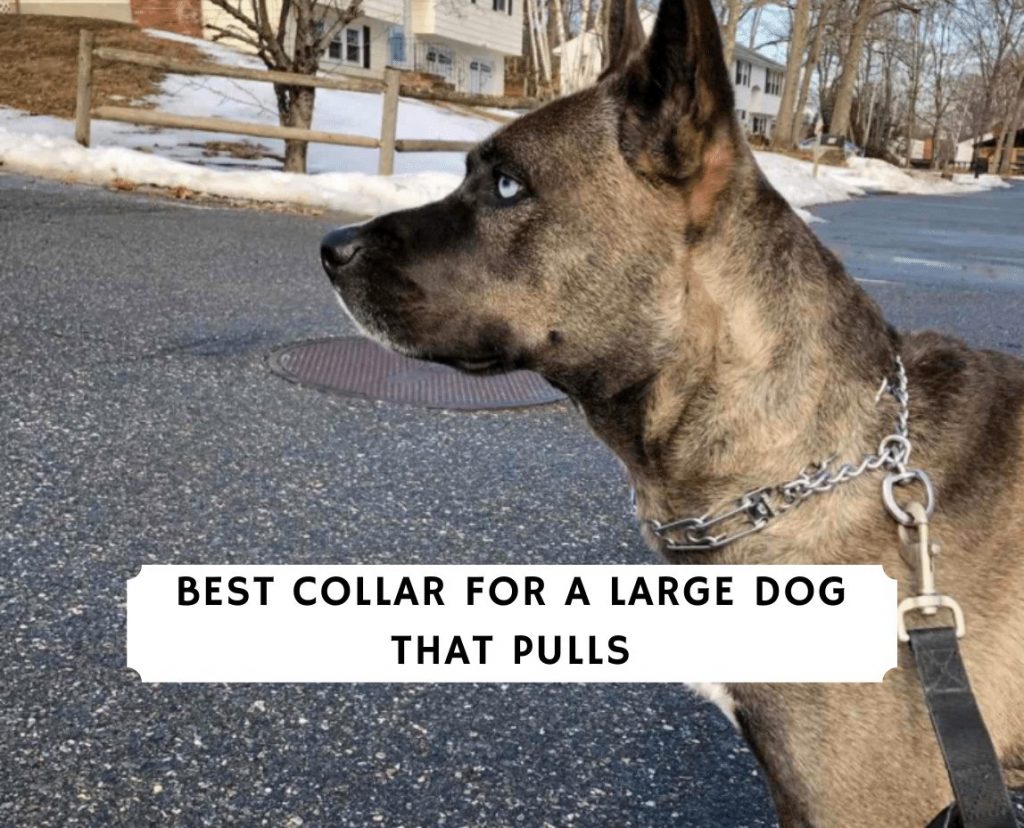 Dogs are our best friends. Large dogs can also be so much fun! They are often gentle giants that really have no idea just how big they are. It is because of this that they might pull when they're on a leash, causing strain or a challenge for the holder of the leash. Large dogs don't pull to exert dominance over you, but instead need to be trained with the right collar to not pull when they get excited.
Whether your dog tends to pull because they want to chase squirrels or that's just their character, you need a solution. There are collars, leashes, and supplies strategically made to help you handle a large dog that pulls and lets you stay in control of walk-time.
In this guide, we've put together several options to help you find the best collar for a large dog that pulls. We have several great options to give you plenty of resources. Our hope is that you don't have to spend hours sifting through research to find something that will work for you. We have spent hours comparing the various products for you.
It doesn't have to seem like your dog's pulling habits are just something to grin and bear. There are plenty of solutions out there!
In a Hurry? Here Are Our Top 3 Picks:
The 5 Best Collars for a Large Dog That Pulls – Reviewed
In these reviews, you will find detailed information that lets you know the important aspects of each dog collar that made it to the top of our list. We will share what's great and what's not so great as well as give you some pros and cons to refer to. We have sifted through hundreds of dog collars and found our top 5 that work specifically for large dogs that like to pull.
The Eagloo dog harness collar is made to fit small to x-large dogs that like to pull. Be sure to choose the proper size of harness for the size of your dog by measuring their chest area. A harness is a comfortable way to offer control without feeling like you're choking your dog on the collar.
You can choose from black, blue, lime green, orange, light pink, and hot pink as well. The harness collar is designed to be comfortable and adjustable. In addition, it is made with reflective threading to add some style and additional safety measures. The material is breathable and will also dry really quickly if it gets wet.
On this harness, there are 2 ring options for your leash clip. The one on the front is the best option to prevent pulling if you have a large dog. By clipping to the front of this harness collar, your large dog won't pull you because it will cause their body weight to turn themself. There is also a clip on the back that won't cause any choking you can easily switch to when your dog is accustomed. For the price, this is one the best dog collars for large dogs that pull.
The Mayerzon Prong Collar is designed for large dogs that like to pull you. Many dog owners train their dogs not to pull with a training pinch collar. These collars are designed not to hurt the dog, but to simply tighten and pinch slightly when they pull against the restraints. This is not a collar that is meant to be left on constantly, but just used for training and walking to prevent pulling. Prong collars for large dogs that pull are great because they won't be able to pull you with their full force.
This is an XL size training collar with prongs that are rubber-tipped. The collar is covered with nylon material. You can remove prongs to adjust the sizing as needed. This collar is nice because you can use the pronged collar for training your large dog, but also have a normal-looking collar.
Every part of this collar is meant to be high-quality. It's durable and sturdy and the cover will help it not rust or discolor. It will also protect from insects, bugs, water, and more. The collar is made to easily slip on and off with a clasp. Honestly, this is one of the best prong collars for large dogs that pull.
Lean on the Carhartt brand that has proven for years over that they provide high-quality products. This one costs a little bit more expensive than some options, but it is a superior quality choice and well worth the cost. This option from Carhartt is made in typical Carhartt brown. The best part about this harness and collar is that it will not choke your large dog when they decide to pull.
You can choose what size you need according to the measurement chart. They have choices for small to extra-large dogs. The straps are made with durable nylon and a duck canvas weave. Additionally, the webbing is reinforced with reflective stitching for visibility.
The chest and back pads on this harness have neoprene cushioning for support. The cushion is bonded to nylon canvas to help repel water. This harness is made to be sturdy, durable, and reliable. It shouldn't fray or break easily. It also has a front or back clip. Choose the front clip if your large dog is going to pull you. Using the front clip prevents your dog from pulling you by redistributing their body weight to prevent them from walking forward.
The BABYLTRL Big Dog harness for dogs that pull is designed specifically for big dogs. Again, you can choose from whatever size is right for your dog from small to extra-large. This harness is easy to use with a simple snap-on closure and it prevents your dog from choking themselves. This harness does have the front ring and top ring, but it also has a handle for your hands to hold if needed.
Ultimately, when it comes to a harness, comfort, and design are key. This harness has a breathable liner that is also padded to make the fit comfortable for your dog. The stitching also has reflective reinforcement for visibility.
This choice of a harness is made with sturdy and reliable materials. The outer coating is nylon oxford material so that it doesn't hold water. This is an option comparable to some premium choices for a little bit less money. This is great choice if you're looking for a harness for a large dog that pulls.
The Supet Dog Prong Training Collar for Large Dogs that Pull is another great option for the pinch training collar approach if you have a big dog that pulls you. This is another friendly form of the collar that is gentle on your dog and won't hurt them. The prongs are rubber-tipped to make the pinch motion as gentle as possible. There are sizes available for every size of dog and the collar comes with an extra link case it is needed.
This collar is designed with a portion of it being pinch prongs and the other portion being a comfortable nylon portion so it doesn't have the prongs all around. This collar clasps on easily and causes no issues with your dog. It is fairly easy to adjust and the D-rings for leash attachment are sturdy and durable.
This collar even comes with some basic instructions on how to use it properly to train your large dog that pulls. It's not meant to be cruel, but rather to provide gentle reminders of who is in charge. Eventually, the pinch collar should no longer be needed for your large dog that pulls when they are properly trained.
How to Choose the Best Collar for a Large Dog That Pulls
What type of collar you feel will work best for you and your large dog is ultimately up to your discretion. You might decide to start with a harness only to feel like it's not working very well or you might decide to start with a pinch training collar and then adjust to a harness as the dog starts to train. Either option is great if you have a large dog that pulls and you're trying to train them.
Ultimately, every dog and owner pair are different so how your dog will react or adjust could easily vary.
There are two main types of optimal collars for large dogs that pull.
Pinch training collar
Harness collar
How Pinch Training Collars Work
A pinch training collar is not meant to be a collar used for cruelty on a large dog that pulls. When used properly, it can be a helpful training tool that will help to teach your dog that you are in charge and they should follow your lead. It will reduce pulling and give you control of the walk.
A pinch training collar tightens around the dog's neck when they pull or strain against you on the leash. It will not choke them or harm them unless you are using it in an abusive manner. When they stop pulling against you, the collar will release.
Most pinch training collars (at least the ones we recommend) are tipped with rubber on the pinch points to avoid causing harm. The best pinch collars have a clasp so they are easy to remove. You should only use the collar for walking and training purposes and then remove it. Pinch training collars with prongs aren't meant to be on your large dog for 24 hours a day.
How Harness Collars Work
The harness collar for large dogs gives you slightly more control of your dog. They cannot slip out of it easily like they possibly could a normal neck collar. It hugs them. When you use the front ring of a harness and they try to pull, it forces them to turn slightly. The forced turn slows them down.
Eventually, with the continued use of the front ring, the dog will stop pulling as the result of being turned becomes a nuisance to them. A harness collar is a great alternative to a normal collar because your large dog won't choke themselves when they pull. So if your dog is constantly choking themselves and gasping for air, a harness collar would be the best choice.
Conclusion Best Collar for a Large Dog that Pulls
Choosing the best collar for a large dog that pulls can be overwhelming. We have provided you the 5 best collars for a large dog that pulls. Keep in mind to choose what type of collar works best for you and your dog.
Sometimes, learning not to pull just takes time and patience. You will need to work with your dog to get it right but these tools will help you get there!
Other articles you might like:
Garrett loves animals and is a huge advocate for all Doodle dog breeds. He owns his own Goldendoodle named Kona. In addition, he volunteers at the Humane Society of Silicon Valley, where he fosters dogs and helps animals. Garrett enjoys writing about Doodles and believes that dogs can teach humans more about how to live than humans can teach a dog.
Why Trust We Love Doodles?
At We Love Doodles, we're a team of writers, veterinarians, and puppy trainers that love dogs. Our team of qualified experts researches and provides reliable information on a wide range of dog topics. Our reviews are based on customer feedback, hands-on testing, and in-depth analysis. We are fully transparent and honest to our community of dog owners and future owners.