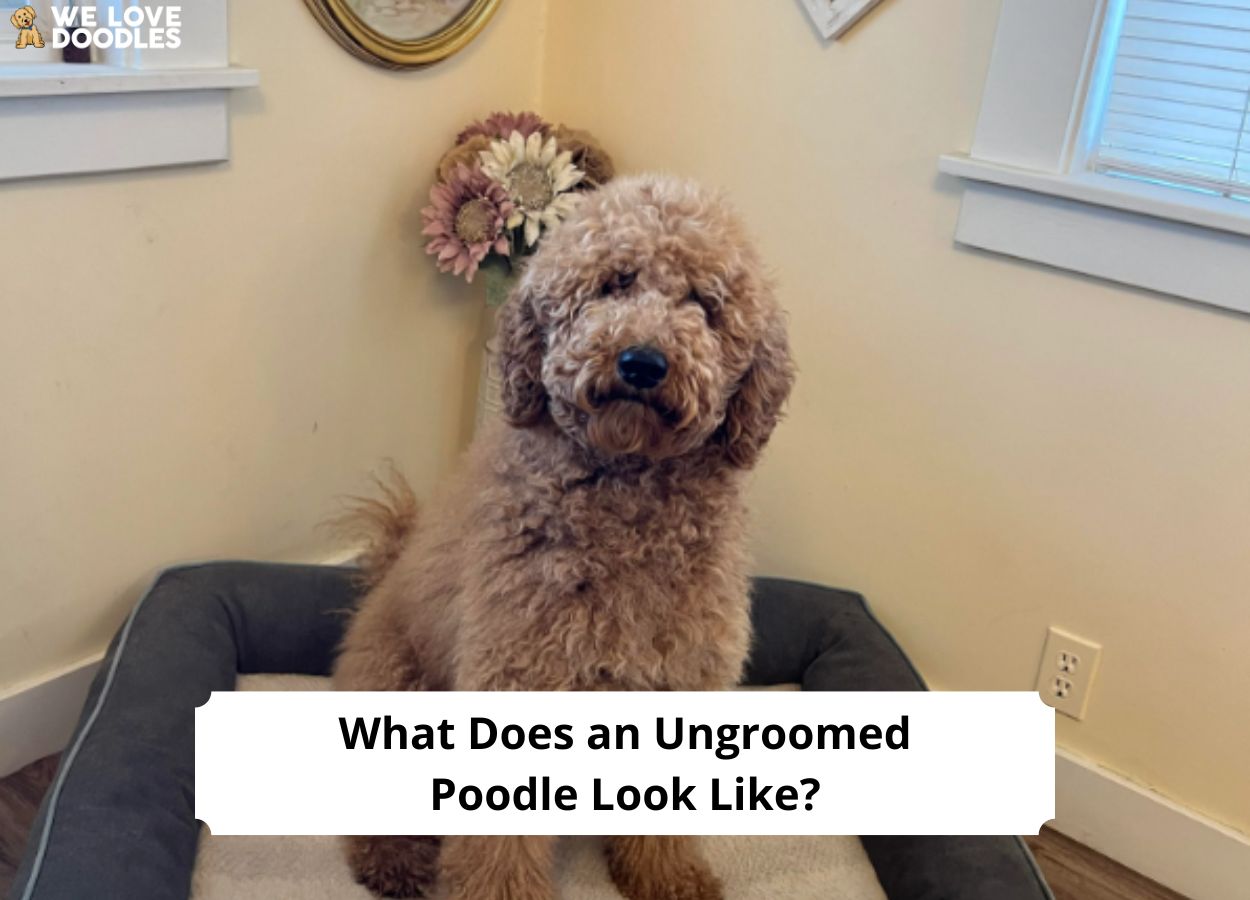 Poodles are known to be fashionable dogs. We are all aware of the various grooming styles they adorn along with some adorable accessories. Like all dogs, Poodles need lots of grooming to maintain that appearance. So, what does an ungroomed Poodle look like?
An ungroomed Poodle will generally have really long hair. Their hair could be tangled and matted and lose color due to accumulation of dirt and grime. It might even feel uncomfortably greasy when petted.
Keep reading for details on what a Poodle will look when it's ungroomed.
Before reading this guide, "What Does an Ungroomed Poodle Look Like," check out: 14 Best Mini Poodle Haircut Styles! (2023) and 7 Best Short Poodle Haircuts – With Pictures! (2023).
The History of Poodle Grooming
Poodles are instantly recognizable thanks to their distinctive hair. And it's a question that comes up rather frequently: where did all of these different styles originate?
The origins of modern Poodle grooming can be traced back to the 16th and 17th centuries, when Poodles were employed in Europe as water retrievers.
Because additional Poodle hair will make them heavier, groomers take considerable time and effort to shave off excessive amounts of the coat in order to reduce their overall weight.
When Poodles first became popular as pets in the late 17th and early 18th centuries, their grooming methods began to change. Groomers began experimenting with various haircuts in an effort to preserve the aesthetic qualities associated with the royal breed.
What Does an Ungroomed Poodle Look Like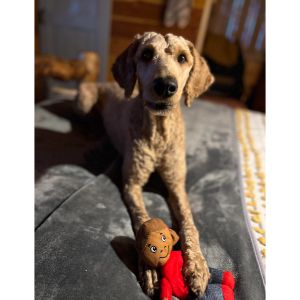 Next, we'll cover the telltale signs that a Poodle is ungroomed.
Long Hair
Poodle hair is more like human hair in texture and appearance than that of any other breed. Think about how you might appear if you never got a haircut. It won't be long before your Poodle looks this way.
In contrast to a dog with fur, a Poodle's hair will keep becoming longer and longer until it becomes unmanageable. You will not be doing your dog any favors by ignoring its coat the way certain people might prefer it.
Your Poodle's daily routine will be impeded by excessively long hair. Some owners can put off getting their Poodle groomed for a week or two, but any longer than that will show in the dog's appearance.
Unkempt
Caring for a Poodle's coat goes beyond what your dog can handle on its own. That long hair is just asking to be a magnet for dirt, grime, and other unhygienic muck.
As your Poodle's coat continues to collect dirt, you will notice a change in its coloration over time.
When the coat gets dirty enough, it takes on an undesirable greasy feel. This will not only have an effect on the outward appearance of your Poodle, but it will also lead them to carry around a terrible odor, which has the potential to quickly fill the room or perhaps your entire home with an offensive stench.
You can try to maintain your dog's cleanliness with frequent baths, but this is not a suitable substitute for a professional trim.
Tangled and Matted
It's only natural that your Poodle's coat will become matted and tangled after a while. Your Poodle's coat will take on a jungle appearance if you don't get it cut. The lengths of hair will begin to twist and entangle with one another.
Your Poodle's coat will begin to grow in thick mats. Bathing won't help with this problem. Your Poodle's coat will lose its luster and become unpleasant to pet. You can try to solve this problem by brushing their hair, but in the long run, getting a haircut is going to be the most effective option.
Shedding
It's not common for Poodles to shed. In fact, they are often regarded as being among the most hypoallergenic dogs available for people who suffer from allergic reactions.
If you got a Poodle because it's hypoallergenic, you'll get a lot more sneezing fits if you don't take care of its grooming needs.
In order for a Poodle to adjust to the fact that it is not being groomed, once its coat has grown to a certain length, it will begin to lose its hair.
Whether or not you are allergic to dogs, you should expect to start seeing stray strands of hair all over your house, furniture, and clothing, necessitating a greater amount of cleaning, washing, and maintenance on your end.
Problems with Health
In addition to the unattractive appearance your Poodle will have if it does not receive regular haircuts, one of the most important reasons to make sure your dog is groomed on a regular basis is to avoid different health concerns. Skin infections are by far the most prevalent type.
Skin infections are a common problem for Poodles whose owners neglect to give them regular trims. This is especially true if the dogs' owners put off grooming for long periods of time. The Poodle's skin will break out in itchy red spots under their thick hair, causing them great discomfort.
It is easy for the skin infection to spread to other places of the body if it is not treated right away. At this point, a simple haircut will not be enough to resolve the issue, and your Poodle will be in need of medical attention from a veterinarian.
How to Care for an Ungroomed Poodle
If you're dealing with an ungroomed Poodle, here are professional techniques to keep your dog's hair tangle-free.
Training
The first step is to teach them to look forward to their grooming sessions. It will be a huge relief if you can teach your Poodle to look forward to its grooming sessions.
Get your pet dog acclimated to being brushed by brushing them frequently — even if they don't need it. Praise and high-value rewards can be quite useful here.
Go to the Vet
Never attempt to untangle your Poodle yourself if you aren't comfortable doing it. It may be tempting to hire a professional dog groomer when your pet's hair becomes matted and unmanageable, but a Poodle is at risk for health problems including skin infections and may already be experiencing them.
Going to the vet is necessary because they can remove the matted hair and check your Poodle's skin for infection and treat other problems.
Balanced Diet
Maintaining a balanced diet is one of the best ways to prevent future matting. If you want your puppy to have a healthy coat and be less likely to become matted, you should give it a diet high in essential fatty acids like Omega-3.
While this doesn't mean you can skip brushing or bathing your dog altogether, you may notice a reduction in how frequently they're needed.
Skip the Baths
Do not bathe your dog if the mats in its coat are severe. Why? As the water is absorbed by your dog's coat, the knots may become even tighter, making your already challenging task much more so.
Similarly, you can't assume that conditioning will keep your hair free of knots. Remember to give your dog a good brushing before a bath.
Don't Cut Matts
Never, ever remove mats by cutting out hair. It's easy to accidentally cut your Poodle's skin when de-matting their hair because it's often tighter than you'd expect.
A Guide to Poodle Grooming
Poodles require regular brushing as part of their grooming routine, and their owners should have access to a variety of specialized grooming brushes and combs.
Baths will need to be given on a regular basis as well — once every week or two is ideal. In addition, Poodles can be styled, groomed, and cut in a broad range of different ways. Some Poodle owners learn the basics of Poodle grooming themselves, while others always have their dogs professionally groomed.
Even people who are already familiar with the process of grooming a Poodle at home should still take their dogs to a professional groomer at least once every month or two.
Not only will the groomer have a complete and high-quality Poodle grooming kit and tools, but they will also be able to instruct owners in the process of grooming a Poodle through every step.
And locating the nearest Poodle groomer is not difficult; all you need to do is run a Google search using the phrase "Poodle groomer near me" while having "location services" switched on.
Brushing
As a first step in grooming, it's best to start brushing your Poodle while it's still a puppy. And remember to brush your Poodle daily.
And you'll need a few different kinds of Poodle brushes, including a slicker brush, a pin brush, and a two-in-one comb at the very least. Many Poodle owners swear by a special two-sided brush that has pins on a single side and a slicker on the opposite side.
Poodles benefit most from receiving a brush every day, but even once every three to four days will do. To brush a Poodle properly, first, spray the coat with water (and optionally, a detangler) to wet it down.
Then, beginning around the shoulders, use the slicker brush to carefully and methodically untangle the coat, piece by piece. Once you've finished detangling the whole body, use a pin brush to smooth your hair. To complete the process, use the comb to smooth over the hair on the head, face, and ears.
Remember that brushing your Poodle dog may be a fun activity that strengthens your bond with your furry friend.
Bathing
If you have a Toy or Miniature Poodle, you can wash it in the kitchen sink. If you have a Standard Poodle, you can use a bathtub or an inflatable pool outside with a garden hose.
Before you soak the coat, give it a good brushing. Start at the dog's back and work your way down with a generous amount of shampoo. (Don't overlook the tail, underbelly, or lower extremities.)
Wash the Poodle's face, ears, and head with a washcloth, and then give it a good rinsing. Use a Poodle conditioner and start over. Finally, dry the dog thoroughly in two steps: first with a towel, and then with a blow dryer, brushing the hair as you go to prevent it from flying everywhere.
Poodle ear cleaning is yet another neglected part of proper grooming. When you learn how to clean a Poodle's ears, you'll be surprised at how easy it is. All you need is a cotton ball, some mild cleaning solution, and a few minutes.
Frequently Asked Questions
Can you leave a Poodle ungroomed?
You can't leave a Poodle naturally ungroomed, or you'll run the risk of matting and skin infections.
Are Poodles naturally shaved?
Poodles do not need to have their face and legs shaved, but it is a traditional grooming style.
What is the rarest color of Poodle?
The least likely color for a Poodle is apricot.
Conclusion

for "What Does an Ungroomed Poodle Look Like"
So, while an ungroomed Poodle might be quite upsetting to look at, the good news is that it is a fix. All you need to do is groom with a few tools and tips, or take them to a professional groomer in your area.
If you find this guide, "What Does an Ungroomed Poodle Look Like," helpful, check out:
Learn more by watching "Owning a Standard Poodle? | The Worlds Most BEAUTIFUL Dog!" down below:
Garrett loves animals and is a huge advocate for all Doodle dog breeds. He owns his own Goldendoodle named Kona. In addition, he volunteers at the Humane Society of Silicon Valley, where he fosters dogs and helps animals. Garrett enjoys writing about Doodles and believes that dogs can teach humans more about how to live than humans can teach a dog.
Why Trust We Love Doodles?
At We Love Doodles, we're a team of writers, veterinarians, and puppy trainers that love dogs. Our team of qualified experts researches and provides reliable information on a wide range of dog topics. Our reviews are based on customer feedback, hands-on testing, and in-depth analysis. We are fully transparent and honest to our community of dog owners and future owners.