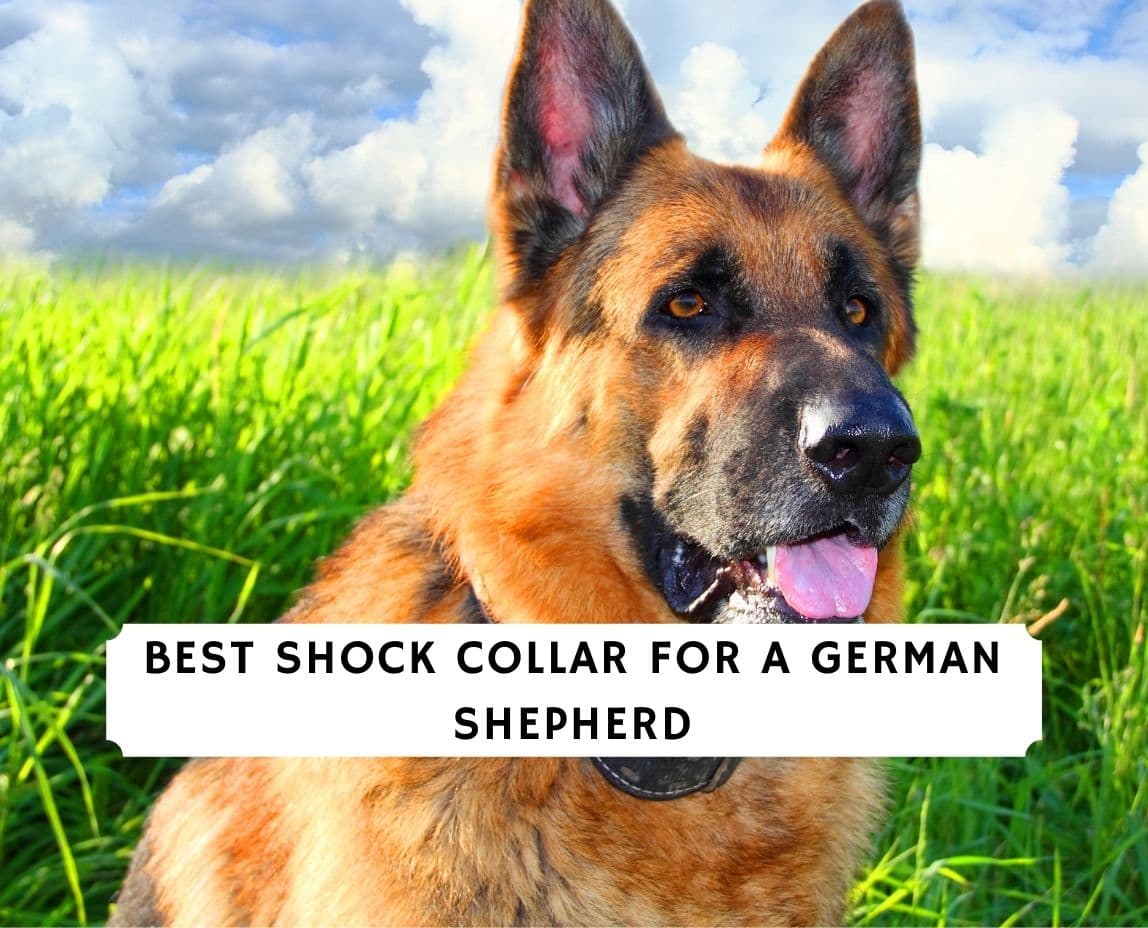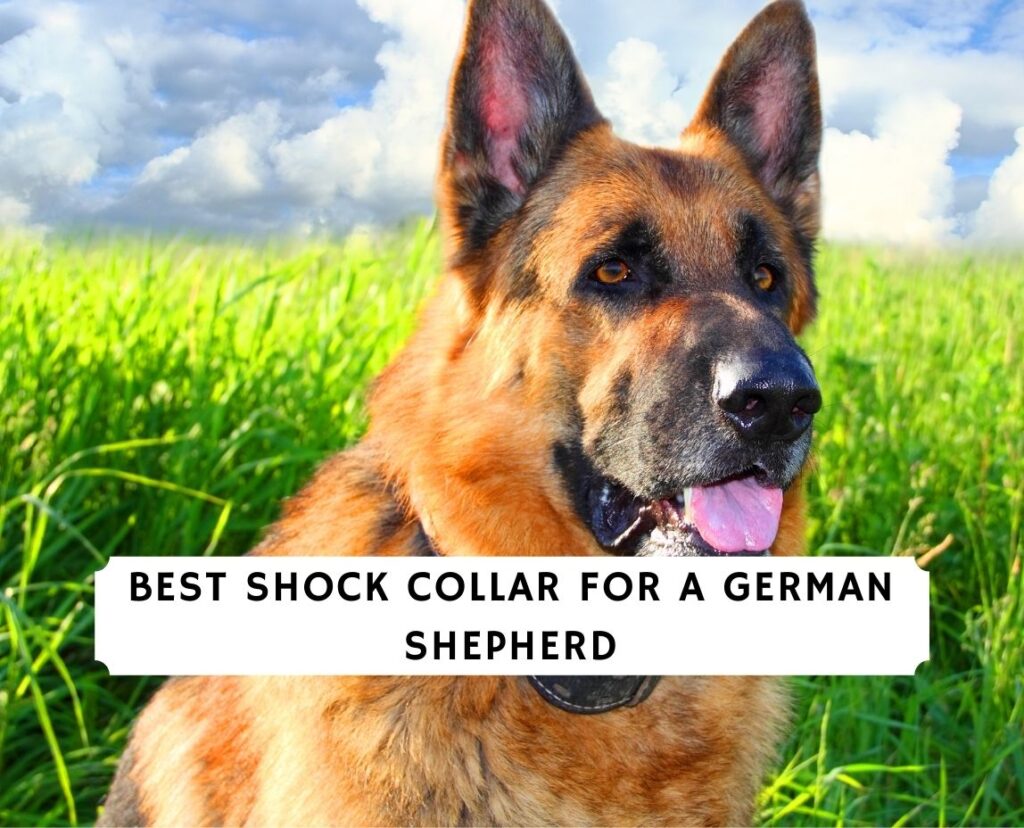 A shock collar is a tool that uses static electricity to help get a dog's attention. They work well with most dog breeds, including German Shepherds. When correctly, a shock collar or e-collar will not harm your dog and is a great training tool.
Dog owners will typically use shock collars for their German Shepherds to correct behaviors like unwanted barking, leash pulling, and recall. In a nutshell, a shock collar will prevent unwanted behaviors by associating them with a static sensation.
German Shepherd owners like to use e-collars collars because they are an extremely fast and effective tool for training your dog. Oftentimes, within a week, your dog will understand not to bark and behave correctly.
We'll help you find the best shock collar for a German Shepherd. We break each shock collar down by range, control, function, and design. We also have a Frequently Asked Questions portion after our review. 
In a rush? Here are the top picks!
Product
Best Overall
Pet Resolve Shock Collar
Runner-up
Educator ET-300
Budget Pick
SportDOG Remote Trainer
Image
The Pet Resolve training collar kit is a modern e-collar that works well for German Shepherds. It has features you'll find in higher-end shock collars and includes a variety of prongs that will work for all dog types. It has everything you need if you want to train your dog with a remote. This GSD training collar also automatically detects when your dog is barking to correct that behavior.
Range and Control
The shock collar has a higher-than-average range of 3/4 a mile or about 1200 meters. This is mostly on open spaces, so barriers like walls will definitely reduce the range. Still, the range of this e-collar assures that the remote can reach your German Shepherd even when you're two floors away from each other. 
This no bark collar has 10 levels of correction with 9 buttons on the remote to adjust all the settings. Each button has a specific function and has a small LCD display that tells you which collar it will interact with and how much stimulation it will deliver. One remote can control up to three dogs.
Functions and Features
The training shock collar has your standard static stimulation that increases per level along with vibration and beep settings. Having these extra functions means dog trainers have another choice to signal your German Shepherd instead of a shock. If you're lucky or skilled, your GSD may respond to a non-static type of training. 
The Pet Resolve Shock Collar also has an anti-bark mode. When you're not training your GSD, you can switch it to anti-bark. The collar will automatically trigger when your dog barks too much, even when you're not around. Thus, it will train your dog not to bark automatically.
The shock collar also has a nightlight and high battery life. It needs a high battery life because the collar is "always awake." This means the collar will not go into any type of standby mode which means there are no delays when triggering the remote.
Like most modern shock collars, this model can fully charge in just 2 hours. An added bonus is that you can use your typical USB charger to charge the remote if you can't find the adapter. 
The shock training collar also comes with a small testing light that you can use to check if the static shock functionality is working correctly. If the tiny electrode lights up, it works. 
Design
The Pet Resolve remote is small enough to fit into your hand and the buttons are well-placed and easy to control. The shock collar remote is also splash-proof and the receiver is waterproof. Both work no matter the weather or if your dog wants to go for a swim. 
It includes a lithium-ion rechargeable battery which lasts approximately 40 hours. The remote and the collar are mini-USB rechargeable, so you can replace the charger with any other cellphone charger.
The training collar's strap material is sturdy and can be cut to fit smaller German Shepherds if needed. The package also comes with three different prongs. You'll find it useful because hair can effectively insulate electricity, which in turn can be a problem when using electric collars. Longer prongs also allow you to fit bigger neck sizes without making the collar too tight. Overall, we think this is the best shock collar for a German Shepherd that we tested.
The second remote dog training kit in our list has two different variations depending on your needs. It's also a brand that demonstrates a "no-look" shape which can be an advantage when you need to keep an eye on your dog while training them, or need to adjust the stimulation level on the fly. The SportDOG shock collar is one of the biggest brands and popular amongst hunting dogs.
Range and Control
The SportDOG Sport Hunter has 1/2 mile and 1-mile ranges. The latter comes at a much higher price point, but these ranges can be useful in situations like when your German Shepherd likes to roam your backyard.
Regarding the thumb dial, the Original version has 8 levels of correction and the X-Series has 21. The higher the number of levels, the finer control you have of the stimulation, allowing you to slowly increase or decrease the amount of shock.
You have the option to pick either the 3 or 6 collar support. If you have multiple dogs, this is a great shock collar to choose from.
Functions and Features
On the stimulation side, it has three standard features: static stimulation, tone, and vibration. It has buttons that can either deliver a quick correction or a continuous stream of shock.
The package includes comprehensive instructions like an operating guide and a DVD that shows the different training modes. The shock collar has a long-lasting battery life of up to 60 hours when unused and can be fully charged in two hours. 
Design
Like we mentioned earlier, the training remote is designed to be used without looking. Your thumb can easily adjust the correction level and one of the two buttons has a small bevel, making it easy to tell which button is the short correction and which is the continuous correction. Like all the devices listed here, it's also waterproof for about 25 feet, deeper than what your dog can dive in. The leash is a standard notch belt that can easily fit your German Shepherd. 
The Mini Education e-collar has a different remote design from the last two and even finer control. The number of levels doesn't truly reflect the power of the collar though. It's more of how much "in-betweens" there are in the levels of correction. 
Range and Control
This dog training device has a total range of 1/2 miles. In a close hunting event or just training in your backyard, 1/2 miles is plenty. Walls, however, can decrease the overall range, so keep that in mind in case you need to signal your German Shepherd to stop barking or chasing the mailman.
Depending on which model, the remote shock collar can handle up to 2 dogs. It also has a wide range of up to 100 intensity levels. 
The knob on the top of the remote e-collar allows you to finely dial how much power you want to deliver. This can be quite handy because the best rule to follow with electric training collars is to always use the lowest power possible and gradually work your way up. Although sometimes you will find that large dogs like German Shepherds often have high resistances to correction
It also comes with 60 boost levels. Combined with the higher control, you can deliver higher stimulation when needed.
Functions and Features
The shock collar also has the three standard training modes: static, tone, and vibration. It has a small LCD indicator on the stimulation level. The knob has a unique way of changing the shock level which ensures that you don't accidentally increase the levels. 
Speaking of safety, the remote has a safety lock, preventing accidental shocks, and a built-in LED light in case you lose your German Shepherd in the dark. 
Design
The stopwatch design is easy enough to handle, with the two trigger buttons on the side, which you can press with your index and middle finger. The e-collar and the remote have lights that light up when you press the trigger buttons, so you can tell that the collar is communicating with the remote. 
The shock collar itself is long enough to fit your German Shepherd with enough comfort. If the collar is too long, you can always cut the excess material, though be mindful of how much you cut in case your GSD still has some growing to do. 
The fourth shock collar for a German Shepherd also features a one-hand shape, but it doesn't have an LCD display. This removed feature actually increases the battery remote's battery life significantly. Still, if you need it, the Dogtra 202C model has a display along with a few added features for a higher price point.
Range and Control
The shock training collar has an overall distance of 1/2 miles which is great for open fields like parks, your backyard, or a pet playground. In general, if you can see your German Shepherd clearly then the collar can reach it.
Depending on the e-collar model, you can control up to 2 dogs. This model is better suited for a more personal training experience. The e-collar remote also offers up to 100 static shock levels. This way, you can incrementally increase the voltage, ensuring you get the lowest possible stimulation needed. 
Functions and Features
This shock collar only has the usual three training modes: static shock, vibrate, and sound. German Shepherds are smart dogs so eventually you won't need to use the static shock to signal them. The lack of an LCD screen for the 200C model doesn't hamper the usage that much since the dial has numbers on it and there are only a few buttons to remember. 
These buttons are for the short correction and the continuous correction. The short correction button delivers a quick shock of roughly 10 milliseconds. This button won't shock any further, even if you hold it down, which prevents prolonged accidental shocks. The continuous button, on the other hand, delivers a shock for as long as 12 seconds. If you hold that button for longer than 12, it won't shock further and you will have to press it again. 
The third button is for the page or tone. The longer you hold, the longer the tone will sound.
Design
The remote has an easy-to-hold shape. The dial is thumb-accessible, combined with the broad adjustable levels, enables you to fine-tune the setting. The no bark collar for German Shepherds comes with 5/8 inch spokes which are effective for long-haired dogs. 
The last collar on our list comes in either black or orange colors and is made by SportDOG. Colors shouldn't matter, but in some cases, you want to easily see your remote, and sometimes you want the plain black for that professional look. This shock collar comes in two models and the only difference is one has a longer range. Overall, it's a great bark collar for a German Shepherd.
Range and Control
The SportDOG SD-875 has an overall range of 1/2 miles or about 500 yards which is pretty average and good enough for general outdoor use. You will have to make sure you keep an eye on your GSD in case they wander too far. If you want a longer range, the SD-1275 has a higher range of 3/4 miles for a slightly higher price.
Both models have 10 levels of correction that are on the low to medium intensities. The idea is always to use the lowest possible stimulation and gradually increase it until your German Shepherd reacts.
SD-875 can support up to 3 collars, while the 1275 model can handle up to six collars. 
Functions and Features
Both no bark training collars have three different stimulation modes: static, vibrate, and tone. The LCD screen shows important information such as the shock level, the type of stimulation, which collar is currently being controlled, button functions, and battery level. The LCD screen is polarized, so even the harshest glares won't block the information on the screen. 
The e-collar also comes with a pair of plastic prongs so you can safely switch to vibrate and tone mode. Using plastic prongs helps you avoid any accidental shocks. 
The remote shock collar has a total of 7 buttons. The four buttons on the back control the shock level and which collar the remote will interact with. On the right side are two buttons for quick static stimulation and continuous static stimulation. The last button on the remote is for tone. 
Design
The remote for this training collar is arguably the largest on this list but is still equally handy. The trigger controls can be pressed by your index finger and the tone with your thumb. Depending on the size of your hand, you should be able to reach the four buttons on the front. 
The 875 is enough to fit medium to large dogs, so German Shepherds are perfect. The 1275 model has a longer collar included, perfect for dogs with neck sizes exceeding 22 inches. As with all the other e-collars on this list, it's waterproof by up to 25 feet!
FAQs on Shock Collars for a German Shepherd
Now that you've seen all the collars, you may have some more questions about shock collars, especially for first-time users. We'll try to answer the general but important questions. 
How effective are shock collars in keeping German Shepherds from barking too much?
It's very effective. Excessive barking is one bad behavior nearly all owners would want to correct. Please remember that it's not as easy as pushing the trigger to stop them; there is a method to it. Most collars have training manuals in them, often detailing many types of training techniques. On the other hand, some collars have an automatic anti-bark function which makes them much easier to handle.
Make sure you show some love if they do behave to further cement good behavior.
How do you measure a German Shepherd's neck size? 
A simple tape measure should do the trick. In general, adult German Shepherds have neck sizes around 18 to 24 inches. There are many factors to consider, but not all shock collars can accommodate them. 
Find the thickest part of their neck and when you measure, make sure you leave space for at least 3 fingers to fit in between. The measurement you get there should be the proper one for your dog. 
What is the best shock collar for German Shepherds?
That's the ultimate question for this list. In general, you would want a collar that has great range, intuitive but simple controls, practical functions like the three standard training modes and nightlights.
More importantly, you'd want great value for your money. We chose these products to give you a great idea of the functions and designs most modern collars have, and it's up to you to determine which one fits best. 
If you still have doubts, don't be afraid to seek advice from a professional dog trainer.
Conclusion for the Best Shock Collar for a German Shepherd
Shock collars are great training and behavior correcting tools, but they're only part of the solution. Picking the right shock collar should also mean that you, a proud German Shepherd owner, will take the right steps in using this tool in the safest way possible. When used correctly, e-collars are some of the fastest ways to train and control your German Shepherd's behavior.
Other articles you will like:
Garrett loves animals and is a huge advocate for all Doodle dog breeds. He owns his own Goldendoodle named Kona. In addition, he volunteers at the Humane Society of Silicon Valley, where he fosters dogs and helps animals. Garrett enjoys writing about Doodles and believes that dogs can teach humans more about how to live than humans can teach a dog.
Why Trust We Love Doodles?
At We Love Doodles, we're a team of writers, veterinarians, and puppy trainers that love dogs. Our team of qualified experts researches and provides reliable information on a wide range of dog topics. Our reviews are based on customer feedback, hands-on testing, and in-depth analysis. We are fully transparent and honest to our community of dog owners and future owners.