If you're looking to purchase an Australian Mountain Doodle puppy, there are many things you need to know beforehand about this Australian Shepherd, Bernese Mountain Dog, and Poodle mix. You should consider the amount of space you have to see if it's okay to get such an energetic dog breed. Keep in mind that some dog breeds are more suitable for your lifestyle than others. Aussie Mountain Doodles can adapt to many different lifestyles and are exceptional with children.
Australian Mountain Doodles are highly trainable, and you can teach them to get along with other pets in your living environment. Here's a guide of the Australian Mountain Doodle that contains essential information about this unique dog breed.
Before we get started, we think you might enjoy: Best Poodle Mixes
Dog Breeds
The Aussie Mountain Doodle is one of the latest and most talked-about dogs in the designer dog and "Double Doodle" industry.  It's a hybrid of three trendy dog breeds: the Australian Shepherd dog, the Bernese Mountain Dog, and the Poodle. Australian Mountain Doodles may possess the non-shedding and hypoallergenic features of the Poodle breed. This mix is typically bred by taking a Bernese Mountain dog and cross-breeding with an Australian Labradoodle.
The Aussie Mountain Doodle is popular today for many different reasons. They have a fun-loving attitude and are highly intelligent, loyal, and friendly. 
Australian Shepherd
The clever, hardworking, and versatile personality of the Australian Mountain Doodle mix comes from its Australian Shepherd dog side. Australian Retrievers are excellent companion dogs, which is why they make great family pets. They are also great, very athletic, and love to play games like fetch. Australian Shepherd dogs do well in dog sports like flyball, agility, and herding tests. 
Australian Shepherds need regular exercise to burn excess energy. Their loving and loyal nature makes them excellent family dogs. They also excel as guide dogs, assistance dogs, hearing dogs, and search & rescue dogs.
If you're still deciding on a dog breed to add to your family, check out: Best Australian Shepherd Breeders in the United States
Bernese Mountain Dog
An easy-going Australian Mountain Doodle owes his personality to the Bernese Mountain dog breed. These dogs are large and well-known for their accommodating nature. They have a very mild manner, and many people consider them mellow and too bashed. The Bernese Mountain Dog has a thick dark coat, which makes them perfect for cold climates.
Most of the time, you'll find this breed getting along pretty well with humans and other animals. Bernese Mountain dogs make peaceful and friendly family companions.
Adopting from a shelter is also an option: Best Bernese Mountain Dog Rescues
Poodle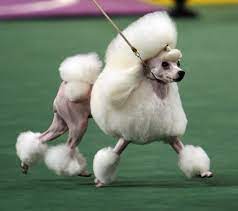 Poodles are known for their high intelligence, non-shedding coat, and hypoallergenic fur. These are the characteristics that this breed brings to the Bernese Mountain Doodle dog mix. The Poodle breed is easily trainable thanks to their intelligence. You will find commands, potty training, and tricks relatively easy to train compared to other dogs.
Like the Australian Shepherd dog breed, Poodles also get along well with children. They're very active dogs that require enough exercise to burn their excess energy. However, the Bernese Mountain Doodle mix's most important characteristic is its non-shedding coat and hypoallergenic fur. With this hybrid, you won't have to deal with allergic reactions, and there will hardly be any fur lying around your floor.
Finding an Australian Mountain Doodle can be challenging. Introducing a Poodle to your home is another option: Best Poodle Rescues in the United States and Best Mini Poodle Breeders in the United States.
Australian Mountain Doodle Characteristics
Breed: Australian Bernedoodle
Temperament: Gentle, Playful, Affectionate, Smart
Mix: Bernese Mountain Dog and the Australian Labradoodle
Typical Standard Weight (Approximately): Up to 59 pounds
Typical Standard Height (Approximately): Up to 21 inches
Life Expectancy: 12 to 15 years
Aussie Mountain Doodle is also known as Swiss Doodle or Aussie Bernedoodle. This hybrid brings out the best of both the Aussiedoodle and the Bernedoodle. It's the go-to option for some people looking to adopt any of these sides of the mix. Aussie Mountain Doodles are a unique mix of the Australian Shepherd, the Bernese Mountain Dog, and the Poodle.
The Australian Mountain Doodle is bred by pairing an Aussiedoodle (an Australian Shepherd and a Poodle mix) with a Bernedoodle (a Bernese Mountain dog and a Poodle mix).  They're known for their high intelligence, friendly nature, and they make a great intuitive companion. Australian Mountain Doodles are medium-sized dogs with low to medium energy. Their willingness to please and intelligence makes them excellent service dogs. 
Aussie Mountain Doodles are loving and very affectionate, which is why they thrive with their families. With their hybrid vigor, Australian Mountain Doodles can be more active and vocal than the Bernedoodle. This dog thrives with busy families and is not for people who always sit around in one place. They make good trail or hiking companions.
The Australian Shepherd was initially bred to be herding dogs that are good at obeying commands. The most important characteristics they bring to the Aussie Mountain Doodles are their easy-going nature, their ability to learn fast, and their eagerness to please.
Australian Mountain Doodle Sizes
There are different sizes of Australian Mountain Doodles. These sizes are measured by the dog's weight: standard and mini. Here are the main sizes of the Australian Mountain Doodle dog breed.
Miniature Australian Mountain Doodle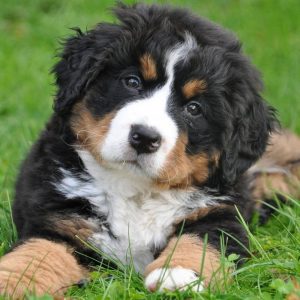 Weighing about 30 to 40+ pounds, the Mini Australian Mountain Doodle is among the smallest sizes you will ever see. Their height can get up to 19 to 22 inches, which is why they are perfect for small living spaces. The name "Mini Australian Mountain Doodle" may suggest that this breed is small, but in the true sense, they are medium-sized dogs. This size is the most common among others out there because they don't get too large.
That's why the mini Australian Mountain Doodle is ideal for people living in large and small homes. However, they require space for exercise, so a house with a yard is perfect!
Standard Size
The Standard Australian Mountain Doodle requires more amounts of socialization and exercise than the Mini Australian Mountain Doodle. Though you may think they are medium-sized, as their name suggests – these dogs are large. They can weigh as much as 50 to 60+ pounds and can reach 23 to 25+ inches tall.
Australian Mountain Doodle Price
Australian Mountain Doodles are designer dogs, and as expected, they are very pricey. Their prices may vary depending on the breeder you choose. However, you can purchase an Australian Mountain Doodle from a reputable breeder paying between $1,300 to $3,000. This mix is a new kind of Double Doodle breed, so they don't have any regulations or website.
You can find a breeder by searching the internet for reputable breeders in your area. You should see an extensive breeder list, and you may find a reputable breeder there. Reputable breeders always ensure that their breeders carry out required health tests for the heart, hip, elbows, eye, and more. This way, you will surely get a healthy fur buddy.
Conclusion For The Best "Australian Mountain Doodle Guide"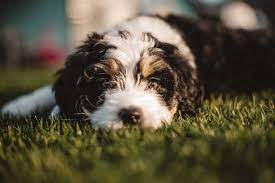 Aussie Mountain Doodles are bred from three of the world's most intelligent dogs: Australian Shepherd dog, Bernese Mountain Dog, and the Poodle.  The Australian Mountain is quite an energetic dog. If well-trained and socialized, they'll grow to become excellent dogs. The Australian Mountain Doodle is not only charming but also extremely loyal to its owner. We love this mix for many different reasons. If you're a fan of Poodle mixes, then we think you'll love them too.
For more information on raising Australian Mountain Doodles or any other dogs in general, check out:
To see the Australian Mountain Doodle live in action, watch "Australian Mountain Doodles – Willow x Jack" from Cottonwood Creek Doodles down below: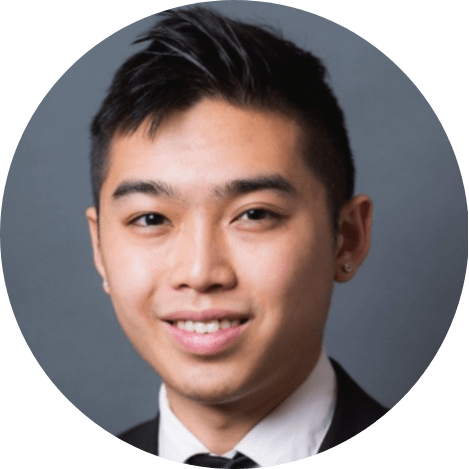 Andy is a full-time animal rescuer and owner of a toy doodle. When he's not saving dogs, Andy is one of our core writers and editors. He has been writing about dogs for over a decade. Andy joined our team because he believes that words are powerful tools that can change a dog's life for the better.
Why Trust We Love Doodles?
At We Love Doodles, we're a team of writers, veterinarians, and puppy trainers that love dogs. Our team of qualified experts researches and provides reliable information on a wide range of dog topics. Our reviews are based on customer feedback, hands-on testing, and in-depth analysis. We are fully transparent and honest to our community of dog owners and future owners.