Ever heard of an Aussiepoo? An Aussiedoodle? The names suggest these dogs are walking around in high heels with pearls on. But that couldn't be further from the truth.
These sweethearts are seriously smart doodle dogs with a high amount of energy. In fact, they're one of the smartest dogs there are. How could they not be with parents of an Australian Shepherd and a Poodle – usually a Standard or a Miniature.
What's the difference between an Aussiepoo and an Aussiedoodle? Nothing! The Aussiepoo vs Aussiedoodle is one and the same. Nicknames are often given to hybrid breeds (Goldendoodle, Labradoodle, etc.) and this one's no different. The "Aussie" represents the Australian Shepherd and the "Poo" or "Doodle" represents the Poodle. 
Before scrolling down this guide, check out these related topics: In-Depth Aussiedoodle Guide
The Aussiedoodle and Aussiepoo
Height: 10"-15" high at the shoulder
Weight: 25-70 lbs. (It depends on the size of the parents.)
Life expectancy: 10-12 years
Group: Herding/Companion mixed breed
Fluffy ears, heavenly faces, these creatures make you smile when you just look at them. When both parents are "scholars," the Aussiepoo will have no choice but to be highly intelligent.
Having said that, every dog including this doodle is unique so nothing can be promised but chances are you'll have an extremely bright animal.
Also an extremely adorable one. Some of them will have one or two blue eyes (from the Australian Shepherd) that are mesmerizing.
Almost always, they'll have the Poodle's coat down to the "poofy" legs. They even resemble stuffed animals and you'll often see pictures of them sitting among these classic toys. It's easy to understand why these dogs are the loved by so many.
History of the Aussiedoodle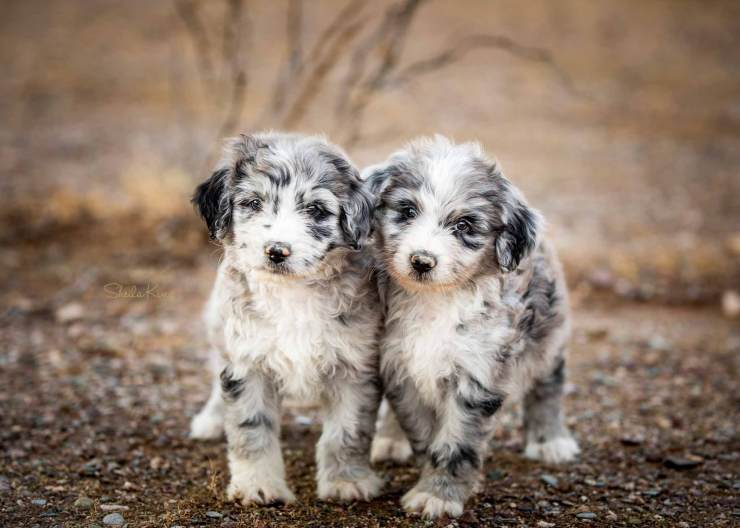 Although all we really know is that their origin was recent, in the last few decades, no one knows exactly when they were "created." Nothing like their parents' whose ancestry goes back a long way.
So we can certainly delve into the Australian Shepherd's and the Poodle's past to see how the doodle's parents came to be. We do that the first Labradoodle was created back in the 1980s as a hypoallergenic and nonshedding dog. The Aussiedoodle and Aussiepoo were likely created shortly after in the late 1990s or early 2000s.
History of the Australian Shepherd
Height: 20"-23" (Male) – 18"-21" (Female)
Weight: 50-65 lbs. (Male) – 40-55 lbs. (Female)
Life expectancy: 12-15 years
Group: Herding
Stories swirl about this breed's origins. Europeans and yes, Australians were involved but also Americans since early settlers in the 1800s used them as cattle dogs. Most of the disagreements are over which form of the Australian Shepherd we have today originated where.
Although it's truly a mystery, historians and fans of the breed argue about the roots of this clever animal. One thing's for sure: These work-oriented dogs have been working hard for centuries to assist humans…no matter where they came from.
The cowboy's dog! Any canine that will actually herd children has plenty of smarts and they have it in spades. They can be trained to practically bring you breakfast in bed (for real) and need a guardian who knows how to keep their minds busy.
History of the Poodle
Height: Over 15" (Standard)
Weight: 60-70 lbs. (Male) – 40-50 lbs. (Female)
Life expectancy: 10-18 years
Group: Non-Sporting
This confident canine's origins, more than 400 years ago, began as a duck hunter/water retriever in Germany and was called "pudelin" meaning "splashing in water." The Poodle then moved throughout Europe and began breeding in the US in the early 20th century. They've become a favorite in America.
Regularly listed in the Top 5 of the smartest dogs, the Poodle has another talent you may be unaware of. Did you know they have webbed paws? Definitely a convenient assistant when they are swimming.
The Aussiepoo's Temperament
Outgoing, agreeable, energetic, and a big fluff-ball of love can just about summarize the Aussiedoodle's personality. Due to their dependable and easy-going nature, they're fabulous therapy and service dogs.
They need their people so get them in training early, or train them yourself, to make sure they'll be good with the kids and with strangers.
Socializing them will also curb excessive barking. The responsibility lies on your shoulders to give them their best life which means providing training for them starting at 6-8 weeks old.
You can start earlier by touching them everywhere, especially on more sensitive areas like legs and paws. This will make sure they don't mind when they're touched in those spots. You can also start positive reinforcement training (the best is with body language) with easy commands – guiding them more than anything.
The more hands-on you are with them, the better off they'll be and their personalities can flourish. So get down on the floor, or on the couch if you're that kind of pet-guardian, and have at it!
How to Care for Aussiedoodles
Physically (Grooming, exercising, health)
And emotionally (Exercising, Companion-Time)
Grooming the Aussiedoodle
They grow into their final coat and there are a couple of possible results.
The Aussiepoo could have a tightly-curled Poodle coat or a wavy Australian Shepherd coat, depending on their genetics. Either one calls for close attention.
Grooming an Aussiedoodle involves:
1. Brushing (Twice a week)
2. Bathing (Every six weeks)
3. Brushing the teeth (Twice a week)
4. Clipping the nails (Every six weeks)
This takes care of the entire animal which goes a long way in illness prevention. Either enlist your veterinarian to teach you how to brush their teeth or watch a "How-to" video. It will probably be clumsy at first but you'll soon get a handle on it. Just make sure to start when they're puppies to get them comfortable with the process.
The same thing goes for clipping their nails. Either learn how or take them to the vet to make sure they're manicured.
How much time should I spend with my Aussiedoodle?
They're super social dogs and love to be around their families. They should live inside with you and although they do need you to play with them, just being beside you (your companionship) is absolutely necessary for their well-being. They'll learn a lot more about you than just your habits which will bond the two of you even more.
If you work outside the home, visit with them before you leave. Be sure to give them interactive toys to keep those minds busy while you're gone. It's not mentally or emotionally healthy for an Aussiedoodle to be left alone for over six hours. And the less hours apart, the better.
If you need to every once in a while, that's fine, but if you consistently can't be at home within those hours, this probably won't be the dog for you.
When you return, spend about 45 minutes to an hour giving him a good workout. You could:
1. Go for a run together.
2. Go to a park/dog park/open field and throw a ball or play "volleyball" with a beachball.
3. If you have access to a pool, take them for a swim. Let them show off.
4. Go see a dog-friend so they can play together.
5. If they've been trained to safely run beside you, go for a bike ride.
6. In our modern day and age, there are businesses just where dogs go to play. Check them out online and in-person. This is also a perfect way for them to be socialized with other dogs and people.
For the rest of the night, hang out together just by being close. I've never heard anyone ever say, "I spend too much time with my dog."
Health issues of the Aussiepoo
First and foremost, see the vet when you first get your Aussiedoodle to be thoroughly checked out. Stay on top of subsequent appointments when you need to go back for preventative meds, necessary shots, and any instructions you might need.
Note: In addition to health reasons, lots of places require vaccinations in order for you to take your dog there.
Although it's not a given an Aussiedoodle will inherit an illness one or both of his parents have or have had, there are health issues that can be hereditary. If they've been bred with a Standard Poodle as one of the parents, these could have the following health issues.
Hip dysplasia
Eye disorders (Cataracts) – The Australian Shepherd also carries the MDR1 mutation. This causes sensitivity to ivermectin (used for parasite prevention) which can develop into Collie Eye Anomaly or CEA – a vision deficit.
Idiopathic epilepsy (Neurological disorder characterized by seizures)
Gastric issues
Epilepsy
Certain forms of cancer
Autoimmune Thyroiditis
Sebaceous Adenitis (Skin disease)
Progressive Retinal Atrophy
Now before you go running for the hills, these issues are all possibilities, not certainties. Chances are you'll have a healthy Aussiepoo that lives a long, happy life.
Hopefully, by now, you're either going to start researching where to find an Aussiedoodle or you're going to know much more about your own.
Either way, this dog is an incredible choice for those who want a lot of love from their animal. The Aussiepoo vs Aussiedoodle is the exact same dog breed!
Other articles you would like:
Vinise Weeks is a hands-on, passionate, and creative writer who loves dogs. She has two fur babies named Miu Miu and Toto that she loves taking care of. In her spare time, she loves helping people and making the word a better place.