When it comes to mixed breeds like the Twoodle, the possibilities of combinations seem endless. Often, the hybrid breed may not even have parents that are both purebred. Breeders can also explore several tiers of hybrid dogs that include parents who are designer breeds themselves. While the genetics of such second and third-tier hybrid dogs may get confusing and very diverse, designer dogs' physical characteristics and temperaments make them quite popular. Despite their rarity, these designer dogs have become widely sought-after by families and individuals alike.
Among the many second and third-tier breeding opportunities include two, the Twoodle. While the origins of this breed may at first seem hidden, it has become a breed known for its teddy bear qualities and loveable personality. Whether you've been considering getting a Twoodle dog for quite some time or have just discovered this hybrid breed, it can be a great option to explore. To help you understand what you can expect from having a Twoodle in your home, we share some of the top characteristics and things to know about this designer breed.
Before scrolling down this Twoodle guide, check out these similar Doodle breeds: Goldendoodle Dog Breed Guide and Spoodle Dog Breed Guide.
What is a Twoodle?
The genetics and origins of the Twoodle may seem much more complicated than the standard hybrid dog that crosses two purebred dogs. The Twoodle incorporates several different dog breeds into one. The Twoodle is a mix between the English Goldendoodle and the Schnoodle. Both of these parent dogs are not purebred but are mixed breeds themselves. Knowing the characteristics of the parents can be a crucial indicator as to what you can expect from a Twoodle.
One parent, the English Goldendoodle, is a mixed breed that combines the European style Golden Retriever with a Poodle. These dogs are amiable, outgoing, and eager to please. With the Poodle influence, they are pretty intelligent and can be trained relatively quickly. As the Poodle can come in multiple sizes, including Toy, Miniature, Medium, and Standard, the English Goldendoodle can. Their curly coats, also an influence from the Poodle, can vary in texture and curliness and are also considered low-shedding, which can be beneficial for families with allergy concerns.
The second parent breed is the Schnoodle. This breed is a cross is also with a Poodle but includes a Miniature Schnauzer. With the Poodle influence, they can have a personality that is relatively intelligent and playful. They are obedient and seek to please their owner.  With the Schnauzer influence, they are very loyal and protective of their people. Like the Poodle, they are affectionate and fun-loving. Finally, with a Twoodle, you get the best of both of these hybrid breeds. While somewhat exclusive, this breed is known to take on some of the best characteristics, both in appearance and temperament, of its parents.
Other Doodle Breeds: Best Giant Doodle Breeds and What is the Best Doodle Breed?
Size
When working with hybrid breeds, there often comes a great deal of diversity in size, appearance, and temperament. This is because there are different breed genetics that combines into one dog. Therefore, one Twoodle may look different than another and still be considered the same breed. Typically, the Twoodle can be one of two sizes, primarily based on the parents involved in the breeding process. However, some Twoodles have a smaller size. These often have Goldendoodle parents that are smaller, such as a Miniature or Toy Goldendoodle and a Schnoodle parent that can be either Toy or Miniature in size.
As a result, smaller Twoodles can weigh between 25 to 35 pounds and have a height range between 10 to 15 inches tall. On the other hand, larger Twoodles have parents that are larger in sizes, such as a Standard or Medium Poodle and a Standard Schnoodle. As a result of these sizes, larger Twoodles can reach a weight range between 35 to 50 pounds and a height between 15 and 25 inches. However, keep in mind that these values are estimates. With the diversity and significant emphasis on the genetic make-up of the parents, their size may be larger or smaller.
Their diversity in size also makes it easy to find a Twoodle that works well for your family and your living space. For example, smaller Twoodles may be an excellent fit for smaller living spaces like apartments. They may also be better suited for being around young kids as there is less chance that the Twoodle will knock them over. On the other hand, larger Twoodles can thrive in larger backyards with more room to run and roam. Choosing the size of the Twoodle is a valuable component of this rare yet desirable breed.
Related: Which Goldendoodle Size?
Appearance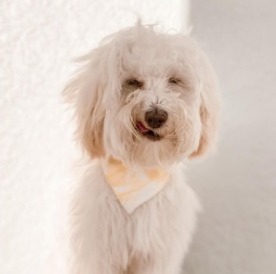 Twoodle dogs have been likened to a teddy bear appearance. With the strong Poodle breed in their genetics, they may take after much of their coat type, including a low shedding, curly coat that requires a lot of upkeep. However, this coat can be very soft and perfect for snuggling up into. In addition, they can come in a wide range of colors, including chocolate, black, cream, and even with parti markings.
The Schnoodle influence allows other coat colors to be brought into the realm of possibilities. Their coats are often very wavy or curly and very plushy, perfect for curling up in. Their coats also are known for being low-shedding, which means that those with allergies may be able to find some more relief with this breed. With a lower genetic percentage of the Golden Retriever and a higher percentage of the low-shedding Poodle, they may even shed less than the already lovable Goldendoodle.
Related: Types of Goldendoodle Colors.
Temperament
With such a high Poodle influence, these Twoodle dogs are brilliant and friendly. In addition, their Schnoodle influence makes them very loyal and attentive to the needs of the owners. As a result, the Twoodles are often praised and recognized for their highly friendly and companionable personalities. They also can be relaxed when nothing alarms them and always up for a snuggle. However, keep in mind that these dogs may also have an innate protective instinct that keeps them alert and attentive to their surroundings with the Schnoodle influence.
As a result, they can make excellent guard dogs that also have loveable personalities. This breed can make a great companion with their loyalty and their attentiveness to what is going on around them for older people. They can make someone feel safe and alert them to anything that may be troubling. In addition, with their high degree of intelligence, Twoodles have been known to be reasonably easy to train. With techniques like positive reinforcement, Twoodles can pick up new tricks and behaviors fairly quickly.
They seek to please their owners, making them more willing to engage in any training. Their intelligence also makes it easier for them to focus for more extended periods. This means that you can continue in your training without needing to stop and take a break so that a Twoodle can refocus and regroup before continuing. From behavioral training to socialization, spending time preparing a Twoodle to thrive in life is helpful.
Especially when starting from a young age, socialization can be a key practice in ensuring your dog is healthy and happy. The Goldendoodle influence, in particular, makes the practice of socialization key. They enjoy being around people, and proper socialization can help make them feel at ease and comfortable, even when they cannot be around. When highly social dogs like the Twoodle cannot cope with being left home alone for extended periods, they can quickly develop separation anxiety.
As a result, behavioral training and teaching your dog to cope with being home alone can prevent destructive behaviors and other issues that may result from expressing their separation anxiety. With their friendly personality and high levels of intelligence, this breed has also been known to be great as therapy or service dogs for people. They are loyal and hardworking, meaning they'll put the needs of their owner first. In addition, they are gentle and caring, perfect for sensitive situations where a professional and high-quality service or therapy dog is needed.
Dog Product Recommendations: Best Dog Bed For Separation Anxiety and Best Dog Toys For Separation Anxiety.
Cost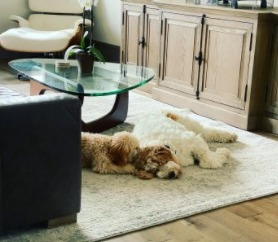 With the rarity of this breed, they can come at a fairly high cost. While the exact price may vary, you can expect to pay upwards of $3,000 to purchase a Twoodle. This is because they are rare in breeding and come from only a select number of breeders. With their potentially high-maintenance coats, they may also require more time at the groomers, which can also add up costs for taking care of them. Before you decide on a Twoodle, be sure that the cost of the dog makes sense for you and your family. The access and availability of the Twoodle may also be minimal due to their exclusivity and rarity. If you're set on a Twoodle, be sure you are willing to wait a potentially long time to secure your furry family friend and welcome them into your home.
Related: How Much Does a Goldendoodle Cost and How Much Does a Schnoodle Cost?
Exercise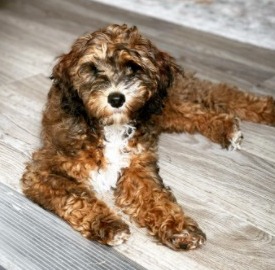 With the playful tendencies of the Goldendoodle and Poodle breeds, the Twoodle is known for loving spending time with their people. Like all other dogs, they require regular exercise. Depending on their size, they may need about half an hour of exercise per day. However, that amount can vary. Larger dogs may require more exercise, while smaller Twoodles can be satisfied with less exercise and activity.
Choosing the right size of Twoodle helps align your lifestyle and how much time you will be able to commit to providing opportunities for regular exercises, such as walks throughout the day or playtime in the living room. Ensuring your dog gets enough exercise is good for their physical health and mental health. In addition, staying active and releasing that energy can help them be less likely to develop anxiety tendencies that can lead to destructive behaviors.
Dog Product Recommendations: Best Weighted Vest For Dogs and Best Dog Playpen For Hardwood Floors.
Health Concerns
With proper exercise and a healthy diet, Twoodles can be kept healthy and happy. However, they may be prone to health conditions that are more common among their parent breeds. For example, like their parents, they may be at a higher risk for hip dysplasia and other heart conditions. They can also develop eye diseases like cataracts. It's also important to keep in mind that as a hybrid breed, the chance of developing genetic health conditions is decreased.
This is due to the intentional breeding practices of breeders and the emphasis on the overall health and wellness of the parent breeds before breeding. When Twoodles are kept healthy and active and can catch any health conditions early, they can expect to live between 10 and 15 years. Typically, smaller Twoodles live longer than larger Twoodles.
Be sure to be proactive as you care for a Twoodle. Please provide them with high-quality dog food free of fillers to ensure they get the best access to nutrition. Please stay away from sharing your unhealthy snacks with them as it may disturb their digestive system. With proper regular exercise and a quality diet that is rich in whole foods and other ingredients they need to grow strong and healthy, you can support the overall well-being of a Twoodle.
Dog Health Guides: Mini Goldendoodle Lifespan and Health Concerns and Rare Dog Diseases Every Owner Should Know.
Conclusion For "Twoodle Information, Facts, Images"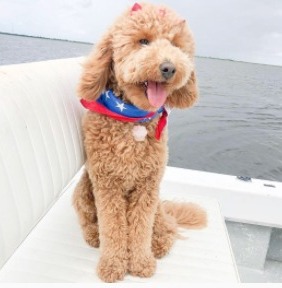 Twoodles are an exciting combination of genetics. While they are pretty rare, they are adorable dogs that have fun and bright personality. With their two different sizes, you can choose the Twoodle that is just right for you and your living arrangements. You can also find them in various colors and other coat markings that make each dog truly unique and loveable.
Finding the right dog for your family is an important decision to make and often starts with research. As you consider whether the Twoodle is a good fit for you and your family, review these important characteristics and features of the Twoodle to inform your decision. With the great physical characteristics and temperaments of the Twoodle, you really can't go wrong with this adorable breed.
For more dog breeds, you can check out our other lists:
To see a Twoodle live in action, watch "Holland The Twoodle" from Teddybear Goldendoodles by Smeraglia down below: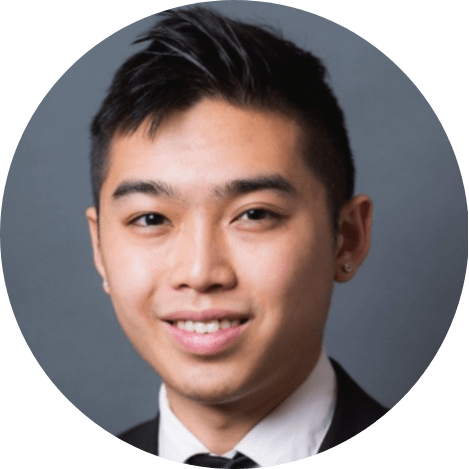 Andy is a full-time animal rescuer and owner of a toy doodle. When he's not saving dogs, Andy is one of our core writers and editors. He has been writing about dogs for over a decade. Andy joined our team because he believes that words are powerful tools that can change a dog's life for the better.
Why Trust We Love Doodles?
At We Love Doodles, we're a team of writers, veterinarians, and puppy trainers that love dogs. Our team of qualified experts researches and provides reliable information on a wide range of dog topics. Our reviews are based on customer feedback, hands-on testing, and in-depth analysis. We are fully transparent and honest to our community of dog owners and future owners.