Choosing Australian Shepherd haircut styles for your precious pup can be challenging, especially with so many options to consider. However, some haircuts work perfectly for these dogs and can keep them comfortable and chic.
Australian Shepherds are energetic and generally love attention. These dogs will gladly spend all day with their owners, working on a farm or herding livestock. They are vital components of daily operations for many farmers and ranchers, and they'll need routine grooming and care.
For example, one option for your Miniature Australian Shepherd haircut could be a summer cut to keep them cool in the warm weather and prevent them from getting dirty since they are lower to the ground.
Curious about what other options are out there? Read on to learn more about the best Australian Shepherd haircut styles available for your precious pup.
Before you scroll down this list of Australian Shepherd haircut styles, check out: Teacup Australian Shepherd Information, Facts, Images! (2023) and Australian Shepherd German Shepherd Mix Guide! (2023).
Do Australian Shepherds Need Haircuts?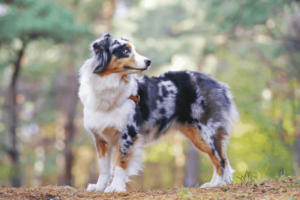 Australian Shepherds need haircuts frequently to ensure they are comfortable and stay safe. Without a haircut or trim every six to eight weeks, your dog may begin to run into things. This happens when the hair above and around your dog's eyes gets too long and diminishes its ability to see.
Additionally, your dog will need a haircut to keep them consistently clean. The longer the hair on your Australian Shepherd, the dirtier it will get when running around outside. Your dog's underbelly will be filthy after playing outside, and mud will easily cling to its long hair.
10 Best Australian Shepherd Haircut Styles
Dozens of haircuts can dramatically improve your Australian Shepherd's comfort and relaxation. These options can keep your dog cool, warm, and clean — even when they are outside playing or working. These haircuts can even be fun and exciting costumes for the holidays.
Summer Cut
A summer haircut is a perfect way to keep your Australian Shepherd comfortable and cozy. A summer cut will ensure your dog can feel the cool breeze on their skin without having to hide away from the sun too much to find relief.
Outdoorsy owners will likely benefit from giving their Australian Shepherd a summer cut. In fact, it can lower the risk of heat exhaustion or heat stroke while on an adventure. Additionally, this haircut will leave your home cleaner since there is less hair for dirt and debris to cling onto.
Kennel Cut
A kennel cut is one of the best haircuts for Australian Shepherds who have just been adopted or spent time in a kennel. This haircut style will ensure that your Australian Shepherd is free from fleas, ticks, or pests that may linger in the hair or on the skin.
A kennel cut may be the type of haircut an animal shelter uses to keep dogs as pest-free as possible. This haircut can also provide enhanced comfort since its hair will be short and prevent your dog from getting overheated.
Dinosaur Cut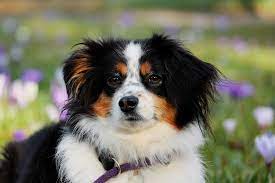 A dinosaur cut is one of the most fun haircuts for your Australian Shepherd, but it may be challenging to achieve without hair products. This haircut leaves most of the hair shaved close to the skin with only three little spikes along its back. These spikes will make them look like the stegosaurus and can work perfectly for costume parties or Halloween.
If your Australian Shepherd has a tail, you can shave most of its tail and leave a little spike at the end to mimic the stegosaurus tail, too.
Teddy Bear Cut
A teddy bear cut is a perfect way to make your Australian Shepherd look like a lovable stuffed animal. This haircut will have the hair on your dog cut short and puffed up to resemble a stuffed animal. Although this haircut can work well on mature dogs, it's best on puppies. They can blend in with a pile of stuffed toys.
A teddy bear cut works best as a Mini Australian Shepherd haircut and will make even an adult Mini Aussie look like a baby.
Clean Shave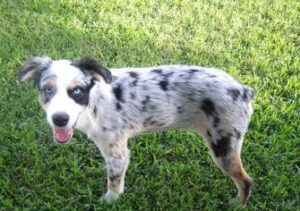 A clean shave is a great way to start over with your Australian Shepherd's hair. This type of haircut is not recommended for long-term use. It may cause your dog to get cold in chilly weather and make them uncomfortable. However, this haircut can remove any damaged hair and make way for healthier hair to grow in.
A clean shave can remove pests in your dog's hair or skin. Sometimes, these pests can be hard to see and may burrow into the skin. This haircut can help you notice fleas, ticks, or dandruff conditions your dog may suffer from daily.
Lion Cut
A lion cut can be an elegant haircut for your dog and make them look stunning. This haircut is done by trimming almost all of your dog's body hair short while leaving a mane of hair around its neck and chest. This large set of hair can make your dog look larger than it is and will have them resembling a regal king of the jungle.
This haircut can be done at home if your Australian Shepherd is well-trained to sit still during haircare procedures. Additionally, this haircut on a Miniature Australian Shepherd will make them look like a lion cub.
Uniform Cut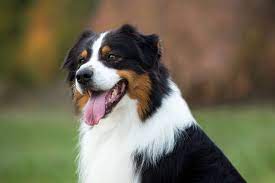 A uniform cut is a perfect and easy haircut to conduct on your Australian Shepherd. This haircut will ensure all the hair on your dog's body is the same length, giving them an elegant, uniform look that will have passersby turning their heads to look at your precious pup during walks.
This haircut is one of the easiest to try — all you need is scissors and a dog brush. With time and patience, you can give your dog a stunning look without shelling out for salon grooming prices.
Puppy Cut
A puppy cut is similar to a teddy bear cut, except the hair around the head and face is smaller. The teddy bear cut leaves this hair longer to make your dog appear to have a larger head than usual. However, a puppy cut will give your dog a uniform, puffy look that won't have them trailing dirt and mud everywhere.
This haircut will trim your dog's hair relatively short, especially on its underside to prevent making a mess during potty training.
Long Hair Cut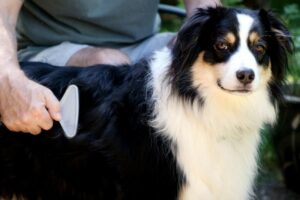 A long haircut will mean your dog will come in for a small trim every one to two months. Leaving your Australian Shepherd's hair long is acceptable if you are in a location with cooler temperatures that won't put your dog at risk for heat stroke or other heat-related injuries.
You may need to bring your precious pup into the dog grooming salon to get the hair on their face and around their eyes trimmed to prevent any obstructed vision. Overall, this haircut will ensure your dog looks stunning and wild.
Shaved Underside Cut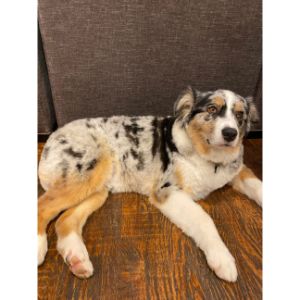 Next up, the shaved underside cut is one of the best ways to make sure your dog maintains a clean nature and prevents dragging dirt, mud, and other debris into the home. This haircut is done by shaving almost all the hair on your Australian Shepherd's underbelly and legs to make a uniform look across its bottom half.
The hair on their upper half can remain as long as you like if you're maintaining the hair about the eyes to ensure they can see properly. Likewise, this haircut can make sure your dog doesn't need as many baths and won't drag in as much dirt into your home, meaning less clean-up time.
Frequently Asked Questions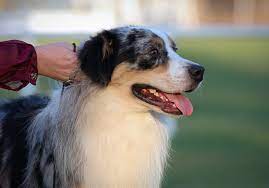 Grooming your dog can be challenging work, but these answers can help you navigate the difficult topic with ease. Read on to learn some key tips on what your Australian Shepherd needs from their haircut.
Do Australian Shepherds Need Haircuts?
Australian Shepherds will need a haircut every six to eight weeks to ensure their comfort. These dogs have fast-growing hair and will need frequent haircare to make sure they aren't suffering from knots, tangles, or an obstructed view.
What Kind of Haircut Should I Get for an Australian Shepherd?
Before deciding on a haircut for your Australian Shepherd, you may want to consider the climate you live in and the activities your dog usually engages in. If you have a very active dog in a warm climate, your pup may need a haircut close to their skin while those living in colder climates may keep their dog's hair long.
Can Australian Shepherds Be Trimmed?
Australian Shepherds may have a trim instead of a full haircut to keep them comfortable. Trimming can be most beneficial in the winter or in cold climates to keep your dog from getting too cold.
How Often Do Australian Shepherds Need Haircuts?
Australian Shepherds will need to get a haircut every six to eight weeks to keep them comfortable and ensure they aren't suffering from an obstructed view.
How Short Can You Cut an Australian Shepherd?
You can shave your Australian Shepherd completely if needed. However, unless your dog has fleas or lice, you'll likely want to make sure at least an inch of hair remains to keep them comfortable.
Should You Groom an Australian Shepherd?
Australian Shepherds will need frequent grooming, bathing, and brushing to prevent their hair from getting knotted or tangled. This may mean taking a brush to their hair daily to make the process easier for yourself and your pup.
How Should Australian Shepherds Be Cut?
You can conduct the haircut at home or you can take your Australian Shepherd to a dog grooming salon with a description or picture of the style you're looking for. Consider taking note of before and after looks when trying Australian Shepherd haircut styles.
Conclusion for "Best Australian Shepherd Haircut Styles"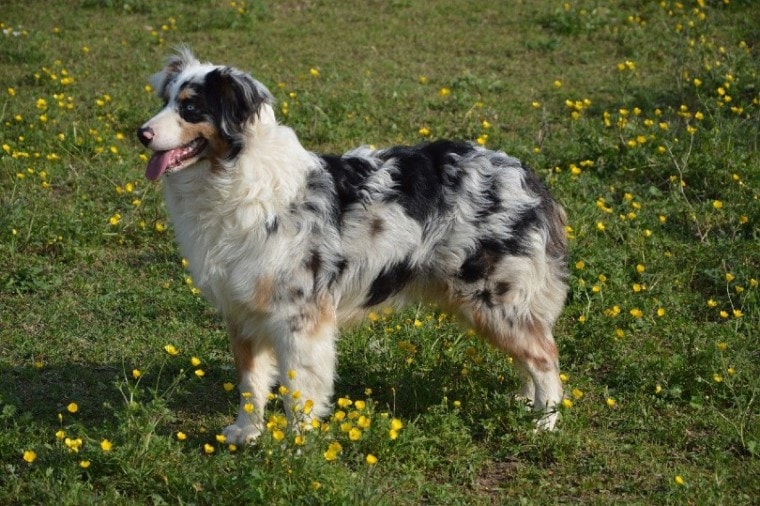 Australian Shepherds are stunning dogs who love to have fun and enjoy working outside with their owners. These dogs will need plenty of routine hair care and trimming to remain comfortable, especially in warm weather.
Generally, Australian Shepherds don't shed much, making them a perfect option for dog owners who have mild allergies. However, they will need to go in for a haircut every six to eight weeks to ensure their utmost comfort. Without consistent hair trimming, these dogs will likely get their view obstructed with renegade hair and may cause property damage or injure themselves.
In summary, there are dozens of stunning Australian Shepherd haircut styles you can choose to use on your dog to make them look and feel mesmerizing. Whether you want to try something fun and exciting like a dinosaur cut or something uniform like a kennel cut, there is a hairstyle that will work well for you and your precious pup.
More guides similar to this list of Australian Shepherd haircut styles:
If you find these Australian Shepherd haircuts interesting, you can learn more about grooming your companion by watching "Grooming an Australian Shepherd" down below:
Garrett loves animals and is a huge advocate for all Doodle dog breeds. He owns his own Goldendoodle named Kona. In addition, he volunteers at the Humane Society of Silicon Valley, where he fosters dogs and helps animals. Garrett enjoys writing about Doodles and believes that dogs can teach humans more about how to live than humans can teach a dog.
Why Trust We Love Doodles?
At We Love Doodles, we're a team of writers, veterinarians, and puppy trainers that love dogs. Our team of qualified experts researches and provides reliable information on a wide range of dog topics. Our reviews are based on customer feedback, hands-on testing, and in-depth analysis. We are fully transparent and honest to our community of dog owners and future owners.