There are pretty dogs and then there are beautiful dogs. There are big dogs and small dogs and dogs with mixed coats. They are all incredibly unique in their own ways. They can look similar or very different and they come in all different colors, shapes, and sizes.
Many times, people have begun taking two incredible breeds and pairing them together (sometimes by accident) to create an even more enjoyable dog. When they do this, you often get the best of both worlds in a dog. Many of the mixed breeds have become designer breeds that tend to cost quite a lot of money to get your hands on.
In this guide, we're going to focus on a Great Pyrenees and Australian Shepherd mix breed. When combined together, this dog is so smart and utterly beautiful with incredible colors and a full, fluffy coat. We'll share everything you need to know about the mix, including their personalities, appearances, health, training, and more!
Before scrolling down this list, check out these recommendations: Australian Shepherd Husky Mix Guide (Ausky)
About Great Pyrenees and Australian Shepherds Mix
If you know much at all about the Great Pyrenees or the Australian Shepherd breeds, you know that they are wanderers. These dogs are naturally herding dogs and they love to have the space to move about freely, explore, and do their work.
When combining the two breeds together, you get a similar result. You can expect a fairly large dog that is very loyal and protective. They are also extremely smart. They can sometimes weigh up to 100 pounds and they might live for 15 years.
These dogs are pretty incredible really when you consider it. Both breeds on their own are quite intelligent while also being loving and friendly all of the time. They are loyal to a fault but they also are wary of strangers.
They need a lot of activity and they will do well with other pets but they may need an adjustment or socialization period still.
You might hear this mix referred to as a Great Aussie Pyrenees or even an Aussie Pyrenees to shorten the title.
There's a quick overview of the highlights for you but let's dig a little deeper.
Great Pyrenees and Australian Shepherd Appearance
So what can you expect a dog like this to look like? First, you can anticipate that they will get fairly large. Great Pyrenees are large dogs and the Australian Shepherd is also typically medium to large as well. It's a given that pairing them is going to give you a pretty large dog.
Of course, you won't really know just how large they will be until they grow. You can look at the size of the parents but it's a bit of a mixed bag. This mixed breed can range anywhere from 50-100 pounds at full growth.
They are sturdy, muscular, and agile because they are made to run and work. However, they also have a ton of hair so you won't necessarily see all those big muscles.
Part of the overall size is their height. These dogs can range from 25-32 inches tall.
Again, you can look at the size of the parents for a general idea but you just never really know. Males are typically larger than females so that might also be a factor in the size of your Great Pyrenees Australian Shepherd mix.
Chances are the pup is going to be dominant in looks of either the Great Pyrenees or the Australian Shepherd, although they will clearly be mixed. If they take after a Great Pyrenees, their coats will have a lot more white than color but if they take after the Australian Shepherd, they will probably be colorful.
Their eyes are usually dark but there is a chance you will get blue eyes. Australian Shepherds are known for sometimes having one blue eye and one dark eye so it's possible you will see this too, although it is pretty rare with the Aussie Pyrenees mix.
These dogs will have long, thick coats. If they take after the Aussie, they might have marbled colors in their coat. Even without the marbled look, they will likely have some darker spots hedged in with their white coat.
Back to the coat! It's long and thick and prone to some heavy shedding. We will talk about grooming later but you can anticipate brushing and trimming for sure. They are shedders, there is no way around that with these fluffy pups. Their coat is a double coat so it's nice and thick. It will keep them warm but surprisingly not as warm as you might expect.
Great Pyrenees and Australian Shepherd Personality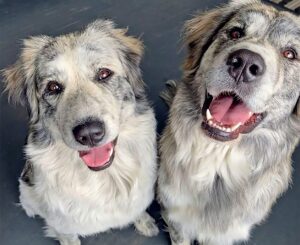 Now, let's talk about the inside. These dogs are actually pretty awesome inside and out. Both breeds are incredibly smart and this shines through when you mix them as well.
Australian Shepherds in particular are known for being one of the smartest dog breeds. They are also loving and loyal. They are protective dogs but they also like to be friendly and they love to be played with and loved on.
The Great Pyrenees is also friendly but they are independent and they enjoy having their own space to roam and explore. Pyrenees dogs are also protective. They've been used as herders as well as guard dogs because of their protective natures. Their size tends to scare people away when they show protectiveness so you get the best of both worlds.
When you combine into an Aussie Pyrenees, you get loving, loyal, and smart paired with independence and protectiveness. It's a good combination and most of the time you will see that all of those traits shine through to the pups.
It never hurts to try to get to know the parents if possible. Sometimes their temperaments will be an indication of what you can expect from the pups. However, you will have the opportunity to train and socialize your pup so it might not make much of a difference what the parent is really like.
Both breeds get along well with other people and with animals. Both of them train pretty easily too. If your dog hasn't been socialized, you may need to slowly integrate other pets or people to help them adjust but really it shouldn't be a major issue.
The Aussie Pyrenees gets bored easily so it's best not to leave them locked up or unattended for too long. This is when they can get into trouble. They inherit that from both breeds so it's bound to be a personality trait with your pup.
They do like to have playmates and friends. Both dogs do better with other doggy companions so the mixed breed also does. This gives them someone to play with and reduce boredom as well.
Great Pyrenees and Australian Shepherd Grooming
Here's where it gets really fun! You can most definitely expect to have some regular grooming needs. At a minimum, your Aussie Pyrenees is going to need to be brushed and trimmed regularly.
They have long and thick coats. The long hair can easily get matted, tangled, and out of control if it isn't properly cared for. Even with regular brushing, your pup will probably shed quite a bit. This can be reduced with brushing but don't expect brushing to make the shed nonexistent.
We recommend brushing at least 3 times a week but it would be best if you could do it more like 5 times a week to keep the hair mess at bay.
With all of that being said, their coats are beautiful. They just need some TLC to maintain them. If the pup takes after the Great Pyrenees parent more, they might shed less or require slightly less grooming than the Aussie side. But you never know for sure.
These dogs can suffer from skin irritation easily. This means you don't want to bathe them too often. Obviously, they need bathed on occasion but you can use doggy wipes in between baths to help with those doggy odors, particularly if your dog likes to frolic outside.
While their coats are double and thick, they actually aren't all that warm to the dogs so keep this in mind during grooming and trimming. You want to trim them but you shouldn't shave them.
For brushing purposes, we recommend using a pin brush, a comb, and a de-shedder. You really probably need them all or you need a brush that is made to kind of do it all.
If at any time you are unsure about the best grooming, it's totally ok to call in a professional groomer for trimming hair, bathing, and clipping those nails.
Great Pyrenees and Australian Shepherd Health
Your Aussie Pyrenees is likely to live a long life that is mostly healthy. However, with that in mind, they are not immune to health conditions and actually could potentially face quite a few in their years.
One of the biggest things they struggle with is hip dysplasia. This is because of their size and their activity levels but you can be proactive by making sure they get to move around and exercise as they need to.
These dogs can quickly become obese. They like to eat and run but they also will eat just about as much as you let them so it's important to find a good balance for their diets.
Here are some other health concerns to be aware of:
Bone cancer
Skin challenges
Bloating
Arthritis
Joint pain
All of that said, your dog just needs you to pay attention and be mindful of the things that might harm them or have a negative effect on their health. You can't always control everything but you can do your best to be proactive.
Aussie Pyrenees Training and Exercise
While this dog is known for having a bit of an independent streak thanks to their Pyrenees parent, they still are pretty easygoing. They are protective by nature but they are also loyal and love to please their owners.
You can expect that these dogs will be fairly easy to train because they are very smart. They can be crate trained and learn all sorts of other commands. Your biggest challenge in training will be making sure you occupy their time to limit destructive behavior.
You also need to make sure they get plenty of exercise and activity for the same reason. Both of these breeds are herding dogs. This means they were both born to work and roam and move around all day. If your dog doesn't get that stimulation, it's going to wear on them and you will see signs of depression, rebellion, and maybe even degrading health.
Be sure that your dog gets about 2 hours of activity and exercise a day. Aussie Pyrenees do really great in rural areas where they can get outside and run around and play. You will have to train them not to roam too far so they understand their boundaries.
The good news is that if you're consistent and make sure they have a job or a playmate, they are well-behaved dogs and they will do almost anything to please their masters.
Part of this is making sure they have a balanced diet. You want something that will support their activity levels but be cautious not to overfeed them as well.
Conclusion For Great Pyrenees Australian Shepherd mix
The Great Pyrenees and Australian Shepherd mix, or Aussie Pyrenees, is a really fun mix breed. They do best in the country or somewhere that they might have room to run and play. They also do really well with a sibling or a playmate so they don't get lonely or bored.
If you decide to get one of these mixed breeds, you will find that you have a super-smart dog that has a beautiful disposition and appearance. They are loving, loyal, protective, and intelligent all wrapped up into one sweet bundle.
Keep in mind that their sizes and their personalities might vary a bit depending on the parents. You also need to be ready for the grooming responsibility but these dogs are well worth it.
You will also like:
Garrett loves animals and is a huge advocate for all Doodle dog breeds. He owns his own Goldendoodle named Kona. In addition, he volunteers at the Humane Society of Silicon Valley, where he fosters dogs and helps animals. Garrett enjoys writing about Doodles and believes that dogs can teach humans more about how to live than humans can teach a dog.
Why Trust We Love Doodles?
At We Love Doodles, we're a team of writers, veterinarians, and puppy trainers that love dogs. Our team of qualified experts researches and provides reliable information on a wide range of dog topics. Our reviews are based on customer feedback, hands-on testing, and in-depth analysis. We are fully transparent and honest to our community of dog owners and future owners.