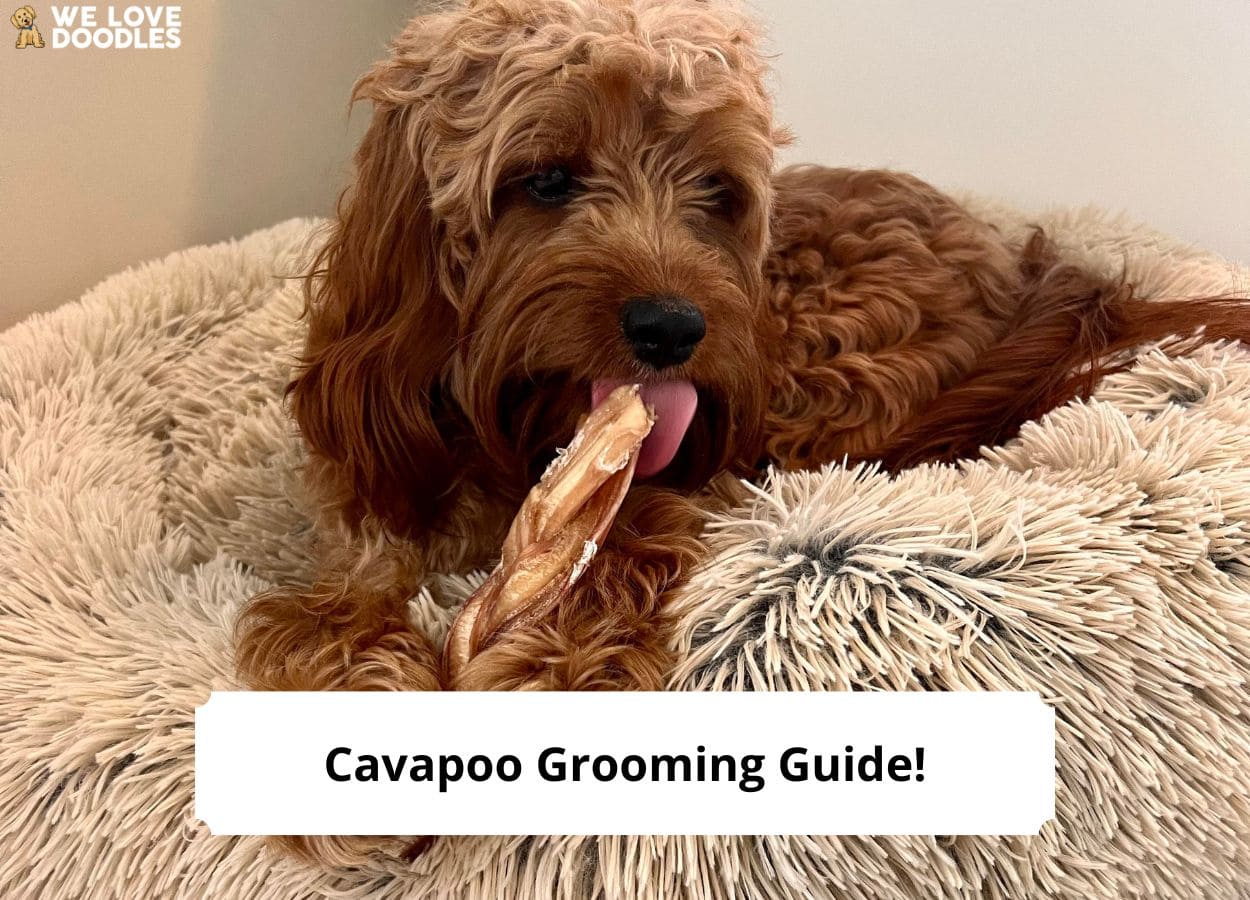 Cavapoos are sweet, intelligent dogs. They're popular as a low shedding — if not completely hypoallergenic — alternative to Cavalier King Charles Spaniels. To help your Cavapoo live its best life, you can follow this grooming guide.
Cavapoos aren't without their drawbacks, the most significant of which is the amount of grooming they need. Their short, curly coat is a legacy from their Poodle parents, who are also notorious for requiring regular grooming.
Here's everything you need to know about Cavapoo grooming and haircuts.
Before reading this guide, "Cavapoo Grooming Guide," check out: When is a Cavapoo Full Grown? (2023) and When to Spay a Cavapoo? (2023).
Should You Groom at Home or Choose a Groomer?
First off, decide whether you want to groom your Cavapoo at home or seek professional assistance.
There is no wrong answer here. Grooming is an excellent way for owners to bond with their Cavapoo puppies. It can also feel daunting if you've never done it before.
It also requires significant investment in grooming supplies. Whereas a certified groomer will know your breed and be able to advise on styles, techniques, and haircuts.
Cavapoo Grooming Styles
If you decide to groom your Cavapoo yourself, your next decision is what Cavapoo grooming style you want to try. There are several ways to trim your Cavapoo's coat.
Puppy Cut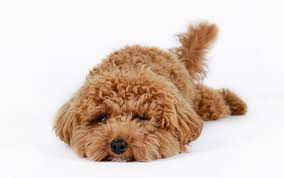 The puppy cut is an ideal way to learn how to groom a Cavapoo. It's uncomplicated and less fussy than other time-intensive cuts. To achieve this look, simply cut your Cavapoo's hair to approximately one inch. You should do this everywhere, including the face.
The resulting look is puppyish, hence the name. It's similar but not identical to the teddy bear cut.
Owners like it partly because of the playful, exuberant look it gives Cavapoos but also because it keeps hair short enough to prevent painful mats. Not only does that mean less grooming in the long run, but it reduces the chances of your Cavapoo developing secondary infections.
Summer Cut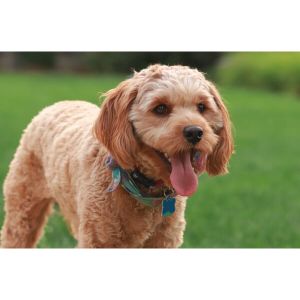 Dogs regulate their body temperature through their fur. Ideally, you want a haircut that preserves enough fur to help your Cavapoo regulate temperature while keeping its coat light enough to stay comfortable. Summer cuts can vary, so if your Cavapoo sees the groomer often, you must be specific.
Some groomers interpret this cut to mean a full shave, but that can cause problems for your dog. The more effective summer cut gives your Cavapoo a fine, short coat. You'll have to repeat the grooming procedure routinely during warm weather since their hair grows back quickly.
A summer cut that gives your Cavapoo roughly half an inch of hair covering them is an ideal way to prevent your Cavapoo from overheating.
Teddy Bear Cut
The teddy bear cut is one of the most popular looks for groomed Cavapoos. It showcases the Cavapoo's affectionate, loyal nature while keeping their fur a manageable length.
Typically, the fur around a Cavapoo's paws stays short while its body is consistently a middling to short-cropped length.
You then trim the hair around the face so that it blends into the Cavapoo's body and round out its appearance with scissors.
Lion Cut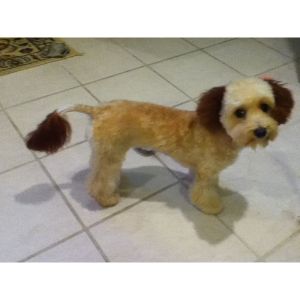 Another popular Cavapoo haircut many consider when grooming a Cavapoo is the lion cut.
What's distinctive about the lion cut is that it leaves the hair around the legs and neck longer. The longer neck fur produces a 'mane,' and the extra coverage over your Cavapoo's feet protects them on city walks.
Consequently, this is a popular look among city-dwelling Cavapoo owners who want to keep their dogs' feet clean.
How to Groom Your Cavapoo
That's a fairly comprehensive list of Cavapoo grooming styles. But how do you groom your Cavapoo?
Start With a Brush
The first step in Cavapoo grooming is to brush their fur. This is a gentle and relaxed way of introducing puppies to grooming. It also helps detangle your Cavapoo's fur. Depending on the generation and coat type of your Cavapoo, it can also help lift excess fur from their coat.
Try to avoid pulling when you brush your Cavapoo's coat. This applies to knots and mats, especially since pulling can cause them to tighten. Instead, brush horizontally against the grain of the mat.
Bathe Your Cavapoo
If your Cavapoo is anything like our dogs, they disagree about the necessity of a bath. But the next stage in grooming a Cavapoo is to wash them.
Bathing removes debris trapped in their coat. There's often more than you anticipate, because like all dog hair, the Cavapoo's doesn't slough off after a certain length. Instead, it can grow indefinitely. It's what gives Cavapoos their charming appearance, but it's also an excellent way to pick up dirt, dust, and burs.
When bathing your Cavapoo, it helps to use a shampoo designed to detangle fur. This loosens and removes any knots your brush couldn't unpick.
Crucially, you should never brush your Cavapoo directly after bathing. If there are still knots in their coat, combing them out while damp won't eliminate them. Instead, it will exacerbate them.
Also, note that you must thoroughly rinse your Cavapoo. Soap can become trapped in your Cavapoo's coat, and eventually, that can cause skin irritation.
Cavapoo Ear Care
The next part of grooming a Cavapoo involves their ears. Because Cavapoos have furry ears, it's an ideal place to house ticks, mites, and other parasites.
As you dry off your Cavapoo after their bath, take time to check their ears. Mites can be tricky to spot directly, so look for blackish discharge around the ears. Ticks, on the other hand, should be obvious.
There's some debate about the best way to manage Cavapoo ear hygiene. Some people believe that cutting the ear hair back completely lessens the chances of attracting bacteria and parasites.
Other groomers say the opposite. We recommend splitting the difference and leaving enough hair to keep dirt and dust out of the ear canal but not so much that it becomes a breeding ground for potential illnesses. If you aren't sure what's best for your Cavapoo, speak to your vet.
This is also where some people prefer to involve a groomer. Cavapoo ears are delicate, and if you or your dog is nervous, one wrong move can cause a minor injury.
Trim Your Cavapoo's Nails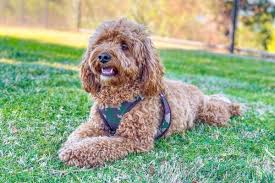 The next step in grooming your Cavapoo is trimming their nails. Many owners overlook this, sometimes because they're nervous about clipping nails and other times because they don't realize it's mandatory.
Leaving a Cavapoo's nails untrimmed risks:
Ingrown toenails
Torn nails
Paw pad injuries
Nails catching on foreign objects
Infection
Not all dogs like having their paws handled. That's another reason to involve a professional groomer. However, you can help familiarize your dog with this procedure by touching their paws and lightly squeezing them in puppyhood.
Another way to relax a Cavapoo while you trim their nails is to distract them with a favorite toy or treat.
Reputable clippers will enable you to quickly and efficiently trim their nails. Always cut your Cavapoo's nails at a 45-degree angle to avoid cutting the nail quick.
Don't Forget Dental Care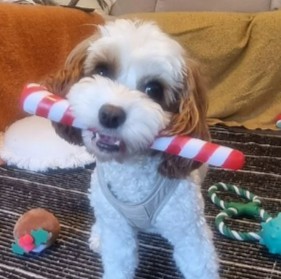 While grooming your Cavapoo, you can also take the opportunity to clean their teeth.
Like people, dogs can develop dental problems without routine dental hygiene. Untreated, they can develop dental disease, and may eventually need damaged or infected teeth extracted.
The process is expensive, and it's painful for your Cavapoo. Not only that, but it puts your dog at risk for more serious problems like pancreatitis and certain types of cancer.
Start by touching their mouth and gums. The earlier you start the process, the more receptive your Cavapoo will be to eventual brushing. Once they're used to having their teeth handled, you can put canine toothpaste on your finger and rub it along the gum line.
Only once your Cavapoo feels comfortable with this step should you incorporate a toothbrush into your routine. Brushing your Cavapoo's teeth at least once a week helps normalize this process and keeps their teeth healthier for longer.
Eye Care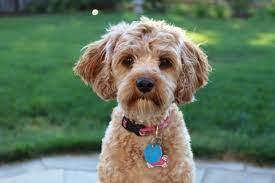 The final step in our Cavapoo grooming guide is to clean their eyes. Because Cavapoos are part Poodle, they inherit the Poodle's predisposition for mucus around the eye.
The gunk isn't unhealthy, but it forms a crust over your Cavapoo's fur and stains it. The most effective way to remove this crust is by gently sponging your Cavapoo's face with a warm washcloth.
As with nail trimming, repeated early exposure to touching on the face and around the eyes will help keep your Cavapoo calm while you do this.
Frequently Asked Questions
Hopefully, this grooming guide answers the question of how to care for your Cavapoo. If you still have questions, here are some other topics people often ask about.
How often do Cavapoos need grooming?
How often you groom your Cavapoo varies depending on the haircut you give them. Some styles require more upkeep than others.

A good rule of thumb is that you should groom your Cavapoo every six to eight weeks. However, you must brush your Cavapoo daily between grooming sessions. It keeps their coat tidy, and it makes less work for you when you next trim their fur.
When should you first groom a Cavapoo?
Cavapoo puppies are as wriggly as any other breed, so they're difficult grooming subjects for the first few months of their lives.

Usually, vets recommend introducing grooming into your Cavapoo's life around the 12- to 14-week mark. That's about when they get their first vet appointment.

At that stage, you don't need to worry about haircuts and trimming their fur. The important thing is to introduce your Cavapoo to daily brushing. It's an excellent way to bond with a young Cavapoo.

While doing this, remember to familiarize your Cavapoo with someone touching their:

Ears
Mouth
Paws
What is the best way to groom a Cavapoo?
The best way to groom a Cavapoo is to start with brushing. Many Cavapoos enjoy the process and find it soothing. Next, bathe your Cavapoo, taking care to rinse all soap from their fur. Once they are rinsed and dried, take time to inspect their ears, clean their teeth, and trim their nails as necessary.
Conclusion for "Cavapoo Grooming Guide"
As this guide shows, grooming a Cavapoo is a necessary part of owning one of these affectionate dogs. And it doesn't have to be daunting. The earlier you start, the more relaxed Cavapoos are about grooming.
To groom your Cavapoo, always start by brushing and proceed gradually towards more complicated steps like coat trimming and nail clipping. If at any point your dog signals distress, stop. If you can't distract them with a toy or a treat, leave the rest of the grooming for another day.
You must groom your Cavapoo to keep them healthy, but it's even more important you build a trusting relationship with them. Understanding how grooming your Cavapoo affects it is a significant part of that relationship.
If you find this guide, "Cavapoo Grooming Guide," helpful, check out:
Learn more by watching "How To Easily Groom Your Cavapoo!" down below:
Garrett loves animals and is a huge advocate for all Doodle dog breeds. He owns his own Goldendoodle named Kona. In addition, he volunteers at the Humane Society of Silicon Valley, where he fosters dogs and helps animals. Garrett enjoys writing about Doodles and believes that dogs can teach humans more about how to live than humans can teach a dog.
Why Trust We Love Doodles?
At We Love Doodles, we're a team of writers, veterinarians, and puppy trainers that love dogs. Our team of qualified experts researches and provides reliable information on a wide range of dog topics. Our reviews are based on customer feedback, hands-on testing, and in-depth analysis. We are fully transparent and honest to our community of dog owners and future owners.