Cavalier King Charles Spaniels have many amazing stand-out features that make them great members of any family. From their large, round eyes to their loving temperament, Cavalier puppies are well-loved family pets and fit into many lifestyles; yet there's still a lot you need to know before you add one of these puppies to your pack.
Anytime you're thinking about getting a puppy, it's important to research to know all you can about the breed and to make sure that your new pet will fit in nicely in your home and lifestyle. Additionally, the next step is to find a reputable breeder that you can trust to give you a healthy puppy.
Cavalier King Charles Spaniel puppies are the 18th most popular purebred dog in the world. Thus, it's no surprise that you find a lot of puppy mills or backyard breeders that are solely trying to make a profit and don't care about the health of their puppies. That's why we created the list of the 11 best Cavalier King Charles Spaniel breeders to help you find your next puppy.
Before scrolling down, here are some related articles: Golden Retriever Breeders and Mini Schnoodle Breeders.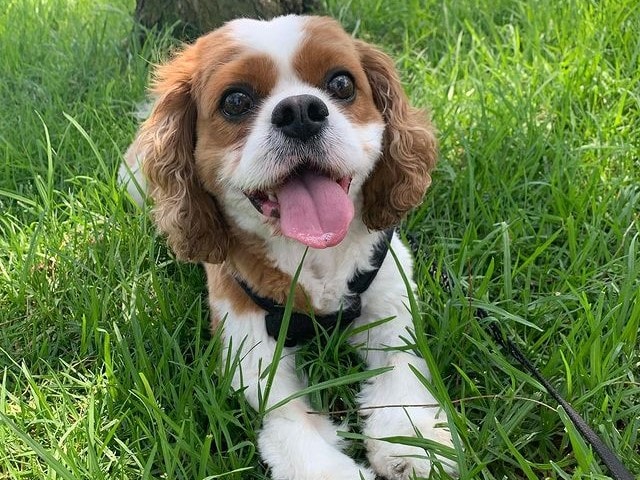 We love PuppySpot because they screen all Cavalier King Charles Spaniel breeders for you so you don't waste time interviewing dozens of breeders. This not only saves you time, but you know they are reputable since they have sold over 220,000+ puppies to date. Additionally, there are 95 Cavalier puppies for sale to so you won't have to wait on a puppy wait list. You can sort by color, gender, age, and price to find the perfect puppy that you want. Once you find that puppy, they will ship to you safely since they have their own airline carrier.
We got one of our two puppies from PuppySpot and enjoyed the experience. Not only do they save you time screening breeders, but you get the exact puppy you want without waiting. In addition, all the Cavalier King Charles Spaniel puppies for sale come with an industry-leading 10-year health warranty, AKC papers, and a health inspection. We really enjoyed our experience and think you will as well.
Cavalier King Charles Spaniel Breeder Details
2. Cavaliers by Crumley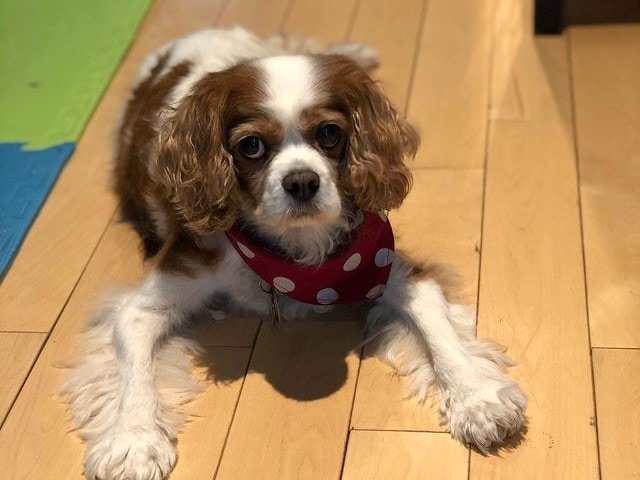 Cavaliers by Crumley has been breeding since 2002 and offers a foster program, a full-service dog boarding, grooming, and training facility. All their Cavalier King Charles Spaniels compete in conformation and obedience AKC events. The breeder has a health testing level of Excellent from Good Dog, is an AKC Breeder of Merit, and is part of the Breed with H.E.A.R.T. program. All of their Cavalier King Charles puppies are microchipped, dewormed, and vaccinated in accordance with their age. The sires and dams of Cavaliers by Crumley are all OFA certified as being in good health.
Visits must be scheduled and are for those who are adopting as they are limited to a very brief time. Cavaliers by Crumley doesn't ship dogs but you can opt for a nanny to hand-deliver your Cavalier King Charles Spaniel to you. If you can no longer care for your pet, the breeder will rehome your King Charles for a fee.
On the King Charles breeders website, you can buy their puppy pack, NuVet vitamins, or other services and products they offer. Cavaliers By Crumley has some useful tips on housebreaking, vaccinations, playtime, and you can read about their foster program.
Cavalier King Charles Spaniel Breeder Details
3. Linrica Cavaliers
Linrica Cavaliers are first and foremost competition dogs. The Cavalier King Charles Spaniel puppies from this breeder compete and show in AKC conformation competitions. In addition, they are members of national and local breeder clubs and are an AKC Breeder of Merit.
The Cavalier puppies for sale from Linrica Cavaliers are from champion bloodlines, will have health certificates, and are annually tested by board-certified specialists. These puppies, however, are raised to be pets. They're raised in the home and will be placed as pets to a safe and responsible owner. Additionally, Linrica's King Charles puppies and dogs are bred for health, temperament, aesthetics, and longevity.
According to the AKC website, Linrica has been breeding since 2008, but there's no information on what comes with your puppy or what the adoption process entails. It's best to contact the breeder by email for more information.
Cavalier King Charles Spaniel Breeder Details
Owner: TeYu Hsiung
Location: Far Hills, NJ 07931
Phone: (908) 312-1333
Email: Linrica@gmail.com
4. Chadwick Cavaliers
Anne Eckersley has made Cavaliers part of her life for decades. She has been judging Cavaliers since 1984, not only in the United States but in Europe, South Africa, and Australia. Currently, she is also the president of the National Club for the Cavalier King Charles Spaniel (CKCSC). Her dogs compete in agility and conformation events. Additionally, Chadwick Cavaliers is awarded an AKC Breeder of Merit and has a Health Testing Level of Excellent from Good Dog.
As a Cavalier King Charles Spaniel breeder, Anne and the team at Chadwick Cavaliers want to educate people and place happy, healthy puppies in their forever homes. A puppy or dog adopted from Chadwick Cavaliers will come with their AKC and club registrations, their vaccine records, a certificate of health, a puppy starter kit that includes a toy, a blanket, a bone, a leash, a bag of food, and a collar. Anne uses several socialization and desensitization techniques to get a puppy used to many environments, including exposure to other animals, noises, textiles, and will be used to daily human interaction and affection. These puppies will have traveled and started on crate, doggy door, potty, litterbox, table, and no bite training.
Take the time to peruse the website, it's pretty well packed, but it's worth it. Check out the tabs on health for the breed, finding a puppy, and feeding and training.
Cavalier King Charles Spaniel Breeder Details
Owner: Anne Eckersley
Location: Hawleyville, CT 06440
Phone: (203) 253-0068 or (203) 253-6921
5. Marino's Precious Cavaliers
As a King Charles puppy breeder, Heather breeds for the overall betterment of the breed by focusing on health, temperament, and beauty. She has a very stringent breeding protocol, and her dogs are registered with OFA and CERF certified, are registered with the AKC, and have a Health Testing Level of Great with Good Dog.
To adopt a Cavalier puppy from Marino's Precious Cavaliers, make sure you read the adoption contract because she wants you to keep in touch, send photos, and make it clear that these dogs are inside your house most of the day. Additionally, this breeder sets forth guidelines for spay/neuter and that if you can't care for your Cavalier Spaniel, you'll work with her and not drop it a shelter or resell it.
Your King Charles puppy will also come with a 1-year health guarantee, a lifetime of support, limited AKC registration, a copy of their pedigree, their first set of shots and will have been dewormed and their dew claws removed. At 4 ½ weeks of age, Marino's Cavaliers will start housebreak training, will go through layers of socialization and household desensitization. These dogs are raised in the home as pets and are meant to be kept that way.
Visit the site to read about the breeder, the history of this beautiful and regal dog, and to see a list of suggested products. Marino's Precious Cavaliers can also be followed on Facebook and Instagram.
Cavalier King Charles Spaniel Breeder Details
Owner: Heather Marino
Location: Sandpoint, ID
Phone: (951) 234-6391
6. RobinCreek Cavaliers
Vernal Utah is part of the Western Rocky Mountains, and RobinCreek Cavaliers is a 5-acre homestead located where Cavalier King Charles Spaniels run, play, train and live as part of the family. They are raised in the house and handled every day by a family member. All of the dogs go through household and noise desensitization, lots of socialization, and will be used to textures, toys, and various elements. The Cavalier King Charles Spaniel puppies spend lots of time outside, will be crate trained, will be started on "No Bite or Chew" training and potty training.
The breeder is an AKC Breeder with H.E.A.RT. recipient, has a health testing level of Excellent from Good Dog, is a member of local and national clubs for the breed, and will only breed 1-2 litters per year.
A Cavalier puppy adopted from RobinCreek will be available for pickup at 10 weeks old. It will be sent home with a toy, a food starter bag, a blanket, their AKC and club registration, and vaccination records. Your puppy also comes with a 1-year health guarantee, and the breeder will not only help you throughout the lifetime of your new family member, but she's part of a larger community that she will put you in touch with to help in any way.
There's a puppy questionnaire on the site that's pretty standard: How will keep your Cavalier King Charles Spaniel safe and healthy? What do you know about the breed? How much time can you spend with your dog? Do you have other pets, etc?
RobinCreek Cavaliers can be followed on Facebook or click on the link below to see about adopting a Cavalier.
Cavalier King Charles Spaniel Breeder Details
7. Kingslee Cavaliers
Kingslee Cavaliers is a small preservation and show breeder who has litters occasionally and breeds for the preservation and betterment of the breed. Jennifer places a lot of emphasis on educating any family that adopts one of her dogs as well as holistic care. It's also important to know that her puppies are bred to be show dogs, so not all will be up for adoption and none will be available before 10-12 weeks. She does sometimes have older dogs for adoption.
The Cavalier King Charles Spaniel puppies for sale here are raised with a big family, farm animals and will be put through the ENS system; meaning they will be used to sounds and textures, be well socialized, will be used to being groomed, will be handled every day and will have started crate and potty training. Unfortunately, like many King Charles breeders, these dogs are not taken out into the public until they are fully vaccinated-16 weeks. So, if you adopt one of her King Charles' you'll need to follow that protocol for the safety of the dog.
Included with your puppy will be their AKC registration, certificate of health, breed club registration, a food starter bag, a toy, and they'll be microchipped. If you're no longer able to care for your King Charles Cavalier you MUST return it to Kingslee Cavaliers. The breeder will always keep in touch with you and be a resource of help and information.
To find out more about Kingslee Cavaliers, visit their website by clicking on the link below.
Cavalier King Charles Spaniel Breeder Details
8. Sunrize Cavaliers
Breeding since 2005, Nancy Randolph shows her Cavalier King Charles Spaniels in AKC conformation, obedience, and rally events. That said, she does raise her puppies as pets and they are sold to be placed in their forever home as such. She breeds 2-3 litters a year and you'll be provided with the health testing records of the parents along with a 2-year guarantee when picking up your new family member.
Sunrize Cavaliers raises their dogs in the home-no kennels and will be started on potty training, leash training, and crate training. Her breeding Cavaliers are AKC registered and health tested by board-certified specialists.
Nancy and Sunrize Cavaliers are AKC registered with the American Cavalier King Charles Spaniel Club and are a part of the Bred with H.E.A.R.T. program. To start the application or to see more about the breeder and Sunrize Cavaliers, click on the link below. They are one of the best Cavalier King Charles Spaniel breeders if you're located in Virginia.
Cavalier King Charles Spaniel Breeder Details
9. Northpointe Cavaliers
Northpointe Cavaliers has been breeding Cavalier King Charles Spaniels since 2011, and while they do have puppies up for adoption, their dogs are definitely show and competition dogs. Northpointe Cavaliers compete in agility, conformation, obedience, lure coursing, and even do therapy work.
A puppy adopted from them will be raised as a family pet and they breed for longevity, overall health, and temperament of the breed. In fact, Northpointe Cavaliers all participate in a clinical trial to help map the heart of Cavaliers to help severity of mitral valve disease; a genetic disease that can be found in the breed.
Northpointe supports research and rescue mission efforts, is a member of the AKC and the CKCSC, is an AKC Breeder of Merit and is part of the Bred with H.E.A.R.T program. This breeder is recommended by CKCSC USA and can be followed on ckcsc.org/breeders or by going to their site.
Cavalier King Charles Spaniel Breeder Details
10. Quail Run Cavaliers
Linda Kornhi began working with Cavalier King Charles Spaniels clear back in 1989, with a rescue puppy. Now, not only does she show her dogs, but she also provides services such as nursing care, litter evaluations, boarding and grooming, training, and conditioning for conformation shows. The site also has tips on behavior and health for the Cavalier.
Quail Run Cavaliers ensures that all of their dogs are registered with the AKC and CKCSC, USA. They will also all be tested for health issues by a veterinarian. The Cavalier King Charles Spaniel breeder only has puppies for adoption on occasion. Per their puppy contract, her puppies for sale must be spayed or neutered and cannot be used for breeding. Visitors are allowed at Quail Run and they are available to answer any questions.
Cavalier King Charles Spaniel Breeder Details
11. Tsarevich Goldens and Cavaliers
The Cavalier King Charles Spaniel dogs and puppies in this California kennel roam over 2 acres, travel to the mountains and oceans, are hand raised, and brought up around a variety of other animals, including parrots and chickens.
Tsarevich gets their bloodlines from Europe and each female will only have 3 litters in her lifespan. The King Charles breeder utilizes a wide variety of socialization, desensitization, and training methods for her dogs before the puppy can be taken home. Your puppy will be vaccinated, dewormed, and vet checked. Also, you'll receive a food starter kit, puppy collar, toy, blanket, AKC paperwork, and a certificate of health.
Additionally, this Cavalier breeder has high expectations for any dog adopted, so make sure you answer all of her questions and have a list of your own. If possible, you're encouraged to visit during hours to see the facility.
Cavalier King Charles Spaniel Breeder Details
Owners: Kristine & Tanya Koroleva
Location: Sacramento, CA
Phone: (916) 214-3686
Email: tsavervichgoldensandcavaliers.com
Fun Facts About Cavalier King Charles Spaniel Puppies
The color blenheim-chestnut and white got their name from a battle. In August 1703, the Duke of Marlborough, who loved and raised this type of Spaniels, fought against the Franco-Bavarian Army and saved Vienna. The battle was one of the key turning points of the War of the Spanish Succession.
King Charles II created a law that allowed these Spaniels access to any public space, including the House of Parliament. That law still stands today.
The AKC didn't recognize the Cavalier King Charles Spaniel until 1995.
Spaniels are actually gun dogs, but because of their size and temperament, the AKC placed them in the toy category rather than the sporting group, where other Spaniel breeds are placed.
More Information About King Charles Spaniel Puppies
Personality: Cavaliers are well known for their gentleness, playfulness, adaptability, and energy. These toy dogs are highly affectionate, will play for days, have a high prey drive, and are curious. They love to lay in your lap for hours, play fly ball all day, are friendly towards other animals and children, and are intelligent, but they also have issues that need addressing. They tend to wander-driven by a high prey drive, and they don't tolerate being alone, nor do they do well in extreme temperatures. Cavalier King Spaniels need regular exercise and grooming and are very sensitive-positive reinforcement training only!
Looks: These sweet, fun dogs are small with long ears, big eyes, and long, soft fur. Cavalier King Charles Spaniels come in a variety of colors: Black and white, black and tan, Blenheim, ruby, or tri-colored.
Health: This breed's main health problems are heart-related ones; namely, mitral valve disease. They also suffer from hip dysplasia, cataracts, allergies, among a few others.
Frequently Asked Questions
How much should I pay for a Cavalier King Charles Spaniel?
Cavalier King Charles puppies range in price; PuppySpot has Cavalier King Charles puppies ranging from $2549 to $5499.
PuppySpot has placed over 200,000 puppies in happy homes, and all the puppies receive a nose-to-tail health check and a 10-year health commitment. PuppySpot doesn't support puppy mills and is licensed by the USDA.
What is the rarest color for a Cavalier King Charles Spaniel?
This is the black and tan parti-color that is the rarest color that's also accepted by the American Kennel Club (AKC). Here are some accepted AKC coat colors and the AKC description of the coat colors.
Blenheim: Rich chestnut markings are well broken up on a clear, pearly white ground. The ears must be chestnut and the color evenly spaced on the head and surrounding both eyes, with a white blaze between the eyes and ears, in the center of which may be the lozenge or "Blenheim spot."
Tricolor: The AKC explains that the jet black markings should be well broken on a clear, pearly white ground. The ears must be black and the color evenly spaced on the head and surrounding both eyes, with a white blaze between the eyes. Rich tan markings over the eyes, on cheeks, inside ears, and on the underside of the tail.
Ruby – Whole-colored rich red.
Black and Tan – Jet black with rich, bright tan markings over eyes, cheeks, inside ears, chest, legs, and underside of tail.
What should I look for when buying a Cavalier King Charles Spaniel?
Good health and pedigree are most important. However, you should always consider the Cavaliers' most significant health problems and look at the coat, eyes, and ears.
Pups should not have any discharge from the eyes and should have a health certificate. Keep in mind that you can also adopt a healthy Cavalier. This breed makes for an upbeat, athletic breed and are also great homebodies that love to lounge on the couch with you.
How much are King Charles Spaniels?
This will depend on your breeder, location, and your pup's bloodline. King Charles Cavalier puppies can range from around $800 to more than $6,000. If you do not want to spend as much, consider adopting a puppy from a shelter.
What is the number #1 dog breed?
According to the AKC, the Labrador Retriever ranks as the most popular dog breed. Here's the list:
Labrador Retrievers
French Bulldogs
Golden Retrievers
German Shepherds
Poodles
Bulldogs
Beagles
Rottweilers
German Short-Haired Pointers
Daschunds
Pembroke Welsh Corgis
Australian Shepherds
Yorkshire Terriers
Boxers
Cavalier King Charles Spaniels
Conclusion for King Charles Spaniel Breeders
The Cavalier King Charles Spaniel is great for snuggling, playing, laying around, going on hikes, playing frisbee, or just about anything you feel like. They are just as comfortable in apartments as sprawling farms; they just want to be with you and make you happy. These dogs can live 10-15 years but do have health problems and need attention and affection. However, they are loyal and smart and fit in with most environments. So, do your research and chances are you'll find that the Cavalier King Charles Spaniel is the perfect fit for you!
You will also like: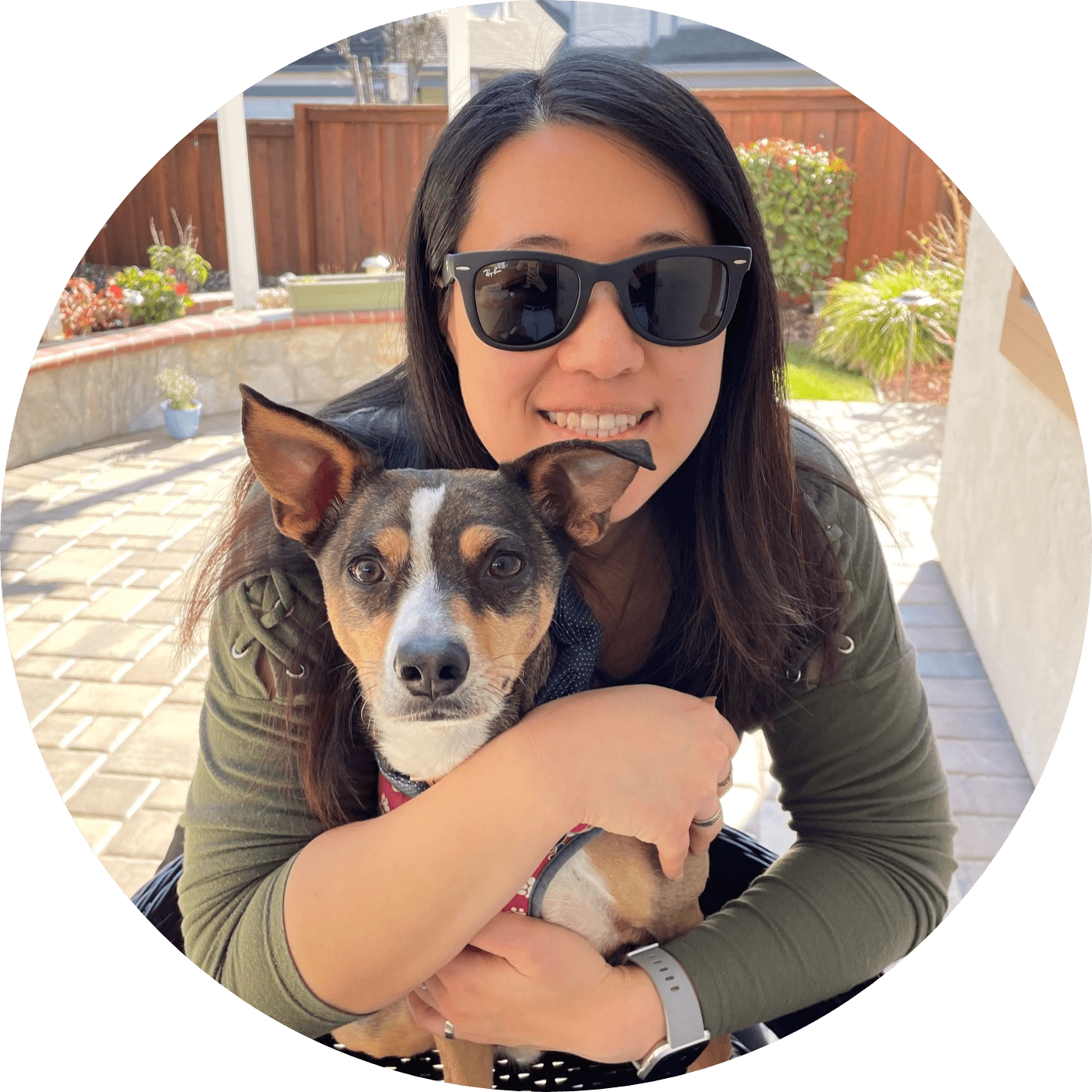 Dr. Sabrina Kong graduated from the Royal Veterinary College in England in 2016 and has been working at a small animal clinic in Northern California since then. She grew up in the Bay Area and got her bachelor's degree from Cal Poly San Luis Obispo. She also became a Certified Canine Rehabilitation Practitioner through a program at the University of Tennessee.
When she isn't in the clinic taking care of her four-legged patients, she enjoys traveling and trying new foods with her friends and her three-legged dog, Apollo. She adopted Apollo from her clinic when he was a puppy with numerous health issues. Dr. Kong truly cares about taking care of animals.