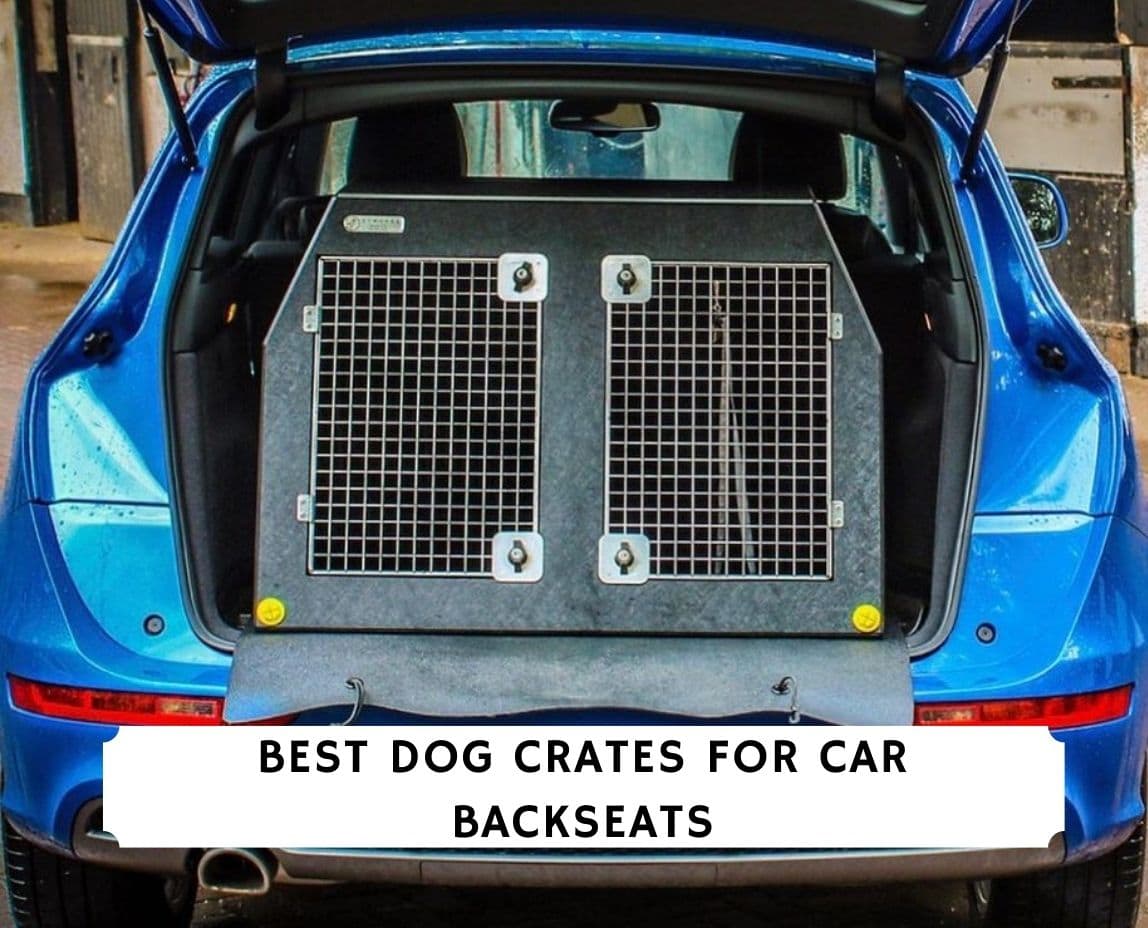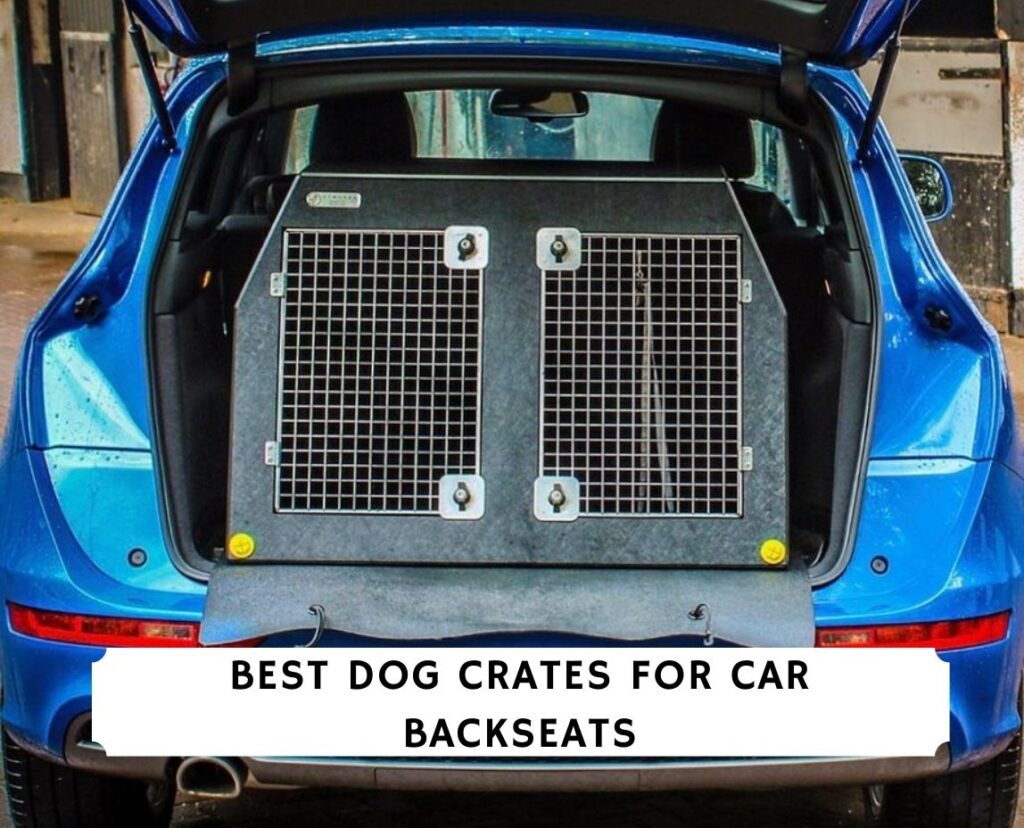 Dog crates have been around for a long time, but dog owners still struggle to find the right crate for their dogs. This is because dog breeds differ in size and temperament, so there's no one-size-fits-all dog crate. In this best dog crate review, we will be discussing 6 of the best dog crates on the market today that are perfect for use in car backseats!
These dog crates tend to be more affordable and easier to store than a dog crate you would keep at home! Also, many of these dog crates come with plenty of cushioning so your pup doesn't have to lay on the hard plastic.
A dog crate is a must-have for any dog owner who wants to travel with their pet. It provides the perfect space for your dog while you're driving and prevents them from getting into the driver's seat.
Find the right dog crate for your dog
The best dog crate for your dog in the backseat of your car will depend on your dog's breed, size, and temperament. For example, if you have a dog that likes to try and escape its crate, then it would be better for you to invest in something like the Paws & Pals dog crate, which has a soft, comfortable bed to lay on.
If you have a dog that likes to sit upright in its dog crate, then you might consider the Pet Fit For Life dog carrier, which has a mesh window on one side so your dog can see their surroundings.
If your dog is ready to go on its next adventure, it might like the Pet Nation dog crate, which can easily fit into any car backseat!
In a rush? Here are the top picks!
Product
Best Overall
Petego Pet Tube Kennel
Runner Up
Petmate Sky Kennel Pet Carrier
Editor's Choice
Petmate Two Door Top Load
Image
We like PetEgo because it's one of the safest dog crate brands that has been tested. It's easily secured to standard car seats for optimal pet safety and is available in small and large sizes. If you're lucky to get one (since these are often sold out), here's the takeaway on this dog car seat. Keep in mind that the small can be easily used for cats too.
Features
Durable claw proof fabric secures to standard car seats

Tube easily secured to the back seat

Lightweight but super-strong fabric kennel

Smart & stylish
This dog carrier is approved for use in the front seat, backseat, and cargo areas of car models made after 2009. However, the manufacturer still recommends putting it in the back if possible because this was designed first as a dog carrier for the backseat. This crate model has over 4,900 positive reviews. This crate features a 4-way vault door provides extra security for the travel dog crate by preventing sliding and shifting (available on 36-inch size and up) We like this crate because it offers ventilation openings throughout the travel kennel to give pets fresh air and visibility from all sides.
Features
Available in 6 sizes

Four-way vault door provides extra security 

Durable & heavyweight construction

360 Degree Ventilation

Clip-on bowls included with kennel

Over 4,900 positive reviews
The third dog crate we will be discussing is the Petmate Two Door dog crate. This dog crate comes in three different sizes and has a unique lock mechanism on each door, so your dog will stay securely inside. The Petmate Two Door Top Load kennel features a unique top-loading door that allows pet parents to easily place and remove pets from the carrier with both hands.
Features
4 stylish pearlescent color combinations for a distinctive travel carrier or a kennel that matches the home decor

Special top-loading pet door to easily place and remove pets from the carrier

Three sizes

Grated steel doors and vented sides promote visibility and Ventilation for pets

Easy squeeze latch

Ergonomic design

Top and bottom fasten securely with a wingnut-and-bolt design.
The second dog crate we will be discussing is the Amazon Basics Two-Door Top-Load dog crate. Just like the Petmate Two Door Dog Crate, this dog crate has a unique lock mechanism on each door to prevent your dog from escaping. The Amazon Basics Two Door dog crate also comes with a durable plastic pan floor, so you can easily clean up any accidents!
Features
Smart 2 door design

Front and top entry dog crate for quick access.

Ventilation on all four sides, Top and back

Easy to clean dog crate.

Priced well

Over 30,211 positive ratings
Some dog crates you can choose from are perfect for use in car backs seats because they all come with side pockets that you can store toys, treats, and dog supplies in. These dog crates are also very affordable, so you won't have to worry about breaking the bank when it comes time to buy a dog crate for your dog!
The Lioopet dog crate features a four-door folding dog crate that is designed for home and outdoor use. It can be folded quickly and easily, making it the perfect dog crate for travel or storage.
The raised air vents prevent heat accumulation from keeping your dog cool in the summertime; the solid plastic pan is removable and easy to clean, giving you a simple life… 
This dog kennel features four doors, which is excellent for dog owners with multiple pets or that would like to use it in different areas of their house.
It comes with a removable and washable m mat at the bottom; dog crate measures: 47″L x 31″W x 32″H (inside: 41″Lx 25″ Wx25″, height 28″).
Features
Patented & quickly collapsible

Priced well

4 Door design (3 sides and top mesh door.)

Machine washable

Available in 3 sizes

Water-resistant

Foldable
One for Pets is a Canadian company that manufacturers for pets. The crates are also great dog carriers to take on vacation or trips with your dog. With this crate, there are built-in straps to attach to the seat belt and an optional hammock. 
It is designed to use as an indoor or outdoor dog kennel, portable cat kennel, or show shelter. It incorporates ultra-streamlined designs with modern styling details and advanced functionality.
Features
Includes water bottle holder

Washable pads and hammock included

Roll upfront & side doors

Individual carry case for storage
Features to look for in a dog crate
You should look for specific features in a dog crate if you're planning on traveling with your dog. Some dogs may have anxiety or get carsick, and sometimes they can get a little overexcited on car rides. This is why dog crates are an excellent idea for transporting any dog.
If your dog has car travel anxiety, you should consider a dog crate with a soft, comfortable bed so your dog can relax. If your pup is prone to car sickness, you should possibly think about dog crates with a detachable bottom so you can quickly and easily clean up any messes that your dog makes.
If you're planning on traveling with your furbaby, then you should look for dog crates that have a side door so it's easy to access them in the car. You can also consider dog crates with a dog door, so your dog can easily hop in and out of the vehicle.
To conclude, dog crates are an excellent idea for dog owners who like traveling with their dogs. These dog crates tend to be more affordable and more accessible to store than a dog crate you would keep at home.
Durability
Dog crates can be expensive, so you need them to last. A dog's size and activity level, as both factors, will impact how long a crate will last. To avoid paying more money, dog owners need to make sure they buy the right dog crates for their pets. A car seat dog crate that is too small or isn't durable enough will not last.
Pet owners should also consider the material of their dog's crate before buying one. A dog cage made of metal is solid, and it can handle a lot of weight on Top, which makes this type ideal for dogs who like to jump around in their cages.
Safety
Safety is the most significant benefit of a crate, but it's not the only one. The best dog crate for your dog in the backseat of your truck should be safe, comfortable, and easy to clean. 
Dog Crate Safety One of the essential things for dog owners to consider is safety. For example, if your dog likes to get out, you need to ensure the door latches properly. A dog could get injured if trying to escape and manage to break out of a cheap dog cage with poor latch systems.
Dog crates should be made from strong materials that won't easily snap under pressure or with too much movement. You also want your dog's crate their dog crate; you should check out dog crates with wheels. Wheels allow for easy transportation, and pet owners can take their dog's cage wherever they go!
Size
If you have a few pets, make sure you know how big your dog's cage needs to be. Dogs can get into dog fights when they are in cramped spaces, so you might need a dog crate that is larger than your dog needs just for safety reasons. If you plan to travel with your dog, it is essential that dog cages are lightweight. It can also help look for a dog crate that folds down when not used to save space and time!
If you have the option of buying multiple crates, some dog owners like to buy one extra-large dog crate and section it off with more than one divider. This way, you can have a dog crate that is perfect for your dog but also have the option to buy an extra dog cage when they bring home another pet someday in the future.
Price
Dog cages should be affordable, but you don't want to sacrifice quality either. Your dog crate must have a strong latch system because it will ensure both pets' safety when traveling together in a dog cage. Dog crates should be affordable, but you don't want to sacrifice quality either. When you're ready to choose a dog crate, one of the most important things is its size. You need your dog's cage or carrier to fit the dog.
Dog Crate Accessories
Another important factor when purchasing a dog crate is the accessories. Dog crates typically come with dog bedding, but some dog owners like buying dog crates with built-in wheels or storage options.
By investing in a dog crate with multiple features, pet owners can save time and money by not buying extra accessories for their dog's cage.
Mobility
You also want to consider crate mobility and how easy or hard it will be to move around.
In addition to this, dog owners should ensure their dog's crate has enough space for them and that the material will last a long time, even with regular usage. A durable metal dog crate can handle many years of consistent use without wearing down or becoming damaged quickly.
Dog Crate Accessories If you want your dog to be comfortable, dog owners should look into buying dog crates with accessories. A dog crate that has a removable and washable cover is ideal for pet owners who want to extend the life of their dog's cage!
To make an already comfy dog cage even better, some dog cages come equipped with wheeled legs or top entrances so they can easily be moved around if dog owners want to take their dog's cage on a trip with them.
Comfort Level
Another factor dog owners will need to consider comfort level. If you do not want your dog's cage to be uncomfortable, look into dog crates with a soft and comfy dog bed inside them. Some dog beds are even machine washable so that it won't hurt the durability of the material!
Dog owners should also learn about dog crate sizes so they can find the right one for their dogs. If you want to get more dog crate information, keep reading!
Side-Loading
You should pay attention to how your dog will enter the crate. Are there multiple entrances? Will dog crates allow you to enter through the side? Think about how dog crates will be used in the vehicle. If dog crates can be accessed from multiple angles, it will make loading and unloading your dog much more accessible.
Material
There are numerous types of material used for dog crates. These include dog crates made of dog cages made from plastic, metal, fabric/material, and more. The best type of material for dog crates is made of plastic or dog crates that are metal. 
These materials tend to be the most durable and safest for dogs! Last but certainly not least, dog owners will want dog cages made out of high-quality materials. Some examples include plastic and metal. However, pet parents should be wary about dog crates made out of wire because they can easily bend or break! The dog cage's quality should also be paired with its price.
Quality
One of the most important things to consider when purchasing dog crates is quality. After all, you want dog cages that are safe for your dog; otherwise, they won't be used! Dog crate safety should always come first.
Dog crates are dog cages specifically made for dogs to sleep in, travel with, and more. Just like dog beds, dog crates serve many purposes depending on the owner's preference! 
Fastens to Head Rest or Seat Belt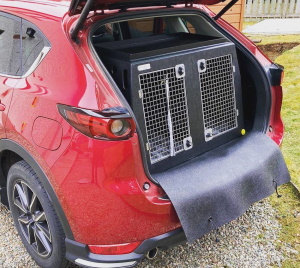 In the best of all worlds, the dog crate should connect to the car seat. This will prevent the pet crate from sliding or rolling around in a crash. One of the most important things to consider when purchasing a dog crate is quality. Some dog crates fasten to the headrest with a strap to help keep the crate stable. Some pet crates clip into the seat belt with a strap or a built-in loop on the crate's exterior. 
Again, this will prevent the dog crate from moving around too much if you hit the brakes quickly. What you're looking for is some mechanism that will help keep the crate in place. This will significantly add to the safety of the dog crate, and it's no surprise that many dog crates that pass crash testing have this feature.
Crash Testing
Did you know that some pet travel crates are crash-tested for added pet safety?
In 2015, the Center for Pet Safety went through extensive testing to see which pet crates survived well in a crash. They used various brands of pet crates with multiple price ranges, giving pet parents plenty of options. 
During the crash tests, pet crates were put through simulations similar to different kinds of car crashes. The researchers also used dummy dogs to assess injuries that a cat or dog would acquire during a car crash. While this video doesn't give too much detail into the exact aspects of the test, it does highlight how the tests were done: 
This is extremely valuable research. Not only can this help pet parents know which crates to buy, but it also shows manufacturers what is necessary for crate design to protect the pet best. Testing dog crates in crashes are not easy, but it's essential. The dog crate that you end up choosing should be well-made and certified for use during travel (and I'm willing to bet it will have a built-in mechanism to keep the cage from sliding around). Crash testing helps provide valuable information about which dog crates will provide your dog with the safest ride.
Best Dog Crate for The Backseat of Truck 
You won't want to purchase dog crates too large for your car because this is a safety hazard. Before you buy a dog crate, make sure to measure the dimensions of your back seat and truck space to find out if it will fit without any problems.
Dog crates that are too small can also be a safety issue for dogs. If dog owners do not have enough room to buckle their dog into the back seat of a car, they need to find dog crates with larger dimensions to keep their pets safe and protected from potential accidents while traveling on the roadways.
One advantage of choosing dog crates for dogs with larger dimensions is that dog owners can use these dog crates to keep their pets safe in the back of a truck. This way, you will have extra room when your dog outgrows its smaller dog cage and needs more space or if they bring home another new pet someday.
Keep all this information in mind while considering the dog crate you want to buy for your dog. If you do not consider safety and size, it is possible to purchase dog crates with great features but also be unable to use them properly in the future because they are too small or don't meet basic standards of dog crate security.
With this information at hand, pet owners can make well-informed dog crate buying decisions in the future.
Why are dog crates necessary for trucks?
Dog crates are essential for trucks as they provide a dog with an area where he can feel safe and secure, which is especially helpful if your dog gets car sick. Dogs usually feel safer if they have a dog crate that they can cuddle up inside.
Do dog crates help dog car sickness?
Dog crates can help dog car sickness because dog crates provide a dog with his own spot which is especially helpful, if your dog gets car sick.
Do dog crates need a unique cover?
No dog crate needs a unique cover for use in the backseat of a car. Dog crates are made with this type of travel in mind. If dog owners need to transport their dog crates through the airport, they can easily purchase a dog crate airline-approved cover.
How do I choose a dog crate for the backseat of my truck?
Dog crates should be chosen based on the dog and the dog's needs. The size of a dog crate for use in a car generally ranges from 20- 48 inches long (2 XL). Dog owners should also consider their dog's temperament when choosing dog crates. For example, when in the car, a well-behaved dog may require less space for confinement than one who tends to bark or jump around.
Do dog crates need to be assembled?
These dog crates are all easy to swipe down and easy to put together. Some come pre-assembled, while others are simple to set up in minutes.
Are dog crates safe for dogs?
Dog crates provide a convenient way of transporting your dog safely from one place to another without worrying about them getting hurt or lost. Dogs are not in danger when they are inside a dog crate. It is much safer than having them travel in the backseat or trunk of a car without any dog crates.
What is the best dog crate for my dog?
The dog crates featured on our list are all top-rated, and you can choose according to your preference.
What are the best dog crates for the backseat of a truck?
For dog owners who want to keep their dogs safe and secure while they're driving, a dog crate that fits in the backseat of their truck is essential for pet safety. Always look at crate sizes, reviews, and check to see if they can be strapped to the car's safety belt.
Still not convinced? Check out this video on the best dog crates for car backseats:

Claudia Bensimoun is a writer who specializes in dog content and veterinary topics! Aside from writing for We Love Doodles, Claudia also writes for other major dog blogs like Fido Friendly, Animal Wellness Magazine, and the United States Dog Agility Association (USDAA). She has a ghostwritten over 50 different dog e-books. Her passions include animal welfare, veterinary research, and wildlife conservation.
Why Trust We Love Doodles?
At We Love Doodles, we're a team of writers, veterinarians, and puppy trainers that love dogs. Our team of qualified experts researches and provides reliable information on a wide range of dog topics. Our reviews are based on customer feedback, hands-on testing, and in-depth analysis. We are fully transparent and honest to our community of dog owners and future owners.