Our furry friends are an excellent part of life. They spread happiness and joy and can be a constant source of entertainment and laughs. But sometimes dogs need medication, and giving it to them can be challenging. To make it easier, you might wonder, "Can you dissolve pills in water for dogs?"
The quick answer is that it depends. Sometimes it can change the efficacy of pills. Other times, it's an acceptable way to give your dog medication.
In this article, we'll go over the answer in more detail. And also cover other techniques to help give your dog a pill. After reading this guide, you'll have everything you need to administer medication.
Before reading this guide, "Can You Dissolve Pills in Water for Dogs," check out: Can You Euthanize Your Dog At Home Using Tylenol PM? – Vet Advice! (2023) and How to Get Your Uncooperative Dog to Take a Pill! (2023).
Follow the Veterinarian's Advice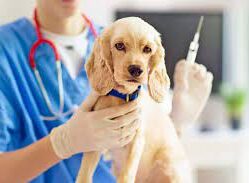 When dealing with any medication, the first stop for consultation is the medical professional who prescribed it. For dogs and pets, this means reaching out to your veterinarian.
Many times, a quick phone call can clear up questions about medication. Sometimes you can quickly speak to the veterinarian, a knowledgeable technician, or another staff member. Most veterinarians don't force you to go through another appointment to get a quick answer.
Can you dissolve pills in water for dogs? This question is worth asking medical professionals. Here's why.
Efficacy When Crushed or Dissolved
Some manufacturers design pills to be swallowed whole. It might not seem obvious, but they can have a capsule or coating that impacts how quickly they get digested. The manufacturers use these for a reason. If that's the case, you don't want to tamper with the design.
Crushing these pills can cause them to get absorbed much faster than they would have otherwise. It can adversely impact the efficacy of the medication.
Cautions About Dosage and Safety
Like medication for humans, pills for dogs must be handled with care. The dosage is often carefully selected to match the weight and needs of the individual dog. When you crush a pill up in the water, it might be challenging to get it all down.
Sometimes there are other safety measures to take into consideration. Some drugs must be taken with food or water, while others need to avoid them.
Other Specific Instructions
Finally, the veterinarian can sometimes provide other specific instructions for medications. They might be related to water or dissolving in water. In all cases, you should follow any instructions the veterinarian or their staff provided.
Can You Dissolve Pills in Water for Dogs?
Now it's time to get to the heart of the question. Can you dissolve pills in water for dogs? Sometimes you can, and it can help get the medication down quickly.
If your veterinarian confirms it's safe, dissolving a pill in water can be a way to go.
Before we get into the details, it's worth mentioning that other alternatives exist for giving your dog medication. You might want to read until the end to find out what's best for your pet.
But if you decide to use dissolving pills in water, here are some helpful tips.
Grind It Up
Many pills take a long time to dissolve, even when submerged in stomach acid. To speed up the process of dissolving a pill in water, grind it up first. Grinding the pill into a fine powder makes it more likely to easily dissolve in water.
Be careful while grinding it up. Little bits of the pill can try to shoot out, so it's a good idea to encase the pill in something that won't let anything escape, such as paper or saran wrap.
Once encased, use a rigid, flat object to crush the pill. A small hammer or mallet can help, but sometimes even the bottom side of a thick glass can do the trick.
Mix Thoroughly With a Small Amount of Water
You want to use a small amount of water. If you use too much water, it's more likely your dog won't get all of the pill down. Just use a small amount of water to start. Dissolve the pill in the water.
If you must, slowly add additional water to ensure it gets fully dissolved.
Use a Syringe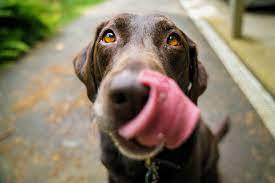 One more tip is to use an oral syringe. It not only ensures you use a small amount of water, but it can also help easily administer the medication.
First, crush the pill and dissolve it in a small amount of water. Then use the syringe to suck up the dissolved medication. You can put this inside your dog's mouth and squirt it out to have them ingest the medication.
Using Food and Treats to Give Dogs Pills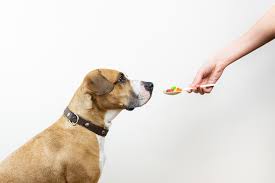 Dissolving medication in water can be more challenging and time-consuming compared to other methods.
One method often used to give dogs pills is to use food or treats to make them eat them. It doesn't work for every dog, but it can be an easy way to tackle the job.
Pair With Treats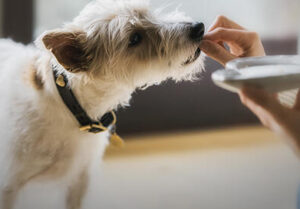 For some dogs, you can give a treat before or after giving them a pill. If your dog is highly food motivated and not too picky, sometimes they'll be so interested in the treat, they won't even notice the medication.
Cover With Soft Food or Paste
If your dog is a picky eater or has a talent for spitting out pills, there's another method. Use soft food or pastes to cover the pill. Many times, this will get your dog to scarf down the bit of soft food with the pill inside without noticing a thing.
Peanut butter is a great choice. Some soft cheeses or other spreads can be useful too. Of course, you'll want to avoid anything harmful to dogs' health, including chocolate, onion, grapes, raisins, and more.
This method doesn't always work, however. Some dogs have a unique ability to spit out food with any medication inside, even when it's fully covered. Don't worry, we have a few more tips that can help with these difficult situations too.
Use Pill Pocket Treats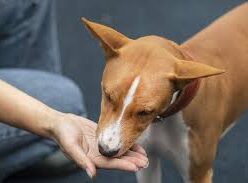 Some brands have developed treats specifically made to put a pill inside. These pill pockets are great because you know they're safe for your dog and they are designed for this purpose. Quite often, they do an amazing job at getting your dog to swallow any pill.
Frequently Asked Questions
Here are some of the most frequently asked questions and respective answers.
Is it okay to syringe-feed a dog?
It is fine to syringe-feed a dog. Sometimes dogs need help eating food or drinking water, especially while sick or having issues. Using a syringe to feed your dog, you can skip the step of chewing and make it easy for them to swallow. Be careful, you don't want it to shoot down their throat.
How do you give a dog a pill when he won't eat?
There are many ways to give a dog a pill when they won't eat it. One idea is to drop it on the back of their tongue. Another is to give their favorite treat before or after giving them the pill. You can also wrap it in food or dissolve the pill in water before giving it to your dog.
Can you crush up dog pills?
Sometimes you can crush up dog pills, but not always. Some medications have specific coatings or capsules that impact the pill's digestion. Before crushing it, you should speak with the veterinarian who prescribed the medication to see if you can crush it without an adverse impact.
How do you force-feed a dog who won't eat?
Force-feeding a dog who won't eat might be tempting. But if you're dealing with that situation, that is a problem to consult with a veterinarian. Dogs still need to swallow food. Force-feeding can obstruct their airway. Avoid forcing food down their throat.

Instead, offer them soft foods or food they can more easily swallow.
How can I stimulate my dog's appetite?
Trying to stimulate a dog's appetite can be challenging. If your dog is having trouble eating, you might want to ask a veterinarian for advice as sometimes it's a medical problem. You can also give them different food options. Wet dog foods are a great way to entice a dog into eating.
Conclusion for "Can You Dissolve Pills in Water for Dogs"
We've reviewed using food or special treats to disguise pills for dogs. And yet sometimes, some dogs need more help with getting their medication down.
The first step to dealing with difficult dogs is to avoid creating a stressful or negative event. Some dogs are incredibly well-tuned to listening to how we approach situations. If we tense up or show fear, they're likely to follow suit.
So instead, make giving your dog medication an exciting time. Bust out their favorite treat, a big ole smile, and a positive attitude. With any luck, they'll be just as happy as you are, and pill time can be a fun time for both.
If you find this guide, "Can You Dissolve Pills in Water for Dogs," helpful, check out:
Learn more by watching "5 Different Ways to Give Pill 💊or Capsule to Your Dog🐶" down below:
Garrett loves animals and is a huge advocate for all Doodle dog breeds. He owns his own Goldendoodle named Kona. In addition, he volunteers at the Humane Society of Silicon Valley, where he fosters dogs and helps animals. Garrett enjoys writing about Doodles and believes that dogs can teach humans more about how to live than humans can teach a dog.
Why Trust We Love Doodles?
At We Love Doodles, we're a team of writers, veterinarians, and puppy trainers that love dogs. Our team of qualified experts researches and provides reliable information on a wide range of dog topics. Our reviews are based on customer feedback, hands-on testing, and in-depth analysis. We are fully transparent and honest to our community of dog owners and future owners.