Cavapoos are one of the fastest-growing Doodle dog breeds in the United States. Since they are a smaller dog breed than the Goldendoodle and the Labradoodle, people who live in smaller living conditions or want a miniature sized dog prefer a Cavapoo.
There currently are not that many reputable Cavapoo breeders in Virginia and we only found one breeder worthy of writing about. However, Virginia is easily accessible to North Carolina, Tennessee, Kentucky, West Virginia, and Maryland. We also included these states in our selection. We did our best to exclude all puppy mills and backyard breeders. In addition, we will update this list as we find new reputable breeders in Virginia.
Since there's a high demand for Cavapoo puppies for sale in Virginia. It's worth noting that not all breeders are the same. Puppy mills and backyard breeders are selling cheaper Cavapoo puppies with no medical or genetic testing. Always do your research and ask any potential breeder lots of different questions about the parent dogs.
Other articles you would like: Goldendoodle Breeders in Virginia and Bernedoodle Breeders in Virginia.
1. Black Creek Doodles Virginia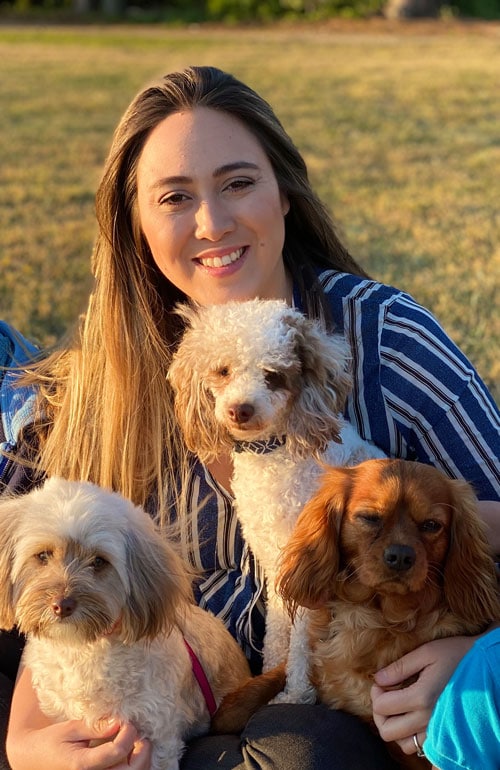 Black Creek Doodles is a small breeder in Mechanicsville, Virginia, that is founded and run by Jordan Morse. Growing up, Jordan loved dogs and dogs loved her back for her sweet and caring personality. Her interest in dog breeding them didn't start until she met her husband, Scott.
Scott grew up in the dog breeding world and his mother was one of the most prominent Doodle breeders in Virginia. Jordan was hooked at first sightseeing all the Doodles at Scott's mom's home. She learned from Scott's mom everything from genetics, puppy wellness, and care to the nitty-gritty. After she finished serving in the U.S. Navy, she ventured into breeding Doodles a few years later.
Today, Jordan breeds Cavapoo and Havapoo puppies in Virginia. She breeds her puppies to promote and enhance the best parent breed qualities. Her parent dogs are health tested and cleared for any genetic illnesses before breeding. Her Cavapoo puppies are never kenneled and live in her home.
Jordan is very selective and only breeds a couple of litters yearly. Her Cavapoo puppies for sale in Virginia range from $3000 to $3500 depending on their coat colors. Merle Cavapoo puppies start from $3500.
Every Cavapoo puppy comes with a 2-year health guarantee, a free microchip, and lifetime breeder support from Jordan. Jordan doesn't ship puppies via cargo and usually recommends a flight nanny if you want to transport the Cavapoo. Depending on where you live, the fee varies from $475 to $500. Black Creek is by far one of the best Cavapoo breeders in Virginia that you will find.
Cavapoo Puppy Information:
Generation: F1 Cavapoo puppies
Size: Medium Cavapoo puppies
Cavapoo Breeder Details:
How to Select a Cavapoo Breeder in Virginia
1. How do I find a good Cavapoo breeder in Virginia?
Finding your forever Cavapoo puppy in Virginia starts with finding a reputable breeder you trust. You will rely on your breeder throughout your Cavapoo's lifetime, so you need to ensure you pick the right one from the start. As with any major decision, you must do in-depth research before choosing a Cavapoo breeder in Virginia. Below are tips we always recommend to any buy:
Visit the breeder – The best way to get to know a breeder and how they operate is to visit them in person. If you cannot meet your breeder in person then consider other options such as video conferencing. There are tons of online tools to help you out such as Zoom, Google Meet, Amazon Chime, GoToMeeting, Skype, BlueJeans, and others. The key thing is to get to know the breeder, observe the dogs, and the breeder's relationship to the dogs. Check if the breeder shows a genuine passion for Cavapoos, if the dogs are well-fed, if the premises are clean, if the dogs are healthy, and the condition of the kennel/home.
Ask lots of questions – Based on your research, come up with questions that you will ask the breeder. There is no dumb question for new puppy owners and you cannot ask too many questions. These questions will help you understand if the breeder has extensive knowledge of the Cavapoo breed, how they explain different concepts, and if they are patient with you. A responsible Cavapoo breeder in Virginia will encourage you to ask questions and even ask you questions as they want to see their Cavapoos go into loving forever homes.
Check the breeder's parent dogs – The best way to see how your Cavapoo will grow up is by looking at the parent dogs. You will get a good sense of your future Cavapoo's temperament, size, and appearance. Your Cavapoo breeder in Virginia should also be able to show you their full medical history and certifications such as OFA and CERF.
Check the breeder's certifications – If the breeder has OFA/CERF, PawPrint Genetic certifications, and has their parent dogs registered with AKC. Check their websites and always crosscheck with the major organizations.
2. What questions should I ask a Cavapoo breeder in Virginia?
These are questions to help you start the conversation or add to the questions you already have.
How long have you been breeding Cavapoos and what is your experience with Cavapoos?
Have you performed any health tests on the parent dogs? Which ones?
How do you socialize Cavapoo puppies so that they are well-adjusted?
Do you provide a health guarantee and sales contract? What does the health guarantee cover?
Ask to meet the Cavapoo parents either in person or via video conferencing.
3. How can I determine a good Cavapoo breeder from a puppy mill?
It is very easy to come across a Cavapoo breeder in Virginia operating as a puppy mill. You might come across "Cavapoo puppies for sale Virginia" ads or even puppy mills masquerading as reputable breeders. 
Here are tips to help you out determine whether they are a puppy mill or backyard breeder.
You cannot meet the parent dogs
The breeder is in a remote location that cannot be easily accessed
The breeder has multiple Cavapoo puppies ready to ship – typically, there is a waitlist for these dogs.
Their Cavapoo puppies for sale in Virginia are not vaccinated
You cannot ascertain where the Cavapoo puppies have come from
The Cavapoo puppies smell bad, look unhealthy, and aren't socialized
The breeder doesn't have a contract or health guarantee. It is important to check if the health guarantee or contract has weird terms or loopholes.
More Information About Cavapoo Puppies in Virginia
Curious, sociable, and loving are just a few words that describe the Cavapoo. First bred in the 1950s, this hybrid designer dog combines the best traits from the Cavalier Spaniel and Miniature Poodles. Some Cavapoos look like the Poodle while others take on the physical features of the Cavalier Spaniel.
The Cavapoo is a low-shedding dog which makes it a wonderful dog for anyone with allergies. The Cavapoo is also an excellent emotional dog and makes a charming companion for singles, seniors, and families with older kids.
If you're considering getting a Cavapoo in Virginia, please make sure:
You will be a present owner. Cavapoo's curious and energetic nature, your Cavapoo will need daily mental stimulation and exercise.
You have patience and will be consistent in house-training your Cavapoo with positive reinforcement methods.
You will clean your Cavapoo's teeth at least a few times per week to avoid periodontal disease.
You will take your Cavapoo for professional grooming every 4 to 12 weeks.
You will keep your Cavapoo in a temperature-controlled environment as they are sensitive to heat and can die from overheating
You will supervise your kids when they play with the dog. Kids who play aggressively can easily injure this small dog breed.
Frequently Asked Questions About Cavapoo Puppies in Virginia
1. Are Cavapoos Hypoallergenic?
Yes! Cavapoos are hypoallergenic dogs that shed very little and do well with people with allergies.
2. Can Cavapoos puppies be left alone?
Cavapoos are social animals and do well with their human close-by. You can leave your Cavapoo puppy home alone for 2 hours, but if you want to leave them for 8 hours then you will need a plan because of separation anxiety. You can hire help or take your Cavapoo to daycare. If you are busy and will be away for a long period, a Cavapoo puppy might not be an ideal dog for you.
3. Are Cavapoo puppies easy to train?
Cavapoos are easily trainable with positive reinforcement. You can train them to even compete in obedience and agility competitions. Their Poodle genetics are some of the smartest in the world!
4. How big will Cavapoo grow?
Cavapoos are a small to medium dog breed size. They are fully grown at 9 to 14 inches with 9 to 25 pounds in weight. Cavapoos are significantly smaller than a standard-sized Goldendoodle or Labradoodle.
You can start with the Cavapoo breeder on this list. If it's not a good fit for you, you can check surrounding states or doodle rescue groups in Virginia.
6. Why are Cavapoos so expensive?
Cavapoos are a designer hybrid dog that can go up to $5,000. The prices are dictated by supply and demand, the breeder's reputation, cCvapoo generation, coat textures, coat colors, and other factors. If you're on a budget and have the patience to bring a rescue Cavapoo home, you can try rescue groups or humane societies.
7. Do Cavapoos bite and shed?
Cavapoos are considered a low-shedding dog. This, however, depends on the Cavapoo's inherited genes. If your puppy has more of the Cavalier King Charles genes, your Cavapoo will have a smoother and longer fur. If it has more Poodle genes, your Cavapoo will have a curled or wavy coat.
Conclusion for Cavapoo Breeders in Virginia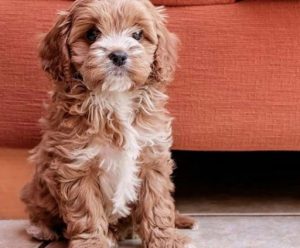 The Cavapoo is a wonderful dog for anyone looking for a cuddle buddy, emotional support, or therapy dog. Currently, there aren't many Cavapoo breeders in Virginia, but will continually update this list as we find reputable breeders. We don't list puppy mills or backyard breeders.
Garrett loves animals and is a huge advocate for all Doodle dog breeds. He owns his own Goldendoodle named Kona. In addition, he volunteers at the Humane Society of Silicon Valley, where he fosters dogs and helps animals. Garrett enjoys writing about Doodles and believes that dogs can teach humans more about how to live than humans can teach a dog.
Why Trust We Love Doodles?
At We Love Doodles, we're a team of writers, veterinarians, and puppy trainers that love dogs. Our team of qualified experts researches and provides reliable information on a wide range of dog topics. Our reviews are based on customer feedback, hands-on testing, and in-depth analysis. We are fully transparent and honest to our community of dog owners and future owners.