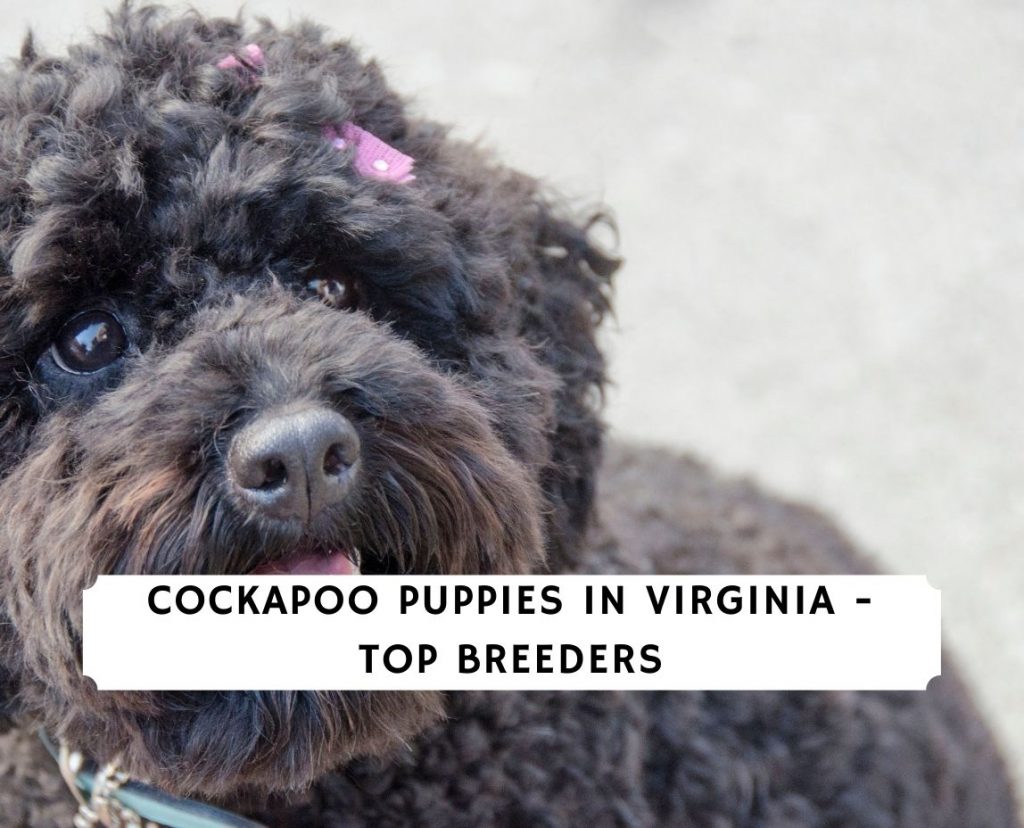 With their small size and furry faces, Cockapoos have become a family favorite for all ages. This hybrid breed is a mix of a Cocker Spaniel and a Poodle, most often a Miniature Poodle. As with all other designer breeds, the resulting puppy often gets the best genetics of both parent breeds which includes a hypoallergenic and nonshedding coat. These are just a few of the reasons why Cockapoo puppies in Virginia have become so popular over the last several years.
Nowadays, you'll see many Cockapoo breeders in Virginia but that doesn't mean they are all the same. In general, you want to look for a breeder who is taking care of their dogs through health tests, socialization, and providing them with up to date medical care.
Tip: If you're looking for a specific breed, then you should read the "Cockapoo Generations" guide.
Cockapoo Puppies For Sale in Virginia
As you start your search for the right Cockapoo puppy for you and your family, we're here to help. Next, we share a list of some of the top Cockapoo breeders in Virginia and places to adopt your next puppy. Whether you choose a breeder that specializes in Doodle breeds or a pet store that offers a wide variety of quality breeds, you can find the right option for you.
Below you will find a brief overview of the most reputable Cockapoo breeders in Virginia, and can view their contact information if you're interested in learning more about the availability of Cockapoo puppies for sale in your area.
1. Carriage House Cockapoos and Goldendoodles Virginia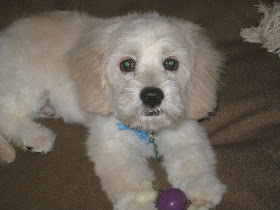 Specializing in Goldendoodles and Cockapoos, the team at Carriage House are passionate about their puppies. Located in Shenandoah, Virginia, this small family Cockapoo breeder raises their puppies on their own 10-acre farm. Their puppies are socialized and trained to be part of the family.
On their website, they share in-depth information about each dog breed as well as a helpful guide for taking your Cockapoo puppy home and all that you can expect in this exciting transition. They provide a helpful guide to vaccinating and ensuring your Cockapoo puppy gets all the required medical care it needs, showing that they care about their health.
When you're ready to adopt a Cockapoo, each puppy comes with its first set of vaccinations and deworming treatments. It will also come equipped with a dog toy, sample puppy food, collar, leash, a baby blanket, and puppy pee pads. Their Cockapoo puppies in Virginia also come with a fully 3-year health guarantee against genetic diseases. Additionally, they have lifetime support as you raise and care for your puppy.
Families interested in adopting can submit their application as well as a $300 deposit to secure a spot on the waiting list. You can check out their current availability by going to their upcoming litter page. If you're not in the area, the team at Carriage House will also offer delivery services and meet you at the airport as you pick up your Cockapoo puppy.
Cockapoo Breeder Information
2. Dukes Cockapoos
Dedicated to raising Cockapoo puppies in Fredericksburg, Virginia, the breeders at Duke's welcome puppies into their own home to care for before sharing them with their forever families. They are registered with the American Cockapoo Club and are dedicated to quality and health.
This registration confirms that each Cockapoo puppy has equal bloodlines of Cocker Spaniel and Poodle breeds. Puppies are second-generation, meaning that their breeding dogs are either first or second-generation dogs.
You can browse available Cockapoo puppies for sale in Virginia on their upcoming litter list. Keep in mind that due to their popularity, there is usually a large waiting list for litters. Each puppy is priced equally, regardless of color, temperament, or size. Their Cockapoo puppies also come with up-to-date vaccinations and are dewormed before being welcomed into your home.
Cockapoo Breeder Information
3. Forest Creek Kennels Virginia
With over 17 years of experience breeding puppies, this family-owned operation cares about dogs. In addition to Cockapoo puppies, they also specialize in other hybrid designer breeds, including miniature Goldendoodles. They have a focus on health, temperament, and longevity.
In addition to high standards for health, their Cockapoo puppies are also well-socialized so that they fit within a family context well. Puppies are also given personality tests so that they can be matched with the right family when they're ready to be adopted.
All their Cockapoo puppies for sale in Virginia come equipped with sample food, a favorite toy, a blanket, and vaccination records. They also come with a health guarantee and are veterinarian checked before adoption as well. The team at Forest Creek Kennels also share online resources to help you prepare and know exactly what to expect in welcoming home your furry friend.
If you're interested in learning more about their availability or moving forward in the adoption process, you can request more information by contacting them. To schedule a visit, you must submit a deposit.
Cockapoo Breeder Information
4. Puff N Stuff Cockapoos VA
Since 1988, the team at Puff'n'Stuff has been raising Cockapoos and sharing them with loving homes. They are raised inside their home and cared for by the owner's own children. For what it's worth, these are some of the oldest Cockapoo breeders in Virginia we could find.
Their Cockapoo puppies are available for adoption once they are eight weeks old. They come with a complete health record which includes the first set of vaccinations needed.
As you adopt your puppy, you'll also receive general caretaking information so you will be confident and equipped to take care of your new friend. The health guarantee is good for two years and protects against any congenital health problems.
If you're interested in securing a Cockapoo puppy from Puff N Stuff, you can reach out to them via email or through their contact form on their website. Given the volume of inquiries for their puppies, they may be delayed in responses or have an extended waitlist.
Online, you can browse upcoming litters and available puppies. You can also meet the parents of the puppies to get an idea of what your Cockapoo puppy might look like. Litters are planned for throughout the year, but be sure to check their availability and weight list. Given their high popularity, you may need to wait for the puppy that's right for you.
Cockapoo Breeder Information
More Information about Cockapoo Puppies in Virginia

The Cockapoo is known to be highly intelligent due to its Poodle parentage. They tend to be easy to train and even easier to love. Cockapoos are also very friendly and enjoy being around their family and other dogs.
With the Poodle's curly coat, Cockapoos can also have a wide variety of coats, from curly to wavy and smooth. With this complex coat, Cockapoos may also require a little bit more grooming attention than a breed with a shorter or less complex coat. However, their Poodle-like coat also helps them cut down on allergy-related concerns if that is something you are concerned about.
The Cockapoo's small size gives them an extended lifespan of between 14 and 18 years. Their hybrid nature also helps to weed out genetic diseases, making them slightly less susceptible to genetic diseases common to their parent breeds.
With their adorable appearance and cuddly qualities, Cockapoos can make a great addition to your family. When you're ready to add a furry friend into your home, you'll want to start with some research into reputable breeders and places where you can adopt a Cockapoo puppy.
You'll often get access to in-depth medical histories and know the background of the parent dogs. They'll often provide health guarantees and additional resources as you prepare for a puppy. With a breeder you know you can trust, you can be confident in your puppy's health and temperament.
Conclusion For Best Cockapoo Breeders In Virginia
With their adorable appearances and cute personalities, the Cockapoo can make a great addition to your family. If you're in the state of Virginia and on your search for the right puppy for you, use this list to get started. Through a reputable breeder, you can discover Cockapoo breeders in Virginia that offer healthy, well-socialized dogs.
Be sure to do your own research in discovering their availability and reviews so you know exactly what to expect as you welcome home your own puppy. With the right steps and being diligent in finding the right fit for you, you'll be well on your way to bringing home the perfect puppy for you and your family.
If this guide didn't help you find Cockapoo puppies for sale in Virginia, there are breeders from other locations you could check out:
If you love this Doodle breed, you're going to want to watch "Why Get a Cockapoo" down below:
Garrett loves animals and is a huge advocate for all Doodle dog breeds. He owns his own Goldendoodle named Kona. In addition, he volunteers at the Humane Society of Silicon Valley, where he fosters dogs and helps animals. Garrett enjoys writing about Doodles and believes that dogs can teach humans more about how to live than humans can teach a dog.
Why Trust We Love Doodles?
At We Love Doodles, we're a team of writers, veterinarians, and puppy trainers that love dogs. Our team of qualified experts researches and provides reliable information on a wide range of dog topics. Our reviews are based on customer feedback, hands-on testing, and in-depth analysis. We are fully transparent and honest to our community of dog owners and future owners.