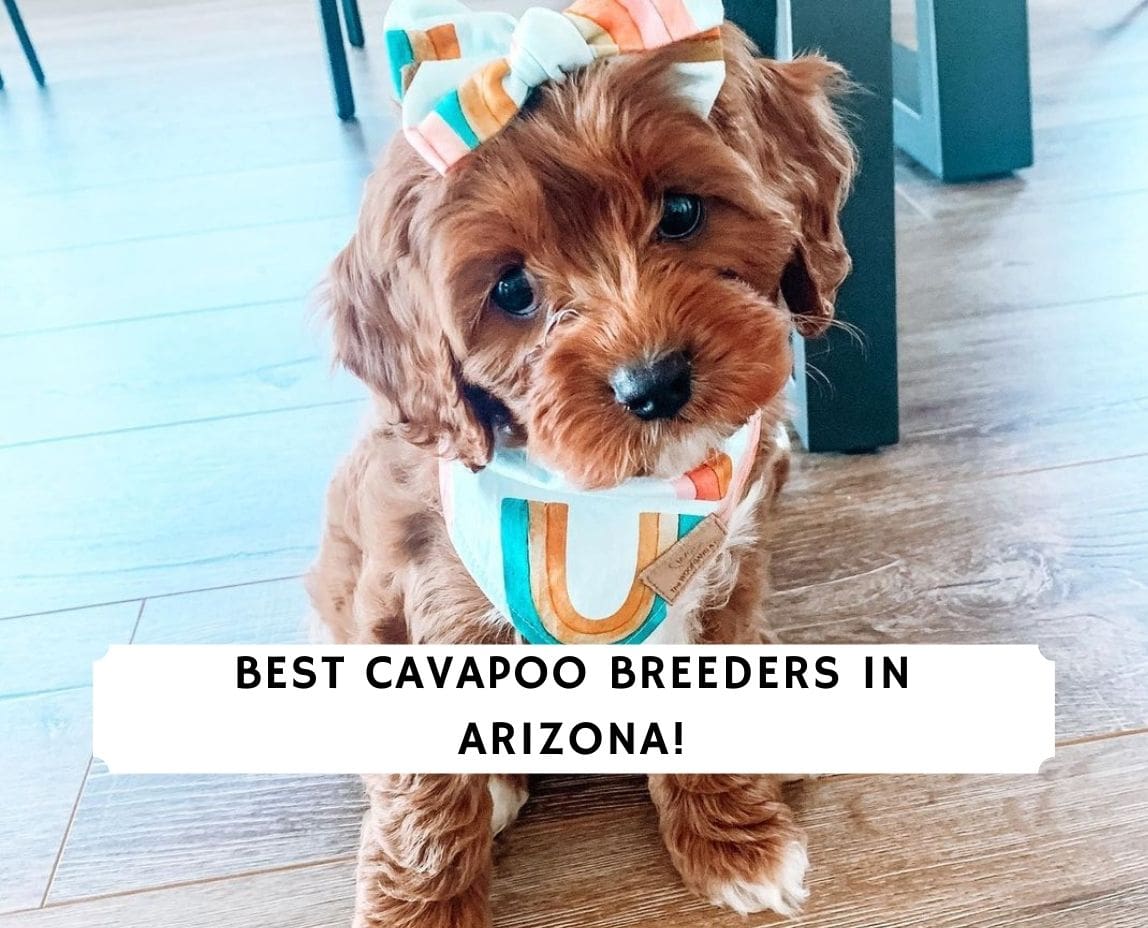 Cavapoos are sweet little dogs that are a perfect addition to many families. However, finding a reputable breeder in Arizona can be challenging because there aren't that many reputable breeders. That is why we put together this guide to help you find the best Cavapoo breeders in Arizona.
We have done our own independent research and found four Cavapoo breeders who want to help your family add a puppy to your home. We excluded all puppy mills from our list, but it is important to conduct your own research before committing to a puppy. Breeding practices change all the time.
Many of these Cavapoo breeders in Arizona do not offer deposit refunds so it is imperative to make sure you know who you are buying from and that you are okay with how they run their business before placing a deposit. We recommend that you always try to visit the breeders in person to understand the parent dogs' personality, temperament, and health.
This guide is designed to help you find breeders in your area for you to contact and research before making an informed decision. Adding a Cavapoo puppy to your home is a big decision that will last for years to come. You ultimately want to bring home a healthy and happy Cavapoo puppy. This is only possible when you purchase from a reputable Cavapoo breeder.
1. Puppy's N Love Arizona
Puppy's N Love is a breeder in Phoenix, Arizona. Their breeding practices may have changed recently as it's not clear whether they are the actual Cavapoo breeder or help other breeders sell their puppies. When we originally posted this article, they were a Cavapoo breeder with their own dogs. We suggest that you ask them several questions about their breeding practices and how they source their dogs. The only way to know for sure is to ask the owner or schedule a visit. 
We are going to focus on the Cavapoos, but that is not the only breed of dog that Puppy's N Love has. They also have Siberian Huskies, Pomskies, and Cavalier King Charles. All of their Cavapoo puppies in Arizona are born and raised with appropriate care as well as socialization for a smoother transition. 
With that being said, Puppy's N Love does not appear to be a puppy mill. They do have several different dog breeds but not enough to cause concern. All their Cavapoo puppies in Arizona come with health guarantees and visits are welcome and encouraged by appointment.
This Cavapoo breeder doesn't currently have any puppies for sale, but they do have a waiting list started for their litters planned. To get on this list, go to the Cavapoo link in the menu and click "reserve your fur baby today."
This will require a simple contact form to show interest in one of their Cavapoo puppies for sale in Arizona. The breeder will then contact you and go over all of the information and what is needed to proceed.
They don't publically list their prices or deposits. We assume this information is conveyed to seriously interested parties only. There is also no information about shipping or how to pick up will work for people out of the immediate area. However, this is definitely one option if you're looking for Cavapoo puppies in Arizona.
Cavapoo Breeder Information
2. Garside Doodles Arizona
Garside Doodles is a family-owned and operated Doodle breeding operation in Sun Tan Valley, Arizona. They started with exclusively breeding Mini Goldendoodles but have expanded to various sizes of Goldendoodles including the petite size as well as Cavapoos.
They don't have many Cavapoo litters a year since their main focus is Mini Goldendoodles, but they have enjoyed adding this smaller Doodle breed.
The owner of Garside Doodles Arizona is a homeschool mom with one son and spends her days teaching him and tending to her dogs as well as the business. Her husband does help as well with the dog breeding business. However, Charissa, as a former vet tech, loves handling all of the ins and outs of her Doodle dogs.
All of their breeding dogs are tested for genetic issues as well as any other possible health conditions. This is a practice that all reputable Cavapoo breeders in Arizona should adhere to since it's the only way to ensure that your puppy doesn't inherit genetic diseases. They also place many of their dogs in guardian homes where they live during their breeding life and retire there as the beloved family pets they are.
All of their Cavapoo puppies for sale in Arizona are $2500 regardless of color or gender. They all come with a two-year health guarantee for genetic conditions. Garside Doodles will not ship any puppy so you must make plans to pick them up. If you are out of state then fly in and get your puppy and take them home as a carry-on. Since they aren't a large Cavapoo breeder it is important to get on the waiting list if you want to get a puppy.
Cavapoo Breeder Information
3. Paw Palace Arizona
The Paw Palace sounds like a pet shop from the name, but it is a home-based Cavapoo breeder. The owner is Carrie and she is a breeder who is licensed in the state of Arizona. Not only does she breed her own dogs, but she also helps other breeders place their Cavapoo puppies in the appropriate homes.
While she is licensed, it is still important to still make sure you schedule a visit to see the facilities and the puppies as well as the breeding dogs. Since she does help other breeders the adults may not always be onsight and your preferred breed may not be available. While they do have Cavapoos often, there aren't any available currently for sale.
If you are interested in finding out more information about when the next Cavapoo puppies will be available, it is best to contact the owner for the most current information.
As far as the payment process goes, they do have payment options if that is needed. There is also financing available through certain banking institutions. However, they do require a deposit of half of the purchase price of the puppy. This is non-refundable so make sure you are ready to commit to this puppy. They encourage questions and are happy to communicate with any interested parties.
Cavapoo Breeder Information
4. Heidi's Cavapoo & Cockapoo Puppies Arizona
This Cavapoo breeder does not have a traditional website which makes getting information a little more difficult. However, we did find their Facebook page and it is updated often. This is the main method of communication between customers and the breeder.
They do have an email address and phone number in which you can contact this Cavapoo breeder. Heidi is relatively easy to get a hold of by one of these methods, but Facebook Messenger is by far the best way to get a quick response.
She only breeds Cavapoos and Cockapoos in her home in Arizona. She is a hobby breeder who doesn't have a huge program. This means that Cavapoo litters are limited and difficult to get. It will be necessary to contact the owner and express interest to get on a waiting list for a puppy.
However, she does require that each of the new Cavapoo puppy owner purchase a certain type of dog food. It is actually put in the contract and needs to be ordered prior to the puppy being placed in its new home.
It is common for Cavapoo breeders in Arizona to make food recommendations that line up with what they feed, but it is unusual for them to require the puppies to be fed that food. Unless of course the dog is placed in a guardian family where they need top-notch health as potential breeding dogs. PawTree is the dog food that she recommends and requires. This is a boutique-type mail order food.
All of the current Cavapoos for sale in Arizona are ready to go to their new families and there won't be any more litters until the spring of 2021. Heidi will send text messages to those on the waiting list when there is an available litter. If a response is not given within 24-48 hours then she will move on to the next person on the list.
Make sure you ask about pick up and shipping if you are interested. This is not expressly stated on the Facebook page and many hobby breeders will not ship or meet for delivery.
Cavapoo Breeder Information
Conclusion for Cavapoo Breeders in Arizona
Cavapoos puppies in Arizona are trending because they typically are a small hypoallergenic and nonshedding dog breed. Many first-time pet owners prefer a smaller dog rather than the standard-sized Goldendoodle or Labradoodle.
However, as you begin to do your research, you'll that not all Cavapoo breeders in Arizona are the same. We spotted several puppy mills and backyard breeders, so it's important to do your own research and ask lots of questions before putting your deposit down on a puppy. If you purchase a Cavapoo from a puppy mill, you risk health genetic problems in the future which will cost a lot more money than what you paid for your dog.
Check out these other articles:
Garrett loves animals and is a huge advocate for all Doodle dog breeds. He owns his own Goldendoodle named Kona. In addition, he volunteers at the Humane Society of Silicon Valley, where he fosters dogs and helps animals. Garrett enjoys writing about Doodles and believes that dogs can teach humans more about how to live than humans can teach a dog.
Why Trust We Love Doodles?
At We Love Doodles, we're a team of writers, veterinarians, and puppy trainers that love dogs. Our team of qualified experts researches and provides reliable information on a wide range of dog topics. Our reviews are based on customer feedback, hands-on testing, and in-depth analysis. We are fully transparent and honest to our community of dog owners and future owners.