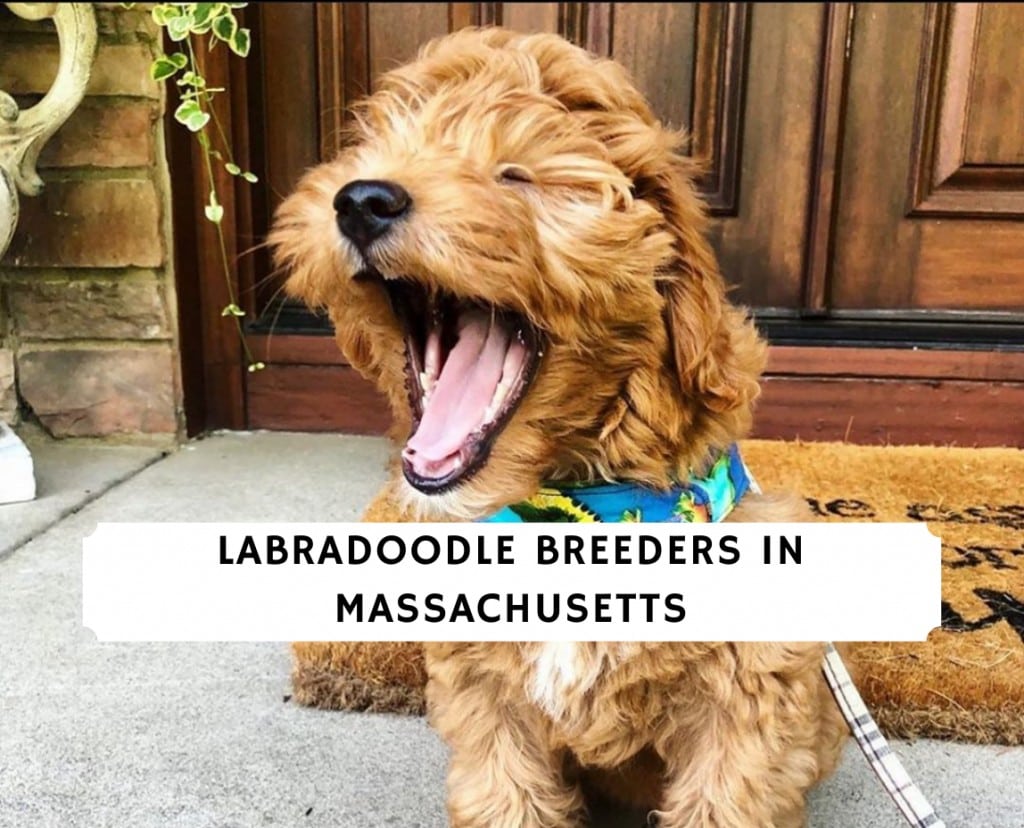 If you live in Massachusetts and are a lover of the Labradoodle, you're in luck because we've discovered six of the highest quality breeders who would have puppies for sale. Massachusetts is a state with a rich history and diverse landscapes where Labradoodle puppies are exposed to beautiful pastoral lands and sprawling seashores.
From small and hobby breeders like Atlantic Labradoodles who simply want to share the joy they've found with their own dogs to larger Labradoodle breeders in Massachusetts like Forest Hill Labradoodles who have some really cool perks for their puppies, they are all committed to advancing the breed.
The investment for a lifetime of love with these Labradoodle puppies ranges from $2800 to $3500. Juniper Hills Labradoodles, who currently comes in with the lowest price on our list, will charge $3200 as of January 1st, 2021. 
We like these Labradoodle breeders in Alabama because they all boast rigorous health and genetic testing policies, treat their breeding dams and sires like royalty, and most importantly, treat their puppies like family. We did find some puppy mills and backyard breeders in Massachusetts. Please don't support these operations because your Labradoodle may have several health issues as they grow older.
Other articles you would like: Types of Labradoodle Colors and Best Crate for a Labradoodle.
1. Forest Hill Labradoodles Massachusetts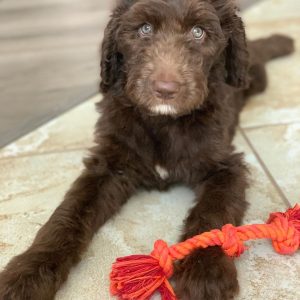 Forest Hill Labradoodles is a home-based breeder that is located in tranquil Manchester, Massachusetts. After their first Labradoodles helped them through a particular time of sadness, they wanted to pay it forward by raising more of these empathetic Labradoodles for others.
The sirs and dams in charge here follow all the edicts of Puppy Culture with the organization's premium emphasis on early and immersive socialization, mental stimulation games, and toys. You can ensure that their Labradoodle puppies will adjust well to their new home with little stress and anxiety.
All of their mini Labradoodles in Massachusetts live in the puppy palace where they're treated like princes and princesses. The palace includes a posh leather couch, big screen TV complete with Sonos system, and a saltwater fish tank for those times they just need to de-stress – although, in this place, we can't imagine from what!
Their parent dogs, Lola and Boone, are expecting medium-to-standard all chocolate, and chocolate and white parti Labradoodle puppies. All their Labradoodle puppies in Massachusetts are currently spoken for, but there's always the chance a family's circumstances will change or that unexpected little ones will arrive. Contact them with the details below for availability, price, and a waitlist.
Labradoodle Puppy Information
Labradoodle Breeder Information:
Address: Located in Manchester, MA.
Phone: 978-559-1889
Email: info@aussiedoods.com
Social Media: Social Media
2. Atlantic Labradoodles MA
Shirley first fell in love with the Labradoodle when she decided to get one for her grandchildren. After seeing how wonderful Labradoodles are with their playful, loyal, and just full-of-fun personality, she was hooked. Thus, Atlantic Labradoodles in Osterville, Massachusetts was born. 
She chose the medium-sized rich chocolate and white Ella, for her own personal companion as well as a breeding mom. Her sir is named Pat and is a handsome slightly lighter chocolate and white medium stud. If you purchase a Labradoodle puppy from this breeder in Massachusetts you'll likely get a chocolate Labradoodle that is potentially multi-color.
Their first litter was, of course, stunning and Shirley is taking reservations for her future litters. Your total investment for one of her Labradoodle puppies will be $3500 including a $500 deposit. In addition to a lifetime of love, you'll receive a certificate of pedigree, a 2-year genetic health guarantee, and 30 days of free pet medical insurance.
Labradoodle Puppy Information
Labradoodle Breeder Information:
3. Juniper Hill Labradoodles Massachusetts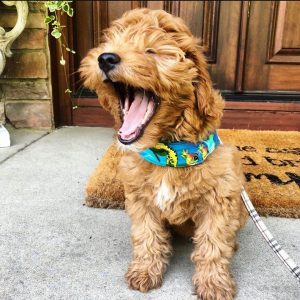 As a small, home-based breeder based in Beverly, Massachusetts, Juniper Hill produces miniature Labradoodles in mostly chocolate and white parti coat colors.  These owners are cool people with backward baseball caps, shades, and fashionable rainbow striped scarves, and they will be very pleased to help you find a Labradoodle puppy.
While all their current Labradoodle litters are spoken for, they are planning a pandemic puppy boom, so keep a close eye on their website for all new litters. You can also ask them about a potential waitlist. The investment for one of these Labradoodle puppies is $2800 but will be rising to $3200 soon.
There appears to be a price increase among Labradoodle breeders across the United States. Here's what will come along with your new Labradoodle puppy in Massachusetts: An impressive 3-year health guarantee, age-appropriate vaccinations, and deworming treatment.  You'll also receive some special perks, including dog toys and even a starter dog bed! 
Labradoodle Puppy Information
Labradoodle Breeder Information:
4. Lucky Dog Labradoodles MA
Located in North Easton, Massachusetts, you'd be very lucky to adopt a puppy born at Lucky Dog Labradoodles. With three beautiful, medium-sized dams in apricot, chocolate, caramel, and red, the Labradoodle puppies born here are bound to be spectacular. 
Due to a tremendous demand for companions during COVID-19, there are no current availabilities, but they keep a no-obligation waiting list. They do not require a deposit for a Labradoodle puppy so can reserve a spot and wait. You never know what confluence of events just might deliver a new puppy into your lap. 
Lucky Dog Labradoodles carefully plans their litters each year and makes the very reasonable point that it all depends on Mother Nature. They never know how many Labradoodle puppies they'll have. Mom dogs and dad dogs all have calm and sweet temperaments and are fully tested to rule out genetic abnormalities. Available Labradoodle puppies for sale in Massachusetts range in size from small and medium. The investment to bring home one of their Labradoodles is $2950 plus the Massachusetts sales tax of 6.25%. 
Labradoodle Puppy Information
Generation: Multi-gen Labradoodle puppies
Size: Medium and Mini Labradoodle puppies
Labradoodle Breeder Information:
Address: Located in North Easton, MA.
Phone: (508) 230-8537
Email: luckydoglabradoodles@yahoo.com
Website: Lucky Dog Labradoodles MA
5. Tip Of The Shore Labradoodles MA
Labradoodles here at Tip Of the Shore are on the beach and live a relaxed life. Bred with the highest possible health standards, their Labradoodle puppies are raised in this quaint seaside town of Duxbury, Massachusetts. Their puppies go for daily swims and romp around the beach shores in the sand. 
They are proud to announce the arrival of nine stunning red puppies to lovebirds Clarisse and Rowan, and Kelsey and Rock are expecting a litter of equally beautiful red mini Labradoodle puppies. Both litters are sold out, but keep checking the "Available Puppies" page because with fifteen breeding dams and seven sires, there's bound to be a ton of action over the cool northeastern Fall months. You can also contact them for a waitlist. 
Mom and dad Labradoodles are mini to medium-sized and come in a wide array of black, white, chocolate, caramel, red, and parti-color combinations.  The investment for one of their future stunners is $2950 and includes a complete physical exam and age-appropriate vaccinations. 
Labradoodle Puppy Information
Generation: Multigenerational Labradoodle puppies
Size: Miniature and Medium Labradoodles
Labradoodle Breeder Information:
6. Joys Australian Labradoodles Massachusetts
Joys' Labradoodle puppies begin life with all the benefits of being a part of the family and the dams who live here are even luckier! Medium parti Luna and large mini caramel parti, Cali, are beautiful girls with sweet personalities, so it's not surprising that they recently found true love! If you get a Labradoodle puppy from this breeder in Massachusetts it's highly likely they will have multi-color coats. 
They hope to have some related exciting announcements soon and they will have several litters in 2021.  When you adopt a Labradoodle puppy for Joys, you'll also receive 25% off of BAXTER & Bella's Online Puppy School.  With hours of informative modules, training tips, and personalized training sessions, this is quite the gift to help you train your puppy.
Labradoodle Puppy Information
Generation: Multigenerational Australian Labradoodle puppies
Size: Miniature Labradoodle puppies
Labradoodle Breeder Information:
Conclusion for Labradoodle Breeders in Massachusetts
Labradoodles for sale in Massachusetts are extremely popular. However, not all breeders are the same and we saw several puppy mills and backyard breeders who are selling dogs for cheap with no health or genetic testing. Please don't support a puppy mill because your Labradoodle may have health problems later on in life. Since Labradoodles typically live over 12 years, it's important that you find a breeder in Massachusetts that will sell you a healthy and happy puppy. Otherwise, you'll be spending tons of money on medical bills. We hope that you found some Labradoodle breeders in Massachusetts that you could reach out to!
Garrett loves animals and is a huge advocate for all Doodle dog breeds. He owns his own Goldendoodle named Kona. In addition, he volunteers at the Humane Society of Silicon Valley, where he fosters dogs and helps animals. Garrett enjoys writing about Doodles and believes that dogs can teach humans more about how to live than humans can teach a dog.
Why Trust We Love Doodles?
At We Love Doodles, we're a team of writers, veterinarians, and puppy trainers that love dogs. Our team of qualified experts researches and provides reliable information on a wide range of dog topics. Our reviews are based on customer feedback, hands-on testing, and in-depth analysis. We are fully transparent and honest to our community of dog owners and future owners.