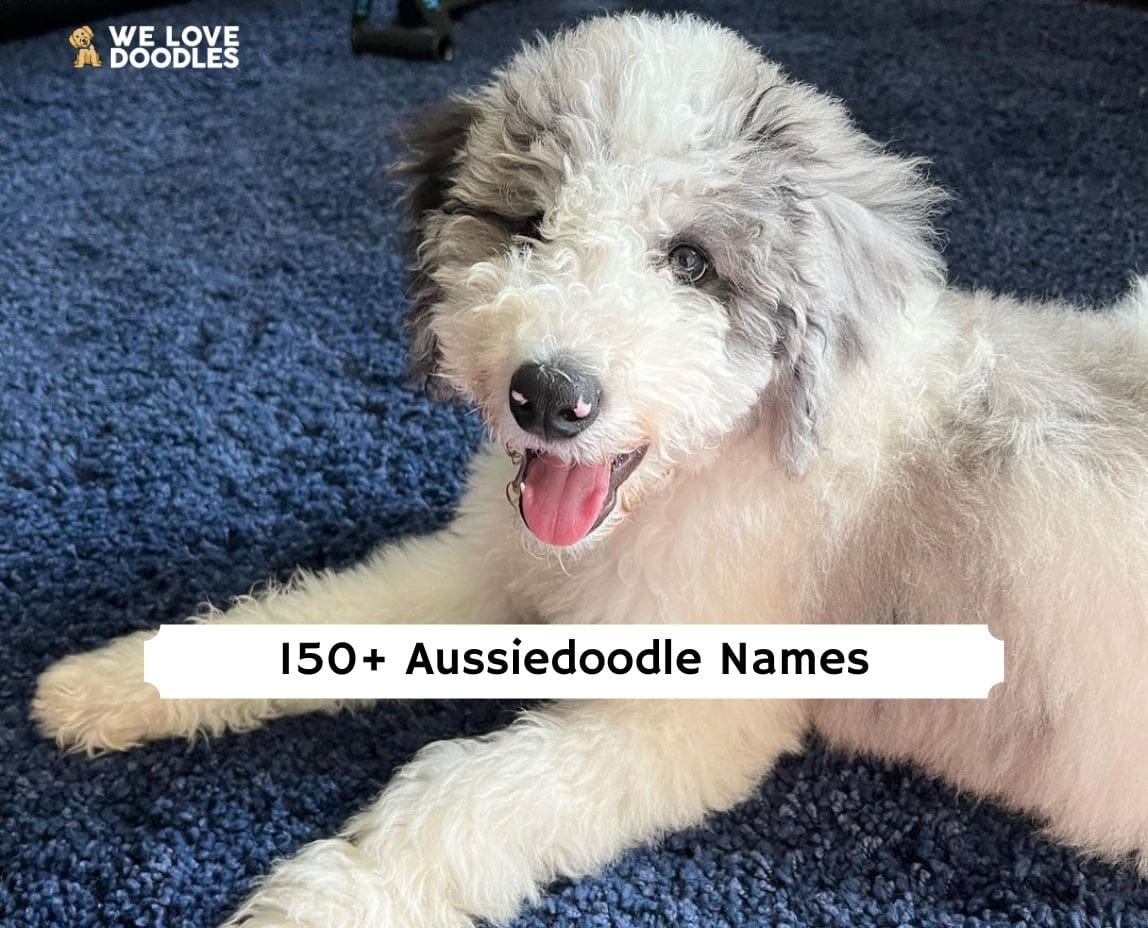 Selecting the best name for your Aussiedoodle is a critical decision. This dog is your companion, and you want to do whatever you can to protect it and build a long-term relationship. The name is essential for training and addressing the dog.
Your Aussiedoodle wants to feel loved, and a name helps deliver that love. Likewise, finding the best fit among a plethora of cute Aussiedoodle names can only add to the charm this breed will bring to your home.
If you search for inspiration, we highlighted 150 of the best Aussiedoodle names and when you might use them. We also provide helpful tips on choosing the best one possible for your furry friend.
Other articles you would like: How Long Do Aussiedoodles Live? and Aussiedoodle Health Issues.
Female Aussiedoodle Names
An Aussiedoodle can be a wonderful companion for an individual or family. When it comes to female Aussiedoodle names, many options will capture the personality and beauty of your furry friend:
Aggie (great for fans of Texas A&M University)
Brooke
Daisy (for families who are huge fans of Daisy Duck from Disney, the perfect name)
Elise
Quinn
Maya
Annika (although this breaks the 3-syllable rule, it is still a recognizable name because of the "a" on the end)
Cora
Jolly (for people with a happy dog who is always elated to see new visitors)
Jedda
India
Tatiana
Chelsea
Ursula
Demetria
Betsy
Stella
Tilda
Lutana
Cuteness (what better name for a dog that is fun to look at)
Penelope
Geneva
Starfire (excellent choice for a unique, out-of-this-world dog)
Izzie
Twinkle (for dogs who have mesmerizing eyes that twinkle when you look at them)
Bianca
Gabby
Summer (for bright-colored dogs who remind you of the bright summer)
Addison
Della
Buttercup (if your dog is brown or resembles Reese's peanut butter cup, this is a suitable name)
Matilda
Medusa (for the Aussiedoodles with a secret naughty side)
Mia
Sadie
Bailey
Luna
Winnie
Dolly
Fiona
Gigi
Phoebe
Emma
Coco
Willow
Holly
Nala
Zoe
Layla
Pearl
Zelda (for the video game fans out there with a majestic dog)
Minnie (for the Disney fans out there who have a dog that is animated and joyful)
Lacie
Misty
Shelby
Lexie
Nova
Roxie
Male Aussiedoodle Names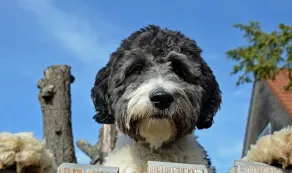 Whether your dog is cuddly and shy or outgoing and tough, there are many unique male Aussiedoodle names to choose from. Here are the most creative and popular ones:
Arrow (if your dog is quick and likes to dart around)
Patrick (a different variation could be St. Patrick for those who believe in luck)
Nate
Finn
Daredevil (for dogs that are sweet but also have a wild side)
Bruiser (perfect name for a dog that is clumsy and knocks things over)
Luigi (if you are a Mario video game fan and want a suitable theme to go along with that)
Tyler
Bruce
Xavier
Max
Oakley
Cooper
Oscar
Teddy (perfect name for an Aussiedoodle that loves to snuggle up next to you in bed)
Rudy
Charlie
Rex
Chip
Walter
Bear (a perfect name for a massive dog that resembles a bear and its tendencies)
Blaze
Milo
Bo
Ollie
Lucky
Boomer (for an Aussiedoodle that makes its presence known)
Axel
Rocky
Leo
Baxter
Beau
Zeus (perfect name for a strong, fit dog that resembles a God)
Echo
Duke
Thunder (if your dog has a loud presence, then this name could be a perfect fit)
Tank (for an Aussiedoodle that carries a lot of momentum)
Gunner
Apollo
Murphy
Henry
Harley (this one is self-explanatory, but it is perfect for an owner who is also an avid motorcyclist)
Otis
Toby
Rocco
Rocket (a suitable name for an athletic, explosive dog that likes to run around)
Louie
Tucker
Jackson
Shadow (for a dog so big that it leaves a shadow in its wake)
Jack
Prince (to make your furry friend feel like royalty, this is the perfect name)
Winston
Jake
Oliver
Zeke
Mini Aussiedoodle Names
Mini Aussiedoodles are the cutest little things. They are playful and love to snuggle up next to you. Below are our favorite mini Aussiedoodle names and when they might be a good fit:
Sugar (for the dogs who are sweet and lovable)
Blossom (if your Aussiedoodle reminds you of a lovely, growing flower, this could be a suitable name)
Belle (if your children are huge fans of the Disney princess Belle, this could be a fun name for your Aussiedoodle)
Dot
Joy (if your dog brings a lot of happiness to you or your family)
Jojo
Lila
Piper
Mini
Cupcake (for an Aussiedoodle who is sweet and colorful)
Chocolate Chip (if your Aussiedoodle is multi-colored, this name is suitable)
Cinnamon (perfect name for a small, brown-colored dog)
Chip
Porter
Buzz
Flurry (for a white dog that reminds you of snow)
Cloud (if your dog has a distinctive white color, this name is the perfect fit)
Coconut
Mushroom
Marshmallow (for a soft, cuddle dog that is fun to squeeze)
Popcorn (if your Aussiedoodle loves to hop around, this could be a fun name)
Boo (if you have a dark-colored dog that loves to jump out at you)
Candy
Cutie
Champ (perfect name for the small and courageous Aussiedoodles)
Baby
Bubbles
Fuzzy (the ideal name for a dog that loves to cuddle up with you on the couch)
Fuzzball
Sprinkles (another great name for a colorful, sweet dog)
Sweetie
Peeper
Monkey (although this describes a different type of animal, "monkey" can be the perfect descriptor for a smart, playful, and curious Aussiedoodle)
Pip
Boba (like the tea, this name is easy to hear because of the "a" at the end)
Corn
Gumball
Wink (for the Aussiedoodles with the perfect eyes)
Zip
Sesame
Pebble
Pepper (for a black dog or dog with multiple spots, much like pepper)
Final Tips for Naming Your Aussiedoodle
Deciding on the best dog name for your Aussiedoodle can take time and consideration. We provided you with our favorite names, and the opportunities are endless. However, you want to make sure the name fits your dog's personality, size, and character.
Below are some critical things to remember when deciding on the proper name.
Make It Easy to Hear
First, you want to make sure the sound of the name resonates with the dog. It must be easy to understand so that the dog will obey upon hearing the call. The first letter of the name needs to be a distinct, hard sound.
A sharp first letter will gain the Aussiedoodles attention immediately. For best results, aim for a choice that starts with a K, T, or D. A name that starts with F or S could be hard to hear.
The end of the dog's name can also help with hearing. A long "e" or sharp "a" sound will resonate well with your furry friend. With a sound like this at the end of the name, the dog will be able to differentiate this from other words and sounds.
Stay Away from Commands or Confusing Words
It is also critical to avoid any dog names that rhyme or sound the same as typical dog commands. Names like "no," "stay," "sit," or "come" could confuse the dog. Names that sound like these words could hinder the training with your dog.
Good Aussiedoodle names are as unique as possible so that you can purposefully distinguish the name of your choice from the dog's training vocabulary.
Word Length Plays a Factor
Too many commands or words could confuse your dog. The length of the list may cause the dog to forget these terms. The same concept applies to the name. It would be best to keep your dog name at two syllables or less to avoid confusion. Dog names with two words could also pose the same problem. A word that is three syllables or more will get hidden in translation.
If you prefer a long name, you can always assign an "official" name. Then, you can call the dog by a shorter nickname. The key here is to make it as easy as possible for your dog to remember the name. The fewer syllables there are in the name, the less likely the dog will get confused when you call out the name.
Make It Appropriate for Public
There will be several times when you need to grab your dog's attention in public, especially at a dog park. You must ensure that your dog's name is something you are comfortable saying out loud. You may have a favorite band or inside joke, but is this something you want the whole world to know
Be Confident in Your Final Choice
At the end of the day, the most important thing is your relationship with your dog. The name establishes a connection, so feel happy with your final decision. Once you finalize the name, it will grow on you.
As you develop stronger love and feelings for your furry friend, you will become much happier with your name. Feel gratitude that you have a new family member in your life, and then be satisfied with the name.
Other articles you would like: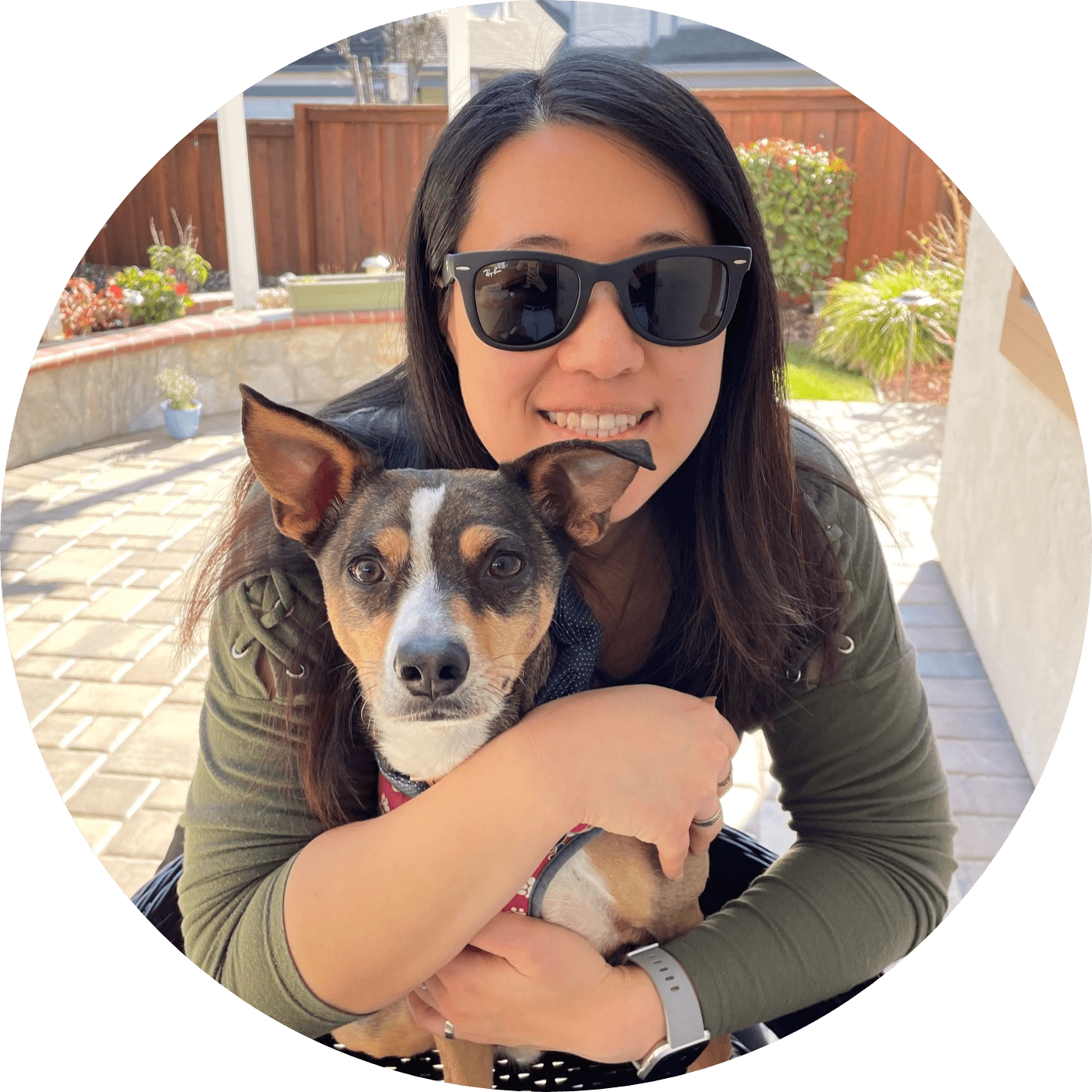 Dr. Sabrina Kong graduated from the Royal Veterinary College in England in 2016 and has been working at a small animal clinic in Northern California since then. She grew up in the Bay Area and got her bachelor's degree from Cal Poly San Luis Obispo. She also became a Certified Canine Rehabilitation Practitioner through a program at the University of Tennessee.
When she isn't in the clinic taking care of her four-legged patients, she enjoys traveling and trying new foods with her friends and her three-legged dog, Apollo. She adopted Apollo from her clinic when he was a puppy with numerous health issues. Dr. Kong truly cares about taking care of animals.