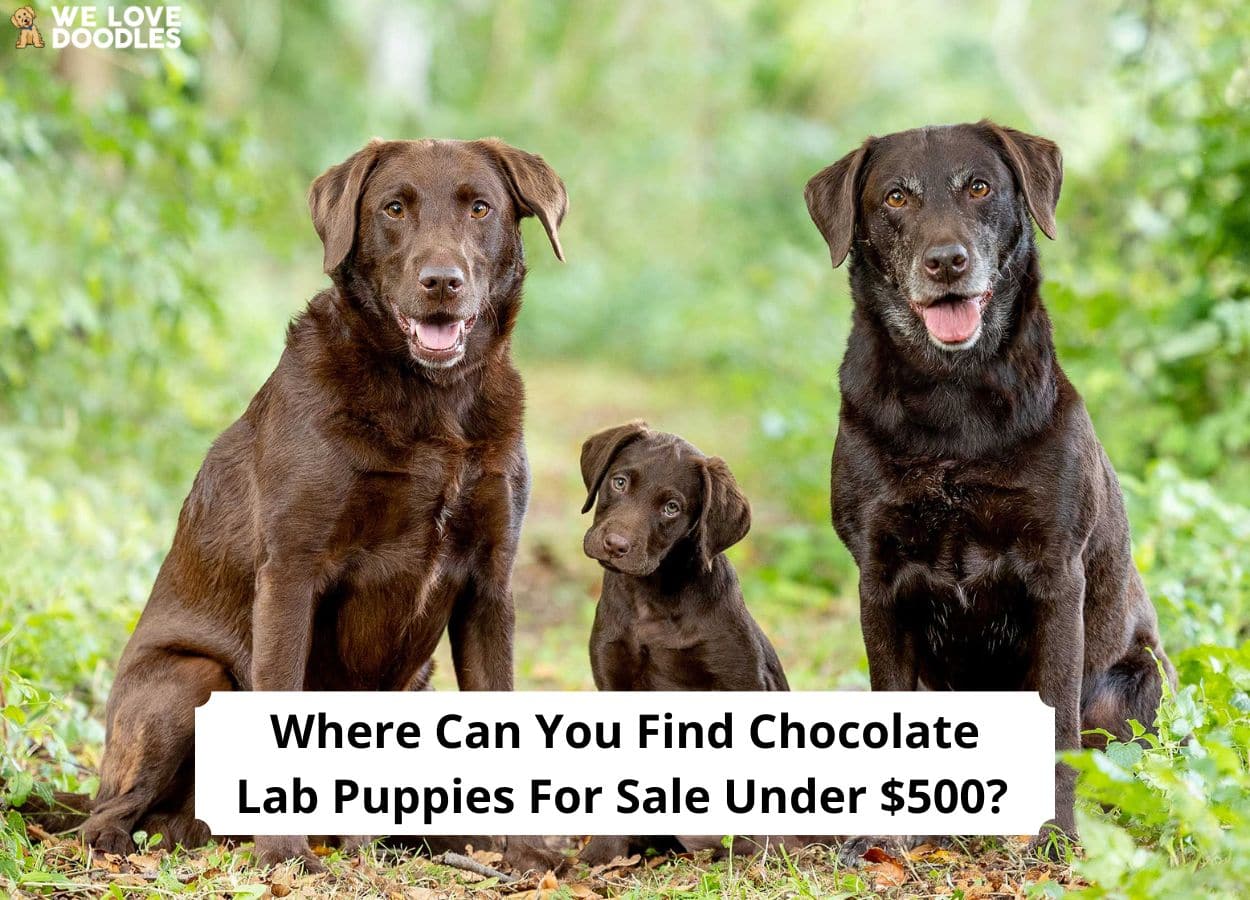 Labrador Retrievers are one of America's favorite dogs, and the Chocolate Lab is a beloved pet across the country. Are you considering adding a Chocolate Lab to your family? Check out this guide! We've compiled a list of places with Chocolate Lab puppies on sale for under $500.
While we've done a lot of the research, you'll still want to interview the breeder you ultimately select. Ask them any questions you may have and make sure you're comfortable with their style of breeding.
Ready to get started? Here are the top places to find Chocolate Lab puppies under $500.
Before you scroll down this guide, check out: 6 Best Chocolate Labradoodle Breeders in the USA! and Best Chocolate Labradoodle Coat Color Guide! (2023).
1. Facebook
When looking for affordable dogs, Facebook should be one of your first stops. This social media platform hosts millions of users across the United States, and Chocolate Labs are likely right in your neighborhood.
Use the Facebook search feature to look for "Chocolate Labs for sale" and then scroll through the results. You'll see fan groups, individuals, breeders, and even shelters with pages that fit your criteria. Take your time reviewing each page and post to determine which breeder or rescue is a good fit for you.
Many reputable breeders use Facebook and other social media platforms to advertise instead of building a time-consuming website. Keep in mind, though, anyone can post to the platform. You'll want to have conversations with your dog's seller before you exchange any money.
Ask for vet references and records, ask questions about your dog's socialization, and bring your dog to a vet of your own choosing within a few days of adoption. Most importantly, bring a trusted friend with you when you meet your dog in person.
Facebook Details:
2. Greenfield Puppies
Greenfield Puppies serves a nationwide customer base and features a large variety of breeds. They are able to achieve this due to their large network of responsible breeders. Each kennel adheres to high breeding standards, and your puppy will come from a safe and clean environment.
Search for dogs by breed. You can choose Labradors of any color but the Chocolate Lab is a popular option. You'll be presented with a list of dogs available for sale. Prices are listed below each puppy's picture, making it easy to find a Chocolate Lab puppy for sale under $500. Once you've chosen a dog, follow the breeder's contact instructions on the dog's biography.
Puppies sold from the state of Pennsylvania will come with at least a 30-day health guarantee, but you'll want to talk to your breeder about more specific details. Your puppy should be vet-checked, vaccinated, and wormed when you pick it up or have it delivered to you.
If you do find that you need to have your puppy shipped, call Greenfield. Transportation costs begin at $545 but you can receive a quote based on your location.
Greenfield Puppies Details:
3. Infinity Pups
Infinity Pups is another nationally recognized resource for Chocolate Lab puppies for sale under $500. This is a family-owned business, and the Infinity team strives to match customers like you with the perfect puppy from a responsible breeder.
Breeders are across the United States, and your puppy comes with a one-year health guarantee. Speak to the kennel for details about breeding rights and the other particulars of your adoption and contract.
Click on "Find My Puppy" and select "Labrador Retriever – Chocolate" from the drop-down menu. You'll see pictures of the available puppies.
Most are AKC-registered, or eligible to be registered, and the prices for dogs are listed below each puppy's picture. Choose the one you'd like to adopt, then contact the breeder to make a deposit.
Each dog's personal page will specify whether shipping is available. Because most puppies are located on the east coast, you may want to choose only dogs that can be transported. If you're local to Pennsylvania and the mid-Atlantic, though, your puppy may be just around the corner.
Infinity Pups Details:
4. Craigslist
Craigslist, like Facebook and social media platforms, all but guarantees you'll find a Chocolate Lab puppy for sale under $500. The global classifieds site features listings from individuals, shelters, and breeders, and you probably have a Craigslist site in your region.
Once you've found your local Craigslist. Click on "pets" under the community header. Or, if you'd like to expand your search, just type "Chocolate Lab" into the search box to search the whole site. You'll find puppies for sale, but also pet supplies like dog crates, toys, and more. Browse around. It's easy to find good deals on Craigslist.
As with any breeder, you'll want to interview your Craigslist breeder to ensure that your puppy is coming from a healthy environment. Craigslist doesn't screen their posters, so it's important that you do the screening yourself. Puppy mills can advertise on the platform, so visit the breeder in person before you hand over your hard-earned money.
Prior to purchasing your dog, check the vet references that your seller has given to you. Make sure your puppy has been brought in for a nose-to-tail checkup and that the dog has been given shots and wormers as appropriate for their age.
Craigslist Details:
5. The Happiest Labrador
The Happiest Labrador's puppies will range in price, but we've opted to include them because they occasionally do sell puppies at lower price points than other breeders. Check back with the kennel frequently to learn about litters, and about how you can find a Chocolate Lab puppy for sale under $500.
The Happiest Labrador is located in Tennessee, but the team will make arrangements to hand-deliver puppies anywhere in the United States. Whether you're local to Tennessee or live in Tacoma, a quality puppy can be on your doorstep in no time. Puppies are cared for by vets and treated as members of the family before going home with you, and you'll receive records of health exams on Gotcha Day.
You can peek at available litters and past puppies on the kennel's website. Be sure to look at customer testimonials, too. You can also get a feel for the customer service offered by The Happiest Labrador.
The Happiest Labrador focuses efforts on producing quality Chocolate and Black Labs, but yellow puppies are available from time to time, too.
The Happiest Labrador Details:
6. Wagner's Retrievers
Wagner's Retrievers is located in North Carolina and they offer shipping and delivery to locations across the United States. If you live too far from North Carolina to pick up your dog in person, contact the kennel team for information about transportation of your dog to your closest airport.
To adopt a puppy from Wagner's Retrievers, you'll first need to fill out an adoption application. The kennel wants to know about your lifestyle and your history with dogs.
Be prepared to furnish vet records if you have a current pet. Once you're approved, you can place a deposit on your dog to hold your place on the pick list.
When it's your turn to pick a puppy, you can rest assured that your dog will be healthy. Puppies come with a two-year health guarantee against genetic defects and other disorders. You may be required to sign a spay or neuter agreement for your dog as a term of this agreement.
If you'd like to help give your puppy the best start at life, consider one of Wagner's Retrievers puppy packages. You can bring home food and water bowls, a crate, a bed, and other items your puppy has grown accustomed to. This can help make the transition to your home easy and enjoyable for your dog.
Wagner's Retrievers Details:
7. Adopt A Pet
Adopt A Pet is a wonderful resource if you're looking for a new puppy. The website allows listings from private owners, kennels, and breeders, and you can search by dog breed.
To use this site, you'll first need to decide whether you'd like to adopt from a breeder or a shelter. Once you've selected the appropriate option, enter your zip code and your dog breed.
Dogs that are closest to you will be displayed first, and you can register to receive alerts when dogs that meet your needs are posted.
Because Adopt A Pet allows individuals to post, you'll want to learn as much as you can about your dog before bringing him home. Is your dog a puppy that the owner just can't take care of? Is he a rescue with a history of abuse? Ask questions before you place a deposit for your puppy.
Please note that Adopt A Pet is only a third-party platform. Any issues that may arise between you and your dog's seller will not be eligible for mediation, so you'll need to communicate directly with your dog's current owner for a resolution.
Adopt A Pet Details:
Frequently Asked Questions
How much would you pay for a Chocolate Lab?
If you're set on getting a Chocolate Lab from a breeder, you may need to pay around $1,500. As such, rescues and shelters are a much more affordable source of puppies.
Are Chocolate Labs rare?
Roughly half of Labrador Retrievers are black, a quarter are yellow, and a quarter are chocolate. Of the standard Lab colors, chocolate Labs are the rarest.
How long do Labs live?
The life expectancy of a Labrador Retriever is 11 to 13 years.
Conclusion for "Where Can You Find Chocolate Lab Puppies for Sale Under $500"
Labrador Retrievers are lovable and loyal dogs that are some of the most beloved among American families. Are you looking for a Chocolate Lab of your own? Great! Our list of breeders and sellers offers great options when you're ready to begin your search.
You can help combat puppy mills when you choose responsible Chocolate Lab breeders, and these reputable kennels will take great care of your dog in its earliest weeks.
If you find this guide, "Where Can You Find Chocolate Lab Puppies For Sale Under $500," helpful, check out:
Before you find a Chocolate Lab puppy, learn more by watching "7 Reasons You SHOULD NOT Get a Chocolate Lab" down below:
Garrett loves animals and is a huge advocate for all Doodle dog breeds. He owns his own Goldendoodle named Kona. In addition, he volunteers at the Humane Society of Silicon Valley, where he fosters dogs and helps animals. Garrett enjoys writing about Doodles and believes that dogs can teach humans more about how to live than humans can teach a dog.
Why Trust We Love Doodles?
At We Love Doodles, we're a team of writers, veterinarians, and puppy trainers that love dogs. Our team of qualified experts researches and provides reliable information on a wide range of dog topics. Our reviews are based on customer feedback, hands-on testing, and in-depth analysis. We are fully transparent and honest to our community of dog owners and future owners.