If you're asking, "can my dog sleep with a cone on, and is it safe," here's what you need to know. All dog owners are familiar with the cone of shame. If it doesn't appear when you spay or neuter your dog, it makes a debut after another minor surgery.
They make the unsuspecting dog look ridiculous, and your unhappy canine friend knows it. They also look deeply uncomfortable. No wonder well-intentioned owners often ask, 'can my dog sleep with a cone on?'
Before you scroll down this guide, "Can My Dog Sleep With a Cone On," you can check out these other dog-related questions answered by our team at We Love Doodles: Can Dogs Eat Cool Whip and Can Dogs Eat Mahi Mahi?
Can a Dog Sleep With a Cone On?
The answer is yes. Uncomfortable as it may look, your dog can safely sleep with a cone on. It may take some getting used to, but it's perfectly safe. It's not only safe for a dog to sleep with a cone on, but it's also encouraged.
The Elizabethan Collar or e-collar demonstrably speeds up your dog's recovery. Primarily that's because e-collars prevent your dog from licking, pulling at, or otherwise interacting with the stitches and injuries that sent them to the vet in the first place.
More Dog Guides: Why Do Dogs Sleep With Their Bums Facing You and Why Do Dogs Sleep At The Foot of the Bed?
What Else Can My Dog Do With a Cone On?
The short answer is everything. Your dog won't agree, but the more they wear the contemptible cone, the faster their recovery will be. A dog without a cone instinctively tries to wash the site of its injury. That's a reflex inherited from their undomesticated ancestors. But as any dog owner can attest, a dog's mouth is not something you want near an injury you're trying to keep sterile.
With that in mind, Elizabethan Collars are designed so that your dog can do everything they usually would while wearing one, including:
Eating
Going to the bathroom
Sleeping
Playing
Related: Why Does My Dog Sleep By The Door?
My Dog Keeps Bumping Into Things: Can They Walk While Wearing a Cone?
Yes. Dogs can not only walk around the house but go on their routine walks while wearing the cone. They may look silly, but they can still get all the recreation and exercise they need to be healthy. However, the e-collar does have a blinkering effect on your dog's vision.
That means a certain amount of bumping into foreign objects is commonplace. With the cone up, your dog's sense of special awareness becomes skewered, and until they learn to compensate, it's inevitable they have a collision or two.
You can help your dog navigate in their e-collar-induced partial sight by:
Removing major obstacles from your dog's space
Minimizing furniture around the dog
Moving dog's sleeping/living area to exclude steps
Keeping doors open
When you walk your dog outside, you can help by navigating them:
Around hydrants/posts
Avoiding curbs
You will need to minimize how much your cone-wearing dog chases after things like squirrels or birds, but it's unlikely that your recuperating dog will have much appetite for these things, anyway. The other thing you can do that dramatically improves your dog's vision, even when wearing a cone, is to ensure the vet sizes the Elizabethan Collar correctly.
How to Size an Elizabethan Collar
So, how do you size an e-collar to ensure your dog is as comfortable as possible? The first step is to take the circumference of your dog's neck. Since measuring dogs can be tricky, an effective way to save time and still get an e-collar that fits is to measure your dog's usual collar.
A good rule of thumb is that the collar should be snug, but you should still be able to fit two fingers comfortably between the collar and your dog's neck. That prevents your dog from choking while ensuring the collar isn't too loose. The next step is to measure the distance between the neck and the muzzle. You want the collar to be big enough that your dog's nose won't stick over the edge of the collar or catch on it.
You also want your dog to be able to see. Unfortunately, there's no quick and easy way to take this measurement. We recommend conscripting a family member or friend to hold your dog still while you get to work with a tape measure. With that done, you can collect an e-collar from your vet or online.
Related: Best Cheap Shock Collars For Dogs and Best Escape-Proof Dog Collars.
My Dog Can't Stand the Cone: What Do I Do?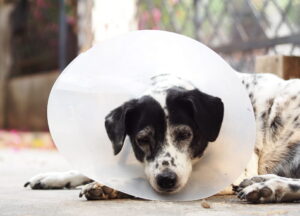 Can dogs sleep in cones? Absolutely. Do they want to? Most likely not. But cones play a vital role in helping your dog recover. So, how to balance your dog's comfort against their health? One compromise is to allow your dog to sleep without the cone when you can supervise them.
Supervised intervals without the cone might include:
During mealtimes
While asleep on your lap
During a walk
It's also important to remember that there are alternatives to the stiff plastic Elizabethan Collar.
E-Collar Alternatives
If you ask, 'can I leave my dog alone with a cone on,' it might help to consider other options. The Elizabethan Collar has a fascinating history. It takes its name from the ruffles ubiquitous in portraits of Elizabethan-era nobles, but it didn't appear in the veterinary world until 1962.
Since then, it's become a fixture in veterinary surgeries everywhere. But history changes all the time. These days there are several alternatives to the dreaded cone of shame.
Here are the most common alternatives:
1. Soft E-Collars
The traditional cone is hard plastic. It's inflexible and uncomfortable and gets in the way of everything. To compensate for some of these defects, veterinarians created the soft e-collar. It has all the efficacy of the cone, but it's malleable.
That means it collapses when your dog lies down, preventing them from licking anything it shouldn't. It does have one drawback. In a multi-pet household, it's too easy for a benevolent fellow dog to eat the soft cone away, leaving the injured party cone-free and infection-prone.
2. Pillow Collars
Like the soft Elizabethan Collar, pillow collars are cloth. They fit around your dog's neck and prevent them from accessing injury sites. They are more comfortable than the standard cone while improving your dog's visibility.
That's ideal for owners wondering, 'can I leave my dog alone with a cone on,' because you won't have to worry about them knocking into anything while you are at work. However, size is crucial with pillow collars. If they are too big, your dog can slip out of them. Too small, and by careful canine contortion, they can start licking their injury.
Related: Best Bark Collars For Small Dogs.
3. Neck Rings and Doughnuts
Neck rings or doughnuts are another Elizabethan Collar alternative. They're a bit more stylish than the traditional cone, but chances are your dog won't be any happier about wearing one. That said, they are softer and more comfortable than the stiff plastic cone, which makes sleeping easier for your dog.
The rings also don't hamper your dog's vision as the traditional cone does, so you don't need to worry about collisions with furniture or steps. The problem with neck rings is that they need to be fairly wide to be effective. The large diameter stops your dog from licking its injuries but can make turning around difficult.
That, in turn, makes settling to sleep tricky for your dog. Since they can't lie down properly in a neck doughnut, these aren't ideal for sleeping through the night, much less without supervision. However, there's no reason you can't alternate between a neck doughnut for your dog when you can supervise them and a traditional cone when you can't.
4. Surgical Jackets
Surgical jackets sound more dramatic than they are.
These are dog jackets that go on legs first and cover their:
These are ideal for dogs that don't tolerate cones of any kind. Your dog can't escape them independently, so they can't access their injury. However, a clever canine companion could almost certainly untie the strings, which makes them unsuitable for multi-pet households. And while jackets work effectively on recently-neutered pets, they aren't a lot of help if your dog has an injured paw since they don't cover your dog's paws.
Risks for Leaving a Dog With a Cone On Alone
So, what is the answer to 'can I leave my dog alone with a cone?' And crucially, what are the risks? Cones are meant to be protective, so the risks of leaving a dog with a cone on alone are minimal. The most significant risk is injury from walking into a foreign object since the cone significantly impacts your dog's vision.
The best way to combat this is to confine your dog to a space free of furniture, with unobstructed access to food and water. However, even though it's safe to leave your dog alone with a cone on, many people don't like to do it. But since they can't reasonably stop work for the seven to ten days of enforced cone-wearing veterinarians' mandate, what's the solution?
If you don't work from home, the most effective arrangement is to organize a dog sitter to check on your dog regularly. They can assess your dog's comfort and let you know if your dog has exacerbated their injury. A neighbor or family member willing to check in on your dog can also offer supervision and ensure the cone doesn't cause further injury.
Can I Safely Crate a Coned Dog?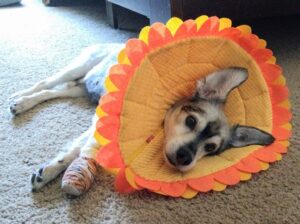 The other thing to avoid is crates. Typically, these are safe spaces for your dog. But the awkwardness of the cone makes confined spaces more challenging than usual. So, if you need to leave your cone-wearing dog alone, avoid crating them.
It will only double their upset. Instead, relocate their bed from the crate to somewhere more open. Provided they can climb into it unassisted and sit down safely. You will have made them more comfortable.
Related: Best Dog Crate For Car Backseats.
Conclusion For "Can My Dog Sleep With a Cone On"
Dogs can indeed sleep alone with a cone on. However, depending on the cone size, they may find their usual sleeping spot hard to negotiate. That's particularly true for dogs who sleep in a crate. Since the cone speeds up your dog's recovery, we recommend relocating a bed or setting up a temporary one somewhere that enables your dog to move more freely than an enclosed crate would.
And remember, the primary risk of leaving your dog alone with a cone on is navigational. So, hard as it might seem, restrict them to step-free and open areas. You can help when you're home by leaving doors open and guiding your dog through the house.
At their best, cones help keep your dog healthy. So, your dog should be able to do everything they usually would while wearing one. They might find it trickier and might feel ridiculous, but it's a short-term sacrifice for a healthier, happier dog.
If you find this guide, "Can My Dog Sleep With a Cone On," helpful, you can check out these other guides from our team at We Love Doodles:
You can learn more about your dog sleeping with a cone on by watching "Can My Dog Sleep With a Cone On" down below: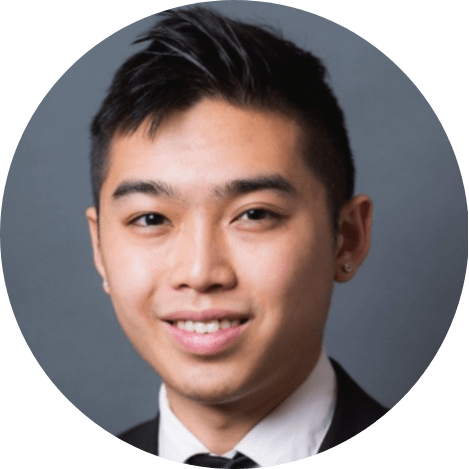 Andy is a full-time animal rescuer and owner of a toy doodle. When he's not saving dogs, Andy is one of our core writers and editors. He has been writing about dogs for over a decade. Andy joined our team because he believes that words are powerful tools that can change a dog's life for the better.
Why Trust We Love Doodles?
At We Love Doodles, we're a team of writers, veterinarians, and puppy trainers that love dogs. Our team of qualified experts researches and provides reliable information on a wide range of dog topics. Our reviews are based on customer feedback, hands-on testing, and in-depth analysis. We are fully transparent and honest to our community of dog owners and future owners.